Most of the people who start doing affiliate marketing have high hopes and a positive attitude. But, this changes as soon as they face their first failure.
This happens because they treat affiliate marketing as a miracle which will bring them easy money in a short period of time. The first few months (if not the whole year) without revenue are disappointing for beginners.
It's one of the main drawbacks of the affiliate business. If you want to earn money, you have to be patient and build your business brick by brick. After learning the basics of this smart passive income, you must determine your first steps and perfect your strategy.
When it comes to the marketing strategy, it becomes clear that everything depends on the implementation and experiments. Obviously, you won't get better results by doing the same things over and over. You must test and adjust your strategy based on user behavior and statistics.
Now, we'll go through some marketing strategies which can serve as a starting point and help you become successful in the affiliate world. So, let's see what affiliate marketing strategies we have for beginners.
Promote Affiliate Links Through Your Blog
One of the common strategies that affiliate marketers use is blogging. What does blogging include? Basically, it consists of content creation and distribution while promoting affiliate products. This sounds very easy. Implementation is the hardest part.
First, you need to create a blog. There are many online platforms like WordPress which give you an opportunity to design the blog of your dreams. Some of them are drag-and-drop website builders, so you don't even need to have any coding or design skills.

You can start with free themes and customizable templates before making a custom design. Create your logo yourself with the help of online logo maker tools.
After finishing the technical part of your blog, you must think about content creation. Having a content strategy drastically improves the content management process: you know what content you need to create, what products must be promoted with the help of that content, and when it goes live on your blog. Pretty helpful, isn't it?
Choose affiliate programs to join depending on your niche. Pick the products wisely, because your revenue directly depends on them. If your audience is not interested in them, they will never make a purchase.
Don't forget about the marketing tools, especially the free ones. There are tools for almost everything that will help you automate some actions and save you time. From the free tools, you can use Google Analytics and Google Search Console to have basic information about your website activity and traffic sources.
Ok, now you have an active blog and on average 4-6 published articles per month. But, for some reason, people don't seem to notice your content. That's because you don't promote it. As you know, there are different traffic sources including the Organic, Direct, Social, Referral, etc. So, to increase the traffic to your blog, you need to use different channels. For organic traffic, you must optimize your website for search – SEO.
If you want to increase your social traffic, share your content on different platforms. Use free social media management platforms like Buffer or Hootsuite to automate this process.
Your balance is still empty? Don't worry, it will take time to grow your blog and generate sales. Patience and hard work are all that you need. If you're interested in content and blogging, you can consider trying this strategy.
Start a Video Blog
If you're a charismatic person with unlimited energy and desire to be in the spotlight, then you must try video blogging. One of the best platforms for vlogging is certainly YouTube. PewDiePie is considered the most popular YouTuber of all time and has a net worth of $20 million. Can you do better?
His videos get millions of views. As we can see, he uses affiliate links in the descriptions of his videos.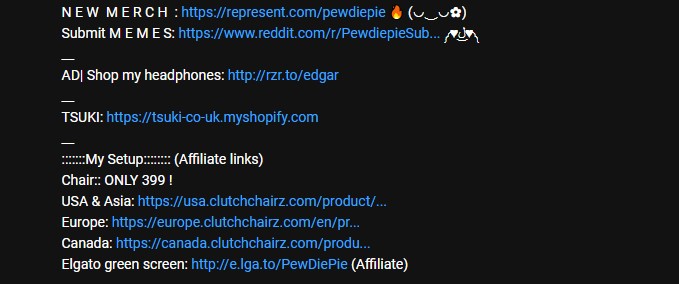 Ok, now it's your turn to create and promote your vlog. But first, choose the niche and what kind of videos you want to create. Create a branding for channel that consists of your Youtube logo and channel art. Research and brainstorming will help you come up with interesting video ideas.
As a YouTuber, you must be able to optimize your channel and videos for search. This will help you get organic traffic. Besides, you can share your videos on different platforms to increase the reach.
Depending on what exactly you want to promote, you can create tutorials, product reviews, lists, entertaining videos that will attract your viewers.

Again, you can use a video content calendar to manage your video creation and distribution process. Keeping the consistency of sharing videos is important, but keeping everything in high quality is more important. Here, the quality matters, not the quantity. Besides, you must learn how to promote your YouTube channel to increase the reach of your content and attract more followers.
Become an Influencer and Promote Products
Why is everybody so obsessed with social media? Because people have found a great way to show off their achievements and… earn money. We, humans, tend to monetize anything and everything in every possible way. So, here come the influencers.
Who is an influencer? As you can guess from the name, an influencer is someone who has high authority and influence on a certain audience. In this case, the audience is their followers on social platforms.
You can become one if you try hard. Though, you must be ready to face fierce competition and fight for the attention of the audience.
Pick an influencer marketing platform of your choice and start promoting your account. Whether it's Instagram, Facebook, or any other platform, you need to find your own niche and develop your unique style.
Having many highly-engaged followers will help you increase your affiliate revenue. Moreover, you might also get other paid collaboration opportunities from different brands.
Use Banner Ads to Promote Your Affiliate Links
Have you heard about Google AdSense? If you're a content creator and have an active blog or vlog, then you have a chance to monetize it. Similar platforms enable you to earn money without any investment. Sign up to the platform and get your commissions.
This works both for a blog/website and YouTube vlogs. The only thing you need is fresh and original content to increase the site traffic and video views.
All similar platforms usually have some minimum requirements. For example, you must have at least 4,000 hours of overall watch time on your YouTube channel within the past 12 months and have at least 1,000 subscribers to apply to AdSense and monetize your content.
In any case, this can be a great way to monetize your existing website or vlog. It can be a long-term strategy and it needs no more than fresh and informative content. But, if you don't have an active website or vlog, you can create one right now.
Run an Email Marketing Campaign
Like any other type of marketing, email marketing has its pros and cons. And, of course, your revenue depends on the quality of your email campaigns. According to statistics, for every $1 spent on email marketing $44 is made in return, besides, 28% of consumers would like to receive promotional emails more than once per week.
One of the key points here is having an email list. Whether it's 100 people on the list or 10.000, you must make sure that they don't mind getting emails from you and you have their permission. Otherwise, your emails will be marked as spam.
So, how to stop spam emails? The best way is to collect the lists by using different methods which require an active website or blog. In other words, you need to lead your audience to willingly provide their email addresses. There are so many ways to do it depending on your niche. See some examples below:
Signup forms

Subscription forms

Giveaways

Lightbox popups

Special offers

Free guides and ebooks

Business cards

Networking events, and so on.
Do not ever buy email lists, no matter how tempting they appear. It will bring you more problems rather than profit.

Ok, now as you've built your email list, it's time to think about the content. The email subject line is an extremely important part of your email because if it doesn't attract the attention of the recipients, they simply won't open and read it.
Source: HubSpot
Personalize your emails to get better results. Based on your content and your target audience, pick the products you want to promote and write your email content.
Use email automation tools to manage the process. Most of them have built-in analytics which can help you understand the effectiveness of your email campaigns and improve them to get more revenue. For example, if your open rates are too low, you must check your subject lines and make them more appealing.
To Sum Up
As an affiliate marketer, you don't need to be an expert as there are many ways to get a passive income. But if you are not content with small commissions and want to generate more revenue, you must try to implement advanced marketing strategies. These strategies will help you get started with your affiliate business and make a steady passive income.
---
Join Renderforest Affiliate program and start earning today!