Branding has become one of those buzzwords that everyone uses but doesn't really understand its true meaning and purpose. What is branding? How to create a brand? Why do companies need a strong brand strategy? These have been big questions so far.
Even without having much knowledge about the topic, many companies are trying to build and market their brands. Most of them fail.
And the reason for those failures is not having a clear brand strategy. Even if you succeed at creating a brand, maintaining its long-term success is another big challenge for you.
Many people think that creating a brand means making a logo and designing a website. We can't deny that these are very important components of a brand, but there are far more important things brands need to consider.
Only a few companies accept that creating a brand strategy is a long process that requires patience, time, and hard work — but pays off handsomely! In fact, the value of America's brand logos is worth more than 10X the combined price of the world's most famous buildings including the Eiffel Tower and the Vatican.
In this article, we will go through 8 steps of creating a brand strategy and will speak about common reasons why many companies fail. Also, we'll discuss what channels to use for your brand strategy.
It's time to start creating your brand strategy. Below are the most important steps in the branding strategy creation process. Take into consideration that if you fail at one of these steps, it can be crucial for you and your business. Now, let's see what the steps are.
Define Your Target Audience
If you're new to the industry, ask yourself who your ideal customers are and how they depend on your product/service. Or find and analyze your direct competitors. Analyze their product/services, their brand strategy, their customers or users, and how people interact with their business both online and offline.
If you're an established business, you have a chance to analyze your existing customers and clients. While conducting your analysis and market research, divide your customers into segments according to their common patterns and motivations. This will help you understand which segment is more profitable for your business and try to attract more similar customers.
What does an ideal target audience look like? If your company sells grooming products for men, one of your ideal target groups will be women between ages 20 and 45 who usually buy similar products for their sons, husbands, or boyfriends.
This is just one example of good research. You can do the same for your product or service. The more thorough your research is, the better. These are the people who may become your brand ambassadors.
Write Your Brand Positioning Statement
The brand positioning statement is the sentence that reflects what your business offers, your target audience, and the benefits of your brand. For many brands, it's a big challenge. But, if you really understand your brand and how you want it to be perceived by others, you can easily write it with the help of brainstorming.
The statement can be broken down into 3 parts: your target audience, the value provided by your brand, and its backup. So, ideally, the positioning statement will look like this:
Renderforest is an all-in-one branding platform that provides people aged 18-50 with easy-to-use online tools for creating videos, logos, mockups, and websites. More than 10 million projects have been created with Renderforest.
Once you define it, make sure that it fits your brand story and think about how it will change with time as your company is growing. You can always get back to it and make it more precise, unique, and relatable to your brand.
Recommended Reading
---
---
Develop Your Brand Identity
Most of us recognize brands by their logos, or even their brand colors and messaging. It means that those brands have successfully developed their brand identities.
First of all, you need to conduct a brand audit to understand where your brand stands in the marketplace and among your competition. This will give you insights into how to proceed.
Then, depending on your positioning, you need to develop the creative elements of your brand — your brand style guide.
When you increase your brand awareness and more people learn about the existence of your brand, your brand identity plays the leading part. If you hit the right audience, impress them, and build an emotional connection, your brand will be remembered. You can increase your brand awareness both online and offline by using different channels.
Your brand identity is how people are going to recognize your brand. This is why it's crucial to build an authentic one that reflects your values. A strong and creative brand identity should be an inseparable part of your brand strategy.
Brand = Association
Every brand is associated with some emotions and meanings. Let's take the example of Apple and Microsoft. Here are some words associated with these brands:
While developing your brand strategy and identity, think for a moment about what associated meanings and words you want to connect with your brand. Then, research and develop the tactics you need to create those associations within your target audience. Those tactics include your messaging and content, the way you communicate with your audience and what emotions they have after each interaction with your brand.
Some companies forget that the messaging is all about the consumers and solving their problems, not about their brand and how great they are. So, when companies only market themselves and their product, this can result in negative associations.
If you try and solve the problems of your audience, educate them, and provide the necessary support, your brand will be associated with trust and professionalism.
Keep Your Brand Consistent
Consistency builds trust. This is not just a statement. It's a fact. Now, imagine a person who constantly changes his attitude and style. One day he is all business, another day he is too casual and friendly, then he disappears and shows up after a week. Can you trust this person and do business with him?
The same goes for your business. If you're constantly changing and are very unpredictable, people won't trust you and your company. So, consistency is crucial. But how to maintain it?
Keeping your brand consistency directly depends on effective teamwork. It doesn't matter how many people are involved in the activities, each of them must know your brand values and how to communicate them on various channels. All team members must have access to your brand style guide and learn how to use your branding materials while creating any kind of content.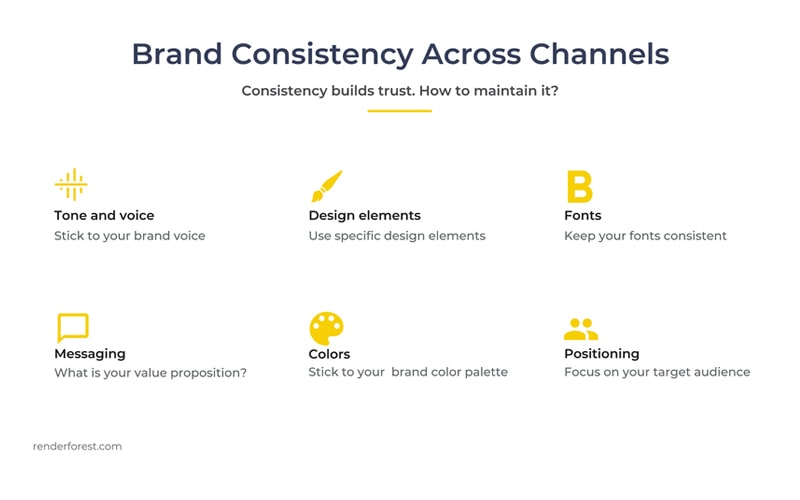 Always find the time to monitor this process and improve it if necessary. This will keep you from sending mixed signals to your audience and will help you stay consistent with your brand strategy.
Maintain Positive Relationships with Your Customers
It's a known fact that retaining your existing customers is more affordable than converting new ones. This is why it is important to establish and keep positive relationships with your customers. Client-facing team members must have exceptional communication skills because everything depends on how they deliver the necessary information and brand messaging.
One of the best ways to keep your customers satisfied is by exceeding their expectations. When you know your customers and what problems they have, you can not only solve the problems but also do so in a way that makes them feel cared for and special.
Recommended Reading
---
---
Make Your Employees Your Brand Ambassadors
Happy and satisfied employees are as valuable to the company as the customers. Most companies spend all their time and resources on their customers and forget how important their employees are.
What makes your employees happy? What do they want? Learn more about them and what kind of activities they like. Organize team-building events that will help to shape your company culture. According to studies, the employees who were actively engaged in different activities at work were 87% less likely to leave their company.
Why do you need all of this? Well, because your employees can become your brand ambassadors and help to increase your brand awareness, especially with the help of social platforms. When your employees share different photos and videos mentioning your company on social platforms, your customers can have an inside look at what happens there and how fun it is to be a part of your company.
In the same way, the employees who are not happy and content with your company, can give negative feedback and affect your brand image and marketing. So, if you don't have company culture and employee engagement programs, it's the right time to start developing them.
Use Co-Branding
An interesting example of co-branding is the partnership between Uber and Spotify. These two brands collaborated to make an exclusive experience for their customers. Check out the video below.
Co-branding is the partnership between two brands which is an effective way to reach new markets and increase brand awareness. Think about what companies you can collaborate with to make an unusual product or feature which is beneficial for the customers and is a win-win for everyone. This is not a mandatory step, but it can add some points to your brand credibility.
Like Jeff Bezos said:
"A brand for a company is like a reputation for a person. You earn reputation by trying to do hard things well."
Having a brand strategy is essential for every company. Follow the above-mentioned steps to build the brand and adjust your brand strategy. Understand your purpose and build a strong brand strategy to get the perks of an established business.
Why do Companies Fail at Branding?
What can I do to avoid failure? This is what most companies think about. You just need to admit that you won't succeed without trying and, if you try, you can't avoid failure.
In reality, everything is more simple than it seems to be. Below are some reasons why most of the companies fail.
Companies fail at branding because:
They don't have clear long-term and short-term visions which is a huge mistake.

Their brand identity and brand messaging are not in sync.

They target the wrong audience that doesn't use their products/services.

There is no defined positioning in the market.

They are ignoring their customers' needs.

They are failing to deal with unexpected problems that arise occasionally.
These reasons will make you think twice while bringing your brand strategy into action. Besides, if your strategy fails, you always have an opportunity to analyze what went wrong, improve your brand strategy, and start all over.
Now that you know the main reasons why brands often fail, let's see how you can avoid it and have a look at a successful branding strategy.
We'll take the example of one of the most famous brands — Coca-Cola. It's literary everywhere. When we look around, there are so many people on the streets with Coca-Cola cans or bottles, not to speak of the posters and banners at every corner. When you get home and turn on your TV, you see a Coca-Cola advertisement, so on and so forth.
What can we assume from this example? This brand has become an inseparable part of our lives. The same goes for other famous brands like Apple, Nike, KFC, and others. So, we can learn from the big brands that you can't build branding by solely creating an online or offline presence. You need a combination of everything. Your brand must be visible to your target audience everywhere.
When thinking about your brand, first of all, you need to find out where you can find your target audience and how you can become a part of their lives. There are two ways to reach your audience: offline and online. And when you combine your online and offline strategies you get a consistent customer experience.
How to reach your customers offline? Here are some options:
Make

business cards

, branded merchandise, and

print materials

,

Get coverage from journalists,

Take part in offline events, seminars, networking activities, trade shows,

Sponsor an event,

Guerilla marketing.
For online branding, there are far more tools and opportunities compared to offline. Besides, it's easier to reach your target audience with the help of smart strategies. These strategies are not limited to having a website and a Facebook page like most companies think.
Yes, it's important to have a website where your potential customers will get acquainted with your products or services. You can also set up an online shop for their convenience. In the case of social media channels, you need to make sure that your messages reach your target audience.
Instead of making a website and waiting for your customers to flow, or aimlessly posting your messages on a certain social media platform without getting any positive results, stop for a moment and think about changing your online marketing strategy.
What can you do to market your brand online? Here are some effective ways:
Educate your audience: start a blog to share useful and informative content. This will identify your company as a professional and competent brand.

Create an online community that will later bring loyal customers. To do this, you can use social platforms. Use every opportunity to communicate with your audience and build strong relationships with them.

Build trust: happy and content customers are key to your brand's success. Ask your customers to review your company and

use those testimonials to build trust

among your potential customers.
People usually trust each other more than brands. So, another way to build your brand is by using influencer marketing. Collaborate with people who have an active follower base on different platforms that trust them.
Source: Social Media Today
So, every time influencers post something about your brand, your message will be spread among their followers. This will increase your brand awareness and bring you more customers.
Online or offline? Always choose both — a combined strategy — to keep your brand consistent across all channels. Test your brand strategy and adjust it. And always remember to keep your target audience in mind.
Conclusion
It's hard to build a brand, but very easy to ruin it. Building the brand needs a good strategy that will lead you to success. Read the above-mentioned steps for creating an effective brand strategy and start implementing them while creating your own. Keep your online and offline marketing strategies in sync to stay consistent and build trust in your audience.