Best corporate branding isn't the same for everyone. Depending on your industry, company mission, and values, company branding strategy will change. 
Corporate branding is defined as all the activities done to promote the brand name and corporate identity. Essentially, corporate branding is effective storytelling through a variety of mediums. A good branding campaign is a psychological mechanism to create a clear and undoubted association with the company and translate its core values to the outside world. 
If asked to describe Coca-Cola's corporate brand, the first words to come to mind are red, refreshing, happy, and other festive adjectives. This all comes from a very clearly built corporate branding, consistent worldwide and successful throughout decades. 
Some companies don't develop their brand further than a logo and a website, which can only result in business complications. Your employees, office culture, logo, slogan, ads, stickers are all equal contributors to your company branding. Only 25% of the population thinks exclusively in words, and it's no news that words are far more challenging to make your own and strike associations. Approximately 60-65% of the general population are visual thinkers. This means that your strongest suit has to be your visual identity.
Visual Identity for Company Branding
In the age of the internet, audiences have become more susceptible to viral content and visual aids. Thus, your branding efforts need to:
Be eye-catching

Have the WOW factor 

Go leg-in-leg with current trends

Focus on

social media

marketing and promotion 

Appeal to an audience that might not be a potential customer

Show consistent design concept
Color Palette
Colors make or break the brand image. When your product, promotional materials, or any other visual content is presented, the first thing to stick with the viewer is the color story. How does it match your mission? Does it make sense for you?
Beeline, a telecommunication brand, has a very creative and smart brand identity. From the name to the color palette, it tells a story. Why bees? Because bees have been using antennas for communication, way before humans created satellite phones. Why black and yellow? Because bees!
Source: Notes on Design
Who can forget the notorious London Olympics branding failure? Colors didn't tell a story of international importance even. Moreover, they have a very beach party feel, which is summer, but not quite there. One may even argue that the shapes, supposed to spell out 2012, look more like peaked ice than anything summery. Historical fail!
Iconic Typography 
Typography can be as recognizable and iconic as the company brand itself. This can be used in packaging solutions, product designs, and even website texts and define who you are as a brand. Disney, an entertainment company that defines everyone's childhood regardless of location and background, has chosen a very whimsical logo. At the same time, the McDonald's logo conveys the familiarity and stability of what they have to offer by using a bold serif font.
Logo Creation
Source: 99designs
Logos are fundamental for image and visual representation. Colors, themes, packaging, and nothing else are complete without a brand logo. It takes a creative process and a vision to develop a logo that stands out and is as iconic as Pinterest's. However, it took them several tries before they got there. 
Nowadays, however, you can easily strengthen your brand identity with an AI-generated logo. Your design team can consist of just you and your computer, and no one will ever know!
Packaging
Before giving to print, visualize your packaging and examine with photorealistic mockups. If your product is new in the market, the packaging will break or make your sales. Often what you grab in the market is what grabs your attention, and if the packaging is well thought out, you are willing to give a brand a chance.
For decades Tiffany & Co. has been known for its packaging solutions and legendary simplicity. Founded in 1837 (Yes, you read it correctly!), Tiffany & Co. finally trademarked Tiffany Blue® in 1998 and got their Pantone® exclusive color in 2001.
Source: Tiffany & Co.
While being a simple shade of blue, Tiffany & Co.'s branding team has shown time and time again that you don't need to complicate things to create something unique and never done before.
Website
Your website is the window to your company. For a small business or a huge corporation, you need to have a website to showcase products, services, operations, your team, and more. Start your website as soon as possible, and be surprised that you don't need a technical skillset for that either. Use a simple website maker and create complex or one-page websites and landing pages right from your browser.
Social Media
Be a storyteller, no matter how big or small your company is. Keep up with your audience and how to appeal to them. Find what attracts your customer base. Is it a brand fight? Is it a TikTok account? Or IG story quizzes? Listen to your audience, analyze viewership data, look at competitors, and do it!
Keep your style consistent across social media platforms and find your unique voice. To keep this unison, you don't need to be a designer at all. Our in-browser software can help you with all kinds of content, graphics, presentations, interactive stories, flyers, posters, and a lot more.
Corporate Branding: Rule of Three
No rules, guides, and manuals can guarantee success. However, you can learn from millions of companies who have failed or prospered and go the beaten path. You can also choose to brainstorm on something unique, but always keep in mind the Rule of Three.
Plan every stage of your branding strategy. 
Planning, planning, planning! No successful campaign of any kind can strive without a well-organized action plan. Stages may differ depending on your project complexity and product. Still, a concise manual can ease your efforts, guide you in the right direction, and make you look for answers to questions you didn't think were relevant to your corporate branding strategy. Even top branding agencies that have been in business for years use such manuals as guiding tools.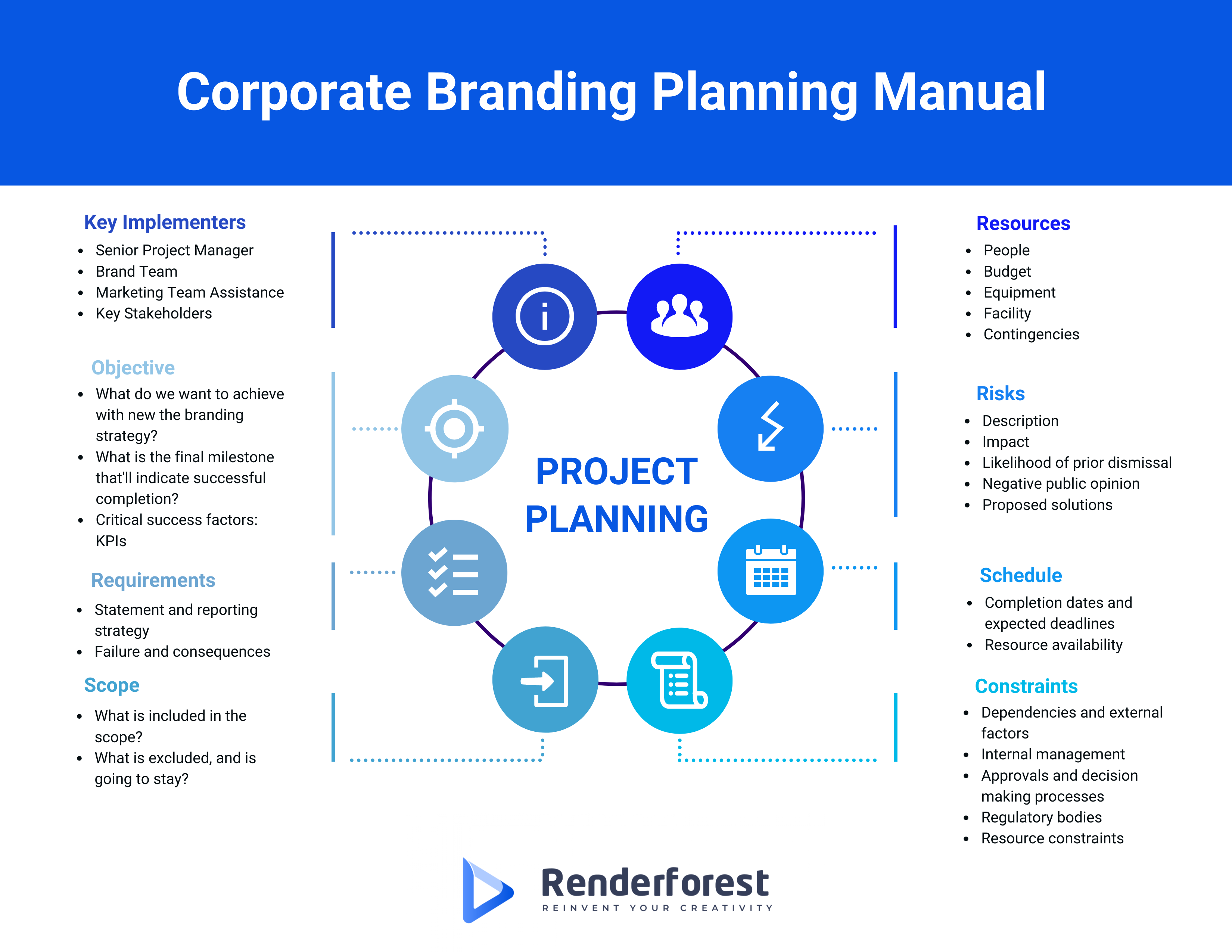 Build your corporate identity on a steady foundation. 
This can be backtracked to planning, but a steady foundation is more than just clear guidelines. It's a confident backbone that may be defined as the team that works on the strategy, implementation efforts, or the right choice of a design agency. One or the other, this has to be defined early on as the strong suit of your brand identity. 
Prioritize your audience, not your business.
As much as branding efforts aim to improve business practices, finances and recognition, it's important to remember that the main objective is the audience's love. "Black PR is good PR" rhetoric may work for celebrity popularity, but as a corporate brand, you want positive feedback from the public, so the time, effort, and money invested is justified. 
How to Jump-Start Your Corporate Branding
First, Brand Audit 
Before you do anything, analyze and evaluate your current efforts. Your findings will help you identify what's efficient already, what needs change, and where some modifications can be done without a complete rebranding.
Start With an Outline
Map out your action plan. Some things may change as you go; on the other hand, some should be finalized in your outline, so everyone on the team is on the same page, and all elements are consistent.
Find Your Voice and Uniqueness
What's the point of corporate branding if the company doesn't stand out from the millions upon millions of others? You don't need to be outrageous or shocking; just be your unique self. No one does what you do!
Define Your Aims and Goals 
Results measure the productivity and hard work put in. Understand your criteria for success; more sales, new customers, social media following? 
Go Into The Real World
Look at what competitors are doing, not for the sake of copying, but to see what works in the real world. Especially if this is your first time developing a corporate branding strategy, don't be afraid of getting inspired.
Learn From The Best Corporate Branding Examples
Talking about inspiration, let's see what internationally recognized brands are doing and how they got there. It hasn't been an easy road for many legendary brands, and that's only natural. Honestly!
Starbucks
Source: Medium
Founded by three coffee and tea enthusiasts in 1971, Starbucks didn't reach its popularity until 1992 in the US and 1996 internationally. It has been a rocky road, with Starbucks first being a roastery and equipment store. The initial trio who founded it fell apart solely because of the idea of turning Starbucks into an Italian-style café. Where would I get my coffee on the way to work if Starbucks was just a roastery? But really!
Volkswagen
Source: Wikipedia
If Starbucks had a quarrel to go through, Volkswagen has seen war, literally. Aimed to produce cheaper people's cars in pre-Second World War Germany, it didn't produce anything other than military vehicles for Nazi organizations until 1946, oups. By 1949, half of West Germany owned a Volkswagen. By the mid-1950s, Volkswagen expanded internationally, leaving the military past far behind. 
They won over the market with an unconventionally sized and designed "Beetle," a car that quickly became the most imported car to the US during the whole decade. 
So if a Nazi military vehicle producer could develop a corporate branding strategy and pave the way to the top of luxurious car experiences, you can achieve all your wildest dreams. 
Levi's
Source: Turbologo
Starting as a "sailor sewing pants for miners out of tent canvas to make some cash in 1850" venture, Levi's has come a long way to being one of the most trusted denim jeans production, along with Levi Strauss & Co.'s other products. 
Single-handedly, less than a century later, the company went on to popularize once worker's and cowboy's pants worldwide to the point that it has become a staple in everyone's wardrobe, without exception. 
Learn from the best to eliminate as many errors as possible. But remember that mistakes are how we grow and blossom. It's essential to experiment with your corporate branding strategy and finding what is uniquely your company's.