YouTube playlists occupy a special place in the list of powerful tools the video hosting giant offers. Whether you want to organize your videos by theme, make a road-trip song collection, or gather all your favorite cat videos in one place, making a YouTube playlist is the perfect way to go.
You can create playlists of your own videos, those of others, or mix them together — no restrictions here. 
YouTube playlists are not only great for entertainment but are powerful tools marketers can use as part of their YouTube marketing efforts. Creating a playlist not only keeps the channel organized but makes for a continuous viewing experience – videos play one after another, keeping people watching.
However, if you are new to the platform and have never created a playlist, you may not know exactly how to do this. In this article, we cover everything you need to know not only about creating but also editing a playlist on YouTube.
How to Create a Playlist on YouTube
How to Edit a YouTube Playlist
YouTube Default Playlists
How to Create a Playlist on YouTube
There are two ways you can create a YouTube playlist and organize your videos. Below, we will take a look at both of them. 
To start, you need to sign in to your account using the YouTube sign-in button on the top right.

The button will redirect you to the Google sign-in page. If you already have an account, enter your login details and click next. In case you don't have an account yet, you will need to create one. You can check out our article for a step-by-step guide on how to make a YouTube channel.
After you log in, from the drop-down menu on the top right, select "Your channel."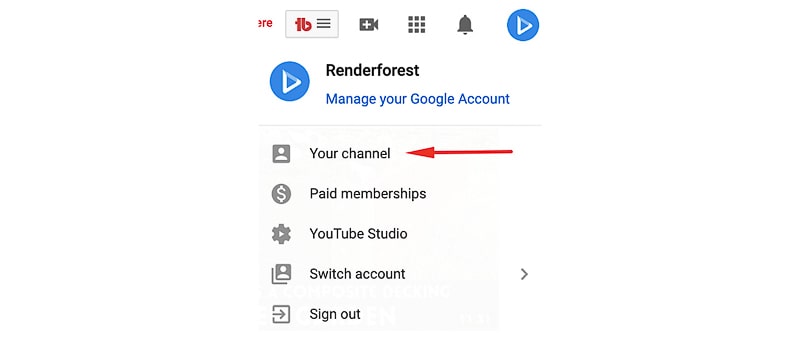 From your channel, select the "Customize Channel" button on the right to access your channel editor and create a playlist.

The next page is where you can fully customize your channel information: add and edit the description, channel art, manage the layout. To start creating your playlist, navigate to "Playlists" in the menu on the right and select "New playlist."

Upon clicking the button, you will be prompted to name your playlist and select the privacy setting. Allowed character limit is 150 characters. However, search engines crop out the results after 70 characters. In case you want to target any keywords to optimize your playlist for search engines, make sure to include them in the first 70 characters.

As for privacy settings, you have three options to choose from: Public, Unlisted, and Private. Public playlists are available for everyone. They show up on your channel and in search results. Unlisted playlists don't show up in search or on your channel, and people can only access them through a private link. Private playlists are only available for you.
After typing in the name and choosing the privacy setting, click "Create." Don't worry about the title or setting much now — you can always edit them later.

Once you select the "Create" button, the playlist will be created and will open in a new tab.  Now, it's time to add videos. Clicking the three-dot menu will prompt a drop-down menu to open. Go with "Add videos" to move forward.

A pop-up will open, where you have three options to add a video: through search, by adding a link, or from your uploaded videos.
Select the videos you want to add to the playlist and click "Add videos."

Voila! You've added the first videos to your shiny new playlist. You can further customize the playlist by using some of the tools that come with each video. Arrange the videos by clicking on the two-line menu on the left of each video, and simply drag it up or down. 
When you hover over a video, a menu will appear on the right. From there, you can save the video to other playlists, remove it, move to the top or bottom, or set the video as a playlist thumbnail.  Therefore, to make your playlists look more neat and appealing, you'll need to create and add a custom thumbnail to your videos. To improve the performance of the playlist and the video, take a look at these tips on creating a clickable YouTube thumbnail.

Now, let's take a look at the second and simpler way to create a playlist. For this, you need to go to the video you want to add to a playlist. It can be your own video or a nice new track you've just found. When the video opens, click the "Save" button on the bottom- right side menu.
A pop-up will appear with the list of all playlists you've created, if there are any. If not, you will have two options: add the video to "Watch later" (a private default playlist by YouTube), or create a new one. Select "Create a new playlist" to move forward.
In the next window, type in the name, choose the privacy settings as earlier, and hit create.
The playlist will be created, and the video you chose will be automatically added there. This time, however, you will not be redirected to the playlist. 
You can access the playlists from your channel, and from the menu on the top left. Keep in mind, however, that only public playlists will show up. To access "Private" or "Unlisted" playlists, you will need to use the panel on the left.

How to Edit a YouTube Playlist
Let's take a look at how you can edit your YouTube playlist once you've created it. From the same menu we used to add videos to the playlist, select "Playlist Settings."
From the pop-up menu, you can disallow embedding, and choose to add new videos to the top of the playlist. For more editing options, go with "Advanced Settings."
On the next page, you can edit the privacy and manage the ordering of the video. Additional options include again allowing or disallowing embedding of the playlist, as well as setting official series for the playlist. This function is not available for the playlists containing videos of other users.
"Auto add" is another great tool that can simplify the process of organizing videos into playlists. It lets you define a set of rules, and the uploaded videos that comply with those rules will automatically be added to the selected playlist. Let's say you often create drawing tutorials, among other videos. You can set a rule that all the videos containing the word "drawing" in the title are automatically collected in the playlist of your choice. 
In the "Collaborate" section, you can choose to make the playlist available for collaboration. You will be given a link through which other users can add or remove videos to the playlist. Once you no longer want to continue the collaboration, simply come back and deactivate the link.
The function is not available for "Private" playlists, so make sure to make the playlist "Public" or "Unlisted" before allowing collaboration. After you've altered the settings and are satisfied with the results, click save to put them into action. You can come back anytime to edit the playlist further if needed.
That's it! Now you know how to create a YouTube playlist, and how to access some of its essential settings.
YouTube Default Playlists
Apart from the playlists you create, your YouTube channel comes with default playlists: Liked Videos, Watch Later, and History. Let's take a look at each of them. 


Watch History
As the name suggests, history is the collection of all the videos you have watched. Your search history is only available for you; you can't send or otherwise share it with anyone. You can delete it, use it to find a video you watched, filter through the comments and community, or manage the history settings in the "Manage All Activity" tab.
Watch Later
Now, imagine a situation: you are browsing through YouTube and come across a video you'd really like to watch, but can't do it now. This is where the "Watch Later" playlist comes to help. Simply hover over the video and select the little clock icon that appears on the top-right corner.
The video will appear in your "Watch Later" list, and you can access it anytime from the left-side menu. Your "Watch Later" list is again private, and accessible only to you.
Liked Videos
One of the wonderful tools YouTube offers us to support the creators is the "Like" button. It then gathers all the videos we've liked in one place, the "Liked Videos" playlist.
The videos are ordered from the most recently liked to the oldest. As other default playlists, "Liked Videos" is private and cannot be shared.
Conclusion
Creating a YouTube playlist is simple — only a few clicks — but it can improve your YouTube presence in many ways. Check them out, explore the offered tools. If you have a business, try to incorporate playlists into your YouTube promotional strategies, and you will see the benefits in no time. And hopefully, this step-by-step guide will simplify for you the process of starting with them.  
Need ideas on how to spice up your videos? Brand your channel with a YouTube logo that you can incorporate into your videos. Or browse through our extensive library of more than 800+ templates to find the one that will transform video creation for you. Click the button to start: