A viral video can be found anywhere these days. It's hard to determine what exactly makes a video go viral, but it's common for the majority of them to be inspiring or fun, things that people love to watch and share.
One of the things that matter most in viral videos is the content. If you choose a topic that is interesting for most of your audience, the chances are higher for you to go viral. This makes choosing a topic for your video the most difficult part of the whole process. 
So, what if you have a great topic, but no grand skills to create a "viral-worthy" video. Don't worry, when creating a viral video with Renderforest, you don't need to have professional editing skills. 
With your ideas and a little bit of inspiration, you can create the video you need, and stream it on different platforms. 
Here's a high-quality video made within a few minutes, that will hopefully encourage and inspire you to create your own "viral-worthy" artwork. The following video was made with the "Social Profile Promo" preset, which, along with many other presents, can be found on Renderforest. 
If you are all set and ready to create your soon-to-be-viral video, let's start right away. 
To start creating and editing your videos, you first need to sign up or sign in to your Renderforest account. Once, you're done, go to the "Create video" page. In the "Animation video" section you'll find a "Product and service promotion" sub-category, which will offer you a large variety of promotional and trendy video templates to work with. 
In this tutorial, we will use the "Social Media Toolkit", which has more than 300 scenes and ready-made presets, to help you create your ideal video. After choosing the video template you like, click on the "Create now" button, to start right away.  
Now it's time for you to choose whether you want to pick the scenes yourself, or you want to work on presets, the ready stories we've prepared for you.  
By choosing the "Add scene" option, you'll be able to choose the scenes you like. After completing this step, click "Insert" to start working on your dashboard.  
By choosing "Load a preset", which is the option we will be working with in this tutorial, you'll be offered a list of presets, from which you can choose the one you need and start working. Click on the preset, and then the "Use ready story", to start working on it.  
On your dashboard, you can change the sequence of the scenes, delete, duplicate, and replace them, or add additional ones in between.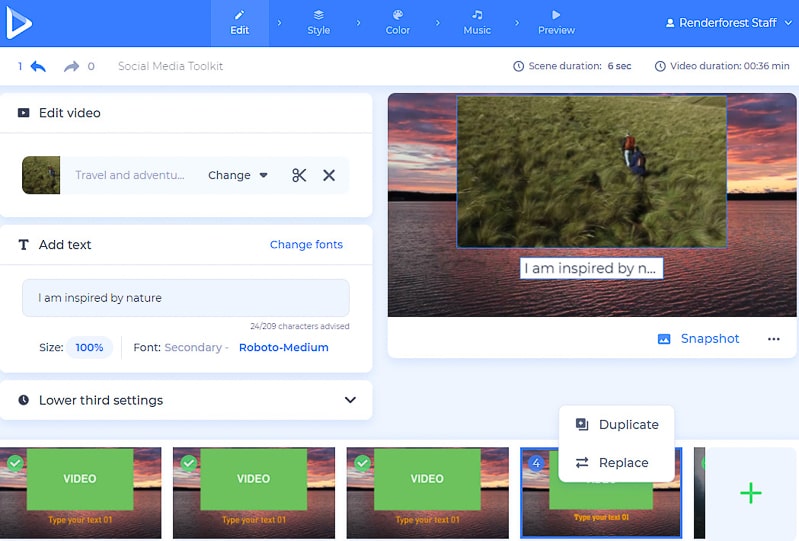 Start adding your media files to the scenes by clicking on their respective fields – image or video holder scenes, and choosing "Upload." If you want to choose a file from your previous uploads, you can click on the "Media library" option. Choose "Video URL" or "Image URL", to add the media files from the web, and "Stock footage" or "Stock image", to look through our collection. 
The added media files can be cropped and trimmed, according to your liking. Additionally, you can rotate or apply our offered filters to your image files.  
The texts can also be added and edited by clicking on their appropriate fields.   
After making all the changes in this step, go to the "Style" section, where you will be able to choose the transition and font style.  
Note that you can choose both primary and secondary font styles.    
The next step is "Color", which will offer an unlimited number of colors for your video. If you don't like our color combos, you can always add your own color scheme in the "Custom color" section.  
The last step for you to complete, before taking a look at your video is "Music". You can choose a track from our library, "Upload" music from your device, pick one from your previous uploads, add a voiceover, or mute the sound altogether.  
With no edits to make, go to the last "Preview" step, where you can watch your video before downloading it.   
There are two ways for you to export your video. The first one is the free option, which offers SD360 quality videos with the Renderforest watermark. You will be able to edit, download, and publish your videos any time you want.
With the "HD export" option, you can choose one of our paid subscriptions and download your video with high-quality and no watermark. All the details about our pricing can be found here. 
That's all! Your "viral-worthy" video is ready to take the world by surprise, once you upload it on the Internet. 
Excited to create more with us? Check out some of our video presets, suitable for social media platforms. 
Make videos online, using color, transition and text styles, and more. With the help of over 200 scenes, you can make catchy and modern videos, and share them on different platforms.  
With this modern template, you can create fresh, minimalistic, or fancy videos, ready to go viral. You can inspire, promote, or inform, the choice is yours. Perfect for YouTube videos, blogs, promos, and more.  
Simple and powerful videos are what you need to promote your brand. Create dynamic and beautiful videos to reach more people. Suitable for promotional, educational videos, announcements, presentations, and more.   
Tell your story and share your message on social media platforms through your incredible videos. Inspire, promote, and inform your audience by using ready-made scenes, or uploading your own media files. Perfect for  Facebook and Instagram ads, YouTube videos, and more.