Whiteboard animations are an innovative marketing tool to help you get your message across to your audience through hand-drawn style videos. Using these animations, you can share your stories with them, or give them more information about your products, services, and ideas. After all, animation videos are one of the best marketing tools for your business.
So why should you use whiteboard animations?
Whiteboard animations are fun. The secret is the characters. They are amusing and entertaining and can have a strong impact on the viewer.

Whiteboard animations are flexible. You can use them wherever you want, whether it is your homepage or social page.

Whiteboard animations are easy to recall. It is a good way for you to be remembered. In this case, your customers will remember you and your product through your animated video.

Whiteboard animations are shareable. The best thing about video and, in particular, whiteboard animation is that they can get shared and promoted by your followers and customers on any social media as great content.
If you are looking for a way to create your own whiteboard animation on any topic, Renderforest is ready to help you. With more than 1000 scenes of different kinds, animated characters, etc, you will be able to create a successful promo, explainer, or other types of video, with a long-lasting effect. 
To start creating whiteboard animation videos with Renderforest, first sign in to your account. If you don't have an account on our platform yet, signing up for free will take you only a few minutes. 
Next, go to the "Create video" section on the main menu, and then to the "Animation videos" sub-section. Here you will see a list of animation videos for every occasion. 
Choose "Whiteboard Animation Toolkit", which is the best solution for creating something deep and detailed. This template includes more than 450 interactive scenes with character animations, various icons, backgrounds, environments, and more. It also has customizable presets, which will make it easier for you to create whiteboard videos for your services, business, startup, company, etc. Click "Create now", to start.
You'll then need to choose one of the three options to create your whiteboard animation video. 
The "Load a preset" option will help you choose one of the ready presets full of already selected scenes. There are presets for birthday messages, tips, introductions, many types of business promotions, such as travel agencies, educational centers, seminars, and more. Choose the preset you need and click "Use ready story", to start editing the scenes. 
If you already have a video script for your whiteboard animation video, you can select the "Type your script" option and add your script in the field. After that, click on the "Generate project" button, for Renderforest to automatically make a collection of the appropriate scenes, add your text to them and leave it to you to edit the rest.
The last "Add scene" option, will allow you to create your video from scratch. It will offer you a long list of scene categories, from where you can choose all the ones you need, to create a good whiteboard animation. Here you can find a large catalog of categorized scenes with characters, background animations, typography, healthcare and sport, transport, internet, and social media, image and video holders, and more.
Note that you can choose the animated characters according to their gender, profession, age, and occupation, as well as groups of characters and individuals.
After selecting the scenes, click "Insert". The scenes will appear on your dashboard in your selected order and later on, you can change the order or delete the scenes you don't need. You can also duplicate and replace the scenes, by clicking on the three-dot menu on every scene. 
To add your text in the text holders, click on them and type in or paste your text. 
If you need to add a video, use a scene with a video holder. There are several ways for you to add a video: upload from your device, insert the link of the video, or choose an already uploaded video from the "Media Library". 
If you don't have a video file suitable for your animation, you can find one in our "Stock footage".
Once you add a video file, using any of those options, you'll be able to trim it and lower or mute its sound. 
Add images as well, by clicking on an image holder and choosing one of the options. You can crop the added image files, apply filters to them, or flip and rotate them.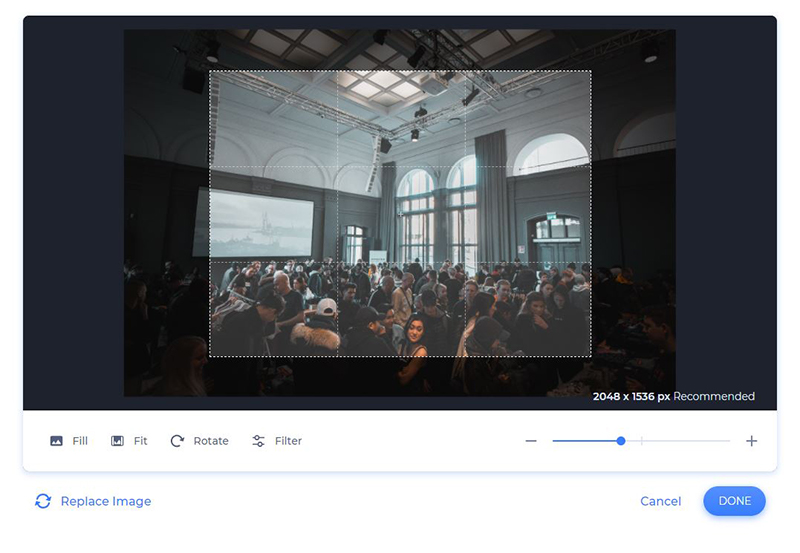 Once you edit the scenes, choose the style of your whiteboard animation video, by going to the "Style" section. 
Change the style of your primary and secondary text as well, by selecting a font and clicking "Generate", to save it. 
In the "Color" section, choose a color for your scenes and click the "Generate" button to apply the changes. 
When you finish adding and editing all the scenes of your whiteboard animation, it's time to pick a perfect music track or a voiceover for your video. Go to "Music" to choose a track from our library or upload one from your device. 
In case you don't want to add a music track to your video or to underline your message better, you can always go with a voiceover. Upload one from your device, or record it on spot, to make your video more dynamic. 
After completing all the steps, go to the "Preview" section and see the video you've made, before downloading it. 
There are two options for you to download your video. The first one is the free option, which offers SD360 quality videos with the Renderforest watermark. 
With the "HD export" option you can download your video in high quality and without a watermark. Here are all the details about our pricing.
All done! Your whiteboard animation video is set to help you attract your audience and achieve your goal. 
Ready to create more with us? Check out some of our templates that might help with your business and other personal projects: 
Create detailed and fun promo, explainer, and other videos using this Whiteboard animation pack. Full of about 400 animations and icons, this template will help you make a good lasting impression on your target audience.
Soft colors, unique characters, and brilliant style, all this can be found in one pack. Promote your business, or introduce your presentation with creative and artistic solutions.  
Create your own cartoon using adorable and addicting 3D characters, scenes, and icons. Choose styles, transitions, and music, to complete your video, and make it more perfect.