Have you ever wondered how to do a website audit? You probably searched it on the web but left the articles unread because of the confusing information. Here's great news for you!
We have gathered all the essential details of the website audit in this guide to help website owners grasp the essence of the process. With a few easy steps to follow, your website pages will be optimized based on the current best practices.
We have also prepared a website audit checklist for you to help you improve your site's performance and get better results on Google organic search.
Keep in mind that, like your annual health checkups, your website needs a regular audit too. That will ensure you have control over your site's health.
Ready to walk through the seemingly complex steps of a complete website audit? Let's get into it now!
What is a Website Audit?
Are you sure that your website performs the way you want it to perform? Does it bring you the conversions you expect? This process will analyze and reveal all the issues that hold the site from getting more conversions and rates. 
A website audit is defined as an overall analysis of the website based on the rules that determine visibility in Google. It is one of the most crucial processes to maintain the high performance of your site.
Why do You Need a Website Audit?
Search engines are becoming smarter over time. With each Google update, it's getting more complicated to have the first-page ranking. If you don't change your website according to Google updates, your site will be buried away on the third or fourth pages of the SERPs, and no one will ever find it. 
With the help of this process, you can keep it fresh and updated, improving its SEO, content, design, and accessibility. 
Here are just a few reasons why you will need to perform a website audit regularly:
Website navigation issues– User and split testing as a part of your audit will help you eliminate the problems you may overlook. For instance, there might be too many items in the navigation bar, which won't allow the users to find the item they are looking for. As a result, they will just give up and leave your website causing a high bounce rate.
Not a properly optimized website

–

Your website needs search engine optimization. With the help of an SEO audit, you can get rid of duplicate/useless content, improve site architecture, find broken links, and many more.
Risk of penalization from search engines– Have you previously trusted your website the SEO companies? You will definitely need a site audit if your answer is a "yes" to this question. The main reason for it is that some SEO companies have previously used "black hat" SEO methods, like keyword stuffing or link farming. These methods worked some years ago, but they can lead to penalization nowadays.
Page load time issues

–

You will always have high bounce rates if your website loads longer than 5 minutes. According to the research carried out by Google, the bounce rate increases by 106% if it takes more than 5 minutes for the page to load. The site audit will help you uncover the reason for the slow loading page speed.
Online strategies of competitors

–

Analyze your competitors if you want to improve your search results and become more successful in your industry.
Best Website Audit Tools
There are several website audit tools you can use to check the overall health and improve your website performance. Here are just a few of them you can use during your website audit process!
Source: Ahrefs
Keyword research 
Regularly check the keyword performance and add new ones if necessary.
Remember that not all pages need search engine optimization. So adding keywords everywhere won't really make sense. However, when you choose a keyword for the pages you need to optimize, pay attention to the following combination:
Low keyword difficulty

Traffic potential

Keyword Intent 
With the help of the best on-page SEO audit tools like Ahrefs, you can find the target and related keywords that have low keyword difficulty but high volume. This combination will give you more chances for your content to appear on the first page of search results.
Keyword position tracking
Keyword tracking is also referred to as SERP or position tracking. It is the regular monitoring of the website ranks based on particular search terms.
Website keyword tracking can be carried out in various search engines like Mozilla, Opera, YouTube, Amazon, etc. However, it is most commonly used to track the keyword ranking in Google.
You can use Ahrefs to track keyword performance and find out how your website performs in SERP. It will help you understand how visible the website is and what you need to include in your future SEO strategies.

Competitor analysis
This is one of the most crucial steps you should never ignore when conducting a website audit. This step will allow you to compare your website with the ones your competitors have. As a result, you will have the chance to generate new ideas and discover new strategies for your website.
You can perform competitor analysis using some of the best SEO audit tools like Semrush, Ahrefs, Sitechecker, etc.
Have a look at the keywords they are using and analyze whether you are ranking higher against competitors or you need to make more improvements for that particular keyword.
With the help of Ahrefs, you can get a thorough analysis of up to ten competitors. Here are the main areas you should pay attention to:
SERP features

Search traffic 

Keyword ranking progress

Source: Ahrefs competitor analysis

Domain rating
Ahref measures the domain rating on a scale from 0 to 100. The scores between 50-60 are considered to be okay; 100 is the best you could have.
The domain authority of your website changes when your domain links to another one via do-follow links/backlinks. It shows the search engine that your content is relevant to a particular topic and increases the authority score.
Let's think of a backlink as a referral. Imagine you want to go to a diner but can't decide which one to choose out of hundreds of diners in your city. The first thing you would do is ask your friend who loves trying different types of food and enjoys visiting new diners. 
You would go to the diner they recommend to you because you trust their taste and can be sure they provide you with the tastiest food and quality service.
When you get a backlink from a quality website, search engines receive the signal of trust and give you higher domain ratings and more visibility.
Source: Screaming frog
Security issues
We usually perform site audits paying more attention to SEO and website design but underestimate the security problems that our website may face.
Even large companies like Facebook and Google have cybersecurity breaches.  That means no company has a 100% guarantee that similar cases will not happen to their security. 
Cyber security can have even more adverse effects on small businesses. According to recent surveys, 60% of small agencies had to close down a few months after a cyber-security attack! You don't want to be one of them, do you?
To start securing your website, switch your HTTP to HTTPS. Besides being secure, it will also help your website rank higher on Google.
Indexability status (response codes 3XX, 4XX, and 5XX)
Source: Sygic Travel Maps
Checking the indexability status of your pages should be an inseparable part of your audit process.
Remember that a website URL can be either indexable or non-indexable. The indexable website URL can be crawled and is allowed to be indexed. Whereas the non-indexable website URL can't be crawled and isn't allowed to be indexed.
Checking the indexability status of your pages should be an inseparable part of your audit process. You can do it with the help of the features Screaming Frog offers. 
The non-indexable URLs contain indexability status that demonstrates why they can't be indexed. So, you can easily tell Google which pages you don't want it to index with the help of the status. 
Here are the main URL status codes:
3XX redirects– Further action needs to be taken to complete the request
4XX client errors– The request can't be completed as something is wrong on the client's end
5XX server errors– The request was valid by the client, but the server failed to complete it
Duplicate and canonical issues
Duplicate content is described as content that is partly or entirely similar to the ones that exist in similar or different domains. Accordingly, there are two types:
The same content on the same website

The same content on other websites 
One of the main causes of the copy-pasted content is the creation of 2 different URLs for exactly the same content. 
Screaming Frog will help you discover the duplicate content of your website and keep the right (called canonical) URL for that content. 
Image size and ALT tags
Alt tags are also known as alt descriptions and alt texts. These are the texts that appear instead of the images when they won't load because of some technical problems.  
Alt tags are used for 2 main purposes:
Screen-reading tools can describe the images to visually impaired readers

Search engine crawlers crawl and rank your website faster with the help of image texts
Accordingly, alt tags need to be descriptive and contain the keyword for SEO purposes. However, they should not include long paragraphs as the limit of these types of texts is up to 125 characters.
During your regular website audit, you can use Screaming Frog to determine if all your images have proper sizes and alt tags to rank better.
The length of meta tags
Like the images, your content needs a short description, too. These small texts inform the search engine what the page is about and help it better crawl the webpage. You will not see meta descriptions on the page as they are mostly for search engines.
The recommended length for meta descriptions is about 155-160 characters. With the help of Screaming Frog, you can analyze your website's meta data and make changes accordingly.
Broken links and pages
A broken link is referred to as a web page that users can not find or access. This happens for several reasons. For instance, the destination web page may be removed or doesn't exist anymore.
Broken links can affect the rankings of your website. Broken links usually lead to high bounce rates and decrease conversions. When visitors enter your website, they see the "page not found" broken page and leave immediately.
You can find broken pages when performing a website audit through Screaming Frog Spider.
Source: Google Search Console
Google Search Console is another popular tool for gathering accurate data from your website. This will allow you to understand your website's health condition better, website performance, and organic traffic to make improvements accordingly.
With the help of a Google Search Console audit, you can measure the following technical aspects:
Site structure
Crawling performance
Pages indexed
CTRs and impressions
External and internal links
Top search queries
Data collection
Google Analytics is a great tool to implement when performing a website audit. It will help you gather your data and use it for website improvements. 
You will need the following components for the Google Analytics audit:
Tracking code implementation check- To start collecting data

Configuration of the Admin section- To check settings

Google Analytics Reports analysis- To analyze your data
Google Analytics audit will allow you to get a full analysis of your data and identify the errors that failed you before.
Conversion rate optimization 
Your site needs to be optimized for lead generation and conversions. If you want to audit your site for conversion rates, you need to ask yourself:
How many marketing offers did I get from the landing pages?
Do I have relevant content that would attract my buyer personas?
Do I have opportunities to convert visitors in different stages of the funnel?
Are my CTAs effective? Are they clear or not?
The answers to these questions will give you a hint where you can start the conversion rate optimization of your website. Remember that you will convert visitors easier if your site is well-optimized, super easy to navigate, and has high performance!
Source: Google's PageSpeed Insights
Having a faster page speed is among the ranking factors of Google! Remember that users won't stay on your website if it takes more than 3 seconds to load the page or image! As a result, you'll get higher bounce rates and lower rankings!
Google's PageSpeed Insights is among the free tools that will help you check the site speed on both mobile and desktop! Moreover, it will offer you insights on how to improve the site speed once you check your web pages with it.
Source: Accessibility Checker
Recently, website accessibility audit has become an important part of the overall website audit process. It is a design initiative that allows visitors with impairments and disabilities to be a part of the web equally!
Please, keep in mind that you will need a website developer to fix the majority of errors, but here are some of the fixes you can make without their help:
Having alt-texts for all your images

Having the correct header order for your content

Implementing an easy-to-read font to your website

Designing your website in high contrast colors

Adding footer links
Website audit checklist
Below you can find a website audit checklist that will help you carry out your technical SEO audits and make it easier for search engine crawlers to rank your website on Google.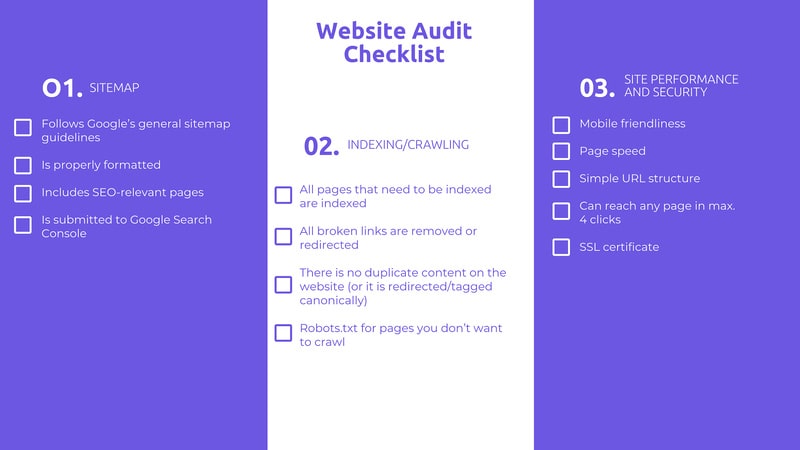 How to Do a Website Content Audit
Although content audit is usually considered as a part of the SEO audit, it can be reviewed as a separate type. During this process, you will need to find out whether your website content is well-structured or if you will need to make improvements.
High-quality content is informative, well-structured, free of grammatical errors and spelling, easily skimmable, and not copy-pasted!   
Moreover, you should pay attention that the tone of voice and the messages of your website demonstrate who you are as a business and make sure that you have a consistent brand identity on all the pages. You should always keep these in mind when designing a content strategy for your website.
For your content audit, make sure you add skimmable text, different types of images, and videos to the website.
Remember that you can always use subheaders to break the text into several parts and provide a better site structure. For example:
Have one H1 on each page of the title
Implement H2 for your main subheaders
Use H3 for sub-subheaders
Use H4 for sub-sub-subheaders
Got the gist, right?
To make your content audit steps easier, we have picked a few tools you can use for your content improvement.
Content Audit Tools
Grammarly is one of the best tools to audit the grammar of your texts. It's always a great idea to check the text with this tool before posting it. You may have misspelled words or grammatical errors that you haven't noticed when writing the content. Grammarly will check all the words and highlight the ones that need to be changed. 
Besides the grammatical errors, this tool will also help you write content based on several criteria like the formality, intent, and audience.
Source: Grammarly
After carrying out the website audit related to grammar and punctuation, you can start analyzing your texts for readability. This tool will help you optimize the grade level of the content. Using long sentences and unnecessary words will make the content hard to read. So, you can easily simplify it through Hemingway.
Source: Hemingway
PlagScan is an effective audit tool that will help you get rid of copy-pasted text with a few clicks. Duplicated content will not let you rank higher, so make sure your plagiarism score is less than 5% on PlagScan. 
Please keep in mind that this tool is not free of charge. However, there are other plagiarism detection tools that you can use for free. Here are some of them for you to consider: Dupli Checker, and Small SEO tools.
SEO Content editor is the writing assistant of WebSite Auditor that will allow you to create SEO-optimized content for your website. This tool should become an inseparable part of your website audit process as it will help you analyze top-ranking websites and suggest word usage (through a TF-IDF text analysis).
Source: WebSite Auditor
Moreover, this tool can help you discover new topic ideas, structure the texts and analyze the SEO elements like meta description, meta title, alt texts, etc.
You can use this plugin for regular website audits if you have a website created on WordPress. If you don't use WordPress, you can head to the Yoast content analysis tool online and check your content immediately on the website.
Yoast SEO plugin will help you optimize your content based on the keywords you need to mention in your articles. By checking your content through this tool, you will solve the main issues regarding the articles and general structure. For instance, you can look at your blog headers, all the pages, categories, and even the media files.
The content assessment part will show you the following information that you need to make your content easily skimmable:
The number of subheadings

The number of transition words

Flesch reading ease test score

The length of paragraphs

The length of sentences

The number of passive voice sentences
Source: Yoast SEO
The part that checks the SEO of the text will show you the following features:
Meta tags
Page titles
The number of external and internal links
The keyword performance
The length of the text
The appearance of focus keyword in subheadings
Source: Yoast SEO
How Much Does a Website Audit Cost?
Depending on the overall complexity of the website, site audit costs may range from $200 to $25.000. Yes, SEO audit service is sometimes expensive, but it is mandatory for your website performance.
You can also perform a free website audit without the help of SEO audit services provided by different agencies. All you need to do is follow our guide's instructions and execute the audit step by step. However, this might not be completely free as checking a website's performance is not a one-time process. You will need to get yearly subscriptions to website audit tools.
The Most Affordable Solution: Website Maker
You will not need to spend a lot of money on a website audit if you have a website built according to the requirements mentioned above.
With the help of Rendeforest Website Builder, you can create a website that includes SEO-oriented content, making it perfectly suitable for your business goals.
Moreover, you will have all the necessary SEO tools to conduct a website audit and improve your Google rankings later. 
The best part about this builder is that you can create the website for free, publishing it on a Renderforest subdomain. So, if you already have an online presence, you shouldn't worry about spending a lot of money on building an SEO-friendly website. 
Here are the main features of the Website Maker that will help you forget about the long process of the website audit:
120+ optimized website templates 

Customizable styles, colors, and fonts

Easy editing process

Simple drag and drop blocks

Custom domain connection

SEO-friendly content 

Additional SEO tools provided 

Website status control

SSL Certificate

Marketing and Analytic tools integrations

Messenger and Live Chat integration

Free website with a Renderforest subdomain

Affordable yearly subscription
To sum up
Performing a full website audit is crucial for the success of your business goals. It will help you track your website performance and eliminate any issues that may cause its poor ranking on Google.
In this article, we have presented the main steps you should carry out to audit your website. The mentioned tools will help you go through the process of both the content and SEO audits easier and faster. However, you will need an SEO-friendly website if you want to avoid frequent and complex audits.
If you're looking for an easy and affordable solution, you can click on the button below and build a website that will not require a complex website audit later. Choose a template and follow the 3 simple steps: