Can you guess what's the most entertaining Instagram feature that is able to boost engagement and make you go viral within a short period of time? Yes! You are totally right if you had Instagram Reels in your mind!
Funny, addictive, and easy to load, Instagram reels make one stay on this social media platform and keep scrolling the reel section for hours.
So, What are Instagram Reels?
If put simply, Instagram reels are short-form, entertaining video clips that are up to 60 seconds in length. Instagram users are free to record this type of video or upload already existing videos as reels to get more engagement on this social media platform.
Anyone can share reels to their feed or use them as Instagram Stories if they want to make their profile more visually appealing and entertaining.
If you have a public account, Instagram reels will give you more chances to appear to wider audiences with the help of a new Reel explore page.
Imagine you spend a few minutes creating Insta reels, then find out it went viral in 1-2 days with the craziest amount of views and shares. There are so many people who became popular after posting reels to their Instagram accounts. Who knows, maybe the Instagram reels algorithm makes you and your business globally recognizable too?!
If you want to explore the possibilities of Instagram reels, but don't know how to create one on your own, we have singled out the 2 easiest ways of creating Insta reels for you! Go on reading, and soon you will be able to create high-quality reels that will help your Instagram account to go viral in a short period.
How to Make an Instagram Reel?
Here are the elements you need to create a memorable reel for this popular social media platform:
Concept
It's always a better idea to plan your content beforehand than to solve the problems you face later.
To help you with the planning, we have prepared a few questions for you. Answer them carefully before creating your Instagram reels:
What kind of topic would be relevant to you or your business- anything related to wellness, food, fashion, etc?
Which topics describe your brand the best?
Do your topics align with your social media strategy?
Who is your target audience and what type of content would they like to see?
Are you done with the answers? Your next step would be to get some inspiration from the Instagram reels that your competitors created. Scroll down the reel section and pay attention to their visuals, texts, the trends of your industry, and the overall aesthetics.
Remember that your content type is also related to the goal you have. Maybe your goal is incentivizing your followers to click on your shopping links. In that case, you should create content that promotes your products.
If your goal is to get more views and followers, you should create a series of Instagram reels that make people come back to your account. If a certain type of video or audio goes viral, you can join the trend and increase the number of views on your profile page.
After taking these steps, you will be able to divide your content into different parts and start shooting Instagram Reels!
Video
Planning the original content for your Instagram reel might take a little time for you but once you prepare the content calendar you will be ready to dive into the creation of video clips! There are different ways to create reels․ We will show you the 2 easiest ways for the creation of which you won't need a lot of time and effort:
1. How to make a reel on Instagram with photos using Renderforest?
Renderforest's video maker is an awesome tool that lets anyone create Instagram reels without having any video editing skills. All you need to do is follow the steps mentioned below and you will be able to create an Instagram reel that will guarantee a high engagement rate.
Step N1: Sign up
Sign up to have a free account on Renderforest or log in if you already have an account.
Step N2: Explore templates
Once you sign up, you can browse the video templates available on Renderforest. It includes different categories, so you will find beautiful designs related to your niche.
Step N3: Select 9:16 as the aspect ratio
To make the process even faster, you can choose the video aspect ratio of 9:16 and you will see the templates that are ideal for Instagram reels. There will be no need to crop or resize the videos later.
Step N4: Use Instagram Reel Toolkit by Renderforest
Renderforest also offers a separate Instagram Reel Toolkit that includes templates with the latest Instagram reel trends.
You can click on the "create now" button and explore the scenes there. Once you find the template matching your business or brand, you can customize it in a few clicks. Instagram reel templates can also be used for Story ads, promos, product teasers, event announcements, and any other needs!
Step N5: Customize the template
Once you choose your favorite Instagram reel template, you can click on it and you will be redirected to the Renderforest video editor.
The great part about this editor is that it shows how your Instagram reel would look on the screen. You won't have to play a guessing game to find out whether your texts would be in the place you wanted them to be.
All your IG reel scenes will be displayed at the bottom of the screen. Choose the scene and make your edits accordingly. You can make the edits by clicking on the elements or choosing the element from the left side of the editor.
After changing the fonts, texts, and images, you can add music by clicking on the music icon at the top of the screen. Renderforest suggests various music genres you can use in your reel. However, there is also an option of uploading your own original audio to the IG reels.
It is also possible to add a voiceover to the reel by using the Renderforest video editor. Add your original audio by simply recording it on the editor or uploading the existing one.
Step N6: Download the IG reel
Are you happy with all your edits? Preview and download the Instagram reels by choosing one of the following options:
Now you may wonder how to make reel with existing video? After downloading the clip from Renderforest, you can upload it on Instagram by choosing the reel type, and the video will be uploaded on your Instagram as an Instagram reel.
2. How to make reels on Instagram with multiple photos
Below you can find detailed information that will help you discover how to make reels with pictures using the Instagram app:
Step N1: Log in to Instagram
Log in to the Instagram app and tap the Plus button on the top right side of your phone screen. Several options will pop up on the screen. Select "Reel" to continue with the video creation process.
You can also open the camera for the Instagram story and choose the "reels" from the options that appear at bottom of the screen.
Step N2: Choose audio
Your next step would be adding audio to the reel. You can do it by tapping on the Audio button on the left side of your screen. Instagram music library displays the popular Instagram reel songs first. However, you can always search for the music you want by writing the name in the search bar.
Step N3: Set the duration
Once you choose the audio that's relevant to your Instagram reels, you can set the duration of it by tapping on the Length button from the left panel of the screen.
You will be able to create reels that last 15, 30, or even 60 seconds. You can also make Insta reels that are shorter than 15 seconds. Find the clock icon from the left side and set the required duration with the help of this timer.
Step N4: Add effects
If you want to make an Instagram reel with some effects, tap on the Effects button from the left side and select a relevant effect.
Step N5: Clips hands-free
This is one of the most useful features of Instagram if you want to make Instagram reels hands-free. First, tap on the Timer button and set a timer between 3 and 10 seconds. Put it on a comfortable place and press record. You will see a countdown from 3 to 1. So you will have some time to prepare before the recording begins.
Step N5: Add the reels images
Now, it's time to add the main elements to the Instagram reels with photos: the photos! First, you will need to tap on the Plus button from the bottom left and choose the picture you want to be in the Instagram reel.
Then, choose the Add button to add multiple pictures to the reel. Just keep in mind that only the first 10 reels images will appear on the Instagram feed. Users need to tap on the reel if they want to watch more.
Step N6: Preview
Once you are done adding all the reels images, you can tap on the Preview button and check the slideshow.
If you are happy with the clip, you can add more elements like text, stickers, and effects. After these steps, you will have a quality reel to download on Instagram!
Effects
Once you upload your Renderforest video or Instagram slideshow to Instagram, you will be able to add some stunning effects before publishing it.
If you are familiar with Instagram Stories, you will have no difficulties in adding any of them to your reels:
Text։ Talk to your audience by adding texts to your Instagram reel.
Draw: Draw unique elements in your reels with the help of the Instagram draw tool.
Stickers: Add interesting captions, stickers, GIFs, the current time, and many more by exploring the Instagram stickers section.
Filters: Simply swipe left to have a look at the filters that you can add to your reels.
Audio: Look for a relevant song from the Instagram music library and add it to your video for a more engaging effect.
AR effects: Choose one of the effects from the Instagram effect gallery and record your Instagram reels with gorgeօus effects created by Instagram users from all over the world.
Publishing
You have the video created with the help of Instagram or Renderforest. Added some IG effects to it. Now, you will need to find out how to post a reel on Instagram!
Cover photo
This is the photo that appears in the feed and on the Instagram grid before anyone decides to tap and watch it. It is similar to the YouTube thumbnail. If you choose it right, more people will watch it. So, be careful and select the most appealing one from your reels images. 
There is also an option to add another photo from your camera roll by tapping the button Add from Camera Roll.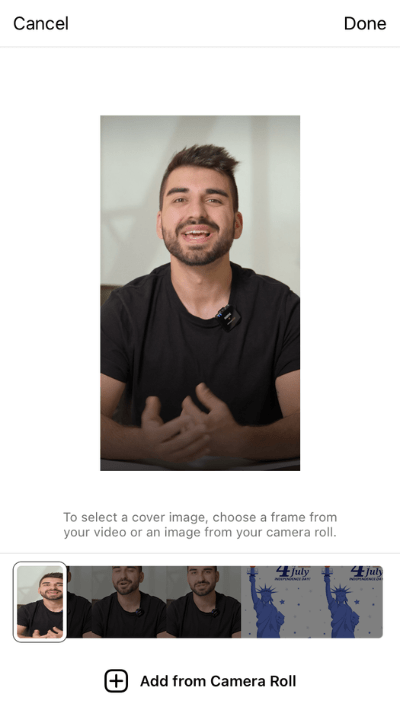 Description
Write a small description for your Instagram reel using relevant keywords and phrases. Keep in mind that the caption is limited to 2200 characters here. 
Your clip will also be displayed to more people if you use reel hashtags for Instagram in your captions.
Tag people
If you want to tag other Instagram accounts in your reel, you can tap the "tag people" and choose the Instagram accounts to tag.
Share to Feed
Once you are done tagging people and the location, tap on the Share button, and your reel will be shared on your Instagram feed!
Best time to post a reel on Instagram
If you have previously used Instagram or other social media platforms, you know how important time is for better engagement and likes.
Finding the right time is never easy, as trends can change quickly. Even if you find the best time to post a reel on Instagram, not all of them will drive the desired traffic. You will need quality content to gain more likes, shares, and comments.
Imagine you already have the quality content you want to post on Instagram. The next step you should take is to discover when your audience is active on this particular social media platform.
Pay attention to the following question to find the best time to post a reel on Instagram:
What's the location of your audience?
Instagram Reels are famous all around the world due to Instagram's global user base. For instance, the US has 130 million users, India has around 100 million users, and Brazil completes the top 3 Instagram users list with about 91 million. Globally, there are 1 billion users on Instagram.
This means the place your audience lives influences not only the kind of content you post but also when you have to post that content. Before posting anything on social media, pay attention to the time zones and the country your target audience is from.
How can you find this out? If you have a creator or business account, open Instagram, go to your profile, and tap "Insights"․
Go down and tap the "total followers". Now you can see where your followers are from. This information will help you post reels on Instagram according to their time zones.
If you still don't have a Business or Creator account on Instagram you can go to your profile and tap the horizontal lines, then choose "Settings":
After tapping on the "Account", scroll down to the bottom and switch to a creator or business account:
Frequently asked questions
What's the Instagram reels aspect ratio?
Instagram reel dimensions։ You should remember that Instagram reels are created for full-screen mobile display. That's why it's always better to have reels with an aspect ratio of 9:16. The recommended Instagram reel size is 1080 pixels x 1920 pixels.
How to save a reel on Instagram?
If you want to save a reel on Instagram to watch it later, carry out the following actions:
Choose the reel you want to save and tap on the three dots in the bottom right corner of the reel.

Tap Save and a text "saved" will pop up in the center of the reel.

To watch the saved reel, head to your profile page and tap on the three dots again. Then, choose the option Saved. You will see the Saved folder. Go to the Reels tab and enjoy!
How to delete a reel on Instagram?
First, go to your profile and tap the Reel button under your profile info.

Choose the reel you want to delete and tap the three dots.

Tap delete, then Delete to confirm.
What are the best reel hashtags for Instagram?
There are thousands of tools online that will help you find the best reel hashtags for Instagram. All you have to do is search for the hashtags related to your industry and add them to your caption. 
Here are the most popular general hashtags that may help you boost engagement:
#reels
#reelsinstagram 
#instagram
#trending 
#reelspinning
Note: Avoid adding the same reel hashtags for Instagram to all your videos. This action may lead to a temporary or permanent ban.
Recommended Reading
---
---
To sum up
A quality Instagram reel can make your profile more appealing to Instagram communities. Whether you are a photographer, model, actor, or marketer, an Insta reel demonstrating your experience can help you get noticed in a short period.
In this article, we have introduced 2 easy ways of creating Instagram reels for your account. Follow the simple instructions, and soon you will create the type of reel that will help you boost the engagement of your profile․
Do you want to try it for free now? Click on the button below and start creating your first Instagram reel!