Our mission is to give everyone a voice and show them the world.
YouTube is a free video sharing website, founded in 2005 by three former PayPal employees – Chad Hurley, Steve Chen, and Jawed Karim. YouTube quickly established itself as one of the most popular websites on the web, and its popularity shows no sign of declining anytime soon. This Google-owned video network, boasts over a billion users, just imagine almost one-third of all people on the Internet.
On YouTube, users can watch, like, share, comment and even upload their own videos.
It is an excellent way to get noticed on the Internet and, in some cases, you can even use it to earn a living.
So you're thinking about starting your own YouTube channel, right?
Millions of users around the world have already made channels that allow them to upload videos that everyone can watch.
A personal YouTube channel is available to everyone who joins YouTube as a member.
The process for establishing your own YouTube channel takes just a few minutes. It is free and quick. So you don't have to think about time and money.
Inspired? Ready to create a YouTube channel? Here is how to do it.
First of all, you need to enter YouTube.com.
Then you will see"Sign in". Click on it and the following will appear.
You need a Google Account to sign into YouTube. With it you can watch and like videos and subscribe to channels.
If you do not have a Google account you need to register. Thinking how?
Click on "Create new" and fill in the fields.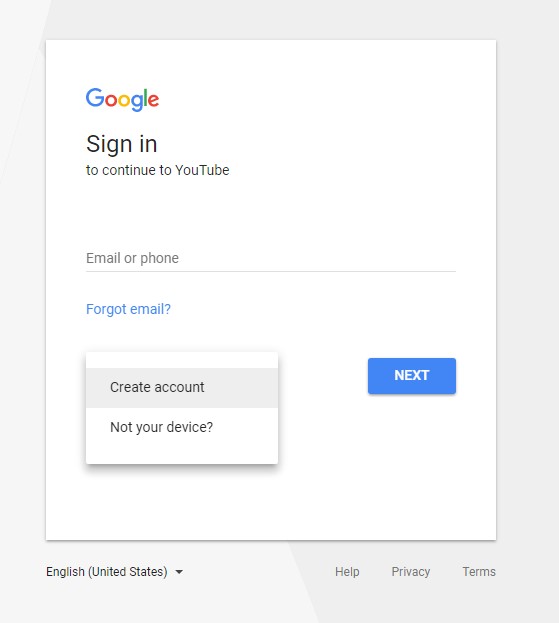 After filling all the necessary data click on "Next".
If you already have Gmail or Google+, then you can simply sign into YouTube.com with that username and password.
Make sure that you're logged into the Google+ account you want to attach to a YouTube page.
Direct your attention to the left side and click on "My Channel".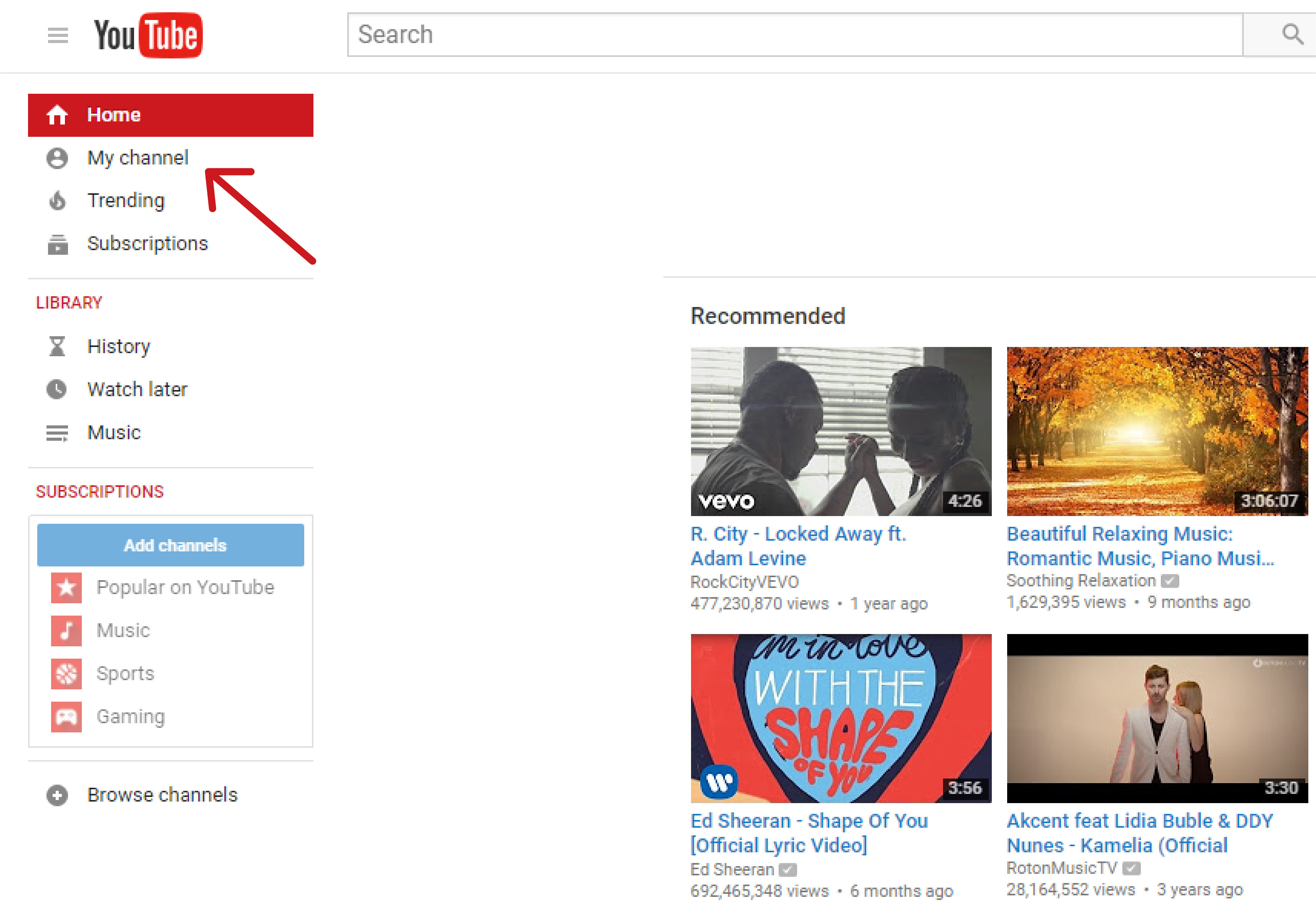 Name your YouTube Video Channel. When deciding on a name, be sure to consider what your YouTube channel is about. Then click on "Create Channel". The channel is ready now.
Your channel needs subscribers. A YouTube subscriber is someone who has chosen to "follow" your channel. After subscribing they can stay updated with your latest videos.
The more subscribers you get, the more popular your channel will become.
Now pay your attention to the "Video Manager". It enables you to change your video's title, category description and not only these.
Add channel art
This is an image that is seen at the top of your channel page. Click on "Add Channel Art" and choose the image to add. The optimal image size is 2560 x 1440 pixels.
YouTube will show examples of how the image will be displayed on the website, a TV, or a mobile device.
Consider how your channel looks on desktop and mobile
Watch out for your icon and social buttons
Channel art shows differently across devices, so you should make sure you have an idea of how it will load when you're designing it.
Describe your channel
Add a brief description for your channel to let the viewer know what kind of content to expect. Write the description that you want people to see when they enter your YouTube channel. This means that your YouTube channel description is crucial.
Descriptions can convey valuable information that helps viewers find your videos in search results and understand what they'll be watching. YouTube channel description must be rich with keywords. It is incredibly useful for helping viewers find, learn about, and decide if they'd like to watch your videos.
It's also easy to update video descriptions, to add or remove information later on.
This important part of the channel regularly needs optimization. There are many ways to do this and have better results. One of them is to put the most important keywords at the beginning of description. It is a well-known fact that keywords are extremely important to search engines. Another way is to advertise your programming schedule. In description include contact and social links.
There are a number of settings that you should know about.
While discovering what YouTube channel is you will definitely see that there is a place for notifications. YouTube channel notifications tell you when there are new videos and updates from your favorite channels.
When you subscribe to a channel, you'll automatically get notifications about new videos it has. You can turn on or turn off notifications.

When you click on "Home" button you will see a lot of videos: the ones you have recently watched, Recommended videos, pop music, breaking news etc.
A line down is "My Channel". This is when you are at home. Here you can add or change Channel Art, edit Channel Description, upload a video, see what notification you have, add account, sign out.
"Trending" part helps you discover the latest trends of YouTube. Due to this you can see the most trending videos.
Subscriptions are crucial part of YouTube channel. You can find a "Subscribe" button under any YouTube video or on a channel's page. Subscribing to a YouTube channel is like subscribe to a magazine.
Now let's speak about "Library". You can adding playlists to "Library" which allows you to easily find and view them later.
When a moment passes it is also a history. YouTube channel has a "History" button. It help you easily to find videos you recently watched. Only you can see your YouTube history. YouTube also gives an opportunity to clear it.
So many videos on YouTube. Found a good video but no time to watch it? Do not worry. In this case you need "Watch Later" button. Add videos to your "Watch Later" list and watch them whenever you want.
You must also know your "Account settings" and what they are for.
Here you see:
Here you find information about your account. Name which you can edit, Account type which you can change and some additional features.
Under this heading you will see the accounts connected to your YouTube channel. Your channel can be connected with Facebook, Twitter, Instagram, Pinterest, Ello Reddit, Stumbleupon, Linkedin.You can edit them when you want.

This part is all about privacy. You can keep all liked videos, all saved playlists and all subscriptions private. In this part you can also manage your activity feed. What about ads the following can be mentioned. You can block the ads you do not want to see, can add the ones you like. But for more settings enter Google Ads Settings.
This helps you get notified of your YouTube activity. If you like you can get general updates, announcements and of course videos. It is up to you to turn this on or off.
This part is about annotations, in-video notification and captions. You can select to see them or not. What about captions, again the choice is yours always see them or not.
You can watch YouTube videos also on TV. Just enter TV code, navigate to settings and enjoy YouTube videos on TV.
Add some links
Connecting YouTube channel to your social media accounts allows to share your public activity. If you add links to your social media from your channel, make sure you have created a separate account for each example, Facebook page, Twitter account, Instagram account.
Congratulations! You've just created a new YouTube channel
Now a step forward. It is time to create playlists. The process is very easy. Playlist is a collection of videos. The easiest way to create a playlist is to find the videos you want, click on "Add to" which you can find at the bottom of the video. If you want to edit your playlist, add or delete videos, change title or simply see what videos there in the playlist, click on "Video Manager".
In order to upload a video go to the "Upload" button at the top right hand side of your screen.You can upload a video from your computer, IOS, Android or email.
In Basic info put the title of your video and a description. You can't upload something if you can't give it a name! The titles of your videos are the trigger to earning views, likes, comments, and even subscriptions at times.
Make sure that your tags apply to your video, but also make sure that you aren't using the same tags as everyone else in your genre. Tags let your videos be categorized and appear on YouTube searches easily.
The process is not finished as you need to add thumbnail for your video. It lets viewers see a quick snapshot of your video. This small clickable image has its part in deciding to watch your video or not. The main goal of thumbnail is to appeal audience. Choose something that will be immediately recognizable.
When you upload a video YouTube gives you three choices of thumbnails. So, it is very important to choose the right and eye-catching thumbnail for your video.
Do not forget that the perfect size for thumbnail is 1280x720 pixels.
It's time for publishing. Now go to the blue button on the top right hand side to publish your video.
Also take into account the following tips:
Determine Your Goals for the Channel,

Invest in Ideas and Concepts, Not Equipment,

Keep Your Videos Short,

Ask Viewers to Subscribe to Your Channel Everywhere You Can.
As you have just made your YouTube channel, you definitely need some successful examples. Here you can find the best 100 YouTube channels.
The most important thing you'll need for a successful YouTube channel is probably something you already have — an understanding of who your audience is and what kinds of things they find valuable.
Make sure to be SEO friendly in the keywords and description of the video. Pay special attention to the title. Give the name so people will be able to find it.
*Extra Tip: If you want to make a video from your screen recordings, check Mirillis Action! Screen recorder! You can find a wide range of state-of-the-art playback, editing, video capturing and transcoding solutions here. Its innovative screen recorder allows streaming and real-time recording of Windows desktop in a superb HD video quality. You can record and stream your gameplay, web player videos, record music, capture screenshots, add webcams, microphone commentary... and more.
Sources