Understanding how to market business training courses isn't as hard as many people think. To promote your courses, you need to dive in and learn the key aspects of successful promotion.
You don't want your courses to end up with unfilled places, do you?
To increase your chances of attracting potential students for your courses, use one of the best marketing tools of this digital age — video. A short promo video will help you quickly introduce the key topics covered in your courses and what value it will bring to the participants.
Before creating your video, prepare all your sales and marketing materials that can help you present the value of your courses and write your video script. Then, pick an online video maker tool and start creating your video online.
Have no idea how you can create one? Creating a compelling promotional video with Renderforest is something you should give a try.
Check out this promo for business training courses, created with one of our customizable video templates.
To create a similar promo video for your business training courses, follow the steps in this tutorial. After signing up or signing in to your account, click "Create video" from the navigation menu. You can look through our large collection of templates, watch their quick previews and choose the one you like most, or find exactly what you need, using our advanced search filters.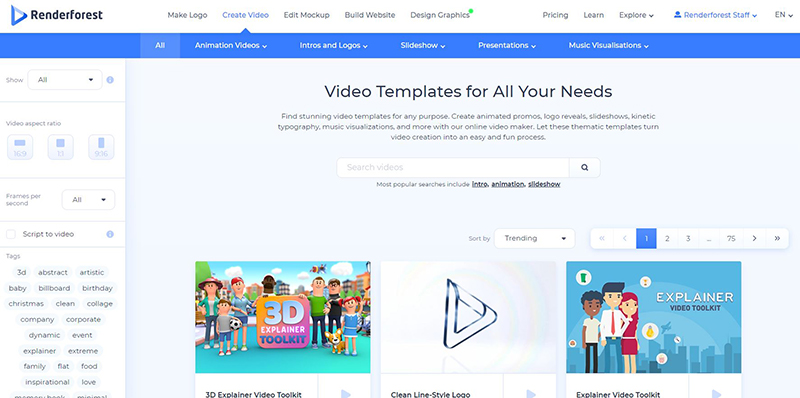 Once you choose the template, click "Create now" to start. We've used the "Clean Typography Pack" template for our video above.
You'll be offered two options to create your video: use our ready-made presets or create a completely new video by selecting the scenes manually.
If you decide to use one of our presets, click on "Load a preset" and check them out to find the perfect match.
We've used the "Business Management Training Courses" preset to create the video above. In case you want to use the same one, click on "Use ready story" and adjust the scenes with your media files, descriptions, and music.
However, if you want to create your project by selecting the scenes manually, click on "Add scene" and choose the scenes of your video from the list. This template offers six scene categories: text holders, video placeholders, photo holders, logo animations, contact forms, checkmarks, and x-marks. Select all the necessary scenes and click "Insert" to add them to your project.
The scenes on your timeline are flexible, so you can delete, duplicate, replace, or move them back and forth, as well as add new ones, if necessary.
To add your text in the text holders, click on their respective fields, type in or paste your text, and click "Save and close" to confirm the changes. The "Snapshot" feature under your scene shows how it will look in the video, so you can preview the scenes, before moving on.
There are several ways for you to add images or videos to your project: add your image or video URL, upload them from your device, or pick an already uploaded file from your "Media library".
If you don't have a suitable media file for a certain scene, don't worry. There is a huge collection of photos and videos in our "Stock image" and "Stock footage" library. Type in the topic you need, choose a media file, and click "Insert".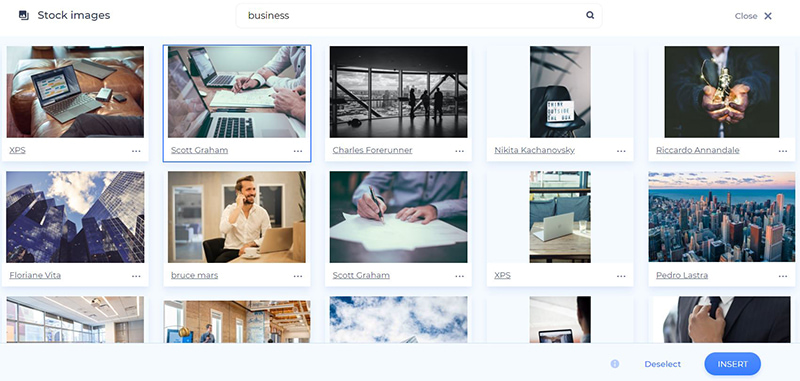 Once you add your image with one of the mentioned methods, you'll be able to crop it to match the frame size of the image holder. There is an option for you to rotate, zoom in, or apply our filters to your images.
The added videos can be trimmed or muted right in the editor as well, so you don't have to do the job beforehand.
At the end of your project, you might want to add your contact information and your logo, if you have it. If you don't, there's an option for you to create one right on the spot. To try it, click on the "Create logo" option.
Now, it's time to go to the "Color" section and choose the main colors of your video. Use one of the ready-made color palettes suggested by our design team or add your custom colors manually.
In the "Music" section, add the background music to your video to make it fun and exciting. You can either choose one of our music tracks or upload your own file.
If you want to communicate additional information through the audio, go to the "Add voiceover" section and record or upload your voiceover.
Awesome! You are almost done with your video. The "Preview" section will help you see the final result of your project, before downloading it. Click on "Free preview" and your video will be ready to view in minutes.
If there are some additional changes to be made, you can always go back to the editor and edit your video.
Once you're happy with the result, it's time to download it. To download your video you have two options: the free option and the "HD export".
The first one offers SD360 quality videos with a watermark. While the second, "HD export", offers several paid subscriptions, that you can choose from and download your video in high quality and no watermark. All the details about our pricing are available here.
Put your training courses in the spotlight with the help of a captivating promotional video. Tell your audience the importance of participating in your courses and how you can help them overcome failure on their way to success.
Click the button below to start: