Since 2010, Instagram has evolved significantly: it's more than a place for selfies and food photos. It has become a powerful marketing tool to promote your business online. According to Instagram, there are more than 1 billion active accounts, 80% of whom follow a business, and 25 million companies use Instagram for business purposes.
Whether you're a marketer, an entrepreneur, or a blogger, you can't afford to miss a chance to establish contact with your primary audience on Instagram.
For brands, it's a perfect place to establish a connection with your potential customers, and if you want to involve your followers in your business, you need to plan a video marketing strategy.
As specified in HubSpot research, users crave video content: 95% of people watch an explainer video to understand more about a product or service, 85% of people want to see more brand videos, and 72% of people prefer watching a video to reading a text.
On Instagram, there are many ways to upload your video content: Newsfeed, Instagram Stories, Live Stream, or IGTV. Depending on the placement, videos may vary in length (from 3 seconds to 60 minutes) and format (square or vertical ones), so you can find what suits your goals better and what will help you grow your business.
Before making videos for Instagram, it's important to know what video content ideas will help to promote your business.
Here are 11 video content ideas for you to try:
Announce What's New
Announcing a new collection on Instagram can drive sales. Since 78% of people claim that brand social media posts influence their buying decisions, Instagram is a perfect place to announce your product launch.
When you promote new products with videos, you can not only draw your followers' attention but also attract new potential customers.
When it comes to informing about a new collection, JackThreads uses creative ways to interact with followers. For the latest collection, they created a video with a product overview. Plus, they added a link to new items on their website to make it easier for Instagrammers to read more about the products and prices.

It's not a secret that products may look much better online than they do in most circumstances in the real world, especially when businesses take product photos. At the same time, videos seem to be more authentic. Moreover, they allow customers to see featured items from different sides.
Publish Seasonal Content
Who else wants to get more views, likes, and shares? To make a viral video for social media, ensure it's applicable to your customers. Obviously, seasonal content is of temporary interest, but you can create either time-based (winter, summer, month-by-month) or event-based (Thanksgiving, Christmas, New Year) content to hook your fans. When you keep an eye on the latest trends, it gives you more chances to attract your target audience.
Starbucks, for example, designs holiday cups and drinks every year. To promote new design, they make a short video that shows off seasonal products.
When people are obsessed with a particular occasion, they mention things related to it. Thus, seasonal content helps to stay relevant to your audience. And to make your seasonal content work well, think about creating and posting your time-sensitive video in advance. For example, December is high time to plan your seasonal video for St.Valentine's Day to ensure it rolls out on time.
Do a Product Review
There's no better way to convince your Instagrammers to purchase your product than showing how it can deal with their difficulties. Thus, product reviews explain to potential customers whether this product can meet their needs. According to Spiegel Research Center, 95% of potential buyers search for online reviews before making a purchase. For brands, it means posting product reviews is a must.
It's no wonder brands follow the movement and create video product reviews. The following example has been created by Sephora: the company invites niche influencers to review their products. For customers, it's a way to understand more about Sephora's products before making the purchase decision.
The best part? Sephora uses a short-lived form of content and posts their videos with the help of Instagram Stories. It not only maintains a sense of urgency but also helps to increase sales with ephemeral video content as customers can click on a link to find out more about the featured item.
Share Tutorials
Most people don't take interest in your product until it can resolve their worries. When you create tutorial videos, you explain to customers how to use your product. Plus, it's a down-to-earth approach to proving your niche expertise. Tutorials are one of the most-watched YouTube videos which means internet users crave for educational videos.
For example, Mac Cosmetics shares makeup tips with their followers, demonstrating their products in action. For viewers, it's a hint at what they can get after buying their cosmetics.
With 60 seconds video-length limit on Instagram feed, it's impossible to post a full tutorial to educate your customers. However, you can upload the video to your IGTV channel and share a teaser video as an Instagram post.
Post Commercials
With a solid advertising budget, many companies launch TV commercials to entice new customers and turn them into buyers. Since you've put much time, money, and effort into creating your commercial, you can optimize your commercial for mobile and post it on Instagram to reach more people.
Take Tesla Motors case, for example. With a short teaser video, the company informs their fans about the upcoming event and motivates viewers to join their live stream.
As specified in a post by The Atlantic, advertising memories can last decades. Once you've created an eye-catching commercial that entertains, don't miss a chance to share it with your Instagram followers. The more people see your advertising, the better.
Introduce Your Team
Modern customers are overwhelmed by the amount of branded information they receive daily. Thus, they crave authenticity. When you bring your fans behind the scenes, you give your audience a peek at what your company is really like. Moreover, it helps to establish a strong connection with your followers as they feel valued to get this 'secret' information other customers can't get. When you show people behind your brand, it fosters customer loyalty and trust.
It's in our nature to be curious about personal life, so customers want to discover more about people who make up the heart of the company. Thus, Michael Kors added a video with their owner's interview.
Whether you want to post an interview with the company's owner, show the working process, or tell more about your workers, the main idea is to stay creative and find out new ways to let your followers look behind the scenes.
Generate Lifestyle Videos
To please your buyers, you'd better dig deeper to understand their lifestyle and generate content that is focused on highlighting it. Lifestyle content appeals to the personality of your target audience, so followers can understand what they can get with you. With lifestyle videos, emotive video marketing works, and it builds a need for the product.
Here's an example by H&M. To spread a word about their products, they've created a lifestyle video that features a lady with her dog. Watching this short video, you can see lady's outfit and how it looks like in reality. For most followers, this type of content sounds less salesy than traditional advertising.
When you switch to lifestyle content, your brand creates a sense of association for the receiver of the marketing message. Hence, customers will pay attention to your products and buy them.
Disclose User-Generated Content
With user-generated content (UGC), you don't spend time and money on creating social media posts in-house. Moreover, Instagrammers love this type of content, and it's proven that videos created by common people get 10x more views than content created and uploaded by the actual brand. All in all, it means brands should encourage UGC on Instagram.
GoPro often shares UGC content on Instagram. Specializing in professional video cameras, they share customer content to show how average buyers can make the most out of their gadgets.
It's not just a possibility to demonstrate your product in a genuine way, but it's also a chance to get new buyers as 48% of customers say UGC helps to discover new products. If you're about to post user-generated videos on your Instagram, credit the creator to avoid violating author's rights.
Mention Influencers
With the rise of Instagram popularity, the number of influencers has also grown. Now, average people become bloggers who share their views and thoughts with their following. People trust modern influencers and pay close attention to their recommendations. Thus, brands should work with opinion leaders to spread a word about their products.
When you mention influencers in your videos, you attract more viewers as they are always interested in watching a video with a person they know. Just look at what happened to GAP: once the company had posted a video with Leon Bridges, the post got better engagement.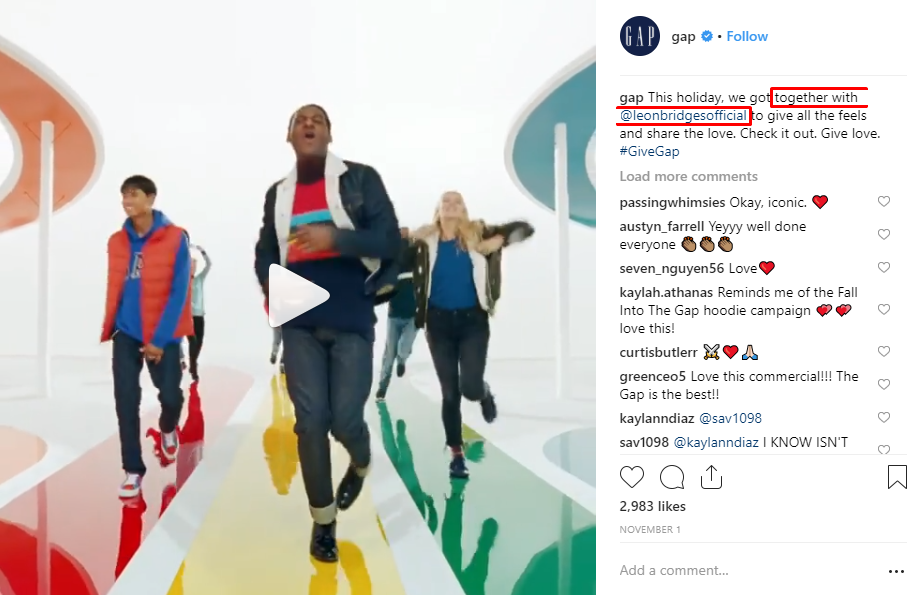 As a small business owner, you may be pressed for money to hire big stars. However, don't be upset: you can always work with Instagram micro-influencers as they charge less even though their engagement rates are higher. The main idea is to find a niche-focused influencer who meets your brand's views.
Create Motivational Videos
There's no need to convey the features of your products to sell them. If you cause emotions, you can convince your potential buyers to choose. Thus, many companies create motivational videos to communicate with their target audiences.
For instance, Nike is well-known for its motivational videos. Although the company promotes their products, these videos are absolutely motivational and inspiring. Therefore, this content hooks and holds audience's attention.
Since Nike has a slogan 'Just Do It', they often create videos that inspire followers to step out of their comfort zone. The video encourages disabled people to believe in themselves, and it also attracts the attention of other users. When you motivate people, users associate your company with the niche. As a result, people consider your brand as a number one option when they're thinking about purchasing.
Entertain with Animated Content
It requires much time, money, and effort to create a good video with actors. To tell your brand's story in an easy and cost-effective way, there's no better way to do it than create animated videos for your business. Moreover, it's a way to diversify your video marketing content.
Here's how this strategy works in action by Oreo. Since kids are the target audience, Oreo often creates animated videos to grab their attention.
No matter who your target customer is, whether an adult or a kid, you can use animated videos as a way to create engaging and interesting content that attracts viewers.
In Closing
Instagram marketing plays a key role for companies of any size these days and many of them use Instagram for business growth. To get noticed in your niche, you need to know how to hook and keep your followers. Since modern users are fond of watching videos, it's high time to create videos that can improve brand awareness, cause a buzz around your company, and convince Instagrammers to choose your product. With these video content ideas, you can promote your business on Instagram with ease.
---

Hugh Beaulac is a content creator at MC2 Bid4Papers who also works as a social media manager. He has over 5 years of experience in digital marketing, so Hugh often contributes to top-notch websites to share his tricks and tips.