When it comes to social media marketing, Instagram has become one of the biggest platforms in the world. 
Growing at a fast speed, Instagram managed to adopt various tools and features, helping to secure its place as one of the most business-driven online spaces.
It's become a huge puzzle piece for the marketing campaign of big and small businesses, helping brands in many ways that might have sounded impossible before. 
Instagram helps to raise the awareness of a brand to an unimaginable pick, convince people to willingly engage with their brands and love it, sell your products with minimum clicks, and this is not even half of it. 
In this quick guide, you'll find the ins and outs of Instagram marketing, as well as how to come up with an effective marketing strategy, how to create an Instagram account, how to come up with engaging Instagram content, and much more.  
So, let's jump right into it! 
The Benefits of Instagram Marketing
Create an Instagram Business Account
Instagram Marketing Strategy Tips
Types of Instagram Posts
10 Best Instagram Tips
How to Create Better Instagram Content
Instagram Analytics
The Benefits of Instagram Marketing
Instagram has become one of those platforms that turned from a personal app into a marketing magic app for brands, companies, influencers, and other individuals. 
It can help you easily sell a product, build your brand awareness, help you reach a wider audience, and much more.
It's one of the most effective platforms for a marketing strategy since it's a friendly space that's concentrated on the visualization of ideas. 
Here are some important statistics that can show you, rather than tell you how important Instagram marketing is for a brand or an individual.
Instagram has more than

1 billion

monthly active users, so the number of your audience will have a great potential to rise. 

Every month

130 million Instagram

users engage with shopping posts.

200 million+ Instagram users visit at least one business profile every day.

One-third

of the most-viewed Instagram Stories are those of businesses. 
As Instagram keeps expanding and adjusting better for eCommerce use, it also works on improving the Instagram algorithms, which shows people the content they enjoy the most. 
Sure, this might make it easier for businesses to reach their target audience more easily, but solemnly posting images, videos, and other visual content that you can get your hands on, will not help you fully succeed. 
To succeed here, you must have a clear Instagram marketing strategy, and of course a promising business account. 
Recommended Reading
---
---
Create an Instagram Business Account
To start doing marketing on Instagram, you first need an Instagram Business Account or an Instagram Creator Account to work with. 
Note that, if you already have a personal account on Instagram, then you can directly skip to Step 3. 
Step 1: Download the Instagram App
Step 2: Sign Up 
You have two options to create an Instagram account for your business: 
Log In With Facebook 

Sign up With a Phone Number or Email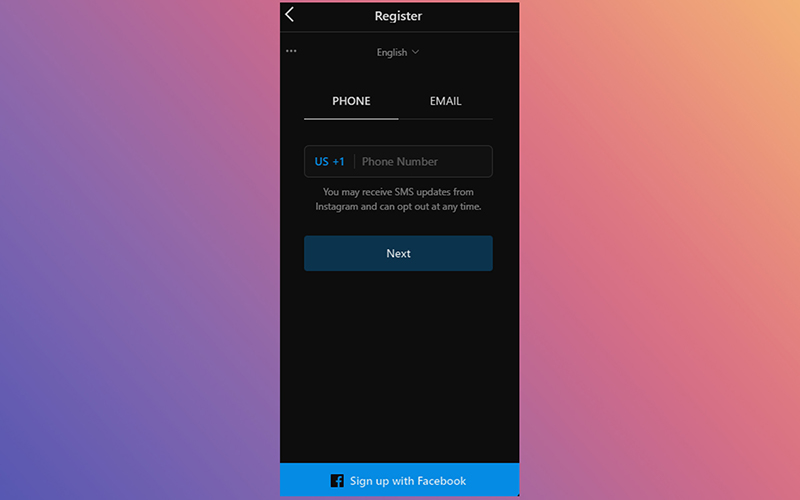 We recommend avoiding connecting a business account to your Facebook since it will be linked to your personal FB page and later cause a headache. The best option is to sign up with your business email. 
Step 3: Set Up Your Instagram Account 
On your way to creating a business account, you will need to enter your account details, such as full name and username. 
So, for instance, Renderforest's name on Instagram is "Renderforest", while the username is @Renderforestcom.  
The latter is a unique name for every account and if somehow it's already taken, you can go for something a little different, while also keeping the main part of your brand name. 
Also, make sure your name and username are real and without any typos. Because they will represent your brand and help people find you on the platform, you don't want to mess it up. 
However, if by any chance you've made a mistake or want to change it later, you can go to your account settings and make the necessary changes with a few clicks. 
Step 4: Switch to Instagram Business Account 
Now that you already have an Instagram account, there are some steps you have to take to turn it into a Business Account.
 To do so:
Go to your profile and tap the

hamburger icon

in the upper right corner of your account.  

Tap

Settings

, then

Account

.

Tap

Switch to Professional Account (

or

Switch Account Type

on Android), then

Continue

. 

Next, select a category for your business and tap Done. 
You will be asked to choose either a Creator Account or a Business Account. Tap Business, Next, and follow the prompts. 
Once your Instagram business account is created, it's time to optimize it! Check out the section below to why and how to do it. 
Step 5: Optimize Your Instagram Profile
You can't do Instagram advertising without a proper profile that has all the necessary information your audience wants to know about you before hitting that Follow and then Buy button. 
Below are some tips on how and why you can optimize your Instagram profile. 
Choose a profile picture that represents your brand and makes you stand out. It's the first thing your visitors on Instagram will see, so it's important to set it up before you start your Instagram marketing. 
The perfect Instagram profile photo displays at 110×110 pixels cropped to a circle with a 110-pixel diameter. However to make sure your profile photo looks professional and of high quality, you need to upload a 320×320 pixels file.  
Your profile picture can be your logo or another descriptive photo, connected to your brand. 
Note that when selecting an image for your profile picture you must pay attention to the white space around it since Instagram crops it into a circle. 
Use your bio to share the info your audience needs to know about your business to also have an idea of why they should follow you. Instagram bios have to be short, to the point, impressive, and within 150 characters.
There is also a field for you to add a clickable URL to your website, or a platform you want to direct your audience to. If your URL link is too long, make sure you use online link shorteners to make your profile look more organized and inviting. 
Another important feature that you might want to link to your Instagram bio is the View Shop call-to-action button, which shows up once you set up your in-app shop, but more about this later. 
Instagram Marketing Strategy Tips
One of the most important parts of successful Instagram marketing is having a well-developed strategy to follow. 
Here are some tips that can help you create a killer Instagram marketing strategy and a strong presence for your brand. 
Determine Your Goal and Target Audience
Why are you on Instagram? What's your purpose? 
Is it to get new leads, sell more products, create an online presence, increase your brand awareness, or all of the above? 
Whatever it is, you can be sure that you won't achieve it if you don't know your target audience. 
The answers to why and who are intensely linked together. If you don't know why you're on Instagram, then you don't know who's your target audience, and vice versa. 
So, do your brand a favor, and first of all, set a goal and know the group of people you want to reach. Note that the demographics of your target audience should include their age, gender, location, interests, occupation, pain points, and income. 
Conduct a Competitive Research 
Once you have a clear understanding of your goal on Instagram, it's time to do competitive research. It's a great way to find and study your target audience, as well as find inspiration for your future Instagram posts and feed styles.
Pay attention to their bio format, comments section, where you can find information about your potential audience, the hashtags they frequently use, their post captions, story highlights, posts with the highest engagement, and any other detail on their page.
If you don't know who your competitors are, you can find the information with the help of Instagram hashtags related to your brand. 
So for instance, if you're running a business page for a bakery, you can search #bakery or #cake or #cakedecor, etc.
Remember that competitive research doesn't imply stealing ideas from bigger or smaller accounts. It's supposed to inspire new ideas, give you an opportunity to do something your competitor has missed, and use their experience to learn from.  
Coming up with a posting schedule is a great way to manage your content and save your time and energy. You can choose the type of Instagram content you need to post for the upcoming weeks beforehand, start working on creating them along with their hashtags, captions, and motives. 
This way you'll always be up to date and have a planned editorial calendar to follow, instead of thinking about what to post every single day. 
Having an editorial calendar will also come in handy when you're planning a special event, giveaways, product launches, or seasonal posts. 
So, to not have a last-minute breakdown and fall into an existential crisis when thinking about how to do marketing on Instagram, create an editorial calendar and have a clear schedule. 
Keep Consistency With Your Aesthetics
As a platform that concentrates on visuals and high-quality content, it's important to show your followers your creativity. However, this doesn't mean you can post whatever idea you have on your feed.  
If you are aiming to have a successful Instagram marketing game and gain more followers, you need to keep consistency and manage your brand aesthetics accordingly. 
People won't be confused every time you post something and they will immediately recognize your brand from your posts alone. This way you will also avoid losing followers and potential customers. 
But how do you maintain your brand consistency with your aesthetics? 
First of all, you need to find your style based on your brand personality and voice. Do you have brand colors you can use as the color palette of your feed? A photography style or filter that's perfect for your brand? What characteristics your brand has and which sides of your brand do you want to show to your followers? Do you want to come off as a classy brand, or a fun, adventurous one? 
Of course, this doesn't only refer to the visuals on your feed, but also to your hashtags and captions. 
So, understand your brand personality and try to match your content to your brand, to have your own style and signature on Instagram. 

Types of Instagram Posts
With Instagram constantly updating its features and coming up with new possibilities, there are many types of Instagram content that you can share.
Here's the full guide to what you can post on your Instagram with their detailed info, tricks, and tips.  
The most common type of content that we come across on Instagram are the regular posts on your feed – video, photo, and carousel posts. 
It's important to make sure that your image and video files match the standards and the guidelines of Instagram. Otherwise, your photos and videos will be cropped or distorted, making your feed look like a total mess.  
To avoid this, here are some details about each kind of regular post for easier and better Instagram marketing.  
Instagram image posts can be square, landscape, or vertical. We advise using vertical photos since they'll be bigger in size when your followers scroll through their timelines. 
This will help your followers notice your content and raise the chances of them engaging with it through a comment or alike.  
Check out all the perfect sizes for the image content on your Instagram feed:
The ideal size for

vertical posts

is 1080 x1350 pixels with a 4:5 aspect ratio.

The ideal size for

square posts

is 1080 x 1080 pixels with a 1:1 aspect ratio.

The ideal size for

landscape posts

is 1080 x 566 pixels with a 1.91:1 aspect ratio.
According to statistics, video posts on Instagram get 38% more engagement than photos. This means you also need to use video content in your Instagram promotion to successfully grow your page. 
Luckily, Instagram allows you to post videos on your feed as long as they are a minute or less in length. 
Sure, you can post videos longer than a minute on your IGTV or through carousel posts, but more on this later. 
For now, here are the best video dimensions for Instagram that can help you post aesthetic content on your feed:  
The perfect size for

portrait (vertical)

videos is 1080 x 1350 pixels. 

The perfect size for

landscape (horizontal)

videos is 1080 x 608 pixels. 

The perfect size for

square

videos is 1080 x 1080 pixels.
Again, we recommend posting vertical videos on your feed, so instead of looking tiny on a user's screen, it's noticeable and enjoyable to watch.  
Also, find out how you can create impressive video content for Instagram in our blog post about awesome Instagram videos.
Instagram carousels allow you to share several images or videos in one single post. However your posts should have the same dimensions, so make sure the visuals you're sharing at once have the same sizes. 
The most amazing part about carousel posts is that you can easily advertise your products and services through them, or even share a short graphic story. To have a better result, you can work with offline and online graphic makers to create better content. 
Here are some templates for you to experiment with and create visually pleasing and matching Instagram carousel posts. 
Based on the huge number of Instagram Stories users, the feature is here for the long run. Businesses know it too: according to Instagram, one-third of the most viewed stories belong to businesses.
Although they can only be 15 seconds long, Stories are one of the most effective and raw Instagram marketing tools. They help you connect with your followers and engage them in many ways. 
Unlike other content on your Instagram page, it disappears after 24 hours, but it can make a huge impact on your Instagram advertisement if you use its features right. 
They have a wide variety of features you can use for outstanding and engaging content, including stickers, hashtags and tags, text, effects, music, filters, and much more. 
In our blog post about useful tips for Instagram Stories, we share all the necessary tips you need for your Instagram, such as: 
Share authentic content that your followers can relate to 

Ask questions to your audience through question and poll stickers to show that you appreciate their opinion 

Go behind the scenes of a launch or an event

Repost user-generated content and tag your fans 

Build anticipation with countdown stickers to make your audience feel like a part of your brand 

Use the music feature to help your stories reach a wider audience 

Create and use trendy filters and much more 
When sharing every Stories post, make sure they align with your brand voice and what you stand for. It will help you to maintain your brand consistency on this platform and have a recognizable style. 
Note that the perfect size for an Instagram Story is 1080 x 1920 pixels (a 9:16 aspect ratio).
Check out our blog post about Instagram Stories hacks to skillfully use the features it offers.
Even though your Instagram Stories can last only for 24 hours, you can keep them "safe" and organized in your Story Highlights. 
Now, you don't want to keep every story post you share, but there are probably some stories that are important to keep on your business profile, such as a menu if you're running a food business, a price list, new releases, feedbacks or FAQs. 
Once you create your highlight albums, they will be situated right under your bio, so they are quite visible, you could say. This is why you also need to create descriptive custom covers for them.
Instagram Live allows you to communicate with your audience in real-time, and engage them with comments or joint lives.
You can start your live stream by clicking on your Stories icon on top of the page, choosing the Live option, and then the Start Live Video button. 
Your followers will immediately receive a notification of your live video and be able to comment. 
Once you finish your live, you can save it on your IGTV, as well as post it on your feed, so people who've missed it can watch it later and leave feedback.  
When it comes to Instagram Live, you don't have to go live every day. Use it for unboxing, reveals, joint lives with industry experts, real-time content, online concerts if you're a musician, and Q&As. 
Also, remember that before going live you have to have an organized script or at least a rough idea of what you're going to talk about or show. Add an engaging title for your Live Story,  so once your followers receive the notification, they know what it's about before joining in.
Note that the longest Instagram Live can last for an hour, so try not to drag it longer than that. But if somehow your topic is super important, you can end the live before it gets interrupted, warn your audience that you're coming back in a second, and start a new one.
Instagram Reels is relatively a new feature that was introduced by Instagram in 2020 and is thought to be TikTok's competitor. 
Reels are vertical, sometimes multi-cut videos that are from 15 to 30 seconds long. Because they can show up on the Explore page and reach a new audience, reels are one of the fastest and organic ways to get more followers.
You can use Instagram Reels to create fun content, or showcase your products in a more modern way, make short how-to videos, or take part in challenges and trends. 
Since Reels show up as a different section on your page, you can also create custom covers for them and make your Reels section look eye-catching. 
For example, Latermedia, an Instagram marketing platform, is constantly posting engaging Reels, and spicing them up with covers that are hard to resist. 
Instagram TV aka IGTV is where you can share your longer videos. 
Here you can post videos on every topic, such as interviews, cooking videos, episodes of different variety shows, product reviews, online concerts, tutorials, and much more. 
Take Ted-Ed's Instagram, for instance. Their IGTV is full of inspiring, animated, and educational videos.
The videos here can be up to 10 minutes in length, although verified accounts can even post videos that are as long as an hour.
Your IGTV videos should be in MP4 format and 1080 x 1920 pixels or an aspect ratio of 9:16. 
10 Best Instagram Tips
Here are some useful tips that you can use in your Instagram marketing strategy and get better results and gain faster success. 
Use Instagram Hashtags
Hashtags are your magic wand into visibility. While Instagram allows you to use up to 30 hashtags for every post, we don't recommend using all of them until you run out of ideas. Using more than 7-10 hashtags in your post descriptions will make your post look spammy and overwhelming. 
So, instead, use the right hashtags that align with your posts and fall into your marketing strategy. To do so, you can research the different types of Instagram hashtags, combine them and use them in your posts. This will help you make your posts seen by people that follow those hashtags and introduce your brand to a potential customer. 
So, for instance, if you're sharing a jewelry giveaway post, make sure to include the relevant tags in your post description such as #giveaway #jewlerygiveaway, #jewelry, or #jewelryshop, etc. 
You can also follow iPhone's example and create your own branded hashtags, encouraging your followers and fans to add them to their posts related to your brand. 
iPhone's been using the #shotoniphone hashtag for their user-generated content for years now, and iPhone users are only happy to follow the lead and share related content. 
To sum it up, when using hashtags in your post descriptions, make sure they are: 
Relevant 

Not coming off as spammy 

Based on your niche 
Easy, right? 
Add Video Captions 
The thing about videos is that for one reason or another, many people don't turn the sound on when watching them online. The same goes for Instagram videos. 
To avoid being skipped and have better chances at people watching your videos even without a sound and reacting, add captions to them. 
Make sure the text is visible in size, color, and font. 
Create Custom Thumbnails for Instagram Videos
The first thing your target audience sees when it comes to your video is your thumbnail. When uploading a video Instagram offers you to choose a scene from your video as a cover. 
However, to leave a better impression and grab attention, come up with your own custom thumbnails. You can choose a certain style for all your video thumbnails, include text or your logo, to make it look professional and catchy. 
Post at the Right Time 
People usually check their Instagram feed at all times, however, there are some optimal times during the day, that most of your followers are online. 
To find the best hour for your Instagram posts, you should consider your industry and target audience demographics – where are your followers mostly from? 
However, the best time to post on Instagram for all industries and have high engagement is from 1 p.m to 5 p.m or from 8 p.m to 10 p.m. 
Meanwhile, the worst day to post on Instagram is Sunday. 
Use the Swipe Up CTA 
The Swipe Up call-to-action button is probably one of the most effective and powerful features of Instagram Stories. 
The feature allows you to add a link to your stories and have people access it with just a single swipe. So, using the Swipe Up CTA you can direct people to your new product, a new music release, a YouTube video, etc.
Swipe Up CTAs are customizable, which means you can change them into any command you want – "Shop Now", "Get Your Copy", "Learn More", etc. 
They are also only available for accounts with more than 10.000 followers. So, until you reach that number of followers you can replace the Swipe Up with the "Link in bio" strategy. 
This means you can post the link you want your audience to follow in your bio and encourage them to check it out through your stories and posts. 
Set up an Instagram Shop
According to statistics, 130 million Instagram users tap on shopping posts every month. So ride this wave – set up your own Instagram Shop and make online shopping easy, fast and profitable for your brand. 
What exactly does Instagram Shop do? It allows you to place product tags and stickers on your posts, and help your users get more info about them with a tap before purchasing them on the spot. 
You can add those shoppable stickers and tags to your Instagram posts, Stories, and IGTV. 
Additionally, you'll have the chance to embed your Instagram gallery on your website and create an interactive space. 
You'll also get the "View Shop" button right under your bio, so users can directly get to your Instagram Shop without scrolling and clicking on a specific post.
Add Relevant Captions to Every Post 
Imagine going to a gallery and finding out there are no explanations or names for the art pieces you're seeing. Wouldn't it be kind of vague? The same goes for your Instagram captions. 
Just because you think your visuals are all that matters, you can't skip over their captions. Captions are your chance to set your brand mood and voice. Even when you're sure that most of your audience won't read it, you still need captions for your business page. 
Your Instagram post captions should have a purpose – entertaining, informing, convincing, etc., be relevant and engaging. 
Lucky for every Instagram user out there, Instagram allows you to use up to 2.200 characters for every caption, which encourages quite great ideas – from storytelling to short descriptions to emojis and more. 
However, you don't really want to stuff your captions with words and overwhelm your audience, because after all, it's a visual platform, right? 
So, to have a more engaging and pretty caption you can stick to using 130-150 characters for your posts, and 120-130 characters for your Instagram ads. 
Note that, Instagram only shows the first two lines of your caption, and offers its users to read the rest with the More button.  
Collaborate With Influencers
Influencer marketing is growing on Instagram with every passing day. Influencer collaboration implies using the fame of a public figure with a terrific number of followers, to build brand credibility and gain more potential customers. So, basically finding brand ambassadors that have an interest in what you're offering. 
Another key to influencer marketing is finding influencers that have already gathered a community that trusts them. 
Once you find Instagram influencers and decide that their audience might really be interested in your brand and products, you need to contact them for their collaboration principles and costs. 
They can choose to promote your brand and introduce your products or services to their audience in exchange for money, free products, etc. 
If your brand is still growing, you can start with promoting your products by turning to influencers with fewer followers, or shoot right up and collaborate with public figures that have millions of followers and charge more money. It all depends on your budget. 
One of the best influencer marketing examples belongs to Samsung. Recently this giant company has released their new smartphones – Galaxy Z Fold3 and Galaxy Z Flip3 and took the Internet by storm. 
Besides choosing the world's new favorite band BTS as their official ambassador, they've also included many Instagram influencers and celebrities in their marketing. These powerful influencers have surely made Samsung's new phones a worldwide trend.
And to get more out of such big marketing campaigns, snippets from these campaigns can be used in offline marketing. By adding an Instagram QR code you can direct the audience to the desired Instagram post.
Interact With Your Followers 
The thing is, Instagram is not only for showcasing your products and posting high-quality content. If you think like this, then we're pretty sure you won't have much luck collecting a loyal follower base. 
You need to engage your followers to build a connection, and you can't do that without interacting with them. 
Make sure to like and answer the comments under your posts, pin the comments that are likely to create discussions, respond to your users' tags and repost their content related to your brand, and even joke with them if you're trying to come off as a friendly brand. 
Besides interacting with your followers, you can like and comment on relatable posts from your competitors or other popular accounts. This will help you be seen by a wider audience that's still oblivious of your existence. 
Another way to communicate with your fans is using the question, poll, or reaction stickers in your stories, to ask their opinions or ask them to ask you questions, and much much more. 
All of this will only benefit your brand and help you build a community around it. 
Use Instagram Ads 
According to Instagram, 50% of  Instagram users are more interested in a brand when they see an ad for it on Instagram. 
This proves just how much of an impact Instagram ads can have on your brand. Especially when the potential advertising reach on this platform is 1.16 billion users. It's insane, isn't it? 
This is why Instagram advertisement should be a part of your marketing strategy if you're aiming to reach a wider audience and receive recognition.  
One of the great parts of Instagram ads is that they show up on your target audience's timeline like any other Instagram post. This is more encouraging for people to click and check it out. 
You can run an ad in the Instagram Stories, feed, or Explore section. Besides, you can choose your target audience according to your demographics, and later get detailed reporting about the result. This will help you to improve your performance and give you ideas for later advertisement.
So, to set up an Instagram ad, select one of your Instagram posts and tap Promote or create one with the help of Facebook Ad Manager, and promote it by following the next personalized steps. 
How to Create Better Instagram Content
And last but not least, to be on top of your Instagram marketing game, create better, high-quality content. After all, this is a platform where visuals have their voice and influence.
Yes, it's quite challenging to come up with awesome ideas for Instagram posts that are equally as amazing to bring to life. Yes, it's hard to find your voice and create your aesthetics. 
However, worry not! We've come up with some helpful tips that you can use to create better Instagram content – effortlessly and in a blink of an eye. 
Follow The Rule of Thirds 
The rule of thirds is one of the easiest ways to create and deliver quality videos and images. You don't even have to download any apps or research them for hours, because your camera most probably has it. 
You can create amazing visuals by simply turning on the grid feature of your camera. It will divide your screen into nine equal sectors by two horizontal and two vertical lines.
All you have to do is to place the main object you want to stand out on the part of the camera screen where two points meet and record it. Those anchor points are where the eye unintentionally concentrates when you watch a video or look at a photo. 
This is a brilliant way to draw attention toward a certain object when you're shooting a product demo or a portrait photo. 
You can get the feature on your camera by going to the Settings of your phone and finding the Grid feature in the Camera section, and turning it on. 
As simple as that! 
In every visual, lighting plays a huge role. It makes your photo or video look professional and more attractive. 
Here are some tips on an Instagram video and photo lighting that you should pay attention to: 
When shooting an Instagram video or photo, make sure the light is falling in front of the object you're recording, and not on the camera. This will help you to avoid having "burned" visuals.

If the shooting is outdoors, pay attention to the time. The best time to shoot a video or a photo outside is the golden hour: one hour before sunset or one hour after sunrise.

If you have a small budget, you can still get a ring light, since they don't cost much.  They are perfect at evenly eliminating shadows from every corner of the scene and lighting up the object from every side. 
As a visual platform, Instagram demands high-quality and original visuals. To get the best results, you need to choose and work with the right tools that have all the necessary features to help you create Instagramable content.
The tools you need include video and photo editors, and a content planning app.
You can use the Lightroom app by Adobe. It allows you to edit your photos on your phone or PC, without ruining much of their quality. The app includes endless filter presets that you can choose from and apply to all your photos, creating your Instagram feed aesthetics. As for editing your videos you can use the Renderforest app available for both Android and iOS users, as well as edit your videos online at Renderforest.com.
Besides, here you can also create quote images, giveaways, and other kinds of announcements, cards, and use the eCommerce mockups for both your Instagram feed and Stories. Just select the template you want to customize and edit it with a few clicks.
When it comes to planning your content, you can use apps like Preview, PlannThat, or any other Instagram planner that you find suitable for your account. 
With an Instagram planner, you can schedule your posts beforehand, see how your feed will look like with the content you're going to upload, and this is just the beginning. 
Instagram Analytics 
Constantly posting awesome content on Instagram and coming up with Instagram promotion ideas is all great and fun, but to upgrade your tactics and move to a higher level, you need to pay attention to your Instagram analytics. 
Once you switch to a Business Account, you will be able to access Instagram Analytics. It offers you data on the number of your impressions, engagement, reach for both your account and individual posts, and your follower growth.  
So, how do you access your Instagram Analytics? 
Go to your Instagram profile, and right under your bio find the Insights button. By tapping on it, you'll be transferred to your Insights Overview page and see the data. 
However, if you want more detailed statistics, you can use paid and trusted third-party apps such as Sprout Social or Hootsuite. 
Conclusion
All things considered, it's quite easy and fun to do Instagram marketing, if you know how to start and where you're heading. 
With the helpful tips and tricks we've shared with you above, it will be easy to do marketing on Instagram and get the result you're aiming for. 
It's never late to launch your marketing campaign on this platform, so let's start now!