Running a business page on Instagram is not always an easy task. You have to come up with cool Instagram post ideas that are both entertaining and promotional.  
There are over 100 million photos and videos posted on this app each day, and it's quite challenging to stand out in the sea of Instagram brands. So, what to post on Instagram, besides Instagram Stories, to actually engage your audience? 
To save your time and energy, we've come up with a list of some fresh Instagram ideas and examples. This will help you create a strong business presence on Instagram, fill your feed with unique content, encourage your followers to keep up their active engagement, and successfully promote your products. 
Time to boost your creativity and pretty up your Instagram feed. Let's go!
Create Shoppable Posts
This is one of the best features Instagram has come up with to make the platform more business-friendly. Take a shot of a model using your products, or just take a beautiful image with your products displayed on a surface and add your shoppable tags. People using the Instagram app will be able to click on the tag stickers on your photo and get the mentioned products right from your website.
Or you can use a shiny mockup to create such product images and share them on Instagram with those tags.
Arrange a Q&A
Make a post asking your followers to ask you questions in the comments section and start answering them. You don't have to answer all the questions because let's face it, there are some things you might not want to share with them, but if you have enough time on your hands try answering most of the questions you have answers for.  
Note that besides hosting a Q&A session on your feed, you can also do that in your Instagram stories, using the question sticker.
Inspire With a Quote
Everyone loves a good inspiring quote, that motivates and gives a pair of new wings when you need it. Sometimes, all you need is to inject some positivity into your followers and create a strong bond with them as a result. 
A great quote can't grab the attention of your followers on its own. To do so, you need to make it visually appealing and aesthetic.
If you don't have a suitable app or software to create eye-catching quotes and images, there are many high-quality online graphic maker tools that can help you with the task.  
Join the Trend Waves  
Instagram users love combining fun and staying up to date, and maybe that's why certain things go viral in no time. Use this opportunity to join the modern hilarious trends and challenges and create relatable content. Don't forget to add the necessary hashtags and tags as well. 
In the example above, actor Ryan Reynolds' Aviation Gin brand is joining the famous 
#BottleCapChallenge challenge with a dramatic turn of events. Check out the likes and comments for this successful post, to see the positive feedback of the followers. 
Go Along With Seasonal Posts 
Get your followers in the holiday mood with relevant posts, celebrating the occasion. You can create posts about major holidays like Christmas or New Year, as well as some not well-known days, like World Smile Day. It's also a great tactic to promote your new and old holiday collections and products.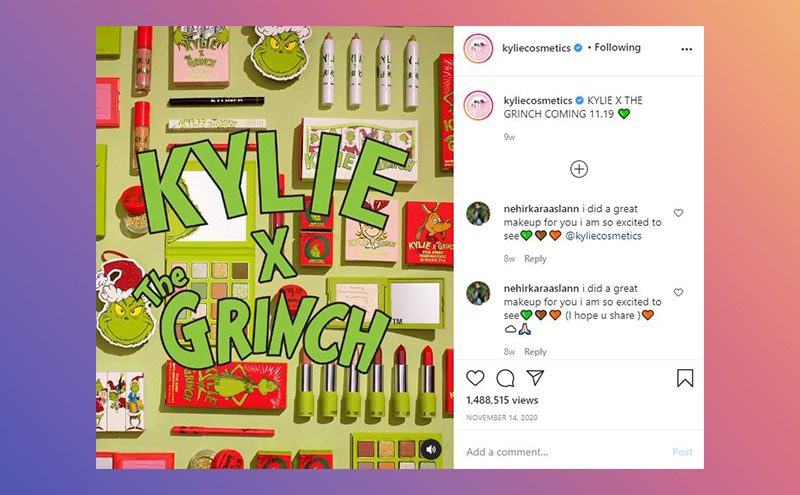 People on Instagram also love when their favorite brand pays attention to details like making a beautiful post about the first snow of the year, the beginning of the summer vacation, informing about the soon occurring full moon, and so on. 
Ask a Question 
Want to get a nice dose of inspiration and awesome Instagram ideas? Ask a question to your followers. Coming up with the right question, you'll engage your followers in the comments section and have a kind of brainstorming session. 
Ask them about your products, or their morning routine if it's even slightly related to your brand or even their favorite movie characters. Have the perfect question yet? 
Recommended Reading
---
---
Post Hyperlapse Videos 
Unique video content on Instagram is surely going to make wonders for your feed. Hyperlapse videos are currently one of the hottest Instagram ideas you can go with. What is a hyperlapse video? 
Basically, it's a cinematic kind of video that makes the audience feel like they are moving toward, around, or away from a spot or an object. They shouldn't be confused with time-lapse videos, since the latter is fixed just on one spot. 
Hyperlapse videos are more dynamic, catchy, and driven, so they will give a fresh breath to your content, and inject excitement into your followers.
Here's an example of a great hyperlapse video by Starbucks, showing off one of their delicious coffees. 
Share an Influencer or Celebrity Endorsement 
This is a brilliant Instagram post idea for your brand marketing strategy on social media and especially on Instagram. Notice a celebrity or an influencer use your product in their photo or video? Repost it on your account or make a new carousel post (several photos or videos posted together), giving more details about the product. 
Add credibility to your brand by collaborating with Instagram influencers and celebrities. Send them your products to get a shout-out in return, or make a permanent deal with them by contacting them or their representative.  
Influencer marketing is quite huge these days because of its effective outcome, so give it a try and see for yourself. 
Here's a post by Casetify, combining a couple of photos of its famous influencer customers. Wouldn't you want to get your own Casetify phone case if you found your favorite celeb here? 
Show a Tutorial/ DIY
Who doesn't enjoy learning new tips and tricks directly from their favorite brand? Help your followers solve a problem related to your sphere, or give advice on certain situations through DIY or How-To videos.
For instance, you can teach them how to apply their makeup according to their skin type if you are a cosmetic brand, how to make a latte, if you're running a page for a cafe, how to make a cake in 10 minutes, if you're a bakery, etc… The topics for tutorial videos are seriously endless, it all depends on your brand and choice. Your followers will surely appreciate the valuable information. 
Create Instagram Giveaways and Contests  
Motivate your followers and build your engagement simultaneously by arranging Instagram giveaways and contests.
Choose your target audience and the prize you want to offer, and get to work. Make sure all details about the giveaway are clear and don't forget to make it pretty as well.
After all, you need to catch the eye of not only your followers but also your potential customers. To do so, use all the necessary hashtags as well, like #Giveway, which has more than 37mln followers as of writing this. 
Have Fun With Pop Culture References
Be a fan with your fans. Share their excitement and love for pop culture icons, like trending and massive tv-shows, movies, cartoon characters, memes, etc.
The references can be brief, sometimes even hidden, but most fans will surely get it and share their love in the comments. You can use iconic phrases, soundtracks, illustrations created by you or your team, and, of course, hashtags.
Daily Hashtags as Post Ideas 
#TBT, #FF, #SundayFunday…Ever heard of them? We're almost certain you have, since these days they are everywhere on social media and especially Instagram. 
These and other daily hashtags are for each day of the week, and people like to post and see them on their feed. You can get inspired by these hashtags and build a part of your content around them. The most famous daily hashtag right now is the #TBT, as in #ThrowbackThursday. 
Strike With Before and After Posts 
Get creative with this overly famous version of Instagram posts. This is a terrific way to market your products and their features. You can use either collage and fit both of your photos in one frame or use the Instagram carousel post (when you share more than one photo or video in one post) and ask people to slide the photo to see the "After" version of it. 
Cosmetic products, repair shops, and beauty salons are just a few of the businesses that can attract old and new followers with this kind of content.
Share User-Generated Content
In case you run out of better ideas to post on Instagram, don't worry at all. You can share user-generated content, and let it work its magic. 
Ask your users to make a post with your products, browse those posts, and choose the outstanding ones. Share them on your Instagram and don't forget to give a shout-out to the post owner, for their creative idea.
With these posts, you can both promote your brand or product, as well as connect with your followers. 
Here's Daniel Wellington brand giving a chance to its followers to be featured. Another great example of this kind of Instagram post ideas for business can be Apple. They're using this smart way to promote their #ShotOnAniPhone campaign, encouraging their users to share photos and videos taken with their iPhones with this hashtag. The best posts get featured on their social media accounts. 
Create Carousel Posts
Raise the curiosity of your followers with eye-catching carousel posts. Share several related photos or videos together in one post, and make it beautiful. It's like categorizing your photos or sharing one photo in small pieces and making your followers want to slide and see what it's about. 
You can come up with many ways to intrigue them. For instance, split an image into several parts and post it in one go, to pique their curiosity. It can be your menu, service price list, or a poster-like photo.
Wendy's, for instance, is always coming up with fun Instagram ideas, and this time they made a fake-kind-of-giveaway. To know what Wendy means by saying "winner", their followers will need to slide. Purely genius! 

Come up With Killer Reels 
People surely love watching videos on social media. With the Instagram Reels feature, it's become way easier and more fun to post such short, fleeting videos. You can share product demo videos with fast speed and trending music tracks, show a quick process, make video memes, and more. Also, don't forget to choose an attractive thumbnail for your reels, to encourage people to stop their scrolling and give it a view. 
Gucci is a quite active Reels user. They both showcase their new products through such posts and provide fun content to look forward to.
If you don't have the software you like to use when editing your videos, find video editing tools online. There are many Instagram video templates that can help you create your first or next video reel. 
Use Your Reviews
Don't we all like to read reviews before getting a product or turning to a service? This is a perfect chance for you to use your feedback as a brilliant Instagram post idea. Collecting a couple of hilarious reviews from your shelves and posting them online will not only interest your followers but help you get potential customers as well.
To make your followers stop scrolling and read your post, come up with an attractive background or setting just like BurgerKing did. Feel like going through your feedback today?  
Take People Behind The Scenes 
Go behind the scenes of your product creating process, working day, or your special event, and connect with your followers on a more personal level. 
You can even concentrate on details, choose what you want to share with them, and get to work. A photo of a cup of coffee with a note, an employee deep in their work, a video of a working day, etc., is a great place to start from.
Here's Fear of God, taking us behind the scenes of their sixth collection. It gives us an inside into their creative process and makes the whole thing feel more personal as if we were really a part of it. 

Organize Instagram Games 
Game posts are another thing you can try having on your Instagram feed. It's an effective and fun way to keep your account active and grow follower engagement. Quizzes, one-question posts, puzzles with numbers, matching games are all eligible in this case. Get creative!
Starbucks has a great Instagram page for every occasion. From holiday celebrations to hyperlapse videos, they have quite brilliant creativity, and playing games with their followers is not an exception. 
Memes to Save The Day 
Find or even create a meme that you feel like your audience can relate to, or that is connected to your brand in a way. Make sure it's harmless and is not damaging your business. If you're not sure you can successfully pull it off, no worries, there are 21 other ideas in this list you can choose from.
Save and Share Your Lives in IGTV
Going live is not always going to be effective, because there might not be many people online when that happens. However, if it's something important or something you want your followers to see later on, save the Live in your IGTV and share it as an Instagram post after it ends. It will be nice video content for your feed, and something your followers will want to catch up on.  
Share Relatable Fact and Statistics
Providing new information or statistics related to your brand or products is an impressive idea. It could be about your accomplishments or random facts that are not connected to your business at first sight but lead to a new detail about your brand. 
Baskin Robbins, a famous ice cream brand in the world, has shared its flavored ice cream list and the year they have been created in. It's a fun fact to know and at the end of the post, they're also asking their followers which one they like most. The followers have surely answered with years.
Note that the post should also be of high quality. Pretty it up with your brand colors or stickers like Baskin Robbins did above, to catch the attention of your followers in an instant.
Conclusion 
Still, thinking about what to post on Instagram, or have you already come up with amazing Instagram ideas? It's quite difficult to come up with fresh and outstanding Instagram posts all the time, but we hope these 22 ideas could inspire and motivate you. Give your creativity a push today!