Love it, or hate it Instagram Stories can boost your business in no time. This, of course, is relevant if you know how to use its tools right. 
Instagram Stories aren't going to go away any time soon. Instead, they keep changing for the better, introducing new features, and making it hard for the users to resist. 
The improvements and updates are probably why people are absolutely in love with Instagram Stories, and so they keep swiping. And lucky for business owners and marketers, this is a great opportunity to promote their brand.  
People love watching Instagram Stories, sometimes they do it automatically, without even realizing just how many hours they spend there.  
This helps business owners expand their sales and increase their reach, but of course, they need more than simple photos to make them want to come back for more. That's exactly why creating Instagram Stories is a whole work of art.   
Here are some tips to help you use Instagram Stories for your business growth, keep your followers interested, boost your sales, and increase your reach.   
Let's dive right in. 
How to Use Instagram Stories for Business
Instagram Story Tools
How to Use Instagram Stories for Business
Honestly, it's all up to your imagination, and your page statistics. Although it's better to post or schedule a story at least once a day, so your page is constantly active (not in an annoying kind of way, of course), and the followers don't forget about you. Below, you will find some tips for you to both entertain your audience and promote your business successfully. 
Arrange Giveaways
Everyone loves social media giveaways and contests, especially when the prize is a product or a service by their favorite brand. Once in a while, you can arrange this kind of event, using hashtags, and sometimes even collaborating with other brands and businesses. It's guaranteed, your followers will love it.
Keep Them Wondering
To intrigue and interest the followers of your business page, keep them wondering. It's always a good idea to share teasers of some upcoming event, countdowns, behind the scenes of a campaign or a service/product on its way, as well as use the "New Post" technique. The latter is basically a teaser story of your last Instagram post, where you cover half of it with animations and stickers, leading them from your Stories to your Instagram account. This will help you keep both your Instagram Stories and page active and hot.
Use Animated Stories
These kinds of posts on your Instagram Story are always interesting to watch, even so, when they are short and fun. Create and post a 15-second animated video, to make your announcement, ad, or tutorial videos more interesting for the followers. 
Reaction sliders and polls related to the animated video are fun to use too. Don't know how to create animated Instagram Stories yet? You can always use our variety of video templates to make teaser and animated videos designed for Instagram Stories. Here is our "Instagram Stories Pack", to make you decide what your next Instagram Story can be.  
Involve Your Audience
When it comes to your favorite brands, there is nothing better than knowing that your opinion matters to them. Make your audience have this warm feeling, when it comes to you, and count on their strong support. 
You can achieve this by constantly doing Q&As, asking them a question or two about your products, arranging votings, going behind the scenes, etc. There are many helpful tools for you to complete this mission, which you can find later in this article. 
Recommended Reading
---
---
Use Swipe Up CTA's
You can see this tool being used everywhere in the Instagram Story feature, and that's because it's probably the most powerful story feature for businesses. Whether it's a new song to be revealed, a product to be purchased, or a new website to be launched, "Swipe Up" is a great way to directly move your followers, where you want them. 
"Swipe Up" CTA's are customizable, which means you can change them into anything you want – "Shop Now", "Get Your Copy", "Learn More", etc.. 
Although there is a catch, you don't just get the "Swipe Up" feature simply because you're using Instagram Stories.  The feature is available to users with more than 10.000 followers. If you are still not quite there yet, replace it with the "Link in bio" strategy.
Create Story Highlights
Your important and creative Instagram Stories should, of course, be saved. Don't let them go to waste, arrange them into nice folders – "Story highlights", and choose a display style for them. Highlights will make your page look more unique and with a character. 
This is another reason for you to make your stories prettier and more catchy. Use online graphic maker tools to experiment with ready-made Instagram templates, create aesthetic visuals beforehand and then post them on Instagram Stories.
Your followers and profile visitors can always access your highlights and see your past Instagram story activity, as well as receive the information they need, such as product or service pricelists, celebrity endorsement, reviews, and more. You can keep all your pretty
Promote Your Instagram Story
And last, but not least, you can promote your Instagram Stories, to reach more people. This feature has been added to Instagram Stories not long ago, and many have already tried them. 
To promote your story follow these steps: 
Open the story you want to promote.

At the bottom of the story's image or video, tap

"… More"

.

From the options, select

"Promote"

.

Fill in the details of your promotion – audience, budget, duration. Once, you are all set, tap

"Next"

to confirm the details.

To complete your promotion, tap

"Promote"

.
Even though Instagram Stories expire after 24 hours, your promoted story will run as an ad as long as you've set the duration in the promotion options. Note that you can also promote the old Instagram Stories in your highlights and archive. 
Instagram Story Tools
As of now, Instagram Stories have 3 main features – Live, Reels, and the normal Story. Each of them is beneficial in its own way, so let's see what they do, and how you can use them to engage your audience. 
Instagram Live Story
Going live on your Instagram account is one of the best ways to engage your followers. Before you start your Live story, you have to choose a topic and prepare to introduce it as perfectly as possible. You will need to add an engaging title for your Live story, so once your followers receive the notification, they know what it's about before joining in.
During your Live story, you can answer the questions asked by your audience, and give them more information about certain things related to your brand. Although sometimes the title of your Live story can talk for itself, and all you have to do in this case, is just show them a process. 
It's also easy to save an Instagram Live story, so later on, more people can have access to it.  
Instagram Live Story Ideas   
Product introductions 

Event broadcasts 

Q&A's 

A working day process 
Instagram Story Reels
This feature is relatively new on Instagram, and it's often compared to TikTok. It gives you a chance to share your story content not only with your followers but also be discovered by Instagram users on the Explore page. 
The fun part is that, if you use a hashtag, a music track, or a certain effect, your story will come up on their dedicated pages, once people search, or click on them.
With Reels, you can change the cover image of the video before posting it in your Instagram Stories, add a caption, decide the length, choose a hashtag, tag a collaborating account, and more.      
This feature will surely help you grow your reach on Instagram, as well as build your own community. 
Instagram Story Reel Ideas 
Take part in trending challenges 

Showcase products with hot songs 

Short tutorials 

Quick office tours
Instagram Story
Instagram Stories are one of the most useful features when it comes to giving a push to your business. The normal story now has 6 options – Create, Boomerang, Layout, Superzoom, Hands-Free and the Normal story. Wow, that sounds a lot, so let's go through them one by one, to have a clear idea about their features. 
Create
Boomerang
Layout
Superzoom
Hands-Free
Normal Story
The 6 letter word says it all – here you create a story with the help of many creative and fun tools, offered by Instagram. You can make a story only with a Gif, share the quote of the day, ask a question, ask your followers to ask you a question, set a timer, make a quiz, etc. All these features together make the perfect pack for a business profile, and when used right, you will see the difference in the statistics. 
It's like a photo, except it's not. Some might confuse it with Gif, but it's not that either. With Instagram boomerang, you can create a short video that will be played back and forth in a loop. Because of the dynamic nature of boomerang, it has become a favorite story feature for many users.
This fun, meme-worthy, and absolutely cool super-tool, will help you create Instagram story videos, zooming in on objects, products, or faces, to get your desired effect. The zooming effects can be dramatic, lovely, fiery and hot, "disapproving," etc. 
Just place your camera, where you need it, and press the recording button. The zoom-in will happen automatically. You can make the video humorous, to give a good laugh and a positive promo to your audience. 
This is another relatively new feature on Instagram Stories, which will allow you to create photo collages right on spot, without having to do it beforehand.
This tool isn't used as much as the other story features, but it's a great way to show a product from different angles, or take some shots of the same product in different settings, "before and after" results, etc. Yes, Instagram has made the process of making a collage easier. 
Source: Instagram
Maybe you can't ride a bike hands-free, but you can definitely make an Instagram story hands-free. This feature helps the users to record a video, without holding a finger over the recording button all the while. Just tap to start recording, and then tap again to stop the video. It's basically like the camera you're using on your phone. 
This version of the Instagram story is the basic, normal one that we have known for a while now. Take a photo or a video of your product, or upload a media file from your library, add a sticker to it, a hashtag, a music track, and/or any other option available for you on this platform. 
Your Instagram Stories can be of different nature and purpose, they can be promoting, fun, engaging, or all at the same time. There are many options for you to choose from, and 
no certain rules to follow- just personal statistics and creativity. 
Instagram Story Ideas 
Comparison layouts 

Moving product boomerangs  

Feedback

User feedbacks 

Famous Gifs for appropriate situations   

Memes  

Tutorials

 
Stickers
Stickers are now a huge deal not only on Instagram Stories but also on many other social platforms. They are hip, attention-grabbing, and cool. They also help you to lead your followers to do your desired action since some of them are clickable like fun call-to-action buttons. To access your set of stickers on Instagram Stories, click on the sticker icon on top of your page, and choose the one you need. 
There are many types of helpful stickers, that are perfect for every business owner. Let's see how exactly they can help you grow on this platform.   
Answer your most asked questions in a creative way, while also promoting your new and old products. This sticker will help your followers feel that they are being heard, and that their opinion really matters.
With location stickers, your post can be visible in the results of the appropriate topic, once people click on that location in any other story. This sticker takes people to the map of that place and shows the posts and Stories with the same mentioned place. So, eventually, they might end up on your page. 
Use hashtags and mention stickers to increase your discoverability. Just like the location sticker, this set of stickers is here to help people see you in the hashtag page result, once they click on it. This is why you need to use relatable and trending hashtags, to show up more in the results.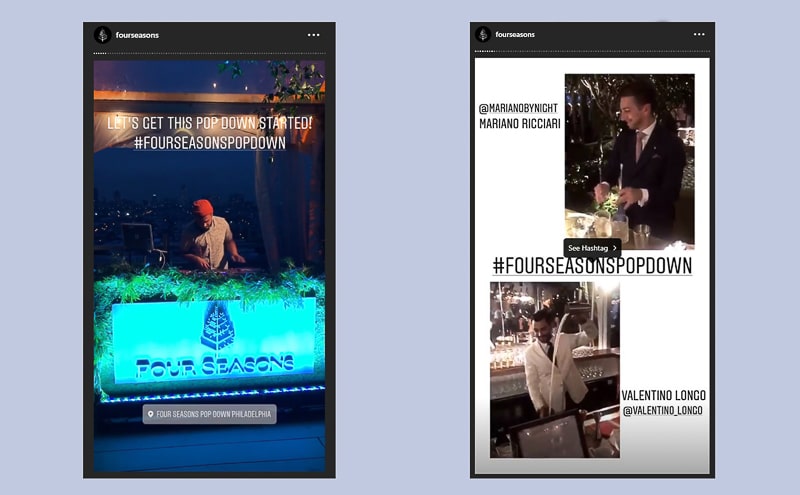 When it comes to using mention stickers, they are a great way to underline your collaborations with people or give shout-outs to your partners and followers, at the same time promoting your own brand. 
Are you launching a new product, creating a new platform, or something else? Well, it's a great opportunity to hype your followers up with a countdown sticker. Keep them excited, and intrigued by setting the time and date of your launch in your Instagram Stories.
The Internet loves taking part in creative challenges. Think about a way to challenge your followers to be a part of your campaign and have fun at the same time. You can encourage them by sharing their related Instagram Stories on your own page.
Poll, Quiz, and Reaction Slider Stickers
This is an easy and direct way to know what your followers and consumers actually think about certain products and aspects related to your brand. Try to do some quizzes too, sometimes maybe just for fun.
You can also create your brand-related and fun stickers, and share them with the world by adding them to the Instagram collection. 
Text
Don't be afraid to use texts, but don't overuse them either. Keep the golden middle when it comes to your Instagram Stories, and instead, make sure to add related hashtags and mentions. There is a set of text features waiting to be creatively used. 
Doodles
Doodles can make your Instagram Stories pretty cute and unique, which is why it's a great idea to put them into good use. There are several tools on Instagram Stories, to help you doodle successfully, even if you don't have much talent in that. 
Here is one of our doodle tips on Instagram Stories, to inspire some creativity – upload or take a photo, click on the doodle icon on top of your story, choose the highlighter and the color you prefer, and then press on the screen for about three-second. 
Your whole screen will be painted with color. Next, take the eraser tool and draw or write whatever you want, to get this effect. Your creative doodle story is ready to be shared.
Filters
Use trending face and screen filters, to always keep up with the world and your followers. This feature has been only going forward and by clicking a single filter, you can see all the Instagram Stories created with it.  You can also create your own filters and upload them to Instagram, challenging your followers to use them and appear in your Stories. 
Conclusion
Using Instagram Stories is a great way to increase the reach of your business and boost your page engagement. You can achieve great results through asking questions to your followers, sharing their feedback, doing contests, countdowns, and polls. 
Go behind the scenes of your upcoming events, create suspense with teasers, and use hashtags, mentions, and location stickers, to keep people talking and waiting for your next Instagram story. All of this will help you create a bond with your followers, let them know that their opinion matters and that they are being heard. 
Don't forget to use the "Swipe Up" option, if you have it, and the "Link in bio" technique, if you don't. This will get your followers where you want them, and increase your sales when used right. 
Don't be afraid to get creative with your audience, to make them feel comfortable when interacting with your brand on social media, and check your page consistently, without skipping your Instagram Stories.
Last but not least, keep track of the activity on your business page on Instagram, by following the statistics and data, provided by Instagram. This will help you figure out what your followers want to see in your Instagram Stories.