The internet has changed the way we perceive this ever-changing world. Social media platforms create more and more ways for us to share our lives in different formats. Let's take Instagram as an example, a platform that is used by one billion people every month.
Here, you can share your life in many ways: from static images to different video formats. Currently, the platform supports four video formats: video posts, Instagram Live, long videos on IGTV, and Instagram Stories. It's up to your taste to pick the Instagram video type you like most. With Instagram videos, gone are the days when private information remained private. 
We share everything we do, the places we visit, the food we eat, and many other events in our lives which are supposed to be private (we'll keep this unspecified).
From another point of view, this is a great way for businesses to grow their reach as 83% of Instagram users say that they learn about a product or service on the platform. Moreover, 80% of users follow a brand or a business on the platform.
So, how many types of Instagram videos are there, and how to make the most out of each? In this guide to Instagram videos, we'll speak about the different ways you can share your video content on Instagram. Let's dive in!
Instagram Video Post
Instagram Stories
Instagram Live
IGTV
Instagram Video Post

Instagram is the right place to show your creativity. At least this is what many people do by creating very nice and unique feeds. One way of creating an outstanding feed is posting only videos.
So, how long can an Instagram video be? The platform lets you post up to 60-second videos with a minimum of 3 seconds. In order to post a video, tap the + at the bottom of your screen. You have 2 options: choose a video from the Library/Gallery of your phone, or click on Video to open the camera and record your video right in the app.
Then, you can add a filter to your Instagram video, trim it, adjust the aspect ratio, choose the cover, and mute it. You can also add multiple videos and edit them separately to create a carousel post. You can add up to ten one-minute videos as a single Instagram video post. 
Once you finish customizing and editing your Instagram video, add a caption, and publish it. You can add a location and tag people on your video post. You can add a location and tag people on your video post.
You can share 3 types of videos on your feed:
Square: 600 x 600 pixels (1:1)

Horizontal: 600 x 315 pixels (1.9:1)

Vertical: 600 x 750 pixels (4:5)
Note that the max size of an Instagram video file can be 4GB. This is just one option of posting an Instagram video. Your post won't disappear and your audience will see it on your feed for as long as you want it. If you no longer want the video on your feed, delete the video or archive it from the video settings. We recommend you to go with archiving the video instead of deleting it altogether. In this case, if anytime in the future you change your mind, you can simply bring it back from the archive.
Instagram Stories

In 2016, Instagram launched its "Stories" feature. Today, the feature is immensely popular among users, with 500 million people using Stories every day. With Instagram Stories, you can share your photos or videos with your followers which will disappear after 24 hours.
How to Use Instagram Stories?
Because of wide usage among Instagram users, Stories have become a very powerful marketing tool for brands. With Instagram Stories, you can share your photos or videos with your followers. The posts disappear after 24 hours. This has made Stories a place for users and brands to experiment with visuals, share their daily moments, work in progress shots, behind the scenes, and overall be a bit less serious than with posts. This also allows users to post content that you'd like to share, but don't want them as a regular post on your feed. Stories also became a place for more authentic content. Since the life of each story was just one day, users didn't have to do a lot of consideration about what to post. 

Later, Instagram introduced its Highlights, where the users can save their stories and make them available for a longer time, not just 24 hours. This feature has given many users a chance to collect their stories by theme in one place or keep important information they want to share with their followers visible. However, keep in mind that even if the stories are highlighted, the list of viewers won't be available after 24 hours.
The Stories are available on the Instagram home screen and on individual user profiles. Active stories are highlighted in circles. Tap on them to view the stories. You can navigate between the stories which appear on the home screen, starting from the newest ones. Besides, you can save your Stories on your device, if you want to have access to them offline as well. Here are some gestures which will help you to navigate between the Stories easily:
Tap the right edge of your screen to go to the next story,

Tap the left edge to go back,

Swipe left or right to move between the stories,

Press and hold to pause it.
Source: HubSpot
How to Make an Instagram story?
To create Instagram stories, open the app, and tap the camera icon on the top left.


What comes to the story resolutions, for the best viewer experience, the recommended Instagram story size is 1080 x 1920 pixels. In case the video has a different resolution, you can scale or adjust it by dragging it with two fingers. Background similar to the video color will be added around it. 
Instagram has different built-in effects and modes to help make the stories even more engaging and creative. Boomerang, Superzoom, Rewind, and Hands-Free are just a little part of those effects.
Instagram offers a wide variety of options to make your stories interactive and attract your viewers' attention. After recording your story video, you can customize it with the help of different tools. Write your text, draw something, add stickers and GIFs, attach your favorite track, download your story, or add different animations. 
When you tap on the sticker icon, you will see the menu of customizable stickers. With the right usage of these stickers, you can make the stories more interactive and increase engagement with your profile. Let's go through them.

The customizable stickers include the Location, Mention, Hashtag, Time, Poll, Questions, Countdown, Music, GIF, Quiz, Emoji slider, and many others. These stickers let you add your location and the time to your story, mention other users, use Instagram hashtags to get more views on your story, create polls and questions to interact with your audience, add a countdown to some event, attach your favorite track to the story, or add an emoji sticker to see the reaction of your viewers.
If you have never tried these stickers, then you should definitely do it. Not only will they spice up your Instagram video and make it more visually appealing, but they are fun to play around with as well! Not to mention that they make the stories less one-sided, as you give your audience an opportunity to react and participate.
Create Mode
Another powerful tool Instagram offers as part of the Stories package is the "Create Mode."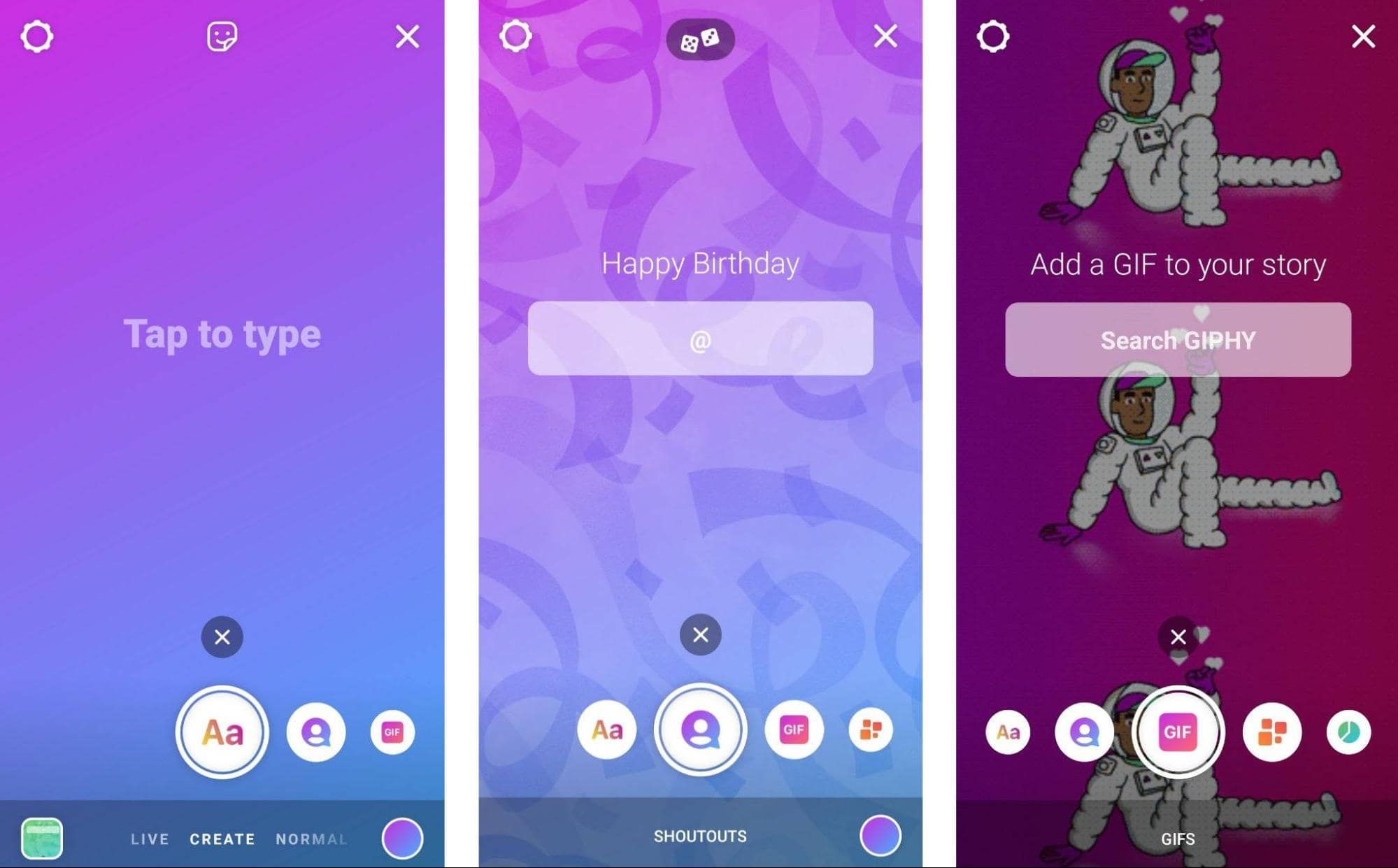 A fairly recent addition to the Instagram tools family, the feature was introduced in October 2020. It allows users and brands to create and share interactive stories that don't contain images or videos. From the color icon on the bottom-right, select the background color, and then add interactive icons from the Stickers on top or list of icons in the bottom.
Story Effects
Instagram Story effects and filters may not be new to the platform, but one big change has happened recently. Before, only Instagram could create filters that users could try. Now the users themselves are allowed to create their own masks and filters, and add them to the platform!
There is probably no need to mention this, but the selection of available filters you can use to spice up your stories has grown enormously since the feature was introduced. Both brands and ordinary users started to create effects that would go viral on the platform, and attract visitors to their accounts.

Let's take a look at how you can access the effects library. Click the plus icon to create a story, select any of the available filters next to the record button, and go with "Browse Effects."
You can also save your favorite effect, to access them without searching wherever you want to record an Instagram video or take a photo through the app.
Adding a Link to Instagram Stories
How to add a link to Instagram stories? You might have seen stories where the pages encourage users to "swipe up," which redirects them to a website or a landing page. This feature is available to the profiles with more than 10.000 followers for free. Once you reach this number, you'll see an icon in the top menu while creating a story. Tap the icon and add your external link or an IGTV video.
The same feature is available by using paid ads. Create your story ad and target by reach, video views, traffic, conversions, app installs, and brand awareness. The performance of your ads is available in the Insights section.
Instagram Stories have great potential and allow you to build strong relationships with your audience. Use that opportunity and share amazing video stories.
How to Post an Instagram Story?
Once your story is ready and you are happy with how it looks, it's time to share it. You have two options to post the story: share it with everyone (in case your account is private, with all of your followers,) or share it with your close friends.

To post the video publicly, simply select "Your Story" on the bottom-left. To share it with your selected friends only, click on "Close friends." If you have no prior list of close friends, you'll be prompted to create one with the "Add to list" button.
You'll be prompted to the list of people who you follow. Search users you want to add as close friends and add them. Once you've chosen the people you are comfortable with sharing your story, hit "Create list." You can come back and edit the list anytime by adding or removing people. 
After this step, you'll be redirected back to your story. From here, again, click on "Close friends." Congratulations! Your story has been published. 
Note, however, that the stories who are for close friends only have a green circle around them, opposed to a colorful one. That's why although no notifications about being added to your close friends list will be sent, the users who see the story will know that they were added to your close friends list. 
How to Create a Highlight?
After you've worked hard to create your Instagram stories, you may want some of them to be available after 24 hours as well. For this purpose, Instagram introduced Story Highlights.

Creating a Highlight is quite simple and intuitive. To make one, go to your profile and click on the circle with the + sign inside. It will appear right under your bio. Next, you will see the list of all the stories you've posted, in reverse order – from last to first. Select the stories you want to highlight and click next.

The next step is choosing the highlight title and the cover. First, type in the highlight name. Pay attention to the character limit — the title can be up to 15 characters, however, we advise to go with a shorter title so it doesn't get cropped. Once you decide the title of your highlight, move to the cover. Click on "Edit cover" to select any of the stories you've chosen to highlight to be the cover. Alternatively, you can upload a custom cover. Then hit "Done," and the highlight will appear on your profile.
Instagram Live

Live stories and events are a great way to increase interaction with your followers as you directly communicate with them and share what's happening right at the moment. With live videos, you give your followers the opportunity to participate in whatever you do in real-time.
Instagram Live videos are great because you don't have to buy professional equipment to go live. Simply use your phone and the Instagram app. And, when you go live, you can see how your followers respond to it by checking the number of your views and comments. Answer the comments in the video during the live to make it more engaging. You can also pin the selected comments to the top of the video, to make them more visible. 
Once you finish your Instagram live stream, you can share it in your stories, which will be available to your followers for 24 hours. Please note that the comments and reactions to the live won't be available after you share it to the stories. And if you want to keep it on your profile for a longer time, make sure to also share it on your IGTV. 

But, before going live on Instagram, you need to prepare for it beforehand: where and when to go live, what to share with your audience. Announce the date and time of your live stream beforehand and invite your followers to join it.
So, how to go live on Instagram?
Go to the Instagram home screen, then swipe right. At the bottom of your screen, you will see the story options, including "Live." Choose "Live" and tap the "Start Live Video." Here you can add filters by clicking the Emoji icon.
The same feature is available in paid ads. Create your story ad and target by reach, video views, traffic, conversions, app installs and brand awareness. The performance of your ads is available in the Insights section.
Instagram Stories have great potential and give you an opportunity to build strong relationships with your audience. Use that opportunity and share amazing video stories.
Source: The Daily Dot

Once you finish, tap "End" to stop your live stream. Save your video or share it in your stories.
During your live session, your viewers can interact with you through comments. If you don't want to receive any comments, simply go to settings and turn them off. Bear in mind that if you have any comment filters turned on your posts, they will also apply to the comments made to live videos. 
You can also make use of the "Go Live With a Friend" function Instagram offers. This is a fantastic tool from which businesses or personal channels can benefit greatly. Think of the topic you want to discuss, and if there are any creators that can share relevant experience, invite them to co-host the live video. This will not only make the live broadcast more valuable to the viewers but give you access to the other channel's audience as well.
To go live with another channel, select the live option, and then click on the icon with two small faces on the bottom right. Search and select the user you want to go live with, then click "Add." A request will be sent to them after accepting which they will join the live. The channel who initiated the live can disconnect the other user anytime and invite others, so if you want to collaborate with more than one user during the live session, it's more than possible.
IGTV

In June 2018, Instagram launched IGTV – a vertical video application that allows users to publish up to 10-minute videos. Larger and verified accounts can publish up to 60-minute videos.
It's a standalone platform with its own app, which can also be accessed through Instagram. Create your IGTV channel with your Instagram account and easily browse different channels, including those of the profiles you follow. You can also search through videos, or browse them by category. Currently, IGTV offers three categories: "For You," "Following," and "Popular."

IGTV helps brands to be discovered by new audiences, increase awareness about their offerings, and spread their messages through longer, mobile-optimized videos, ensuring a TV-like viewing experience. 
Once you create your channel, go ahead, and publish your first video. Take into account that the maximum file size is 650 MB for 10-minute videos, and 3.6 GB for 60-minute videos. The platform supports both vertical and horizontal videos. For the vertical videos, the recommended aspect ratio for the best viewing experience is 9:16, and for horizontal videos, it's 16:9.

IGTV is subject to the same privacy settings as other content on your account. If your account is private, only your approved followers will see your channel and IGTV videos.
How to Upload a Video to IGTV?
You can do it from the Instagram app, IGTV app, and from the web version of Instagram.

From the app, click the IGTV icon on the top right and tap your profile photo to view your channel. Then, click + to upload a video from your device and tap "Next." Note that IGTV currently supports only .mp4 videos, so if your video is on another format, you may need to convert it to be able to upload.
Add a title and your video description, then click "Post." You can share your video preview on your Instagram feed and profile, or to a Facebook page. Later you can edit the title and description of your video from your computer.

Don't forget to choose the thumbnail of your video. People usually judge videos by their thumbnails, and a custom-made quality thumbnail will set your video apart from other videos in their feed.
When you upload a video to IGTV, its so-called "trailer" will appear in your feed. It's not the full IGTV video, but a short 1-minute video.
Many brands and influencers have successfully incorporated IGTV into their marketing strategy. Some brands, like Mejuri, created an Instagram video series now beloved by many!
IGTV gives an additional opportunity to be discovered by the users and share valuable information with them.
To Sum Up
Videos have become an inseparable part of our online presence and are successfully incorporated in many social platforms. As people spend more and more time on their mobile devices, the mobile-first approach is becoming a priority.
As you can see, there are several types of Instagram videos you can share on the platform – live videos, stories, long vertical videos. As a brand or an individual, you can try them all and find the best option for you to get the most out of your efforts. If you are in doubt about where to start, have a look at what to pay attention to when creating Instagram videos. Use this guide to create and share your videos. Test and improvise to find the most engaging content type for your audience.
---
You can try our Instagram Stories Pack to create unique, engaging stories.