Mario Epanya
Today's guest of our blog is Ethiopian photographer and contemporary artist Aida Muluneh.A lot of photos, many exhibitions in different countries and the best is forward.
Born in Ethiopia in 1974, Aida left the country at a young age and spent an itinerant childhood between Yemen and England. After several years in a boarding school in Cyprus, she finally settled in Canada in 1985. In 2000, she graduated with a degree from the Communication Department with a major in Film from Howard University in Washington D.C. After graduation she worked as a photojournalist at the Washington Post, however her work can be found in several international publications.
The departure
The World is 9 series, 2016
Also as an exhibiting artist, Aida's work has been shown in South Africa, Mali, Senegal, Egypt, Canada, United States of America, France, Germany, England, China, to name a few countries. A collection of her images can be found in the permanent collection at the Smithsonian's National Museum of African Art, Hood Museum and the Museum of Biblical Art in the United State. She is the 2007 recipient of the European Union Prize in the Rencontres Africaines de la Photographie, in Bamako, Mali. As well as the 2010 winner of the CRAF International Award of Photography in Spilimbergo, Italy.
The Morning Bride
The World is 9 series, 2016
As one of the leading experts on photography from Africa, she has been a jury member on several photography competitions most notably the Sony World Photography Awards 2017 and the World Press Photo Contest 2017. She has also been on various panel discussions on photography in events such as African Union cultural summit, Art Basel and Tedx/Johannesburg. Aida is the founder and director of the Addis Foto Fest (AFF), the first international photography festival in East Africa hosted since 2010 in the city of Addis Ababa. She continues to educate, curate and develop cultural projects with local and international institutions through her company DESTA (Developing and Educating Society Through Art) For Africa Creative Consulting PLC (DFA) in Addis Ababa, Ethiopia.
Here is unedited interview with her.
For Those Who Ride the Wind
The World is 9 series, 2016
Q: Let's go back a couple decades ago. How did your interest in photography developed?
A: My interest in photography started in Canada when I was attending high school at Western Canada High school in Calgary. Our art teacher agreed to give some of us a class in darkroom printing and basically after seeing my first print I was hooked into photography.
Q: It is interesting to know what/who influenced your career?
A: Most of my mentors have been African-American photographers who have guided me over the years when I first started in photojournalism such as Harlee Little, Chester Higgins and Dudley M. Brooks. However, entering into the current realm of my work Simon Njami has been the one who has pushed me to take my photography into a different path. Yet, regardless of whether i do photojournalism or studio photography, my motivation comes from an understanding that as Africans we must be engaged in addressing and showing our side of a story in order to confront the lack of a balanced perspective that stems from the foreign gaze.
Fragments
The World is 9 series, 2016
Q: How would you describe your style or vision for taking photos?
A: My main objective through my work has been to provoke the audience in our universality as opposed to our differences. I focus mainly on my personal experience and often it is inspired by stories of the struggles of women not only in my country but also those beyond our boarders. For example, in the piece " Rules of engagement" it is based on the challenges that women face in order to move up the professional ladder and was inspired by a meeting that I had a few years ago in which the man sitting across me in his office told me that I needed to understand the rules of engagement , it was the most sexist deflating expression that I heard but it also put the fire in my belly to create the piece. Hence, the use of vivid colors and the body paintings is the first layer to my work and also a way for me to bring the viewer closer but as your enter each image, my goal is to evoke an emotional connection with the public regardless of race, class and gender.
Rules of Engagement
The World is 9 series, 2016
Q: Many people think talent for photography is something a person is born with. What is your opinion to this?
A: Like any art practices, you can be born with talent but it is what you choose to do with your talent that determines your strength in any field. We are all born with great potential but it means nothing if you have no sense of purpose or a clear direction.
Q: In your opinion what makes a good photograph?
A: For me the best quote that sums it all up is the following:
"A good photograph is one that communicates a fact, touches the heart and leaves the viewer a changed person for having seen it. It is, in a word, effective".
-Irving Penn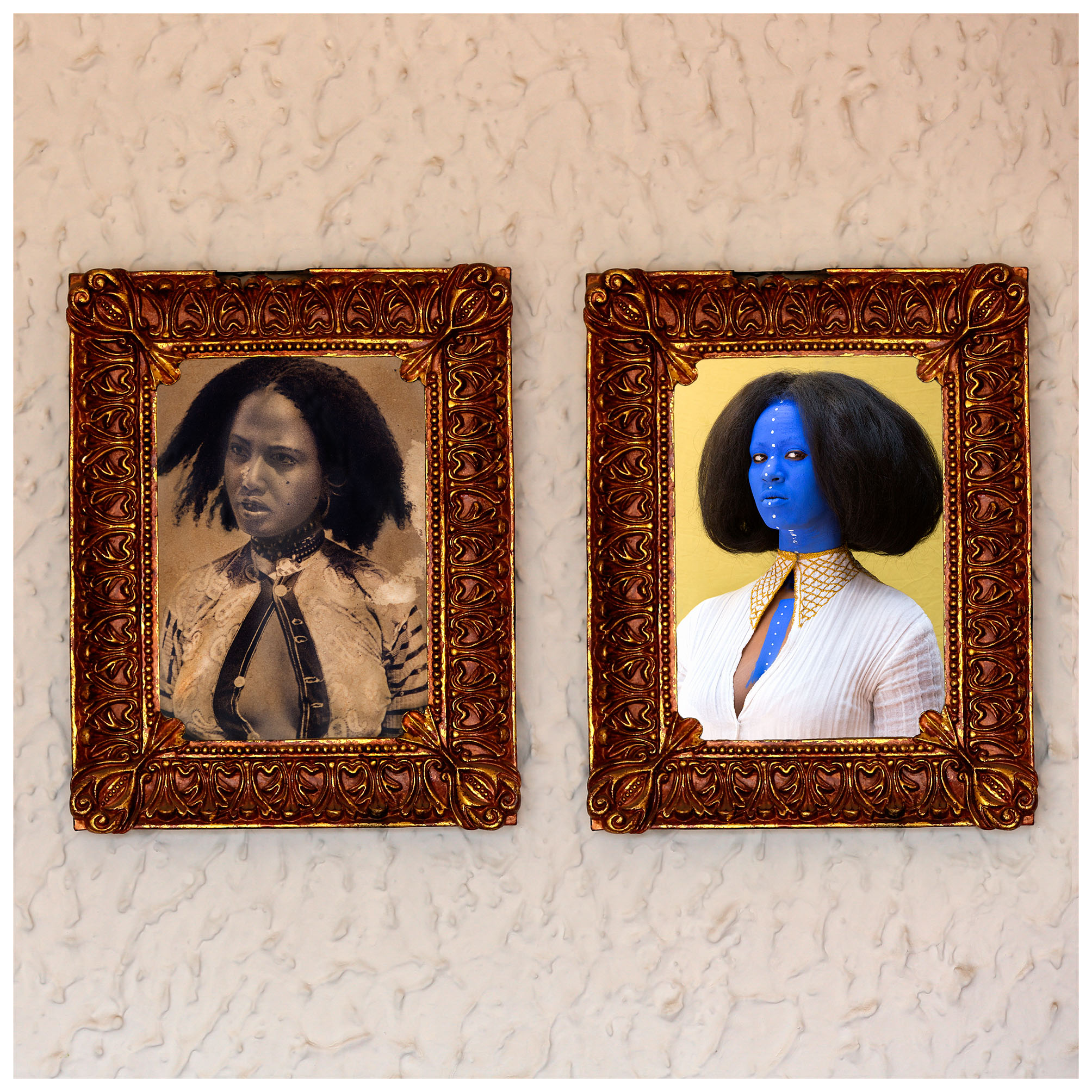 Postcard From Asmera
The World is 9 series, 2016
Q: Let's speak a little about technical aspects of photography. What camera do you use?
A: I currently use Canon 5 d Mark 3
Q: Already many years in photography. What do you consider your greatest accomplishment up to now?
A: I would have to say returning back Ethiopia to establish the Addis Foto Fest and being able to teach the emerging talents all that was taught to me by my mentors.
Q: If you had to choose a different profession other than your own, what would it be?
A: I would have been a lawyer.
Memory of Libya
The World is 9 series, 2016
Q: Will you share with us some tips useful in photography?
A: I would encourage all photographers to remain curious regardless of what type of photography they may practices and more importantly, to seek the perspective of photographers beyond their country.