Ali Cavanaugh is an internationally represented fine artist. She studied painting at Kendall College of Art and Design and the New York Studio Residency Program in New York City, earning a BFA from Kendall College of Art and Design in 1995. At the age of 22, she co-founded an atelier -The New School Academy of Fine Art- in Grand Rapids, Michigan. Her paintings have been the subject of numerous national and international solo and group exhibitions. Her work is featured in more than 400 private and corporate collections throughout the North America, Europe, Asia, and Australia. She currently lives in St Louis, Missouri with her husband and their four children.
Here is unedited interview with her.
Q: Tell us a bit about yourself. How long have you been painting, and what made you start?
A: I was born in St Louis, Missouri and raised in a blended family. When I was two years old I lost much of my hearing to spinal meningitis. So from my earliest days I became dependant on lip reading and body language to communicate. I believe that my hearing loss strengthened my other senses. Early on in life the world of visual arts and art making became my refuge. I studied art in Grand Rapids, Michigan and New York City. I lived in Santa Fe, New Mexico for many years, and the past ten years my family and I have settled back in the Midwest.
Q: What have been some of your most important influences that shaped how you paint today?
A: The two biggest influences – early on - were high fashion photography and Andy Warhol. Naturally, I loved fashion photography because of its emphasis on bold composition, and then also I related so well to Andy Warhol's obsession with people and how he observed others.
Q: Painting can be a repetitive work. How do you maintain attention to detail?
A: Painting day in and day out can become monotonous. I think that can be the case with almost everything in life. I have found that when I look for a challenge in each new painting, and treat my career development as a day to day journey, then each new work of art has a deep sense of mystery and purpose. It could be something very small like a new color combination or a new model that engages my curiosity. Artists need to keep a certain amount of *unknown* in what they do so that they can preserve a place for growth and discovery in their work.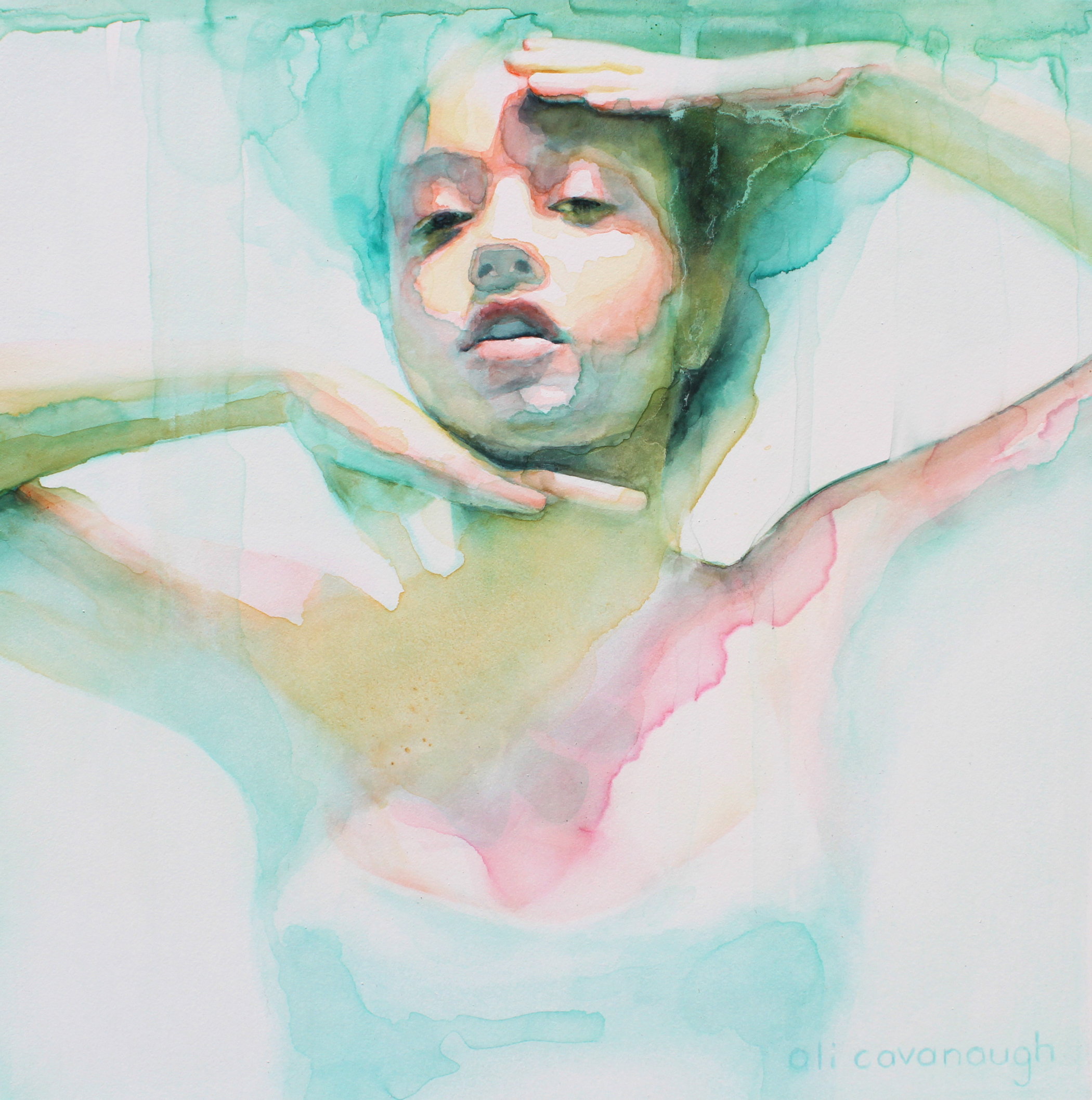 Q: What is your favorite color? Does this color describe you as a person?
I've always loved mint or anything in the blue-green family. Yellow-greens are a close second. I don't know much about the psychology of color, but I can tell you that I am a quiet person. I enjoy silence. Silence, introspective expressions, and peaceful movement are characteristic of my work.
Q: There are so many professions now. What would you do if you could not be a painter?
I hope this doesn't sound strange, but I think I'd go into hospice work. There is something about being present with the elderly and people at the end of life that is so fulfilling.
Q: Now you are an accomplished painter. What are your most significant accomplishments?
A: There have been many achievements over the years, like celebrities buying my work or being on the cover of important magazines, but I think the thing I'm most proud of is being able to make a living doing what I love. To look back and say, "Wow, I have a house and a family and food on the table…and I get to paint every day!"
Q: Life is full of challenges. What's your biggest challenge as a painter?
A: Time is always the biggest challenge - there's not enough of it! ..but aside from that I'd say the hardest part about being a successful painter is having self-discipline. There are times when paintings give me fits. Some days or string of days where everything is failing, I have to get out of bed and find the mental fortitude to keep pressing on.
Q: You have experience of years, many ups and downs in a career.. What advice can you give to beginning painters?
A: You have to be strong, resilient, courageous, unaffected by rejection, humble, have peace with being poor for many years, open to opportunity even if you think it's beneath you, and like I mentioned before, you must be self disciplined. If you have these traits or can develop these traits, then my next advice to you is - give yourself time to grow and develop your work. It will take between 5-10 years working consistently for your work to mature. Don't expect too much too soon. Disappointment happens when your expectations exceed your outcome. Dream big, be a visionary, but be humble enough to understand that it takes years and years to succeed.