Gioconda is the inventor and pioneer of BollywoOPERA style. She has done live performances as first fusion ever between opera and classical Hindi music with artists of the caliber of Grammy Award winner Sukhwinder Singh, Hari Haran, Gino Banks, Niladri Kumar, Silvaganesha, in festivals and auditoriums like Nehru Centre in Mumbai. Gioconda is in the annual book of Italian opera singer for having sung in the first world edition of contemporary opera at "Teatro comunale di Modena", broadcast on Italian state radio RAI.
Here is unedited interview with a talented Italian opera singer.
Q: Tell us a bit about you. Where did you start? What was your journey like to get where you are?
A: My mother used to say that I was borning not crying but singing..since I was a child my favourite game was to be a singer, I had my yellow dress useful for my transformation in a singer and I built my own stage made with chairs! When I was 12 years old I listened to Maria Callas and i felt ipnotized from such a stunning voice!so I started singing not only in a pop way but also in opera voice..I did everything earlier than other children..I was considered a " prodigy child"..at just 16 years old I started my career (Normally at this age one girl starts studying because the voice tune changes from child voice in adult voice at 16 years old for female and 18 years old for male..but in my case everything happened when I was just 12 years old) and I was the youngest opera soprano working in the theatre with 50 years old collegues !When I was just 21 years old I got 2 degrees from University of music in Rome but thanks to my open mind I never lose my scientific studies and I also got degree in Scientific field. I won Pesaro Rossini Opera Festival after my experience with the best tenor of the world Luciano Pavarotti and after that I sung in Rossini s opera IL VIAGGIO A REIMS.. I had the chance to work with the great conductor Alberto Zedda and I felt from the deepest part of my soul the meaning of what joy is! I felt that my concept about music and life had won..not just me!
Q: Let's speak a little about your choice of your profession. Have you always known you wanted to be a singer, or did the passion develop over time?
A: During my childhood I always grown up believing that by experience a lot in life, in all its several and multicoloured aspects..and by knowing music and poetry in their deep essence..by practicing it everyday, ..music should become like a food or like air...I cant s stay even just a single day without air otherwise i will not able to breathe and to survive, the same happens for music..it s like a plant to which you have to give water, and when you perform and you have such a big background of artistic and life experience in your luggage, people will realize it..that s why the audience for the same song for example if it s song by a mediocre artist doesnt feel anything..if it s sung by a great artist they are deeply moved..and for me it has been Always a great joy and satisfaction when I ve seen tears of joy in the eyes of my audience or enthusiastic standing ovations..this is the best caress for my soul, cause I feel that my mission has been done successfully and I ve brought positive thoughts in the minds and hearts of my audience..it s an energetic positive Exchange of emotions between the artist and the audience..and I feel so happy when people come to me after the concerts and they say"Thanks, It has been goose bumps for me, with your voice you have melt my stone heart into honey".
Q: If you had to do it all over again, would you still choose this career? Would you do anything differently?
A: Yes for sure, I ll still choose this career and I would do exactly what I have done because whatever I vdone I ve done it with lots of love for music and lots of passion.
Q: You are the inventor and pioneer of BollywoOpera style. In your opinion what did it change in this field?
A: My coming to India has been a spiritual journey in period of my life in which I was looking for some new sounds and musical atmospheres.. I had just finished to sing a very famous and difficult contemporary opera" Lavinia fuggita" in Modena Opera theatre after working hard with the Worldwide famous tenor opera singer Luciano Pavarotti : that experience lead me to be in the annual book encyclopedia of opera singers and that opera had oriental music influences also, including indian music and instruments,and from that time I started to love so much indian music and I started to open my mind towards indian music special effects and using the quarter of tone that we normally don t use in western music ( cause we just have tone and half tone) so I started thinking that our western music was limited and restricted in comparison to Indian music which have much more shades and nuances. I ve always had in my 20 years of carrer ( as i have been the youngest opera singer ..i started to sing as a prodigy child at the tender age of 14 years old..when my collegues were already 40 years old..so , after singing just opera for such a long time allover the world, I started thinking that it was the time to open my mind towards new sounds completely far from my usual style..and I started to appreciate the Bollywood style…Once I reached in India for the first time I admired the Indian habit to
give a value to every and each single sounds ..that is what I ve Always been used to do since I started singing..so in lots of things I feel I ve been an Indian girl from a previous life:-)
.. I ve realised that opera style is very similar to meditation and it improves your inner world and your soul. after spending some days in Osho ashram in Pune I realised that in meditation techniques there are lots of similar things that I already used in singing technique ( like the use of third eye ,the breathing technique to develop sounds etc..)
so in my opera singer life I never finish to learn.. every day it s an opportunity for Improving my voice and my soul, cause I think that these two things now have become the same one thing : there s not a mark between my voice and my soul..my voice is my soul and all the times that I make a new discovery In my voice thanks to new sounds, I m making an improvement in my soul too..and in this sense my learning hindi songs has helped me so much cause I have found a new colour of voice and vocal emission and also I have found new things in my soul..so I m very grateful to India! I have been loving Indian culture and music since I was a child. I used to join Indian communities festivals in Italy and to watch Bollywood movies. My dream has always been to visit India but I have never had time.. one day I decided that I wanted to have some spare time for myself and to do all the things that I would have done but that I never did because I was always too busy with work. I realised that the music that I have been loving so much for 20 years it was not enough ..I had the desire of mixing it with something else (like masala spices :-)) so I thought that I had to start travelling and achieving musical sounds from very far culture than mine..I have always had the attraction for unesplored and unknown things..like for example I have lived some days in the jungle with some indigenous people and I have learned their particular way of playing drums and celebrating their festivities with tribal dances and music, so I started thinking that I had to do an artistic rebirth in my life and when I was in India for the first time it was just for vacation but some more powerful energy was calling me in India more.and more times and everything has happened so quickly and in a very surprising way..for example I was in a cocktail party and I have met the producers of the movie Prague who wanted me to record a song for his movie..I had to leave India the following day so soon after the cocktail party we went very late in the night to the recording studio and we started recording till early morning and I directly went to airport without sleeping!!:-)
I LOVE India with all myself!!! I feel me to have been an Indian girl from a previous life..in fact I feel so comfortable and happy in India! I have realized that I was already having Indian habits in my Italian life that in Italy are seen like something strange instead in India such habits are considered normal..so I have found my dimension and my world In this magic land in which everyday there s something imprevedible and a surprising..so I am a surprise for myself and for other people too ! in India I have found lots of love, the same love that I achieve beyond the genres of music when I think that there s a universal music genre which is THINGS MADE WITH LOVE... I m so happy when I see Indian audience getting enthusiastic..even if it s a musical genre that they have never listened to or even if it s sung in a foreign language.. the language of vibrations and feelings that a voice can create goes further beyond culture barriers.
When I am in India I can live with the same mood of a child...a child when learns to speaks for the first time or when does something for the first time doesn't think so much about what he s doing..he simply does it! I like to fly..to stay in the air..maybe because my moon sign is a sign of air like Libra and for this also I like to do bungee jumping or parachutes..when you are almost for jumping you don t think so much about it you simply go and jump..like I did for this my Indian musical adventure.. I simply jumped in it, I took all the enthusiasm for being the PIONEER of BollywoOPERA ,a fusion of musical genres italian opera and Bollywood ..I take the energy from my soul which is and forever will remain like a 3 years old child s soul and I started composing and taking inspiration from indian music and combining it with my opera style.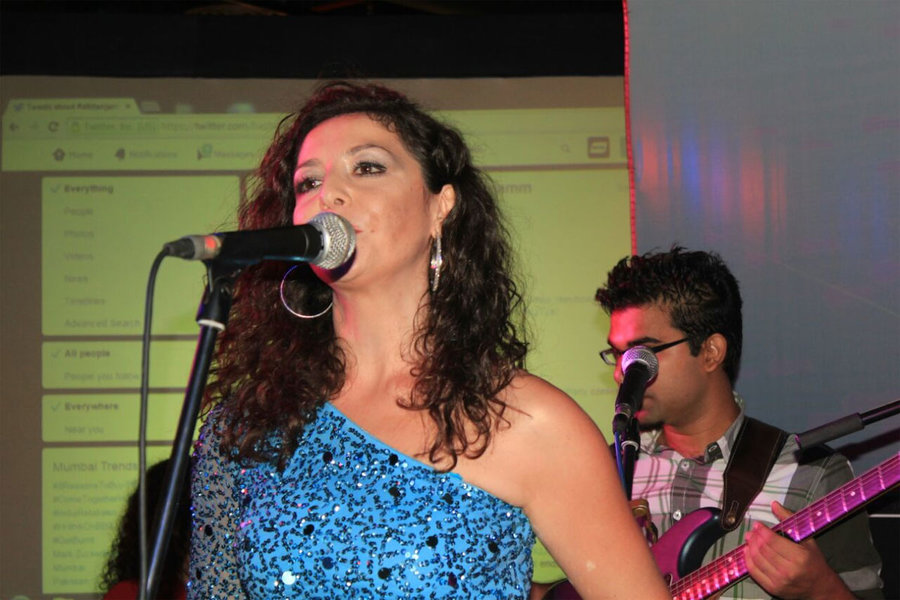 In India I love pure heart of people..they are always smiling even people who are very poor..you have a feeling of good energies when you go in the streets it is like a colourfull show ..it is a never sleeping country..whenever you go in the streets you find lots of people even very early morning or very late in the night. India is a very spiritual country with lots of magical surprises and it s like a fantastic game with lots of unsuspected things..it is an imprevedible country and this makes me so happy because it feeds my adventurous spirit.. I travelled all around the world but I can definitely say that this is my favourite country.. people are always trying to help and there s always a music in the street (a wedding, a festival,) or simply an orchestra of noises when you are in the traffic of Mumbai.. and cars plays clacson :-)
another thing that I love so much is the food..very spicy and with a strong soul (like me ..ahahah ;-) even in Italy I always eat Indian food.. i also like Indian dresses and style..Indian people are very elegant people and they always have very delicate behaviours ..they always try to not disappoint the other persons who they are dealing with. India has the most ancient and rich culture of the world..the beautiful monuments that I visited in rajastan, the ganga river( I m supporting the campaign for saving the gange river)..the religion and the way in which different religions, languages are mixed..it s a masala country! very tasty and well mixed !!:')
moroever the music is amazing,(I ve done a specific research on hindi music already when I was in Italy attending music university ..in fact I chose a research on "hindi music and ethnic musical instruments" as subject of my final exam to get the musical degree at Santa Cecilia University of music . I Also love Indian nature, landscapes , philosophy of life and poetry as Tagore poems for example.
I m the founder and inventor of BollywoOPERA style..with this term that I have created I m inidcating a first time ever in the world fusion between Bollywood and Opera style. I realized that my way of showing opera singing not in a strict way but in a funky way allowes even the teenagers and people not familiar with opera to like my way of expression. I realized that if one artist has something to communicate to the audience must not be imprisoned in a fixed standard of music but must let the soul goes out in the best way suggested by his /her musicality
first time I came to Mumbai was for charity help in supporting poor people, specially children with the noble Chivalric Order I belong to..I have always believed that once you have one beautiful thing in your hand you have to share it with less lucky people, to make people happy is my mission..and it s a destiny which is already written in my name ..cause "Gioconda" in Italian language means "joyful, happy" so if I m happy for my success and for the fantastic Indian experience .. my next idea is to build some hospitals and schools for children in India too because I think that everyone in the world must have the same opportunities and I ve met lots of Indian children when I visited slums and villages who are extremely intelligent and who have lots of skills so they must be supported in their growing process and development...and once you do something beautiful for other people the beautiful energies thank you and come back to you..in fact just casually in a party I met the producer of the movie "Prague" who liked my voice and just on the same day i planned to come back to Italy..before Flying with airplane i was in the recording studio Flying with my voice on the music of "Touch Opera" song ..when I came again to India for the releasing of the movie I had the chance of meeting several Indian musicians. After that I elaborated an opera version of the old Bollywood song "Pyar hua iqraar" in which I both used my pop voice and opera voice and I introduced some vocalises in opera style in the part which is originally played by the flute. Later on I did collaborations with lots of artists ( Mika Singh, Sukhwinder Singh, Salim Sulaiman, Hari Haran, Anup Jalota etc..) and I did songs for many movies, including "MARYCOM" . My latest song "Itni si baat hai" has just been released by label TSERIES and after just one week from releasing has already reached 1 million views.
Q: You sung for many movies. Which of those songs is the most close to you as a human being, which one is the most personal and why?
A: The song closest to me as a human being , the most personal one is "Itni si baat hai" because it gave to me the possibility to express myself with all the colours and sounds typical of both Indian and European tradition, and it represents for me the highest moment of my inspiration not only as a singer but as a composer also.
Q: Italian, English, Hindi, Punjabi, French, German, Spanish, Bulgarian, Albanian, Russian, Latin… You sing in all the mentioned languages. How does language affect a song?
A: I have always been very open to achieve also musical influences from other cultures and languages so I have been learning opera songs not only in Italian language( which is the most used language in opera style songs) but also in other languages ( like German, Russian , English , French, Bulgarian, Albanian repertory).
So when I do my concerts they always have a touch of multiculture and unconventional style ..the sensation of singing in Hindy is a magic sensation! even if I speak Hindi nowadays, I normally ask for a translation of the lyrics of the song cause I want to be sure to give the right feeling and emotion to each and every word of the song while I am singing.
Basically I like to learn foreigner languages and everything is new and unknown for me in order to increase my culture. I also use to read books from writers and poets in original languages so that I can taste their style and each single words..that it would be get lost in a translated version. I do lots of practice to try to be perfect and I listen a lot the sounds keeping my eyes closed..this helps me a lot..
I think it s very important to keep the original language of every song so that all the nuances and small meanings related to a particular language should be preserved.
Q: Mistakes are inevitable in life. It is interesting to know how
do you handle mistakes during a performance?
A: I simply relax, and I think ahead, what to do to save the situation.
Q: What's the motto you live by?
A: MAKE WHATEVER YOU LOVE AND YOU BELIEVE IN WITH ALL YOUR ENERGIES ..NEVER BE SCARED! I will Just give an example..I was a child of 14 years old and my collegues were 40 years old, so they treated me like parents cause i spent much more time with them rather than with my real family (to prepare an opera show you have to live in the theatre at least 30 days for each production, and most of the shows take place during Christmas time so it has happened that i haven t spent Christmas festivities with my family sometimes even for 10 years because I was abroad for work) so my collegues who were much older than me used to take care of me because for them was very unusual to see a small child body with a big adult opera voice inside it..so they used to call me " little diamond" so I feel the whole world to be my house .. As for my Birth, my mother used to say that I was born not crying but singing ! :-) The passion for music has born with me. I have spent almost all my childhood on a piano and practising singing...it s very difficult to become an opera singer..not anyone can become it..you must yes have the gift of voice from God but also you have to learn the technique for not losing your voice and for reach very high or very low.notes and to increase the power of your voice.. you have to study a lot the technique of using diaframatic muscles and the bones of your faces to gain the best resonances in your voice because in opera shows we dont even use microphones because opera voice is very strong..one time happened to me to break a glass with my voice..but special physical situation must occur...In an opera singer s life you must sleep at least 8 hours per night, you do not have to drink alcohol or to smoke, avoid acid foods, you have to practice everyday until 90 years old ..you never finish to learn and your vocal chords an muscles must be worked out every day with constant and patience. .so it s a continuous discover of sounds and u start to feel all the resonances of your body once you reach a very high level of skills..me for examples I m very happy because I have reached four octaves of extensions in my voice that very few people in the world of opera singing have achieved.
it s like the life of an athlet..you have to do vocalise in the morning after you wake up you have to warm your voice with some vocalises and some muscles and breathing exercises..it s very important! only after that you can go to the piano and starting singing your songs..which actually in opera style are called "arias". there are some virtuosisitic songs in which you have to sing very fast even 50 notes very fast in just one breath and with lyrics and you have to be careful to not let your tongue to get disconnected..for achieving this virtue you have to first start in a very slow way and little by little increase velocity. .till you see like a light in your voice..It s such a fascinating mood that even if during my childhood I lost all the moments of life that normally a child does( like playing with dolls or going out with friends) I don t regret.. I m always like a little child who is discovering new music sounds, cause I m always a researcher, I am discovering a new world, learning a new language and all these things make me so happy .
Q: You work very hard and most of the day. What do you do when you are not working?
A: Adventurer,actress,writer..these are my additional interests beside music..as per actress I ve learned in the academy of arts which prepared me not only from a music point of view but also as an actress as a music composer and as a classical western dancer. On the opera stage we singers should also dance and act so we are trained as 360 degrees artists. As per adverturer and travelers I ve always been an adventurous person! since my early age I ve loved to do unconventional things and a little bit risky things..like parachute, bungee jumping etc..I ve also done bungee jumping recently In india..it has been an amazing experience!as per writer I will release one day all my poetries and the book about my life always full of adrenaline and happy! .. I m so enthusiastic in this period cause I am Ambassador of Opera style in India.. I don t think a real artist should ever be inibithed in anything otherwise it s not pure art..and me, in my life I ve never been inibhited, I ve Always done the thing that my heart and my voice suggested to me and on this base I ve built my creativitiness and just when you are happy and in peace with yourself the most beautiful things come out and you are able to let also the audience enjoy. So i will continue in this path and I m already selecting among all the proposals that I ve received the one which is sounding better in my soul..so stay tuned..I will surprise you soon with a great new striking effect !..maybe not only as a singer but i ll explorate also my other artistic skill.
Q: You have experience of years, many ups and downs in a career. What is the one piece of advice you can give to someone who wants to become an opera singer?
A: To people who are studying opera singing I want to say to always go on even if opera singing has difficult paths..always remember that music is a universal kind of Language, wherever in the world i traveled for my concerts even if I did not know the Language of the conductor or of the players of the orchestra we have Always been able to understand each other..just with a eyesight, with a breath, just by counting 1,2,3,4 the rythm to start playing and FIRST of all just by heart..if the world would have been more full of heart rather than egoism and selfishness lots of wars would never existed. Also if people would have studied or playing a musical instrument or would have learn the art of singing, or would have been part of a chorus since childhood , they would not have been open to warriors thoughts but just to peaceful and sentiments of sharing happiness with other people...that s why wherever in the world I go I m supporting the cause of children cause they are the adults of the future and if we just feed them with videogames about warrior, about died people, about Killers , thieves etc..how can we hope in a better future?? instead if these children rather than wasting their times in such Dangerous games would take some time for playing an instrument or for singing, I am sure that the world would have been better..cause music is based on HARMONY on sharing and thanks to it all the boundaries and racist thoughts have no rights to exist, So I always express my admiration towards all people who make music!