Ken Kaminesky is a travel photographer in love with traveling and photography, so he found a way to combine the two after spending most of his career photographing commercial lifestyle stock photos. These days Ken spends his time discovering the world and taking photos from different parts of it. In 2016, he co-founded Discovery Photo Tours to share his love of culture, history, food, and of course photography with travel and photo enthusiasts and take them on tours to some of the planet's most spectacular locations. Check out his interview below and see how he's started his journey.
Renderforest: Ken, you have over 20 years of experience in the photography industry. How would you describe your career path?
Ken: Two words: Roller Coaster
When I look back on the last 25 years, it is amazing to me that I have lasted this long being a photographer. The industry is not an easy one to stay in for so long and I've had to evolve and reinvent myself several times in order to stay relevant and current with respect to today's technology and new opportunities.
Every step of the way has had its own challenges, failures, and rewards but in the end, it seems to all be worth it. Today, I'm blessed to be able to travel the world and have the wonderful experiences I am having in so many incredible places. Even the journeys that are wrought with debacles make for some of the best memories and stories… in hindsight, of course.
I may not have had a plan for what I intended to do, but I think I have ended up where I needed to be.
R: After working for stock photography agencies for 15 years, why did you choose to change your career and become a travel photographer?
K: The whole idea of travel photography seemed like a dream to me for so long. I always thought that it was just that… a dream.
In 2008 when the banking crisis hit and the world economy took a nosedive, so did the stock photography business. It was at that point that I knew I had to do something different as stock photography had just become unsustainable in the new digital realm compounded by the fact that there was now a basic monopoly in the stock photo world with Corbis and Getty owning 95% of the world market in stock image licensing.
I had always been fascinated by geography, cartography, and travel imagery. When I was a child, my godmother gave me one of the best gifts I could ever hope for. A yearly subscription to National Geographic Magazine. Each month I would hope for a new map inside the current edition as that was my favorite part of the magazine. Those maps ended up plastered on my wall and fed my imagination about far off places that truly were like a dream to me.
So, when I found myself in the position where commercial lifestyle stock imagery was no longer able to pay the bills, I reinvented myself as a travel photographer and never looked back.
R: Is there any place in the world that you dream to travel to and take photos?
K: The next place.
That is what I dream of. Somewhere new and fascinating that is ripe with opportunities for epic imagery and beautiful life experiences.
I can't say that I have one place in particular that drives me or motivates me more than fifty other awesome places on my list. Scotland, Hawaii, India, Indonesia, Canada's Great North, Patagonia, Uganda/Rwanda, Ukraine, Egypt, Siberia, Tibet, Greenland, and so many more. The more I travel, the longer my wish list becomes.
R: The greatest regret in your professional life, if any.
K: Trusting the wrong people and not taking big chances at a younger age.
On the first thing, I'll leave it at that. As for the taking chances in life, I've learned that I'd rather live a life of "Oh wells" rather than a life of "What ifs". If you don't follow your heart to build your dream, someone will hire you to help build theirs.
R: What piece of advice would you give to those who want to start their career as photographers?
K:
Take some business courses.
Take some marketing courses.
Be relentless and don't count your hours.
Don't believe what you see on social media.
Be nice to people but don't be a pushover.
Say NO to most everything but when you say YES, follow through.
Get it in writing.
R: If you didn't become a photographer, what other occupation would you choose?
K: As a kid, I wanted to be an astronomer. When I found out it involved math, I was like screw this!
I'd want to do something creative. Cook, write, cinematography, edit movies, industrial design, or win the lotto… especially the last one.
R: Which is your favorite shot? Why?
K: I don't have a favorite shot. So many of them are special for their own reasons but this one of a young leopard is a current favorite. I shot more frames on the 2017 safari I run than any other trip ever and this one stands out. Anyone who knows me knows that I have an affinity for furry feline friends and this little guy was just about the most beautiful cat I had ever seen. He was in a tree with his mother, ravaging an antelope just moments before and while that rather gruesome scene was perhaps more fascinating, this shot with the light, framing, and focus came out just as I had hoped, if not better. I also rarely edit in black and white and while I do like the color version of this shot, there is an air of mystery and timelessness to the black and white.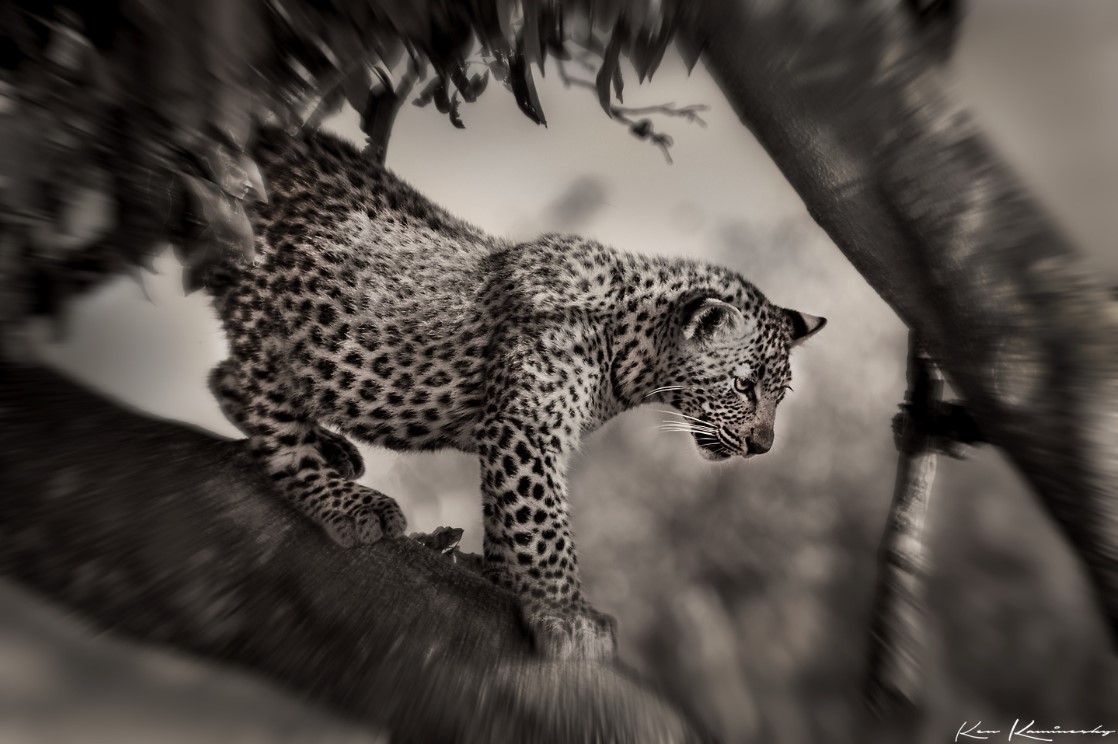 I have a 40"x60" print of this in my living room and I love that it transports me back to Africa each time I see it.
R: As one of the founders of Discovery Photo Tours, what is your main purpose?
K: The main purpose of Discovery Photo Tours is to offer amateur (and pro) photographers the opportunity to witness and photograph some of the most amazing places on Earth while having the best life experiences they could hope for.
We put a lot of effort and time into the development of these tours and like to celebrate what is uniquely special about each destination. We include delectable meals at awesome restaurants, cultural experiences like geisha dances in Japan, visiting Masai tribal villages in Tanzania, and VIP guided tours of world-class museums like the Uffizi and Vatican in Italy. We go hot air ballooning in the desert in Jordan, explore ice caves in Iceland, experience the great migration of millions of animals in Africa, and witness the aurora borealis dancing in the sky in Norway. Through our connections, we are able to grant unprecedented access to some world heritage sites outside of the opening and closing hours.
Three words really describe our ethos: Locations, culture, and photography. However, to me, the thing that drives our guests to come back with us on many different tours is the fact that we make having fun a top priority and isn't that what photography and travel should be all about?