Founded as a job search engine in 2003, LinkedIn has evolved significantly over the years. Today it's a great place to network, share ideas and launch enterprises. 
By definition, LinkedIn is a business-centric networking platform that offers unique marketing solutions. It is home to decision-makers, professionals of different fields, and thought leaders who use the platform for exclusive networking opportunities.
In order to become a part of this network, the importance of having a solid LinkedIn presence is more than crucial nowadays. You don't want to miss out on the business marketing opportunities LinkedIn offers.
However, for many small businesses, LinkedIn remains an underutilized marketing tool. Many say that it is way too serious and professional for them. But that cannot be further from the truth. Some slight intimidation is understandable considering the fact that you enter the platform and see a bunch of C-level people exchanging ideas and communicating with their audiences.
Obviously, no one wants to feel or seem unprofessional around them. But it's important to remember that LinkedIn is structured to help people with their professional growth and network expansion in the first place. So, for those who are nervous about their activities on LinkedIn, relax and try to integrate step by step.
To learn more about LinkedIn marketing, keep on reading this article. Here you will find answers to the following questions:
What is LinkedIn marketing?

Best tips for creating an effective LinkedIn marketing strategy

Top 5 Linkedin marketing strategies for your business

Frequently asked questions about LinkedIn marketing
What is Linkedin marketing?
Before diving into Linkedin marketing, let's start by understanding what LinkedIn itself is all about.
What is LinkedIn?
LinkedIn is a professional networking platform that brings together business enthusiasts, job seekers, professionals of different sectors, and companies in any given niche. The immense human resources centered on LinkedIn serve as a great tool for business marketing purposes.
As a social media platform, LinkedIn hosts a community of millions of people all over the world. But unlike other platforms that have more of a fun vibe to them, LinkedIn is about professional exchanges. LinkedIn is used by many businesses to screen and recruit potential candidates for the employment opportunities they offer. Meanwhile, people who are open to work hunt for suitable jobs by exploring company profiles and even applying for the position right through LinkedIn.
As for LinkedIn's marketing potential, it is highly underestimated. It's been just the past couple of years that businesses have started to seriously consider LinkedIn as a platform where they can anchor their marketing strategies. LinkedIn marketing is the implementation of marketing strategies that are aimed at building business ties, boosting brand awareness, generating leads, and fostering business performance.
Thus, if you want to promote your business and reach a larger audience, you should definitely consider marketing your brand on LinkedIn.
Recommended Reading
---
---
Best tips for creating an effective LinkedIn marketing strategy
1. Define your LinkedIn marketing goals
A carefully crafted LinkedIn marketing strategy can do wonders for your business. However, it's essential to set your marketing goals straight right in the beginning. You need to know where you're going prior to hitting the road. In other words, ask yourself, "what do you want your marketing campaign to do?", "what are your expectations?".
Let's say you have a product or service and you want to introduce it to your LinkedIn audience. We can also call it boosting brand awareness. In this case, you want to target those who have never heard of or interacted with your product before. By creating an introductory campaign that elaborates on the specifics of your product, you will be able to spread the word about your brand and have the name of your brand circulate throughout LinkedIn. Including pictures and quoting the most satisfied customers will help you create a trustworthy picture for your potential customers.
Another goal can be conversion, i.e. converting potential customers into real buyers by calling them to action. A conversion campaign should be thoroughly developed as it is responsible for the final and most important stage of the sales funnel. This is when people take action and click the "buy now", "apply", or "call" buttons. So, the content prior to the call-to-action button must be very compelling to lead the person to the CTA and what follows afterward. To make the caption compelling you can use FOMO (fear of missing out) by telling people what they will miss out on if they do not use your product.
Whether your marketing goal is product or service introduction, consideration, or conversion, it must be clearly defined right from the beginning. Your goal of LinkedIn marketing is what determines the content of the campaign, the target audience it is directed to, and the end result.
2. Discover your target audience
Discovering your target audience should be one of the baby steps you take toward building a strategic LinkedIn marketing campaign. You may come up with seemingly engaging and traffic-driven content on LinkedIn that barely touches upon the interests and issues of your target audience. This basically suggests talking at people and wasting effort.
So, to make sure your LinkedIn marketing strategy is effective, you should design it in a way that it becomes a dialogue with your target audience and talks to people by providing for the needs and wants of your intended market. 
LinkedIn is actually quite helpful in this regard because one of the greatest advantages of LinkedIn is the exact segmentation of your audience. No other site allows users to define their professional skills and career in such detail. Thus, defining the buyer personas of your intended market becomes much easier and more exact with the help of LinkedIn. 
Just take a marker, draw the best human-like figure you can on the whiteboard and brainstorm with your team to identify the key characteristics your ideal buyer persona should possess. Then, type in the main distinctive keywords on the LinkedIn search bar and there you have it! People, companies, and organizations that are a perfect match for your target audience.
You can always come up with a LinkedIn marketing plan but unless you know who you do it for, you will never understand whether it's worked or not. So, make sure you clearly identify your buyer personas before creating the marketing plan.
3. Create an engaging company page
An informative company profile on LinkedIn will present your brand in a professional light and increase the credibility of your company. Consider your LinkedIn company profile as your company's CV. When you first take a look at it, you must be able to pinpoint the most important information at one glance. So, it is crucial to keep your company bio neat and to the point.
Start by selecting the appropriate category for the size of your business. It can be a small or medium to large business. Then, fill out the Page Identity details – industry, company type, location, and company logo. 
Proceeding with building your LinkedIn company profile, you will need to tell the story of your company, and how it all came about. For that, put together a well-worded description of your company and a catchy headline that will present the company, its mission and vision, and the main product or service.
After completing the basic part of the company profile details, continue by uploading a cover photo, adding content in the form of pictures, articles, infographics, etc. that illustrate what your company offers, and gradually build an active LinkedIn presence.
4. Grow your network
Expanding your LinkedIn network with like-minded people, partners, and even competitors will not only broaden your professional circle, but will also become a great resource of ideas, solutions, and new business opportunities for you. It will help you be in the business flow and stay up-to-date on your industry. 
However, if you want to focus on the quality of your network rather than just the quantity, you should allocate a fair amount of time, let's say 20-30 minutes a day, to browsing through your LinkedIn profile to find connections while making yourself easily found.
By regularly exploring your LinkedIn newsfeed, following other companies and organizations, and checking LinkedIn hashtags you will stay on top of your industry news. 
Now, you may wonder, "Who shall I connect with?". 
Good question! 
If you are new to LinkedIn and have just a few connections, start by connecting with people that are within your immediate reach – employees, friends, colleagues from past and present workplaces, etc. You can also connect with strangers that, you think, can be a helpful asset in your LinkedIn network. 
Even if you don't know the person individually, you can always reach out to them with a personalized request message. People love it when they are granted an individual approach. Put together a brief message that starts with the name of the recipient, introduces yourself and your professional background, and provides a specific reason as to why you would like to connect with them. 
Another way to expand your network is to follow up on an in-person networking event that you've recently attended and send a LinkedIn connection request to the people you made acquaintances with at the event. 
Last but not least, check your email database. You will most likely find people that you have had a successful collaboration with in the past and who could bring value to you and your business.
5. Be active in Linkedin groups
A LinkedIn group is a space specially designed for professionals to exchange knowledge, seek counsel, and create deep connections. LinkedIn groups are a great tool to get the most out of this gigantic platform where sometimes it's easy to get lost. Joining LinkedIn groups is particularly helpful when your Linkedin network becomes very large while you want to keep it local and exchange ideas with specific people. Let's say you are a CEO of a prominent IT company and you want to discuss common issues in the IT industry that concern C-level professionals in particular. In this case, creating a LinkedIn group with fellow IT business owners would be quite useful and productive. 
Another reasonable motive for joining LinkedIn groups is a topic of interest that you would like to learn more about. The good thing about a LinkedIn group is that the posting, commenting, and viewing powers only belong to those who are group members. Besides, groups can define their own admission standards and appoint administrators who would be responsible for letting more people in, if eligible.
To find LinkedIn groups, simply type in keywords in the search bar and click on the "Groups" filter option. There you have it!
Let's say you're in, now what? 
It's important to remember that you're a newbie joining a conversation that started way before your arrival. So, starting with observation would be a good idea. Explore the conversations, read previous exchanges, and get an overall idea of who is who. Only after that can you gradually move forward and become more active.
The acknowledgment of relevance would be of great use in a LinkedIn group. Never jump off with a random post or, especially, self-promotional spam content. Your group members can be sensitive about that. Just be a contributing community member with a sense of relevance. Ask questions, provide answers, and keep a civil conversation. In a word, do your best to bring real value to the group.
Top 5 Linkedin marketing strategies for your business
Create engaging content
When creating your company page on LinkedIn you should remember that content is king and it should be prioritized. As the sole monarch of your LinkedIn profile, content directly speaks to your target audience. It tells, commands, and governs people. Client-focused content delivers powerful messages through simple words because those simple words are what materialize. The core criterion for the king's messages is to come from somewhere and take them somewhere while being clear and concise to the masses.
Aside from thoroughly constructing strategic content, It's also essential to be consistent with the frequency of your LinkedIn posts as much as possible. The only thing to remember here is that the LinkedIn algorithm focuses more on the quality of content rather than the quantity.
To make sure the content you provide for your audience is matching the quality criteria, you should create different types of posts, and don't just stick to one idea, even if it proves itself to be working well once or twice. 
Here are some effective content ideas to put to use on LinkedIn.
How-to articles & industry trends
A good starting point for developing an engaging content strategy for your LinkedIn profile would be to try to detect common problems and challenges among your clients and provide solutions to those in how-to articles. The format of a how-to article is simple – it's a sequence of steps that give instructions to the reader to achieve what they want. To make sure you do not miss any steps after each one ask yourself "What's next?" and you will end up having an informative article to share with your LinkedIn audience. 
Another content solution that would be appreciated by your audience, is focusing on industry trends and showing people how they can benefit from them. This will make your LinkedIn profile a reliable source of news for your online community. Pick a business trend, elaborate on its specifics, share your opinion on the level of effectiveness it provides, and discuss it with your audience in the comments section.
Business & marketing facts
As there are mainly business folks gathered on LinkedIn, providing them with interesting business and marketing facts can spark a lot of engagement among your followers. Business-minded people are always in hunger for learning new things and enriching their knowledge base. So, a LinkedIn post that contains intriguing facts about business management and smart marketing strategies will definitely catch the eye of many.
Along with facts and statistics, you can also include tips on business and marketing. Do thorough research on the chosen topic and find tips that will be of true value to your audience. Avoid being too general with your tips. Instead, you can even describe a specific business case and list reasonable advice that will return a desirable outcome. 
Your LinkedIn audience is exposed to an epic amount of content every single day. And the vast majority of publications consume quite a lot of time to read and digest. Of course, in this information age people want to be informed about everything all the time, but sometimes learning the highlights of events, books and news is more than enough. So, sharing information in a brief quote would be worth the read to your followers.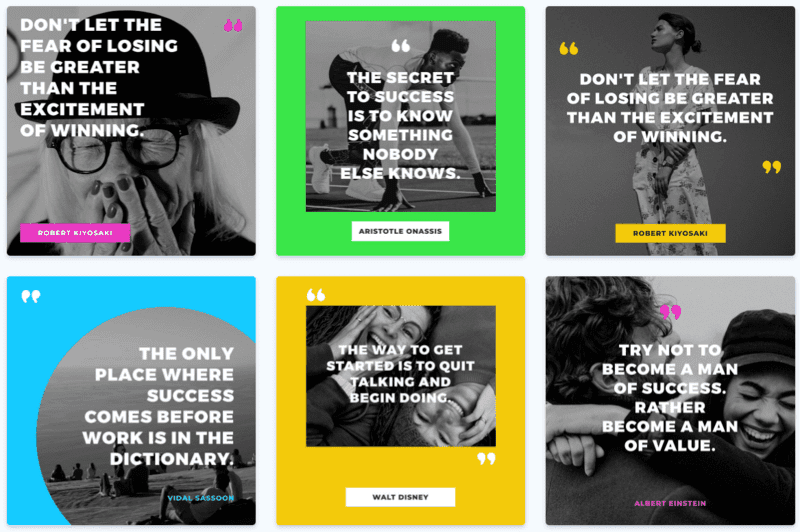 Sharing success stories with your LinkedIn audience would bring a human touch to your profile. It can be in the form of celebrating employee milestones or telling customer success stories. Posting a corporate occasion on your LinkedIn or sharing the personal profile of one of your employees with an appreciative message could be another idea for a success story. It would remind people that after all humans are the cornerstone of your company and you acknowledge that with pride.
You don't even need to overthink what story to tell. Stories are just everywhere. Think of the day-to-day challenges, sleepless nights, and issues that seemed to have no solution – these can all become material for a success story post on LinkedIn. Don't forget to mention relevant people in your post, strike up a conversation in the comments, and engage with your followers. 
A powerful LinkedIn marketing technique can be sharing customer reviews and testimonials with your followers. In the eyes of potential prospects, reviews and testimonials put a "socially approved" label on your business. This provides a sense of validation for those who hear about your brand for the first time. So, whatever you've claimed about your product or service in the past comes to be confirmed by real testimonials. 
The popularity of video content is growing more and more across social media platforms. Videos drive big results in keeping engagement levels high and converting followers into customers. LinkedIn is not an exception in this matter. Sharing custom videos, snippets of interviews, and webinars on LinkedIn will hook people to your content.
It's essential to remember that the most important part of your video is the first 3-5 seconds because that's where the bait should be hidden. So, make sure you start off your video with a clear and catchy description of what the video is going to be about.

Even if you decide to stick to a single topic for your video content strategy, let it be marketing or entrepreneurship, make sure you provide a diversity of video formats. It can be a typography animation, video explainer, real interview, or speech presentation. Such a variety of video content will visually stimulate your audience and keep them interested.
Use hashtags and follow topics
Using hashtags allows you to discover topics that are most relevant to you or the niche of your business. A hashtag starts with a # sign and is followed by a keyword. When you create a post, you can include hashtags in it which will make your post a part of the general public discourse that circulates on LinkedIn over that particular topic. 
Your interests, buyer personas, and better networking opportunities are all just a hashtag away from you. Just search for the right keyword and voila! 
Study your Linkedin analytics
If you are using LinkedIn for business marketing purposes, which you should be doing most certainly, tracking LinkedIn analytics should be a must for you. The metrics of LinkedIn analytics serve as proof points for your LinkedIn marketing efforts. Your LinkedIn marketing strategies must be data-driven to result in a successful social media marketing report. 
LinkedIn analytics is a great tool that will help you assess the work you've done on this professional platform. The data you get from LinkedIn should become the basis for the future development of your LinkedIn marketing solutions. 
To monitor your LinkedIn metrics, you will need to have the necessary permissions and access. Once you have those, you can keep track of your LinkedIn marketing performance. 
Avoid automating outreach 
LinkedIn clearly states in its terms and regulations that the use of external tools or programs is not allowed under its roof. So, the risk of being restricted or blocked for such prohibited actions is very high, especially if you use these tools on a daily basis. 
Besides, there are multiple LinkedIn automation tools available in the market today and each one of them has a different price list that includes subscriptions that are not cheap, to say the least.
Offer interactive elements like polls
As mentioned earlier in the article, your LinkedIn content strategy should be directed to a certain target audience. To elevate this content strategy even more and to make it more interactive, you should prompt the readers to respond, ask or express themselves. 
A good way to do this is to create polls, i.e. give them a question with options and inquire what the majority thinks about the given topic. You can also invite them to fill in the (…) blank, i.e. ask them a specific question that suggests a full answer rather than a yes or no one. This is something that will take little time from your followers and will be of mutual benefit.
Frequently asked questions
1. What are LinkedIn Marketing Solutions?
LinkedIn marketing solutions are a set of marketing strategies that allow you to boost your LinkedIn company profile. The cycle of productive LinkedIn marketing solutions includes network expansion, segmentation of your target market, creation of effective ads, and evaluation of LinkedIn analytics. 
2. How to improve Linkedin marketing strategy?
To improve your LinkedIn marketing strategy, you need to do the following:
Set SMART marketing goals – Specific, Measurable, Achievable, Realistic, and Timely;

Determine exactly who you are targeting, study their behavior;

Engage with your LinkedIn community by providing valuable content in diverse formats;

Use LinkedIn ads in your marketing campaigns;

Actively interact with people in LinkedIn groups;

Redesign your marketing strategies according to the data you get from LinkedIn analytics.
3. How expensive is Linkedin Marketing?
The cost of LinkedIn advertising is determined by an online auction system that enables you to submit competitive bids to win a placement for your advertisement. The competition is held among all those advertisers who aim to reach a similar audience. 
Based on variables such as click-through rate, comments, likes, and shares, your ads are given a relevance score. The cost of advertising will be cheaper if the relevance score of your advertisement is high. So, the price of LinkedIn marketing depends on the target audience, the bid you offer, your objective, and your ad relevance score. 
4. How do I increase the number of followers on LinkedIn?
In order to increase the number of followers on LinkedIn, your profile must be perceived as professional, engaging, relevant, and responsive. As a starting point, fill out the company overview and set your LinkedIn profile with your branding colors and components. Focus on quality content, join conversations, be active and visible in LinkedIn groups, and adopt a marketing strategy that will show your audience that they are not just a number to you, but a real human value that you learn and benefit from just as much as they do.
To sum up
Are you linked in, yet, or still missing out? 
Say it out loud, "LinkedIn is the largest networking website in the whole wide world". Now, sign up and make LinkedIn marketing solutions an integral part of your marketing campaigns. 
LinkedIn drives businesses to bigger and more fruitful results. By investing time and energy into the development of LinkedIn marketing solutions, you will kill two birds with one stone. 
On the one hand, you will expand your network with professionals from different fields who can potentially become partners, investors, or customers, and on the other hand, you will indirectly sell your product or service to hundreds and thousands of people. 
Don't forget to browse our library of social media templates and add stunning graphics to your LinkedIn marketing strategies!