What does it take to make a good business presentation? You have to have a creative presentation idea, well-structured plot, engaging points, attention-grabbing scenes, and, of course, a purpose. 
To make a productive and informative presentation means delivering your main message to your audience. So, when preparing a business presentation, you must consider your audience and its interests. Put yourself in their shoes and think about the ways you can interest, or even intrigue them. 
On your way to making a successful business presentation online, you'll need helpful and easy-to-use tools, to win your audience over. Creative scenes, colors, icons, text, voiceovers, and music tracks, will take you a step closer to your goal. 
Renderforest is a platform to help you create your dream presentation online, using these tools. With a list of customizable templates, you will be able to complement your video presentations with unique scenes, characters, and other features. Check it out for yourself! 
If you want to make a presentation video with Renderforest but don't know where to start, here's a step-by-step tutorial of how you can do that. Let's start right away! 
You'll first need to be signed in to your Renderforest account. If you don't have an account yet, sign up for free. Then, go to the "Create video" section on the menu, and then choose the "Presentations" sub-section. 
Here you will find many video templates to choose from. Select a business presentation template you like and click on the "Create now" button, to start. For this tutorial, we'll use the "Business presentation pack", with more than 225 scenes.  
Once you click "Create" on the next window, you'll be transferred to a new window, from where you will be able to select the scenes you want to include in your business presentation.
The scenes here, are divided into categories to help you easily navigate and choose what you want. In the "Business studying scenes", you will find creative scenes with characters in the studying process.
Colorful "Infographics" can make your presentation more professional, so make sure to check them out too. 
In the "Technology and devices" collection, you will find scenes with icons such as location, wifi, idea lamps, and more, to give more lively tones to your video. 
"Finance" scenes will help you tell your audience about your payment options and service or product prices. 
With scenes in the "Business development" category, you will be able to tell your backstory, or what your business is about. 
Image and video holder scenes are also available for you to use while making your video. They will make your presentation more real and personal. 
Also, add lists with checkmarks and x-marks to your videos, either with characters or without them. 
Another category, you might like to choose a scene from, is the "Logo animations". This will help your logo appear at the end, or the beginning of your presentation.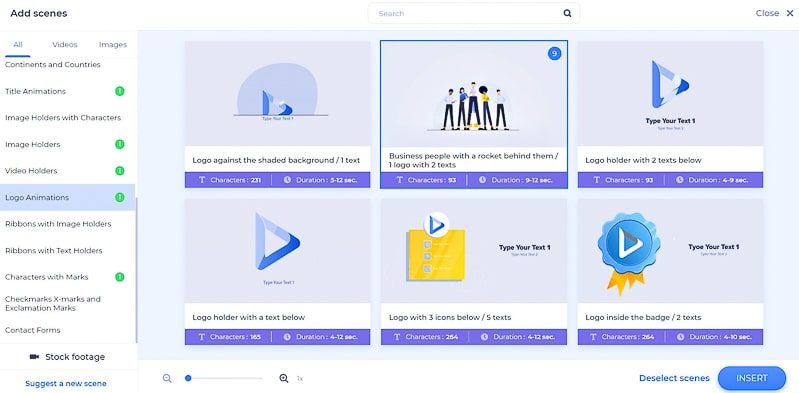 There are more scene categories for you to choose from, such as "Healthcare and lifestyle", "Buildings", "Continents and countries", etc. Explore the list to find more scenes suitable for your presentation. 
Once you select all the scenes you need, click "Insert" to confirm them and move to your dashboard, where you can start the editing process. 
The scenes here are flexible and easy to work with. Move the scenes by dragging them in the timeline, delete them by clicking on the trash box icon, and add new scenes by clicking on the plus icon next to your scenes. You can also duplicate and replace the scenes by clicking on the three-dot menu on every one of them.
To start adding your presentation text to the scenes, click on the text fields you want to edit and paste or type in your text. 
If you want to add video or image files to your presentation, click on their respective fields and choose one of the options. Click "Upload", to add it from your device, and "Media library", if you want to add it from your previous uploads. To add a video or photo from the web, select "Video URL" or "Image URL" respectively, and paste the links.
The "Stock footage" along with the "Stock image" option, depending on the scene type, will offer you a variety of media from our collection. In case you want to change the video or image file, click on it, press "Remove", and upload a new one. 
Right after you add your video with any of these options and click "Insert", you will be able to trim the video to take the exact parts that you want. Click on the "Add cut" button to cut more parts from your video and "Remove cut" if you change your mind. Adjust the sound of the uploaded video, if needed, before clicking "Done". 
Crop, flip, rotate, and apply filters to your image files, to make them look more professional in your presentation. 
Add your logo in the corresponding scenes, by clicking on the logo holders. If you don't have one yet, create it on the spot, by clicking on the "Create logo" option.  
In the "Style" section, you will be able to change the overall look of your business video and font. Select a font for your text and click on the "Generate" button, to see the change made on your scenes, before saving them.  
Also, change the colors of your business presentation video, by going to the "Color" section. Pick a color combination and click "Generate" to see the colors come alive on your video. 
To add a music track or a voice-over to your business presentation, go to the "Music" section. Click on the "Add voiceover" button, to upload or record one, if you want to tell more about the presentation and the scenes. Cut, lower the volume, replace, or mute the voiceover as well, by clicking on the appropriate options. Note that each of the scenes can have a different voice-over, so it's possible to leave some scenes without a voiceover, or record and upload your recordings for each of the scenes separately.   
Add a background music track to your presentation by selecting one from our library, uploading from your device, or picking one of your previous uploads. 
After all the necessary changes are made, "Preview" the work you've done, before downloading it. 
There are two options for you to download your video. The first one is the free option, which offers SD360 quality videos with the Renderforest watermark. You will be able to edit, download, and publish your videos whenever you want. 
With the "HD export" option you can download your video in high quality and without a watermark. Find all the details about our pricing here.
Your pretty and informative business presentation is now ready for you to share with your audience. It will attract hearts and minds, so be ready for good feedback. 
If you are looking for more templates to create presentations with, here are several packs you might like: 
Give your presentations a modern and abstract touch with this template, to deliver your message in a more picturesque way. Perfect for business and HR presentations, timetables, and more. 
Create professional-looking and unusual presentations to attract the attention of your audience. Perfect for business, corporate presentations, promotional videos, ads, and more.
Create powerful videos for your stories and promotions, to impress your followers. Over 100 business scenes are ready to help you make the perfect video to support your business.   
Tell your business story, upcoming news, or any other kind of information to your staff and followers with class and glam. No more boring presentations to fall asleep to.