There is nothing more exciting than creating something inspirational and fresh. Discover poster ideas that suit you the best and reflect on the purpose. Posters are excellent visual mediums that can make or break an impression. 
Your designs and concepts will change depending on the purpose and poster size. Thanks to the internet, you can reach the best posters and graphics worldwide and learn from professionals.
Below you can find 30 creative poster design ideas that will inspire you and help to get started!
First, Purpose!
Posters can make you cry, laugh, think, anticipate, or not touch your soul at all. It's essential to establish your poster's purpose. Browse poster design ideas and learn from best practices. A thoughtful poster is guaranteed to be successful and memorable.
Structure Your Poster
Even the most chaotic poster design has structure. There has to be a balance and prioritization of design elements. Decide which text has to be in the foreground and hook your audiences' attention. Provide information about your business or event, and don't overflow the poster layout with unnecessary detail. It is if you are looking for a more conventional approach. 
Balance Poster Composition
Be mindful of the poster composition. Especially if you choose to have a lot of written content or visuals, find the best ways to balance the design and create more minimalist posters. Look at the example below. If the poster is heavy on one side, add an element to balance out. Divide your poster design into sections and balance accordingly.
Use Typography to Enhance
Create posters with complimentary typography that tells a story. Find creative solutions for your own poster design, and remember, words and fonts can do so much. When you look at this example of typography poster design, it's unclear why some letters fade away, but the content reflects the idea.
Source: Alina Erznkian
Incorporate Your Product
What better way to promote a product than to have it as a part of the poster design? Veggies and fruits? Put them on the poster! Do it for electronics, beauty products, and everything you can take a picture of. Use your shots as a poster background or as a design element. You can also add a code to your website that customers can scan and know more about your product.
Pro-tip: Matching the colors of the product to the poster enhances the visual experience and boosts brand recognition.
Incorporate Colors that Define You
If you have your recognizable color story, think about it! Think of TEDx's iconic red. It's unimaginable to have a poster for a TEDx event and not have the color red highly featured. 
Have your colors? Use them! Don't have? Make them! It's all about the association with a brand and identity. 
Source: Phil Pham Design
Be Smart with Negative Space
Negative space is a tremendous visual hack to express your creativity. The poster examples incite the loss of wildlife and emphasize the idea of stopping animal testing, or these animals will be erased from the face of the earth. Looking at design ideas that are more than just public notices gives the inspiration for creating something uniquely yours.
Add Photos to Strengthen Your Design
Real photographs may add credibility to the poster. Promoting a fashion show? Introduce the audience to your vision before the showing. Selling goods? Put them into a real-life setting. 
Many graphic design posters can benefit from a visual aid, but it's up to the mind behind them who decide if that's what works for their poster designs.
Spice it Up with a Little Bit of Comedy
Being funny and getting a giggle out of the viewers is a great skill. Don't be afraid to sprinkle a bit of humor onto your poster design, unless it's a serious matter. If not, nothing can stop you from being memorable and fun. Intrigue your audience, and believe us when we say that nothing gets you more word-of-mouth promotion than a good old comedy.
Source: Sergio Chinchilla et al.
Illustrate Your Poster
For generations to come, the first media and visuals we consume are cartoons. That's why it's no surprise that after fully grown up, animation still excites and attracts the eye. Use the nostalgia to your benefit and incorporate illustrations into your poster layouts. Can't draw? There are tools and poster templates that got you covered. Like the party poster template below. 
Don't Be Afraid to be Weird
Conventional poster design is not your cup of tea? No worries! There are a lot of poster examples to be influenced by and learn from. Be eccentric, strange, and different, but remember to still be informative and impactful. The best posters are the ones that are true to the esthetic of the individual, event, or company behind them.
Don't Hesitate to Experiment
Mix and match your poster design, experiment with your layouts, and don't be afraid to make mistakes. If Alexander Fleming never made a mistake, we wouldn't have penicillin. Think about it!
Source: Kate Chernienko via Behance
Size and Format Matter
Every poster, design, and purpose are unique and shouldn't be limited to one shape, size, or format. Try different poster layouts and dimensions if that helps your poster to pop and be memorable. Vertical, horizontal, diagonal, triangle, square, name it and do it!
Show Emotion
Provoke an emotional response from the viewers, and don't be afraid to be vulnerable. Let them know what to expect from you and translate emotion into a visual.  Cool posters don't just attract; they make you think. 
Pro-tip: Movie poster design's top priority is to be filled with emotion.
Use Contrast
A pop of color is a tool as powerful as any other. Even with a message so limited, this poster design catches attention and conveys the message using bright colors. Our eyes are drawn to high contrasts because it's so different from what we see in nature.
Know Your Audience
Sometimes companies take upon themselves ideas that they can't quite live up to. But not this IKEA campaign. If these four letters are a revelation to you, you must live under a rock! Everyone knows IKEA, and they also know their audience. This is shown in the minimal text and powerful poster visuals. 
Source: Yazan Altamimi 
Add a Background Image
Sometimes, if just incorporating an image is not enough, make it the focal point of your poster instead. Build your poster design around the image and excite the audience.
Pro-tip: Bold and bright colors on the black and white background also work great!
Make Your Poster Motivational
In this world of opportunity, but many unsolved socio-economic issues, be and motivate the change. Inspire action with your graphic design posters and images, bold colors, and mottos.
Try Color Overlays
Overlays are fun and groovy, while also great promotional tools to engage viewership. Being a very easy-to-do concept, its minimalist design allows creative self-expression, even with limited design skills.
Source: Maan via InspirationDe
Choose Your Colors Wisely
Direct the reader's eye with a well-thought-out color story. Emphasize what's important and let their eyes wander around the poster design, like in the poster example below.
Source: Marcelo Calderón
Pro-tip: Decide your color palette beforehand! Orange is not a design color, but #c26700 is.
Try Simplicity
Not every poster needs a complicated concept. Sometimes all you need is a straightforward visual, a simple poster layout, and graphic elements that stand out. Just make sure to have readable text, headline, and balance. 
Two-tone is a Bold Choice
It takes an artistic vision to create a campaign using just two colors! It's a different and unique poster design idea you don't see every day unless it's that black and white school poster printed on an old HP printer.
Source: Jackson Green
Poster Needs to Reflect the Theme
If your design is seasonal or themed, use that to your advantage. Christmas? Put a mistletoe on it. Birthday? Put some candles on it. Thanksgiving? Put a turkey and some pumpkins on it! There are many ways to wrap a current theme to your cause. Decide on the main theme and brainstorm to come up with good poster ideas. 
Use Shapes and Patterns
Shapes and patterns are designs as long as humanity. Using them for your poster design can give a familiar feel to the visuals and add a layer of organization. Patterns with geometric shapes can seem repetitive, but psychologically they convey trust, stability, and balance. 
Pro-tip: Use pattern color story to your advantage. Match them with your brand, topic, or theme.
Add Icons
Graphic design posters work great with 2D icons and symbols. Don't go after symmetry or perfection. Random is also beautiful if you put your mind to it!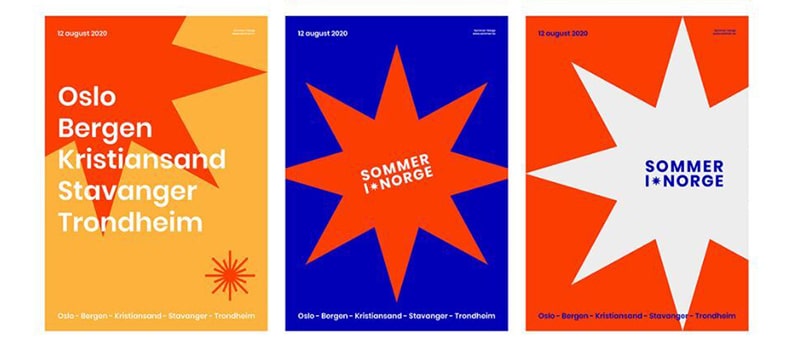 Source: Luca Guerci and Matteo Polla
Make Your Event Dates Pop
When planning an event, after persuading people to participate, you need to make sure they show up at the right time and day. Big, bold numbers attract and intrigue the eye. 
Pro-tip: You can use a different font or color for your event dates to help them pop out even more.
Try Transparent Shapes and Borders
A structured layout is not necessarily minimalistic. Use transparent shapes to add depth and layers to your poster design and create borders to focus the attention.
Source: Saurav Pathak
Merge Topic and Font
Ensure that your design, colors, and font are in harmony, even if it's a chaotic one. Wedding invitations and party posters are going to have a completely different feel, and you can achieve that by merging the topic and font of your design.

Create Variations of Your Poster
Don't limit yourself to one color scheme and poster layout. Make variations to give various experiences to your audience and not tire them. You can also make variants and choose the one that you think works the best for the occasion. Cool poster ideas are born during the creation process.
Enjoy The Process
Most importantly, enjoy creating your poster design. It's fun no matter your skillset, and whatever you come up with is going to be one-of-a-kind. 
Your Turn!
We hope you've enjoyed some great graphic design poster examples from us and are ready to start a solo journey. Find your style, learn from the great and become one. New designs keep being created; join the craze. 
If you're just getting started, poster templates designed by professionals will come to your help. Browse these poster templates and customize the ones you like!