Nowadays, you don't have to be a designer to create a professional logo. There are many logo maker tools which give you an opportunity to create a logo in minutes.
Renderforest provides a simple logo creation tool which helps to make high-quality logos online. Create an awesome logo with different styles: geometric, organic, minimal, complex, or abstract.
To start creating your logo, go to our Logo maker, write down your company name and click on "Create My Logo" button.

Now, you need to add your company description. Our AI and Machine learning algorithms will determine and suggest the most suitable logo for you. Write your description and click "Next".

The next step is choosing the text style of your logo. We offer 9 text styles up to your taste. Once you pick the style, click "Next" to start editing your logo.

Now, you can see the suggested logo versions, pick one of them and choose the icon style. Then, click on "Customize and Finish" button.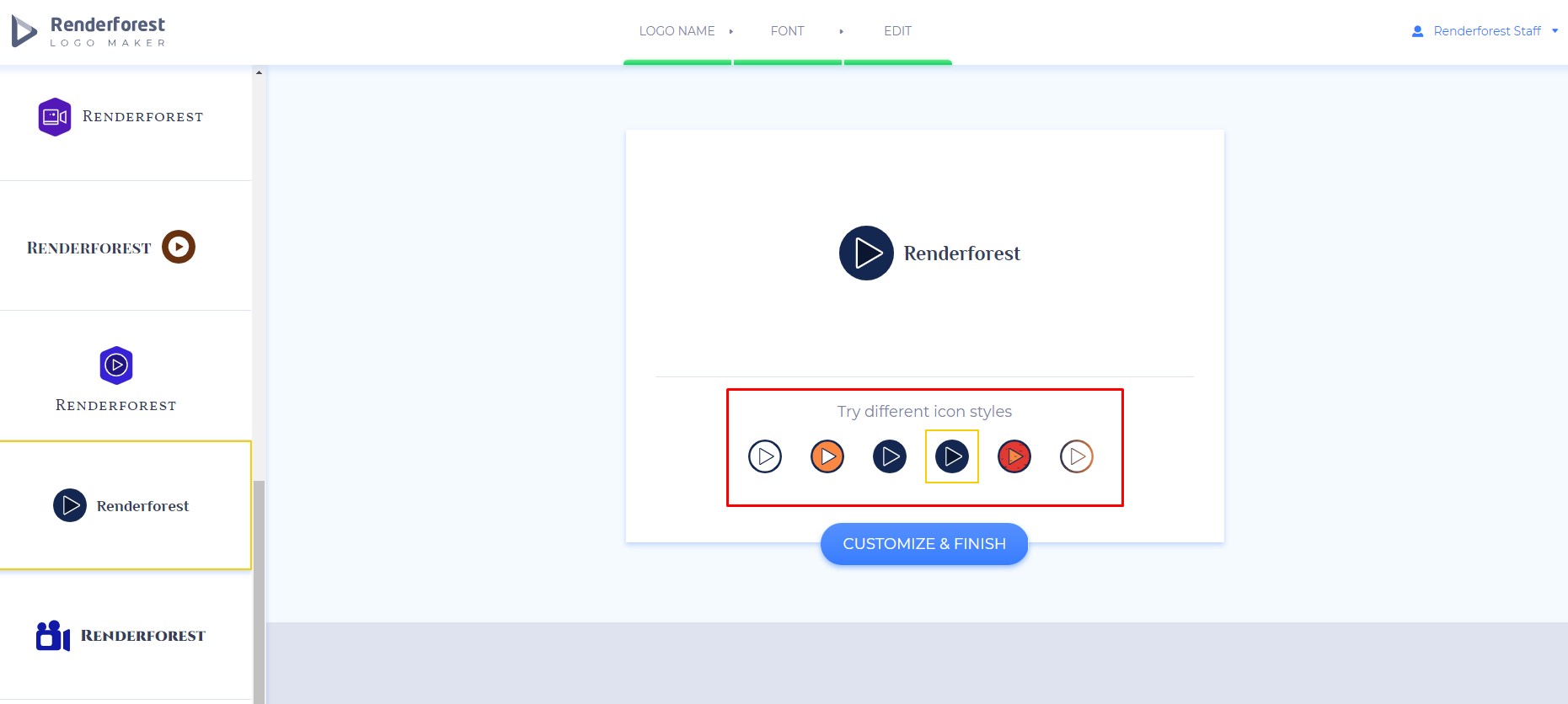 It's time to customize and finalize your logo! Our editor gives you an opportunity to fully edit your logo. In the Text section, you can update your logo name, add a tagline text, change the text and icon sizes. If you don't like the text style, click on "Change Text Style" and pick the one you like.

In the color section, you can change the text and icon colors of your logo, add a background if needed. You can do it manually or by choosing one of the suggested color palettes.

If you don't like the suggested icons, or you want a simple text-based logo, go to the Icon section to make the adjustments. Search for a suitable icon and pick the icon style.

Once you choose the icon and finalize the texts, go to the Align section to pick the positions and distance of your logo text and icon. Click "Done" and finish your logo creation process.

You have 2 options for downloading your logo. You can download the low-quality PNG or buy a high-quality vector/PNG.
Creating a logo with Renderforest is easy and fun.
Check out the logos created with Renderforest logo maker:
Have fun, be creative and create the logo of your dreams!