Today, you don't have to be a designer to create a professional logo. There are a plethora of logo maker tools available online that give you an opportunity to create a logo in minutes. 
Renderforest provides a simple logo creation tool that helps to make high-quality logos online. Create an awesome logo with different styles: minimal typography logos, flat logos featuring objects, shapes, and characters, watercolor-themed logos, complex emblem logos, gradient logos, simple one-color logos, minimalistic line-style logos, and so much more. More than 50.000 icons created by professional designers are at your disposal.
Now, we'll show you how easy it is to create a logo with Renderforest. There are two ways in which you can do this – through the editable logo presets and from scratch. Let's look at each method separately.
To start creating your logo, go to our logo maker. In the upper menu, you can find the logo presets arranged by theme: nature, sports, gaming, animal, food and drinks, profession, services, and industry. Each category has several subcategories for simpler navigation. 
Browse through the library of logo icons in each category or search by keywords to pick your favorite one. Hover over the icon and click the "Edit" button to start customizing it.
It's time to finalize your logo! Our editor gives you an opportunity to edit and customize your logo fully. In the "Text" section, you can update your logo name, add a tagline, customize the text font, size, and letter spacing. You can always switch the mode from Canvas to Mockup to see how the logo will look on real-life objects.
In the "Color" section, you can change the text and icon colors of your logo, add a background if needed. Change the colors of the text and the icon manually, or pick one of the suggested color palettes. 
If you don't like the suggested icons, or you want a simple text-based logo, go to the "Icon," select the "Text Based" option and make the adjustments. For logos with icons, go with the "Graphic Based" style. You can stay with the icon you've selected earlier or search and pick a more suitable one. 
Once you choose the icon and finalize the texts, go to the "Adjust" section. Here you can try different logo text and icon positions and adjust their sizes.
Once you finish your logo creation process, click the "Download" button. You will have several options for downloading your logo: low-quality PNG with non-profit usage, high-quality vector/PNG for commercial use, or a premium package with branding guidelines and 20+ mockups.
In case you don't want to go with logo presets, you can always design a logo from scratch. For this, go back to our logo section. Write down your company name and click "Get my logo." 
The next step is where you add your company description. Our AI and Machine learning algorithms will determine and suggest the most suitable logo design for you based on your description. Write your description and click "Next."
In the next step, you need to choose the style of your logo. There are eight styles you can choose from: line style, solid, flat, watercolor, emblem, minimal, alphabetical, and gradient. You can also go with the "I Feel Lucky!" option and let our editor surprise you. Once you pick the style, click "Next" to start editing your logo.
Now, you can see the suggested logo design options. Scroll through the options, preview the logo on different mockups, and pick the one you like. Each icon comes in various styles you can see at the bottom of the page. Once you find the perfect logo, click on the "Edit and download" button. In case you don't like any of the suggested icon versions, click on the "Create from blank" button to create yourself.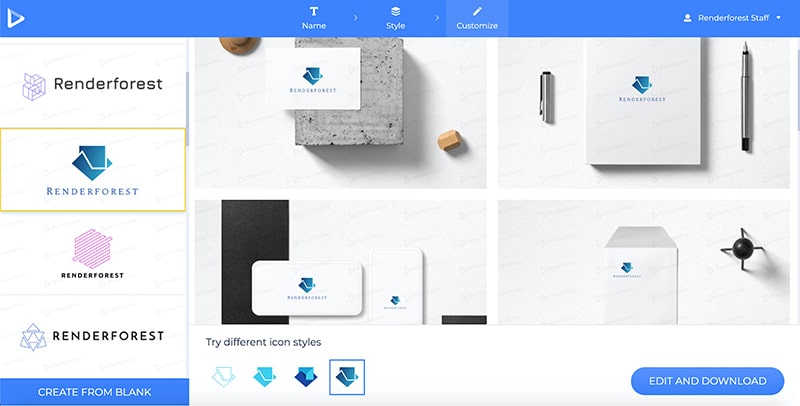 By purchasing the premium design package, you will unlock 20+ mockups and more features.
Clicking "Create from blank" will redirect you to the logo editor, where you can further customize your logo the same way we discussed earlier in the article. Once your logo looks exactly how you want it to, click "Download." Pick your preferred resolution, and enjoy your shiny new logo!


Creating a logo with Renderforest is as easy as it gets. Have fun, be creative, and get the logo of your dreams!