Are you excited to surprise your loved one with a special gift for Valentine's Day? A chocolate box with red roses is by no means a bad gift, but let's be honest; you probably gifted that to your partner last year…and the year before.
Valentine's Day is supposed to be a memorable holiday for both of you, and you don't want to ruin it with a predictable, generic gift. Not to worry, as we're going to make sure you have an original and meaningful present prepared for your significant other this year.
Ready to start exploring? Then check out our list of 16 romantic Valentine's Day gifts below.
Sweet Valentine's Day Video Card
Videos can be beautiful Valentine's Day gifts, especially ones that are personalized for your love story. A sweet slideshow with your favorite pictures together and your love song is a gift that will deeply move your partner. Plus, videos never age, so you can go back and rewatch your special video many years later.
If you're looking for a detailed tutorial on how to create Valentine's Day videos, check out our article.
Long-Distance Lamp
A long-distance touch lamp is a simple yet unique gift for loving couples that are separated by long distance. Light up your lamp with a touch, and the other lamp will automatically light up as well. No matter how close or far away your significant other is, you can always let them know they're in your thoughts.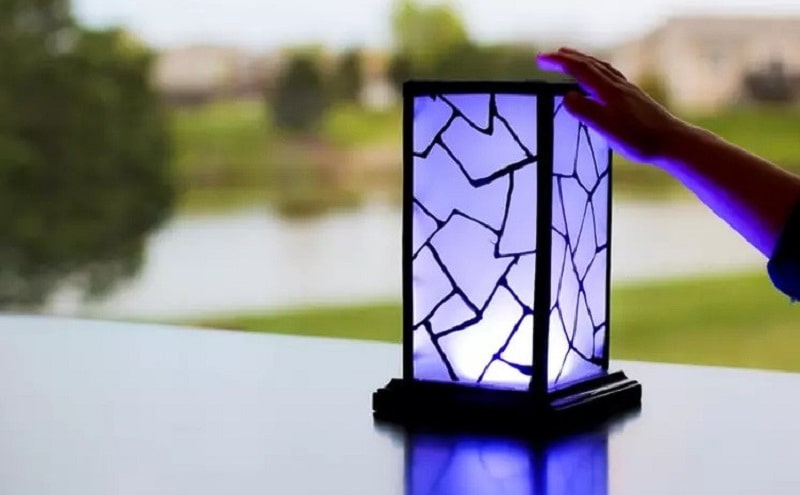 Source: Reviewed
Custom Journal
Ready for more ideas for personalized gifts? How about a custom journal that's built just to your significant other's liking? Pick their favorite color, have a meaningful message engraved on the cover, and surprise your beloved with a thoughtful gift.
Source: Etsy
Retro Record Player and Vinyls
Is your significant other a fan of all things music and vintage? Then a record player is the best Valentine's Day gift for them! If they already have one, which we suspect might be the case, your next best bet is vinyl records. Hopefully, you already know who their favorite artist or band is, which means you're only one vinyl away from the perfect Valentine's Day gift.
Source: Pexels
Coffee or Tea Collection
A great way to show you care to give your loved one the drink they love the most. Whether he/she is a coffee or tea person, you can always find a fine collection to make sure they never run out of their favorite drink.
What's more, the gift will remind them of you every time they have a cup of coffee or tea.
Hand-Crafted Gifts
There's something extraordinary about handmade gifts — they show you've invested your time, energy, and imagination in creating an article that's one of its kind. If you're not especially gifted in arts and crafts but like the idea of hand-crafted Valentine's Day gifts, you can find helpful DIY tutorials online. Here's an example:
Be it a heart-shaped jewelry box, a picture painted by you, or delicious homemade cookies, your Valentine will be touched by the gift.
Romantic Trip
A romantic trip for two on Valentine's Day — what can be better? Choose a destination both of you enjoy or pick a place that has a personal significance to the two of you. It doesn't need to be a marriage proposal in Paris; just a short trip across the country or city will make for a memorable date and a wonderful Valentine gift.
If you're both more into extreme tours, take them bungee jumping, rafting, mountain climbing, or zorbing.
Of course, this gift idea will require some planning in advance, so if you're really short of time, we still have nine more ideas to go!
Candlelight Dinner
You can turn any evening into a romantic date if you know how to cook. Prepare the most delicious meal to enjoy with your significant other by candlelight. You can cook their favorite dish or try something new and unusual if you're feeling adventurous. It's the perfect opportunity to show off your cooking skills and have a magical time together.
Also, try not to burn down your kitchen while cooking; your partner will certainly appreciate it. If you're truly not one for cooking, restaurant takeouts are always an option.
Cozy Movie Night
Breakfast At Tiffany's? The Notebook? Maybe The Shining? There are no right and wrong answers when it comes to movie date nights. Pick a movie you'll both enjoy, and don't forget the snacks!
If you want to stick to romcoms, this romantic movie list will help you choose the right movie to cry to with your date.
Serenade Under Their Window
Do you have the confidence to sing outside your beloved's window, openly declare your love, and face confrontation from the neighbors? Performing a serenade might be old-fashioned, but that's exactly what makes it worth it! This certainly requires the most courage among our gift ideas, so we get that it's not for everyone.
A song written by you would make the gift even more impressive. But unless you have the time and skills to compose a new song, there are thousands of beautiful love songs waiting to be performed on one romantic night.
Night Ride
The city lights and bustling streets will become a nice background for your romantic evening drive. Be it a car or a bike, a long ride with an amazing playlist will guarantee a night to remember for the rest of your lives.
Love Scrapbook
Collect your most treasured memories in one place and gift your partner a scrapbook that tells your love story. From your very first selfie to concert tickets, handwritten letters, and comments on each other's posts, include everything that's linked to a beautiful moment shared between the two of you.
This is not a last-minute gift idea, but it's certainly worth a try if you have some spare time.
Creative Socks
For warmth and comfort lovers, unique socks can be a great gift idea. There's no limit to how creative socks can be. To make the socks fit the occasion, you can go for love-themed designs with all kinds of heart-shaped patterns on them or get a matching pair for both of you. 
Want something more personal? Create your own sock design, customized with a message, quote, photo, lyrics, or your lover's name. Test your designs on these sock mockups before printing.
Warm Scarf
Another way to keep your sweetheart warm and cozy is to give him/her a lovely scarf. You can pick scarves of different materials such as silk, cashmere, cotton, etc. If you can knit a scarf, try to make one yourself. It'll be there to keep your loved one warm whenever you aren't.
Personalized Bottle Labels
Wine, brandy, champagne — choose a drink and wrap it up in your custom-made label. Imprint your picture, lyrics to a special song, a poem you wrote, the date you met, or anything else that has sentimental value in your relationship.
Plants
If, after all the gift ideas, you're still set on getting your lover flowers, consider giving plants a try. Just like flowers, plants make for delicate and tender gifts; plus, they don't die so early. You can get low-maintenance plants if your partner is rather forgetful. Attach a sweet note to the plant and brighten up your date's day with your thoughtful gift.
Valentine's Day gifts are endless, and finding the right one for your special person requires creativity and careful thought. Our list included both ready-made and personalized gifts to give you more options.
Regardless of the gift you choose, what matters the most is that you spend a beautiful day with the person you hold closest to your heart. Happy Valentine's Day!
---
Check out these gorgeous Valentine templates to create romantic slideshows and greeting cards in minutes: