There's no such thing as "easy money" and if you think that affiliate marketing can help you become rich in an instant – you're wrong.
The truth is, just like video marketing or any other type, affiliate marketing requires hard work, patience, and creativity. Moreover, it can be considered a business model.
Even if you think that it's a passive income, you need to have a marketing plan and act accordingly. We see many successful bloggers, vloggers, and other people who earn money online by doing what they love – creating engaging content. But, when we want to actually start doing it, we don't know where to start.
So, first of all, you need to know what affiliate marketing is and its basics.
In this article, you will learn more about it, its pros and cons, the types of affiliate marketing, and how you can make money by doing it.
What is Affiliate Marketing?
Advantages of Affiliate Marketing
Disadvantages of Affiliate Marketing
6 Types of Affiliate Commissions
Making Money with Affiliate Marketing
What is Affiliate Marketing?
Nick is a YouTuber. He created his YouYube channel when he was 20. At first, it was just a hobby because he liked testing different products and sharing it with his audience. Within time, he started getting more views on his videos and interested followers.
So, to monetize his video content, he joined different affiliate programs and shared his affiliate links in his product review video descriptions. This is how he created a passive income with affiliate marketing.
Nick is a fictional character, but his story is based on real-life facts and examples.
There are many other ways of generating passive affiliate income. But, how to define affiliate marketing in general?
Basically, affiliate marketing is a performance-based marketing type that helps content creators earn commissions by promoting different products and services online. In other words, you join an affiliate program, share an affiliate link with your audience, and earn commissions for affiliate sales.
Like any other field, affiliate marketing also has its special terms. These are the terms that you'll see most often while looking for an affiliate program and developing your strategy.
Let's check out some of them:
Affiliate link

– it's the link provided by the merchant which identifies the affiliates and helps to track the generated traffic and affiliate sales with the help of a tracking code.
Affiliate program

– with these programs, the affiliates can refer people to different products and services by getting paid in return.
Commission

– it's a predefined amount of money the affiliates get after providing referrals.
Conversion

– when the referral takes the desired action on the merchant's website.
Cookies

– they are used to assign the affiliate's ID to the user in order to track the conversion.
Cookie expiration

– cookies have expiration days. They can be valid for 30–90 days or less. If the referral converts within this period, it's attributed to the affiliate marketer.
First click

– if the user clicks on 2 different referral links to the same product, the conversion is attributed to the affiliate who brought the referral with the first click.
Last click

– it's the opposite of the "First click". If the user clicks on 2 different referral links to the same product, the conversion is attributed to the affiliate which brought the referral with the second click.
ROI

– it's the Return on Investment. In other words, it shows the benefits or losses the affiliates get in relation to their investment.
Source: CFI
If you're seriously thinking about becoming an affiliate marketer, or if you want to know how to monetize your content, continue reading this article to learn more about affiliate marketing.
Recommended Reading
---
---
Advantages of Affiliate Marketing
Now that you know what affiliate marketing is, it's time to go through its main benefits and drawbacks.
Before diving into planning and execution, think about how your efforts will pay off. 
Here are some of the advantages of affiliate marketing:
No Expert Marketing Skills Required
You don't have to be a marketing specialist to join an affiliate marketing program. You can learn everything along the way. It's all about developing different long-term and short-term strategies, testing them, and picking the ones that bring more revenue.
Low or No-Cost Business Opportunity
Why is affiliate marketing considered a low or no-cost business opportunity? Well, there are a couple of reasons such as:
There's no need to spend money on product or service creation.

You don't stock and ship the products.

To become an affiliate you don't have to make initial investments unless you want to create a website from scratch or spend money on paid advertising.
So, if you don't have extra money to invest in a business, here, you don't need any.
A Passive or Additional Source of Income
If you have a full-time job, you don't have to quit it. Have a smart passive income with the help of affiliate marketing. Develop your marketing plan and spend as much time as you want on your side project, as your life doesn't solely depend on it.
Flexibility and Freedom of Actions
Doing affiliate marketing full-time is also an option because of its flexibility. Join any program and work on your campaigns whenever and wherever you want. You can do it from home, from a cozy cafe, or in a co-working space.
Dealing with customers can be very time-consuming and tiring. But, in this case, you don't provide customer service, which means you fully concentrate on product promotion. Customer service is provided by the product/service providers.
Depending on the programs, you can get commissions based on the desired actions. The action is not always a sale. It can be a sign-up, app installation, or any other action.
Disadvantages of Affiliate Marketing
Now, let's mention some of the cons of affiliate marketing. Even though it looks like a very profitable online business, there are some things that can hold you back or reconsider your decision to become an affiliate marketer.
The beginners usually have a hard time trying to stand out among the well-established successful affiliate marketers. Besides, the number of affiliate marketers is growing day by day. So, your success depends on your affiliate marketing strategy and creativity.
Of course, you want everything and at once. But, with affiliate marketing, you can't earn money in an instant. So, in general, the affiliate income is very low (or none at all) until you develop an effective strategy and find paying affiliate marketing channels. If you think that this is something you can overcome, you're ready to start.
No Control Over the Product/Service
Affiliates don't have control over the product and service the customers get. This is why choosing the right products and service providers is crucial. If the customers get poor service or a low-quality product recommended by you, you'll lose your credibility.
Black Hat Affiliate Marketing Methods
To boost their affiliate sales and increase revenue, some beginners start using black hat affiliate marketing methods. They don't realize that they put their online reputation at risk, which is hard to recover. Many affiliate programs have strict regulations regarding black hat strategies and they can shut down the users' accounts when they get caught.
Driving New Leads Instead of Having a Customer Base
Retaining customers is more cost-effective than generating new leads and converting them into customers. In case of affiliate marketing, you can't retain your customers and have to generate leads over and over again. Once your lead converts, they become a customer but you won't get any commissions from new purchases.
Unreliable Affiliate Platforms or Programs
You don't want to lose your generated revenue, right? Your affiliate marketing success depends on choosing the affiliate platforms that work. Choose carefully what programs to join and learn how to find reliable platforms to avoid scams.
If you know all the pros and cons but still want to start an affiliate marketing business, then check out what types of affiliate commissions you can get by joining different programs.
6 Types of Affiliate Commissions
One of the most popular e-commerce affiliate programs is Amazon Associates which has more than 1 mln registered affiliates. Affiliate marketers, especially beginners, choose this program as it has everything that one needs: digital and physical products in different categories. Besides, it offers up to 10% of commissions from each sale. This is just one example of an affiliate program.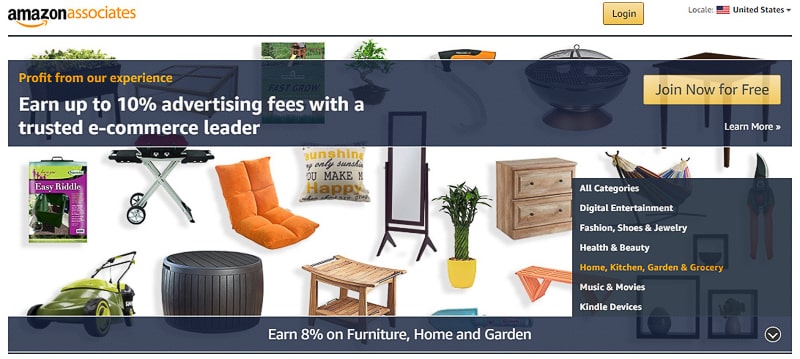 When you start looking for affiliate websites, you'll notice that different programs offer different types of commissions. Depending on what you're looking for, you can find the right programs for you. Basically, there are 6 common types of commission. Let's go through them.
PPC (pay-per-click) – it's one of the easiest types of affiliate programs. The affiliate gets paid when they refer visitors to the website. You will get paid even if the referrals don't perform any specific actions. But, the commissions of PPC are also low.
PPL (pay-per-lead) – these programs pay the affiliate marketers for each converted lead. It means that the visitors must fill in a form or sign up to become a lead.
PPS (pay-per-sale) – in PPS programs, the affiliates get commissions when their referrals make any purchase. The commission equals a predetermined percentage of the product price.
Sitewide commissions – some programs pay sitewide commissions to their affiliates. It means that they will get paid for any purchase made by their referrals throughout the site.
One-time commissions – the name itself says everything: the commissions are paid to the affiliates only once after the referrals complete the predetermined action.
Recurring commissions – this type of commission is related to subscription-based programs. So, the affiliates get paid as long as their referral is signed up.
Before joining affiliate programs, be attentive to the details. Learn more about the payment details, the payout frequency, refunds, tracking, and cookies, also the types of marketing which are allowed.
Making Money with Affiliate Marketing
Yes, it's possible to make real money through affiliate marketing. It's not a miracle, but there are also no shortcuts to success. Your efforts and hard work will determine how much money you will make.

According to a survey by Rakuten, affiliate marketing will reach $6.8 billion by 2020. Moreover, most of the companies said that more than 20% of their yearly revenue is from affiliate partnerships. These results show that affiliate marketing is constantly growing and creating new opportunities for making money.
What can you do to increase the effectiveness of your campaigns and increase your income? The following tips will help you optimize them. But, it all depends on execution.
Join the Right Affiliate Programs
You already know about different types of programs. So, now you need to try them to find out which type works for you best and which one brings you more commissions.
First, you can join the most popular programs which have been tested by other affiliates. The popular programs are 99.9% trustworthy, and you can be sure that you'll be able to withdraw money from your account.
You can start with the trustworthy ones until you try out the others. This will take some time. But, before trying new platforms, read the reviews to learn more about them from the real users. This will help you save time and stay away from the scam.
Depending on the program, you can optimize your income and increase it within time. So, do it wisely.
Learn New Traffic Generation Tactics
It doesn't matter what marketing strategies you use, you must always track and optimize them to maximize your affiliate marketing income. Besides, you must learn new ways to generate traffic. If you only concentrate on social traffic, also consider optimizing your content for search engines.
There are so many ways to increase your reach and attract more visitors. You can start contributing to other blogs, create your communities on different platforms, use paid ads, collect an email list and send newsletters, collaborate with influencers, find affiliate partners, and more.
But, if you don't track your campaigns, you won't find the most cost-effective ones. Select the right metrics to measure the success of your campaign and compare the results.
Solve the Problems of Your Audience
Increasing your traffic is one thing and being useful to your audience is another. Obviously, providing value is more important because if you don't solve their problem they will be disappointed.  
But, if you provide a solution, they will be happy and will definitely come back to you for more. So, you wonder how to do it. Here are some tips:
Create content about the topics you are highly interested in and enjoy talking about. You will always have fresh content and will provide your audience with useful and interesting information. You can also

use videos to increase engagement

.

Choose the right products to promote. Once you join an affiliate program, look for products relevant to your content. Besides, check out the hot and the most sold products within the category. There's usually a higher demand for those.

Consider the user experience on your website/blog. You must optimize your website and make it more intuitive. Keep your navigation simple, don't use large files/images to optimize your page speed, link your pages internally, add creative CTAs, and make it mobile-friendly.
Always be helpful and educate your audience. Being devoted to them and providing useful information will help you build your affiliate business.
To Sum Up
Every business requires hard work and motivation. A successful affiliate marketing business is no exception. Research and implement the best practices of affiliate marketing to create a passive income. Join the right programs and promote your content with the help of effective marketing campaigns.
Choose the best products for your audience and generate more affiliate income. In the end, you will see the results of your efforts.
Would you like to join the Renderforest Affiliate program? Apply to our program and help other creatives find the best platform for making websites, videos, graphics, and so much more!