Be it a business event, a conference, an open mike, or an annual international music festival, a great promo video is what you need. It will make the event more appealing and intriguing for your potential participants. So, yes, video marketing is really on its highest pick right now.    
With animations, texts, impressive photos, music, and more tools, you can create a great interactive event promo video, offering your consumers to "save the date". 
You can spread the word about the event by sharing its promo videos on social media, emailing them to your followers, or posting them on your website. 
At first sight, the whole process of creating this kind of video yourself might sound a little difficult. In reality, though, you don't have to have grand video editing skills. Imagination and a little time are what you need. 
To save your time and inspire you, Renderforest has created a large number of scenes, for you to promote your event, whether it's a conference, a party, a festival, a competition, or something completely different. 
Here's an example of what you can create with our event promo presets. For this video, we have used the "Dynamic Concert Promo", but, of course, there are many other options you can choose from. 
To start creating your own event promo video you first need to Sign up or Sign in to Renderforest. After you're in, go to the "Create video" section on the menu. 
In the "Animation videos" category, choose the "Special Event Video" option and start looking through the offered templates.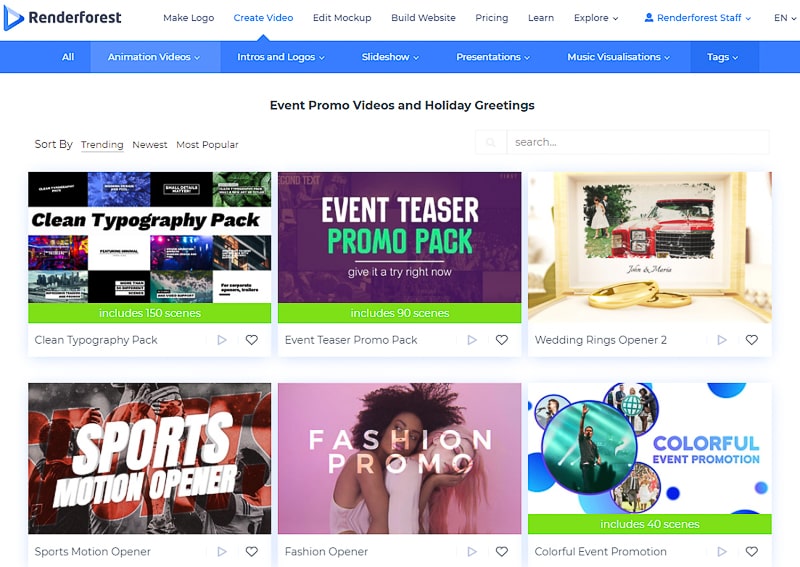 You can choose any of the video templates that you need and click "Create now" to start. We've chosen the "Event teaser promo pack".  
There are two ways to make your video. By choosing the "Add scene" option, you can create your own event promo video with the media files that you'll pick in our library. 
Here you can choose any of the categories and the scenes you want. Then, click the "Insert" button on the right, to start editing the scenes with your text and media files. If by chance you don't find the scene you are looking for, you can always let us know what scene you have in mind by pressing "Suggest a new scene" and typing in your idea. This way we will consider adding it to the template.
Choosing the "Load a preset" option, will save your time, and instead of adding the scenes yourself, you can pick a ready-made preset and start uploading your media files and text. 
After this step, you'll face your dashboard, where you can move, delete, replace, duplicate your scenes, or add some new ones in between.  
To add your media file where necessary, click on the suggested fields and choose "Upload". "Media library" will give you a chance to pick a media file from your previous uploads. If you have a video or image file you want to add from the web, you can choose "Video URL" or "Image URL" respectively, and paste the links.  
With the "Stock image" option on this list, you can pick a photo or video from our media library. Choose or type the topic you need and then pick the media files you like. Then click "Insert".  
You can also trim the videos you are using and choose the exact part that you need.  
There is a field for you to upload your logo as well, but if you don't have one yet, you can create it on spot, by clicking on the "Your logo here" fields, and choosing "Create logo". 
Texts on the scenes can be modified too. To do so, click on them and type in what you need. In the "Style" section on top of your dashboard, you can also choose the font of your primary and secondary texts. 
Moving to the next step, which is the "Music" section, you'll find a list of tracks for your video. You can choose one from our "Music library", trim it, mute the sound of your video completely, upload a track from your device, or add a voiceover.  
With all the steps completed, you can click on the "Preview" section and see the work you've done within minutes. Choose the "Free preview" option and wait for the result. 
There are two options for you to export your creation. The free option will have SD360 quality and the Renderforest watermark. You can download, edit, share, and publish these videos any time you want. We recommend you to export the free version first, before moving on to the paid rendering.
The other option is to buy high-quality videos by choosing one of our paid subscription plans. All the details about our pricing can be found here.
The video you've just created will be saved in your account, and you can access it anytime you want in the "My video" section of your profile. 
Did you enjoy the whole process of making your own event promo video? It'll surely create a buzz around your event and get your target audience excited. 
You can check out more high-quality promo video presets that might inspire you on your way growing your business and bringing in new customers.
If you are looking for a unique way to tell more people about your upcoming event, then this preset is here to help you accomplish that task. Ideal for business, marketing, social, and public event promo videos.
Promote your upcoming event, visualizing it with ready-made scenes, fonts, music, and more set of features. Perfect to promote movies, business, social and other kinds of events.
Use colors and shapes to make your event promo video more dynamic and lively. With the right music and your imagination, your followers will be thrilled to be a part of it.
Create a buzz around your party, festival, concert, or any other musical event with this preset. Make a promo video with more than 20 scenes, expressive text fonts, and tracks.