If your choice of website builders first stood at Wix, you're not alone. When searching for products in any niche, the allure of big brands is often undeniable. And Wix, with its 3.6% market share of website building solutions (trailing behind only WordPress and Shopify) and around $64 ad budget spent only in 2022 (though it tends to be higher for other years), overshadows many in its field.
Meantime, the global market of website builders is projected to grow at a CAGR of 8.2% by 2033, with 300+ major Wix alternatives entering the stage and offering a fresh perspective on how to design and build your website.
Some of the gaps Wix has left open are…
This blog cherry-picks some of the best alternatives to Wix, which outperform it in some way or the other. Choose an appropriate Wix alternative depending on which aspect you want to beef up.
Understanding the Limitations of Wix
But first, let's see which areas Wix limits you in so you understand which Wix toolset alternatives to look for.
No Free Analytics, Even Basics
Google Analytics, one of the most popular website analytics tools, is unavailable for free Wix users. Wix explains it by citing the need to have your own URL (the custom domain you buy) to integrate Google API for website analytics. In its turn, purchasing custom domains is only available in paid Wix plans.
Not Enough (Some Think Not at All) SEO Support
Wix allows you to complete the SEO setup checklist, use Google Search Console and Analytics, schedule regular SEO audits and basic SEO optimization. So, why, then, are Wix alternatives considered better at SEO?
The reason is Wix was not SEO-friendly for around ten years after its establishment (from 2006-2016), and now when it's gradually catching up, it still has some SEO issues. Most of them are related to the need for more advanced SEO control.
Overall, if you're serious about your website SEO, there are better choices than Wix.
Code Bloating
In the programming glossary, code bloating refers to unnecessarily long and complicated code behind the scenes, which causes slow loading of the website. Unfortunately, Wix websites tend to rely heavily on coding and JavaScript, so it's not a surprise that they sometimes take a while to load.
Though not the complete list, these are the key things Wix users are often discontented with. Luckily, there are Wix alternatives that developed considering all those issues and tried to resolve them. Let's dive in.
Unleash the Power of Best 15+ Wix Alternatives
Note! Wix competitors presented below are mostly selected based on the experience of users and their shared opinions on publicly available sources and, as such, may change over time. The article aims to accumulate user feedback about different alternatives to Wix in one place to help readers make informed decisions.
1. Renderforest
Renderforest is a website builder like Wix with more comprehensive design tools and features. It comes with pre-made website templates and themes categorized by industry, allowing you to find the website that meets your needs faster.
Additionally, Renderforest is a one-stop shop for any other design element you may need.
Want a high-quality logo for your company? Browse through Renderforest's logo maker library and let advanced AI give you the versions that suit you the best.
Need video content to liven your website? Create any video – animations, explainers, music explainers, and more, in minutes!
Not just a website builder; Renderforest gives you every tool to create stunning content for your digital storefront quickly. Everything is available to you with easy drag-and-drop and templated designs – no need to code or design anything from scratch.
Ready-to-Use Website Templates
What about ready website layouts with smooth navigation and all the essential elements for your industry? Renderforest constantly updates its sizeable library of website templates with the latest design trends and SEO optimization.
All you need with the templates is to customize pages, text, colors, styles, and any website elements with a few clicks. Turning templates into a completely personalized website will take up to a few hours – based on how much you want to customize.
SEO Optimization Capabilities
Renderforest's free plan lets you connect your portfolio website to the SEMrush keyword tool. With this at hand, you can choose the keywords for your website's content and boost your site's discoverability.
You can also connect Google Analytics, Google Tag Manager, and other integrations continuously updating on this website builder.
Head to Menu > Settings > Marketing Integrations to add the necessary tools.
Seamless Web Hosting Setup
When new to website building, setting up hosting might seem like an impenetrable technical wall. With Renderforest, you don't need to worry about hosting setup and all the related maintenance.
Renderforest free websites are hosted on its cloud servers – you get a free subdomain and SSL certificate in seconds. Whenever you need to continue with your chosen custom domain, no problem! Just purchase and change your domain from your Renderforest account. A freshly registered domain will take up to 48 hours to activate and go live with no technical expertise required.
Integration with Third-Party Tools and Plugins
Lastly, if you need to provide your audience with a quick way to contact you, use Renderforest's widgets. Add any of your social media channels to your website to let your customers stay in touch with you.
Overall, Renderforest is one of the best alternatives to Wix if you need more advanced design tools and SEO optimization features. Plus, the user interface is simple and intuitive enough for a novice to create their first website in no time.
2. WordPress
WordPress is a time-tested titan of the website-building industry, dominating the market since 2003. Around 43% of websites worldwide are powered by WordPress, with its huge collection of functions, patterns, and layouts, all navigated from a built-in block editor.
Why so popular? Because WordPress is very universal. It can do everything from small business websites to complex enterprise-level ones. The platform seamlessly integrates with many eCommerce plugins and business tools like CRM, ERP solutions, customer support systems, etc. With all those features, you can scale up your website as you wish.
Anyways, a widely-accepted notion is that WordPress can serve you to a certain degree. Usually, if one needs advanced-level control over the website design and content and extreme levels of customization, they refer to custom coding instead of WordPress.
But if you're looking for a beginner-friendly platform to create something truly impressive, WordPress is one of the most popular alternatives to Wix.
3. Webflow
Moving to another Wix alternative – Webflow is a visual canvas to navigate through HTML, CSS, and JavaScript codes. As you drag elements, components, and settings onto the canvas, Webflow generates clean and semantic code in the background. You can later publish your website from Webflow to the Web or export the generated code to an external host.
You can effortlessly customize any website element with Webflow's visual design tools. To play with the website structure, you can drag unstyled HTML elements to your preferred location and turn them into footers, headers, or anything else.
Additionally, you can add rich animations to your website, including multi-step interactions and scroll-based or even timer-based animations, which are all customizable.
Though you can like Webflow as a user-friendly website builder like Wix, you'll face a few technical challenges if you need it for eCommerce. One issue is its main payment gateway is Stripe, which is not accepted in many countries. So, for eCommerce purposes, you should look up other Wix alternatives.
4. CMS Hub
Can HubSpot help you make websites like Wix? Absolutely! Its CMS Hub is a content and customer relationship management platform allowing you to build and manage websites without coding skills.
To put it more simply, CMS is software allowing you to manage all the information on your website, including its content, design, and navigation. Thanks to the website themes built in advance by coders, any non-programmer can use CMS to update websites, modify content, customize it for every visitor, and track the performance of every page.
Where is CMS Hub better than Wix? There are a few advantages that make HubSpot stand out.
Firstly, website migration is fine for HubSpot with its experienced re-platforming team, advanced support, and website migration service providers globally.
Secondly, there is a free blog maker that helps you publish quality, SEO-friendly content on your website. You can easily add multiple language domains for your blog. Each of them will be optimized for SEO, so users can easily toggle between languages.
A downside? Some claim HubSpot's CRM has a slightly different interface than other CRMs in the niche, and, therefore, it has a steep learning curve. However, this point is highly subjective and should not stop you from trying HubSpot.
5. GoDaddy
Recently, Forbes started recognizing GoDaddy as a website builder like Wix. However, it's initially a well-known domain registration and hosting services provider, which also has a website builder. You can either create your website with WordPress and host it with GoDaddy or choose the platform's builder to design a website from scratch.
It's hard to say where exactly GoDaddy is better than Wix. It can be very suitable for beginners looking for something more basic and less customized. The platform has 100s of industry-specific templates, but they have limited layouts and font options. GoDaddy may not be the ideal solution if you need to build something more unique.
The typical flow of creating a website with GoDaddy is using its InSight – an A.I.-powered advisor that suggests a website design based on your requirements. You can then quickly set up all the hosting and webpage settings, as GoDadd's hosting has industry-leading load times and 99.9% uptime – the essentials for a successful website.
One con with GoDaddy is that it has no website transfer if you initially build your website with its builder.
But, considering its strong hosting, rich customer support, and reasonable pricing – GoDaddy is an ideal option for novices looking to jump-start their online presence.
6. Squarespace
Squarespace is one of the Wix alternatives providing eCommerce owners with the largest opportunities to create a robust website. Though it has 160+ themes and templates for different industries, eCommerce is one of the most popular use cases for the platform.
Squarespace is one of the leading website builders in the eCommerce industry, equipped with relevant features from merchandising to checkout. It integrates with many globally accepted payment gateways, making it a universal platform to sell online.
Moreover, you can also pair your Squarespace Commerce app with your Square account so your offline sales sync with the online inventory. The new stock levels will be automatically updated on your website whenever you accept payments in a physical store.
But here are some downsides to consider.
Though intuitive and user-friendly, Squarespace's editor has many inconveniences that websites like Wix typically don't. For example, there is no autosave, and you must manually save changes between working.
Another con is that every change made on the published website automatically appears on the live version. When doing large updates, that's hardly an ideal situation.
The verdict is that Squarespace is an excellent choice for eCommerce business, but it might not be the most practical website builder in general.
7. Shopify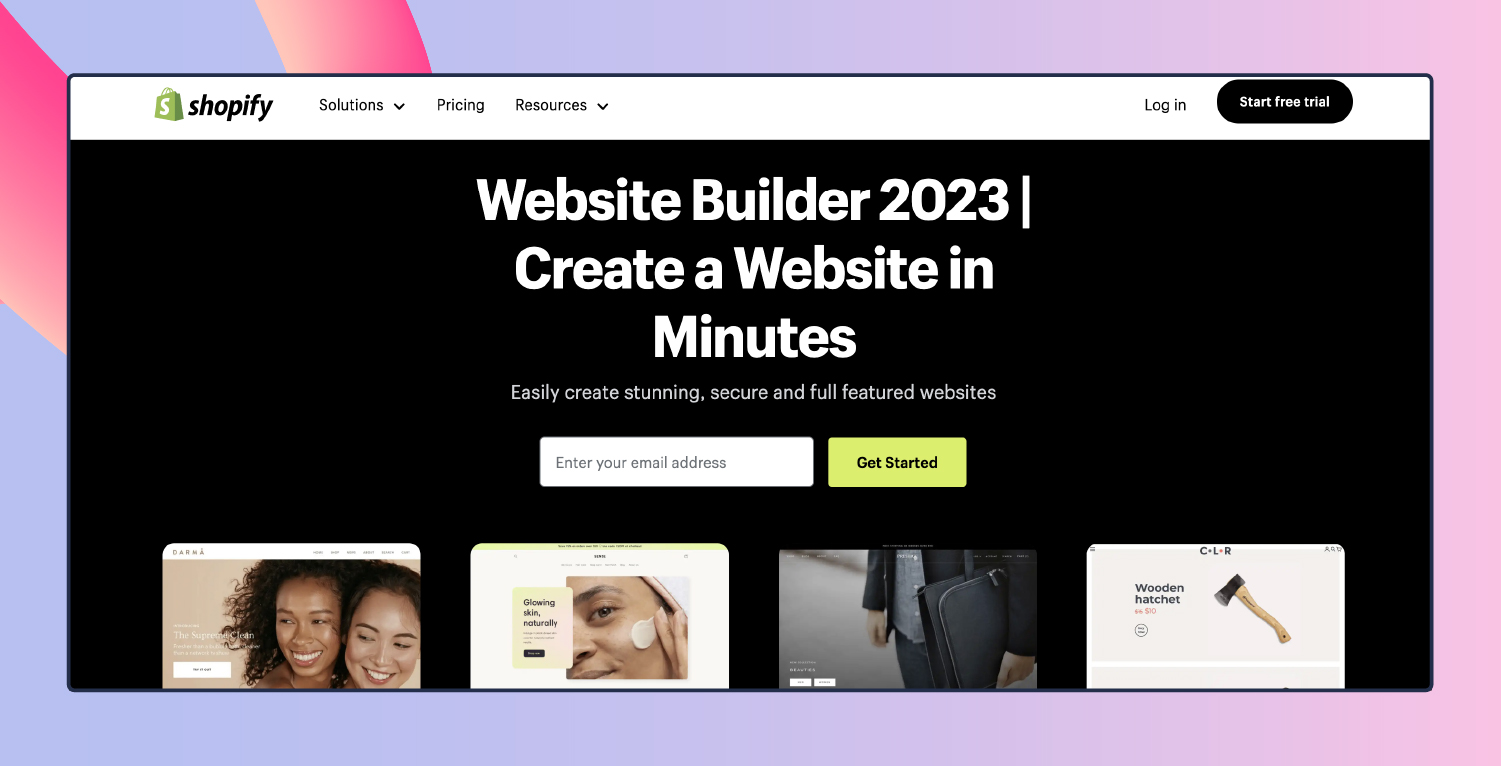 Talking about eCommerce website builders, we move to an industry heavyweight, Shopify – the world's second-largest alternative to Wix, which commands a 27% share of the top million eCommerce sites globally.
If you're looking for a Wix toolset alternative in eCommerce, you can go right with Shopify. Perfectly adapted for multi-platform selling, you can use your Shopify-built website to sell on Facebook, Instagram, Amazon, eBay, and more!
The website builder works with WYSIWYG (what you see is what you get) functionality, which means you see and edit content in a form that will be displayed on different interfaces. This makes website customization more intuitive and visually engaging.
One more point where Shopify is better than Wix is its Level 1 PCI DSS-compliant fraud analysis, which secures all financial transactions on the website.
However, even Shopify has its chinks in the armor. It's quite an app-reliant platform where you must purchase, install and delete apps according to your needs. Shopify has very few built-in features and mostly powers its users with advanced features by integrating around 8,000 apps.
Lastly, be aware of the high transaction fees you may experience using payment gateways other than Shopify Payments. Though it allows you to choose from around 100 payment gateways, with most of them, it can charge you extra than if you use the company's own payment option.
8. Bluehost
You can refer to this Wix alternative as a platform that simplifies WordPress. Maybe it wouldn't be correct to say that Bluehost is a website builder like Wix because it's a hosting provider that can help you build websites with WordPress.
Bluehost integrates with WordPress, after which you create a website inside Bluehost website builder and further customize it to WordPress. "Why not do it in WordPress directly?" – you might ask.
Firstly, Bluehost is a quick, modular builder that provides you with flexibility when editing a website. Secondly, Bluehost offers powerful hosting with strong security and major website-building tools.
You should note that websites created in Bluehost website builder can be edited in WordPress, but the vice-versa isn't true.
Another drawback is Bluehost doesn't allow for advanced image editing. Though you can upload photos, logos, and stock images, you can't edit them except for some basic settings like resizing, adding alt. tags, etc.
9. Weebly
Moving to other Wix competitors, Weebly has become a member of Square's product suite, providing strong support to eCommerce sellers. Generally, Weebly has quite limited website themes, around 50 broadly categorized ones. So, your first choice when starting a website development on Weebly is deciding whether you will sell something. Depending on your choice, you'll either be presented with eCommerce templates or others such as Business, Blog, Portfolio, etc.
Weebly is better than Wix in its ability to customize themes for the live website. But the drawback is it has fewer website theme customization options and features than Wix.
If you're interested in website analytics, Weebly can be a good Wix alternative. Even its free users have some access to site activity, such as seeing page views, unique visitors per day, upgraded accounts, etc.
We also love that you can easily take your Weebly-built website to any other hosting. The platform lets you download your site as a ZIP archive which contains all your HTML codes. You can then easily transfer this archive to any other hosting platform besides some interactive features.
Summing up, Weebly is pretty good in everything except when you need advanced customization options. In such cases, using Wix might be a better choice.
10. Google Sites
What about looking for Wix alternatives in Google's products? Google Sites is one of the little-known websites like Wix, which you can use to create some simple websites. The word simple is really the key here. While it's perfect for making product presentations, portfolio websites, and company intranets, Google Sites isn't a good choice if you plan to create a professional blog or eCommerce site.
You can still do it, but you need to spend more effort as Google Sites doesn't have many built-in tools. For example, if you want to create a blog website, you can make it with a tool like Blogger and then link it to Google Sites.
What's great here is, of course, advanced collaborative features. Just like you share controls, permissions, and ownership in Drive and Docs, you can co-edit a website with your team and collaborate on its content in real-time.
We recommend trying this Wix alternative if you're a novice and don't need a too complex website design. As for more professional solutions, you should consider other options.
11. HostGator
HostGator has many features that can serve you well as a Wix toolset alternative. This friendly DIY website builder has 150+ mobile-optimized templates for any industry. In addition, you can use over 2 million free stock images and easily embed videos from YouTube or Vimeo if needed.
If you want to enrich your website with some interactive elements to engage visitors, you can do it, too. HostGator offers many widgets, such as social media buttons, maps, and more.
You can reuse your social media content on your website by embedding social feeds and activating customer-sharing features. This easy-to-use functionality will liven up your website and increase its visibility.
Moving further, you can embed and edit Google Maps, create contact forms, and add polls to your website. That's especially useful for business owners who use their website as an online shop or a marketplace.
What about the downsides? There are few. First of all, there is no free version of HostGator. The most affordable plan – Website, will cost you $4.95/mo and give you basic features – access to templates + free domain, private domain registration and SSL. If you want more advanced features, you should pay for each separately.
Also, the app store of HostGator could be richer, which might restrict you from adding some interactive elements to your website.
Overall, HostGator is easy-to-use with its appealing editor dashboard. You should test its plans to determine if this is the website builder you're looking for.
12. Pixpa
Hey, creatives! If you're a photographer, artist, designer, or freelancer wanting to showcase your work and sell it online, Pixpa is the right Wix alternative.
Pixpa is less broad-featured than Wix. It's better than Wix only if you need it for a specific goal – build a creative portfolio and share your artwork with potential clients for sale. So, no industry-specific templates or universal usage for this website builder.
What can you do with Pixpa? Thanks to integrated payment gateways, you can sell your products, services, or digital files and get paid directly with zero fees. There is a simple corporate checkout if you need to invoice your clients.
It's best for photographers who can sell images as prints and downloads with eCommerce-enabled galleries. Check your Pixpa's storage plan limit to determine how many photos you can add to your gallery.
However, be careful with the image qualities you upload for sales. Pixpa compresses any image you upload to 75%, so we recommend setting your images to 100% and optimizing them in advance. This way, you'll get much better quality and have more chances to sell.
13. BigCommerce
Here's a great alternative to Wix if you're looking for eCommerce features. BigCommerce has responsive e-commerce-specific templates with a mobile-optimized checkout. It natively integrates with Apple Pay and PayPal, which makes payments convenient and fast.
Equipped with modern development tools like Sass and Webpack, BigCommerce allows you to use your live catalog, test or make changes, preview how your eCommerce website looks on desktop, mobile, tablet, and more!
Additionally, it has an abandoned cart server (reminding your customers what they previously preferred to buy), acceptance of payments in 100+ currencies, gift wrapping, customer membership, and other sweet features for the eCommerce store.
Some users say its interface is rather complex, and you should be familiar with HTML, CSS, and JavaScript to manage the website. It's fair to mention that many others rate it as an intuitive and friendly builder. Most probably, it depends on whether you have previously used e-commerce solutions or not.
14. Adobe Dreamweaver
Adobe Dreamweaver is not one of the direct Wix competitors, as it's not a classic website builder but a powerful code editor that simplifies website coding with special hints. If you've never dealt with HTML and are unfamiliar even with the basics of it, you'd better skip Dreamweaver and go for a simpler solution.
It still has some templates, but they are unlike those you can find in Wix. Basic customization of templates won't work here. With the split view, you must play with HTML and CSS codes to change the elements and modify the layout.
With its usage convenience, Dreamweaver stands between intuitive dram builders and complicated traditional programming. You still need to code, but there are code hints that make your work a lot easier. For example, you need to insert an image, start typing the basic code, and Dreamweaver will fill in the rest.
Also, whenever you want to customize any text on the website, you can highlight it on the template and automatically see it in the code. The same works in reverse – you can highlight the code and see the website element it refers to.
15. SeedProd
Closing the list of Wix alternatives, SeedProd is not a classic website builder, either. It's a WordPress website builder plugin that allows you to create custom WordPress themes and page layouts without coding.
All the editing magic takes place inside WordPress. There are 80+ built-in blocks to display any static or dynamic content. Without coding, you can create headers, footers, sidebars, archives, and even WooCommerce pages. There are default Coming Soon, Maintenance, and 404 Pages you can enable when needed.
Generally, SeedProd reviews are positive, with users citing it as one of WordPress's best drag-and-drop theme builders. It's convenient if you already have a WordPress website and don't want to migrate but need to customize it above the basic level.
Final Considerations
The market is flooded with Wix alternatives – at different ease-of-use levels and for different types of websites. If you've decided to migrate from Wix to a competitor, determine which gaps you need to fill first. This will help you better filter the potential website builder candidates.
If there are no special needs and you just want to give a try to a fresh website builder, try Renderforest. With one of the most comprehensive feature sets on the market focused on website building and designing any other digital content, you are sure to get all the features you need.
In addition to a super-friendly website editor that allows you to customize pretty much everything other Wix competitors have, Renderforest offers hundreds of high-quality templates for creating logos, presentations, and other types of digital content.
So, whenever your website needs a refresh, or you need to create some extra digital content, Renderforest is the way to go. Try it out now!