Did you know that there are more than 20 million E-commerce stores on the Internet around the world? Owning an online store seems to be fun and profitable, if you're ready to face your competition, of course.
One of the biggest challenges you may face is finding customers and increasing sales. So, it's essential to have a great promotional idea up your sleeve.
One of the most effective ways that work for almost any business is an outstanding promotional video. Nowadays, you can create your promo video without having any technical or design skills.
Take full control over the growth of your online store with a good promotion. All you need to do is to find the right video maker tool and start your video making journey.
With Renderforest, it'll take you a couple of minutes to create a professional promo for your online store. Pick a customizable template and start creating.
Check out the video below, created with one of our ready-made templates.
If you want to create a similar video and promote your online store or boutique, you first need to sign up or sign in to your Renderforest account.
Next, click on "Create video" from the navigation menu. In the "Animation videos" subsection you will find the "Production or service promotion" category, where our collection of promo templates and scenes are. Here you also have the option to find exactly what you need with the help of our advanced filters.
Choose the animated template you like and click "Create now" to start. We've selected the "Fragmented Transitions Slideshow" template for our video.
Here you are offered two options: either add scenes manually and create a completely new project or use our ready-made presets.
The ready-made presets help you create a video faster and easier. If you decide to use one of them, click on "Load a preset" and give it a try.
The video above was created with our "Online Boutique Promotion" preset. Find the most relevant preset for your video, then customize it with your media files, text, and preferred music track.
To create a new project, you need to click on "Add scene", select all the necessary scenes manually and "Insert" them. This template offers four scene categories: image holders, video holders, text holders, and logo animations.
On your timeline edit your scenes if necessary by moving, replacing, or deleting them, as well as adding some new ones in between.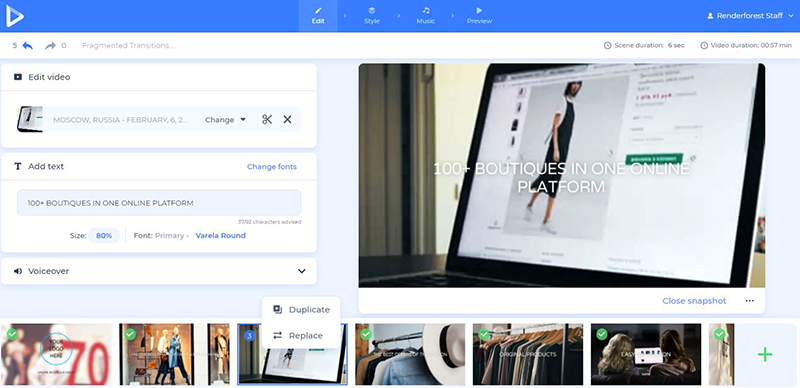 There are several ways for you to add the image and video files: via image/video URL, via your device, or by selecting an already uploaded file from your "Media library".
If you don't have a photo or video suitable for a scene, you can always choose one from the "Stock footage" or "Stock image" library. There are more than 200.000 videos and images ready for you to use. Type some relevant keywords or phrases to find the best match.
After selecting a media file, click "Insert" to confirm.
After you add your image, make sure it matches the frame size of the image holder by cropping and resizing it on the spot.
There is also an option for you to trim and mute the added videos right in the editor.
Add your information to the text holder scenes by clicking on them and typing in your text. Don't forget to click "Save and close" to save the changes.
If you have a logo, then add it to the logo holder scene as well, and if you don't, you can create one right on the spot, by selecting the "Create logo" option.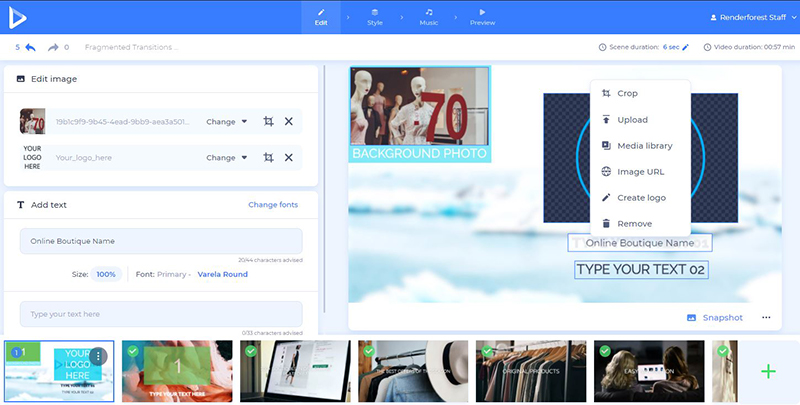 In the "Style" section choose the primary and the secondary fonts for your video. Click "Generate" to see the new fonts on your scenes before moving on.
Now it's time to choose a music track for your promo video. Choose one from our music library or upload one from your device.
Besides the music track, there's also an option for you to record or upload a voiceover.
You are almost finished editing your video. All you need to do is go to the "Preview" section and click on "Free preview" to see the final result of your video. Your video will be ready in a couple of minutes.
The video will automatically be saved in the "My videos" section from the top drop-down menu. Feel free to edit your projects whenever you want by clicking on the "Edit" button.
There are several options for you to download your creation. The first one is the free option, with which you can download your video with SD360 quality and a watermark.
And with the "High quality" option you will be able to choose one of our paid subscription plans. See all the details of our pricing here.
Create a captivating promo for your online store now to increase your sales and leave a great impression. Click the button below to start: