Having your personal brand is incredibly freeing. But, as always, with great freedom comes great responsibility. The burden of promoting your products or services rests entirely on you if you're operating a one-person company. 
So, how to make your brand easily discoverable? You can leverage various social media platforms to spread the word about your personal brand. But once people discover you, they'll want to get a closer look at what you do and how you do it. That's exactly what personal website templates are for. 
Your personal website serves as an online CV or portfolio, where your clients can learn credible information about your business and get to know your works. Not a web designer? Don't worry, as Renderforest offers ready-made personal website templates to set up your web pages with no fuss or headache. 
The website templates are divided into separate categories. To create your personal website, go to — you guessed it — the personal category. Here you'll find diverse personal website templates, all built by professional web designers. 
Are you excited to tour through the templates? So are we! Let's jump in.
Personal Portfolio Templates

CV Templates

Individual Services Templates
Personal Portfolio Templates
This personal portfolio template is ideal for up-and-coming as well as experienced photographers. Right under the header, you have space to add a few words about yourself and show some of your best portraits. Embed a few testimonials if you'd like; otherwise, delete the section or replace it with anything you wish.
This fine website template is perfectly suited for artists, designers, and other creatives. Edit the text boxes and insert your pictures to make this personal portfolio your own. Feel free to adjust and tweak the colors, fonts, and other details until everything looks perfect in your eyes.
Are you a photographer or a graphic designer looking to create a website for your digital art? Then you're going to love this portfolio template! Present your brand with style and professionalism by just editing this website template. Alter the text, upload your images and CV, and don't forget to leave your contact details.
Build an online presence for your personal brand using this fashionable website template. Add your logo and brand colors to give your web page an authentic feel. Modify the "Get to know me" and "Current projects" segments, leaving your contact info at the end of the page.
CV Templates
Are you a UI/UX designer? Then this is just the right template for you! Show off your recent projects, talk about your education, experience, and anything else you see fit. Change the fonts, colors, and other elements, harmonizing them with your unique style.
Use this ready-made website template to build an online CV within seconds, saving your time to focus on other projects. Type in your bio, programming skills, and work experience. Edit and customize each section with ease. Change the color palette if needed.
Gather your best web designs in one place, creating your professional web designer CV.  Briefly introduce yourself and the work you do, proceeding to your skills and experience. For a step-by-step guide on how to personalize this template, check out our article.
Want to step up your career as a writer or editor? Start with a professional online CV! This website template is easy to customize and requires no web design skills. Click on any text box to modify its content and don't forget to attach your most recent writings.
Individual Services Templates
Who doesn't love working out in the comfort of their homes? Share your home training workouts and reach out to fitness lovers with a personal website. Display your workout schedule and provide a link to invite your guests to join your online community.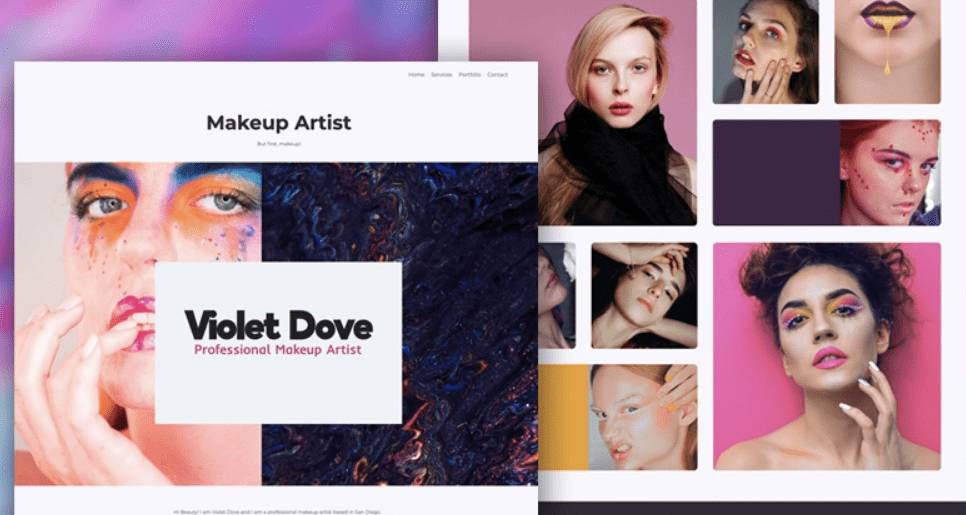 Whether you're a skilled makeup artist or sell cosmetic products, this website design will suit you. The template has a designated space for a bio, where you can briefly introduce yourself and your brand. Right below the bio, you can list your services and showcase your works. The colors and styles are modifiable, so you can easily adjust them to your liking.
This website design is specialized for personal trainers, athletes, gyms, and anything fitness-related. Use the "About Me" section to talk about yourself and the benefits you offer. The "Appointment" section will make it easy for your clients to book a session with you. Easily delete or add any component you wish.
As an independent artist, it's crucial to present your works in a professional and organized manner. Build a stunning musical website with this ready-to-go template. Add your logo, bio, music tracks, and anything else you deem necessary.
Let your photos shine more vividly on a dark-themed background, creating a pictorial contrast. Build an online gallery with your best footage and leave your contact details for those who fall in love with your photography. Adjust the template to you by deleting or adding any section or component you want.
Final Words
There you have it! Enjoy the simple and comfortable process of building your personal website with these templates. List your key skills in your CV and share your knowledge with people in need of your services.
Don't forget to explore trending website color schemes to discover the one that perfectly completes the visual style of your personal website. 
Browse the personal website templates to find yours today!