Did you ever need to put your products on display but lacked the time or the budget to hire a professional photographer? Or maybe you wanted to announce the upcoming release of your book without yet having it in print. In both cases, mockups would come to your rescue.
Mockups are visual models that give people an idea of how a product looks in real life. They can be used for many different purposes: to increase brand awareness, to promote your products, or simply to display them in a realistic setting. Using mockup templates can save you lots of time and money, which you would otherwise spend on professional product photography and design services. 
Now that you know what mockups are and what they are used for, let's see how to generate mockups with Renderforest. First, you'll need to create an account or sign in if you already have one. Once you are logged in, go to the Edit Mockup section.

On the left, you will see a search bar. Use it to do a quick search of the mockup you need. Type one or two relevant keywords and browse through the results until you come across a design you like. 
The blue toolbar at the top can help you find the right mockup as well. All you need to do is click on the preferred category and look through the available designs. Let's see what types of mockups you will find in each category.
Apparel Mockups
First on the list are apparel mockups. You can use them to display your brand's clothing in an appealing light without resorting to costly photo sessions. Here, you will find mockup packs of T-shirts, hoodies, tank tops, bags, as well as logo-featuring labels. 
Find the ones that suit your target demographic. There are mockups for women's, men's, children's, and teen's clothing. Some of them are photographs taken in a studio, others are taken outdoors and look more casual, but all of them are guaranteed to display your garments in the best light.
Device Mockups
The next category includes mockup packs with electronic devices: smartphones, PCs, laptops and tablets. They are the best choice for promoting electronics and software with stunning visuals. You could also use them to present your website or social media page by uploading the relevant screenshots to the photo holders. 
Whatever your product or target audience, the high-end visuals are sure to leave no one indifferent. 
Branding Mockups
If your goal is to increase your brand's visibility, branding mockup packs are simply indispensable. Do you want your logo imprinted in the minds of customers? Then, logo mockups are the way to go. They allow you to capture your brand's signature icon on a variety of textured surfaces without taking pains to actually print it. 
This category also includes billboard mockups, as well as stationary and other items that can hold your brand's logo. In short, it provides many designs for increasing brand recognition on social media and beyond.
Product Mockups
Is it possible to sidestep expensive product photography and still do successful branding? Absolutely! With product mockups, a unique and efficient solution is now available to you. This ever-expanding category of mockups includes beverages, cosmetic products, mugs, packaging, and more. 
All you need to do is upload your product's custom design, and the mockup maker will generate a photorealistic image featuring your product.
Printing Mockups
In this category, you will find everything related to printing: hardcover and paperback books, magazines, documents, flyers, business cards, posters, frames, and more. Make book release announcements, promote the latest issue of your magazine, or simply provide sneak peeks of a journal. 
Straightforward and easy to use, these mockups pose only one question: which one to choose from their wide variety. The answer depends on your specific goal. You can make your products pop by using a clean background, or you can accentuate their uniqueness with cosmic designs. But, if your goal is to create a sense of immediacy, it's preferable to choose realistic settings.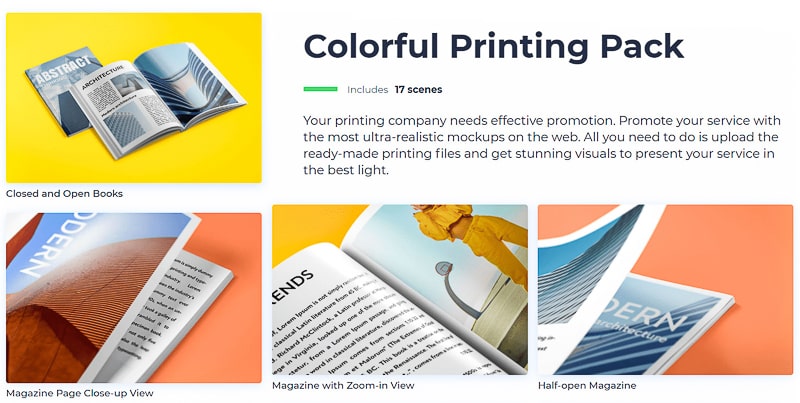 Interior Mockups
Items of interior design are best promoted as part of a whole. Instead of showing separate samples of wallpaper, flooring materials or carpets, it's better to display them in a cozy interior. After all, nice and comfortable interior design is what customers are looking for as an end result. 
To show how your products will integrate with the overall look, you need actual photos. They need to be professional and of high quality, so as to highlight the visual appeal of your products. For the photosession to be a success, the overall interior has to be attractive and neat as well. 
But, ticking all these boxes is not always possible, whether for technical or budgetary reasons. This is when mockups come to your help. By uploading the texture or patterning of your material, you get polished images of your products in the interior of your choice.
Interior mockups are also perfect for artists looking to promote their original artworks or prints. Almost all the mockups have editable frames, which can be used to display your work.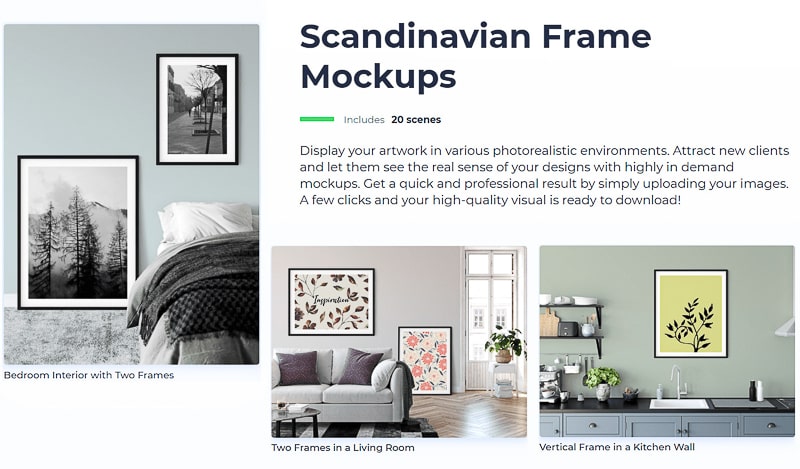 How to Create a Mockup?
Pick a Mockup Template

Now that you are familiar with all the categories, it's time to find a mockup pack that will satisfy your needs. Each pack includes several designs, which are similar in style, and yet provide you with enough variety to choose from.
Every mockup template has certain items that are customizable. To find out which exactly can be edited, and which cannot, hover your mouse over the mockups. Those that can be customized will shift to the default setting.
Once you have chosen the pack and the specific mockup you would like to edit, click on it, and you will be taken to the editor.
Here we are in the editor! If at any point you decide to change the mockup template for another one, you can do so using the right-hand bar of the editor. First expand it by clicking the arrow in the middle, and browse through the other templates of the pack.
At the very bottom of this sidebar you will find a suggestions box. Here you can tell us the kind of mockups you'd like to see at Renderforest in the future.
Customize Your Mockup
The interior mockup we have chosen has two customizable items: the image inside the frame and the color of the wall. You can edit these using the sidebar in the top-left corner. 
To add an image, click on the "Upload" button and choose "Upload file". If you'd like to import your image from Dropbox, Google Drive, or Facebook, you can do so by going to the "Media Library" instead and clicking on the relevant icon in the upper-left corner.
Photo by Jan Kopřiva on Unsplash
You can crop the image by zooming in with the slider, and then adjusting its position within the frame. Use the "Fit" button if you want your image to fully appear inside the frame, without any part being cropped out. Alternatively, use the "Fill" button to get rid of the empty borders. Click "Apply" to save the changes.
Now, it's time to paint the walls! To do so, click on the small square in the color section. You can choose one of the colors from the default palette or find a custom color yourself. Move the slider along the hue range and pick a shade you like.
Feel free to experiment and see which color suits your mockup best. Your latest choices will be saved in the section "My colors", so that you don't lose them while trying new looks. Remember to match the color with your image as well. A smart color choice can further enhance the artwork on the wall, helping you to achieve an impressive final look.
Download Your Mockup
That's it! Your mockup is ready to be downloaded. You can get the watermarked version for free, but if you'd like to remove the watermark you need to choose one of the paid options. Either make a single purchase or subscribe to any of our plans.
The mockups you purchase are saved on your profile, so you can always access them later on. To find them, expand the dropdown menu next to your profile name and click on "My mockups".
Are you ready to create your own mockups? Let our gallery inspire you and open you up to new branding horizons. Start creating now by clicking the button below.