The community of Powtoon users praises the platform for the video-making magic it enables; users create professional-looking videos without prior knowledge of video editing.
Meantime, by exploring the platform inside-out, some users pinpoint certain drawbacks in the platform, such as:
Difficult interface

, due to which novice users need to invest extra time and effort to navigate through the functionalities

The slow system work

when making or exporting a long video

The lack of variety in characters

which in turn affects the originality of the video, etc.
Explore the user reviews of Powtoon in more detail. 
So, if you're a Pawtoon user or looking for a similar platform for creating professional-looking videos that cover the above-mentioned drawbacks, you should consider the following 8 Pawtoon alternatives.
Pros
Ease of use and setup

A wide choice of video types is available – animated videos, video presentations, music visualizers, etc.

AI-powered feature to turn a text script into a video project

High-quality video output

Availability of many free video scenes
Cons
No customization options for characters (skin color, hair color, etc.)

No speech to text
Pricing
Free: $0.00/mo – Mostly designed for HD720 content
Lite: $9.99/mo – For promotional and explainer videos, presentations and graphics
Pro: $19.99/mo – The highest quality videos and graphics, professional websites
Business: $29.99/mo – Advanced-level solutions for the whole team
General Overview
Renderforest combines all the design tools in one place to help you create slideshows, promotional videos, explainer animations, logo reveals, graphics, etc. The product's key benefit is a large library of design templates that can be customized and adapted to different projects. You can find design templates for almost any occasion or purpose – from holidays and special events to business, education, and entertainment.
One has plenty of opportunities to create animated videos in Renderforest:
Explainer animations

Product or service promotions

Food and hospitality videos

Typography

Holidays, etc.
To create an animated video, choose your preferred video template, preview it to see how it looks, and press "Create Now" to customize it to fit your project. Add text, visuals, logo, music, and other elements to make your video unique. 
Many templates include premium scenes with rich icons, music, and animation that you can use after upgrading your account. However, this does not mean you can't make a professional-looking video with the free plan; there are also free scenes that can be enough for your high-quality video, depending on your project's needs.
The editing dashboard is very intuitive, with a convenient drag-and-drop functionality. You can simply move elements on the timeline and adjust them to fit your video. You can also animate elements with keyframes, add transitions and make other necessary changes.
AI-Powered Suggestions 
If you have a general idea for your video project but are unsure about the design details, use Renderforest's AI-powered suggestions to get instant help.
As simple as that, type your video script inside the AI suggestion box and the system will suggest relevant visual elements, background music and design templates that match your project. 
You can then slightly customize the automatically generated scenes to get the desired result.
Get a more detailed video guide on how to use Renderforest's video editing tool below:
Pros
Integrations for seamlessly transferring the created content from one platform to another

Many multimedia elements, such as characters, images, music
Cons
Only five downloads in the basic bundle

The interface needs improvement to become more intuitive
Pricing
Basic: $10/mo – Limited plan with 5 monthly downloads and video length of up to 5 minutes
Starter: $19/mo – Video length up to 15 minutes and 10 monthly downloads
Pro: $49/mo – Increased capacity for videos and downloads for the optimal monthly usage
Enterprise: Custom plan
General Overview
Animaker offers you a wide collection of tools to create animation videos. Similar to Renderforest, you can choose from the premade video templates and customize them. You can also create your custom characters and animate them in one click.
Once your custom character is created, you can record voiceovers with Animaker's Advanced TTS app. It allows you to convert your text to speech and sync with the video.
The platform allows you to match the voiceover to the character's lip movement automatically – so there is no need to spend extra effort to make them sync. You can also enrich your video with visuals, music, sound effects and other elements from the media library.
Once your video animation is ready, you can export it or share it in your preferred social media account from Animaker's dashboard.
Pros
A dedicated section for e-commerce videos

Convenient audio recording feature inside the software

High-quality voice to text to voice feature

No limit on video length

Opportunity to connect to news streams
Cons
The editing process starts to slow down when the video length exceeds 5 minutes

Fewer templates compared to other video-making tools
Pricing (for individual subscriptions)
Pro: $99/mo – For budding creators with AI (GBT) video generation
Max: $199/mo – For maximum creative freedom with automated subtitles and screen recording
Enterprise: Custom plan
General Overview
Moovly has a specially dedicated section for e-commerce business owners who can create videos for Amazon and BigCommerce. Such a specialized section offers online store owners the opportunity to develop and customize videos for their own clients' needs.
It also automatically generates videos from the company's CRM or any other marketing automation tool. Simply stated, Moovly can create videos for every lead from your contact list, which simplifies the mass personalized videos or product videos significantly.
Finally, Moovly can be connected to news streams and RSS feeds to automatically create videos when new content is posted.
Pros
Specialized in employee training, suitable for businesses

Special templates for different organization departments like marketing, sales, etc.
Cons
Weak file management, everything uploaded is in one single folder

File upload limit
Pricing (for individual subscriptions)
Essential: $25/mo – Videos with the Vyond logo imprinted in the bottom left corner
Premium: $54/mo – A single-user plan with quality exports 
Enterprise: Custom plan
General Overview
Vyond is specialized in corporate videos for employee training and education. It offers a vast library of ready-made content like characters, props, sound effects and visuals to create educational videos easily. The platform also provides specialized templates for different organization departments like marketing, sales, IT, HR and more.
So, if you're looking for an employee training content tool, that's one of the best options. However, Vyond might be lacking in some areas for more general-purpose video creation.
Vyond allows its users to upload content for the videos, which is great, considering companies usually need to include a lot of specific content. However, certain drawbacks here come up with its file management. Everything uploaded is stored in a single folder, and an upload limit can be uncomfortable if you need to upload a lot of content.
Pros
The wide availability of design templates – video, photo, and more

Easy editing, user-friendly interface

24/7 customer support

Availability of many premium photos and videos
Cons
No free subscription

Customization features are fewer compared to some other platforms
Pricing 
Basic: $59/mo – Unlimited videos and up to 3 premium clips a month
Standard: $119/mo – Unlimited video clips and a new editorial media
Pro: $399/mo – Reseller rights and white-label sharing
General Overview
Promo has a wide collection of premade video clips that cover almost every world event or social media trend. It allows you to customize video outputs easily and offers an extensive library of design templates from photo, text, audio, GIFs, and more.
The interface is also quite user-friendly. However, the customization features are fewer compared to some other platforms. Some users claim that Promo is good if there are no specific customization needs. But once you want to adjust many video elements to the branding and company style, there is a need for more advanced tools.
Promo also has 24/7 customer support which is great if you are stuck on a project or have technical challenges. It also provides 100M premium photos and videos from Getty Images and iStock, which is great for unique and quality visuals.

Pros
Simple to use with an intuitive interface

An advanced tool for those who prefer whiteboard animation
Cons
Slow rendering for longer videos (more than 2 minutes)

No MP4 format export
Pricing 
Monthly plan: $42/mo – See more details on the website
General Overview
Though VideoScribe offers animated videos, GIFs, and different categories of business and promotional video templates, most users are attracted by its whiteboard animation feature. 
The platform is fast and simple to use, and many users praise the tool for its user-friendly interface, making it attractive for complete novices.
The platform allows to create long videos; however, content that is longer than 2 minutes take a long time to render. So this might not be the best solution if you need to quickly create short videos for campaigns and promotions.
Also, the MP4 export format is not available, which means you can't upload videos to many video hosting platforms. Some users find an alternative solution of screen recording to export into MP4 format.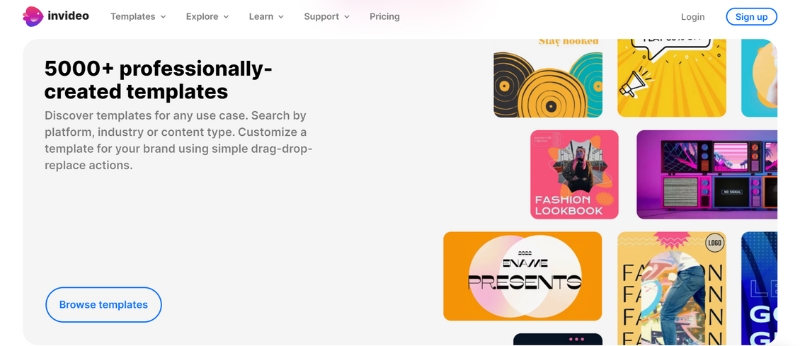 Pros
Rich catalog of 5,000+ video templates for any occasion

Premium images and footage from Shutterstock and iStock
Cons
No save function for used images or other visual content

No search bar in the templates section
Pricing 
Free: $0/mo – Limited to 40 minutes video duration
Business: $15/mo – Watermark-free videos and 20 remove background opportunities a month
Unlimited: $30/mo – 120 iStock media a month and 40 remove background opportunities
General Overview
Invideo provides 5,000+ video templates for any occasion, making it easy to create quality content quickly. It also provides premium images and footage from Shutterstock and iStock, which adds to the quality of videos created. However, there is no option to save the stock image you have previously searched for and used, which might require you to search for the same content again later.
The interface is quite user-friendly and easy to use. It provides options like fonts, colors, elements, and transitions, which help quickly customize a video.
Video templates are categorized and presented on the left side. However, there is no search bar for templates which might make it difficult to find the specific template which you are looking for.
Pros
Minimalistic and intuitive interface

Many video editing tools are available such as resize, crop, meme maker, etc.
Cons
Pricing 
Monthly plan: $9/mo – See more details on the website
General Overview
Clideo does not provide any professional video templates like many other platforms. But, it offers a range of tools to help you professionally edit your videos with minimal effort. The platform has a minimalistic and intuitive interface that makes it easy to use even by beginners.
This video-making tool is perfect for refining the added media, resizing, cutting and merging, adding subtitles, or turning your video content into an image or GIF. It also provides meme makers and other tools for creating unique content.
Even though Clideo does not provide video templates, it has many tools which help you quickly create original and engaging videos with minimum effort. If you're more of a do-it-yourself person, then Clideo might be a perfect choice.
To Wrap Up
If video content is a major part of your marketing strategy, and you're looking for a video creation platform to make original and engaging videos quickly, then this list of the 8 best Powtoon alternatives are enough to get you started.
From the classic drag-and-drop video builders to more advanced whiteboard animation platforms, there's something for everyone on this list. So we recommend you start exploring the platforms right away and decide which one best suits your needs.
Recommended Reading
---
---