More than 18 million users worldwide love Animaker for its extensive set of features.
It lets you create animated and live-action videos with 4K resolution
The Pickmaker toolbox helps you create stunning visuals for social media
There are human-like voiceovers to add realistic sound to all your content
Moreover, Steve.ai AI assistant generates videos from the text with no extra input
Meanwhile, there is a common complaint of Animaker's frequent glitches and frozen screens, which frustrate content enthusiasts in the middle of the inspired creative process. Many users report that even switching devices from less powerful computers to high-performance laptops doesn't improve the situation.
That's why here we present you with 10 awesome Animaker alternatives that match Animaker's feature set and have been rigorously tested to provide a smoother and more reliable technical experience.

Ditching Animaker? Here Are 10 Animaker Alternatives to Consider
As Animaker is a multi-functional platform that spans beyond video creation to many types of content, our chosen alternatives fit the same diverse criteria.
Some of them are focused on specific types of content more than others – such as infographics or presentations, but all of them offer different features that expand the usual Animaker's functional guidelines.
The below tools are your all-in-one hubs for creating videos, editing graphics, designing websites, and more.
And most importantly, we cherry-picked them for their intuitive user interfaces and reliable tech support so that you can stay focused on the creative part of the process instead of dealing with technical difficulties.
Note! There still may be users that complain of glitches of the below Animaker alternatives, but our monitoring showed that their overall performance is way more satisfying than Animaker's.
1. Renderforest
Features You Will Love
There are studio-quality video templates handcrafted by professional designers who don't only focus on the visual appeal of the video but on the rules and principles of marketing and storytelling
Wide variety of video templates, including intros, promo videos, animations, explainer videos, and presentations
A powerful video editor helps you edit your uploaded media (e.g., photos, videos, audio) and apply effects
Options to record your voice in the app or use Renderforest's voice-over assistant to customize its language, gender, accent, speed, etc
Rich stock footage and licensed audio tracks that help you make your video look even more professional
Pricing
There is a Free plan allowing you to create HD720 videos but with a limited amount of stock footage and images

The Lite plan ($9.99/mo) unlocks unlimited HD720 videos, full access to 1M+ premium video scenes, stock footage, images, and music
With Pro ($19.99/mo) you can create unlimited HD1080 videos and a full catalog (5M+) of music and photos
Lastly, the Business plan ($29.99/mo) offers unlimited 4K videos and custom watermarks.
General Overview
Renderforest is an octopus of services that help you create videos, logos, websites, graphics, mockups, presentations, and more! For each of the mentioned directions, Renderforest has tailored designs that satisfy different media channels' quality and sizing requirements.
All design tools work with the same template/easy customization logic. This means you get ready-to-use templates for any type of content, including large presentation slides and videos, and there is a drag-and-drop editor that allows you to make all the necessary changes to make the design look just the way you want.
Here's the classic editor for most graphics in Renderforest.
You get the font pairings, edit colors and premade styles with one click, add animations to the elements, and play with different backgrounds.
To make templates uniquely yours, you can upload your own brand files, like logos, fonts, and color palettes. You can also insert any image from the library to include in the design.
The same simplified editing process also works for website creation. You get fully functioning website templates for different industries, which you can edit in a few clicks to include the subpages and the content you need.
All website elements are editable from the built-in tools – without coding or design skills required.
Similarly, you can create unique logos with Renderforest, acquiring all the rights to your customized design after purchase. Renderforest's AI logo maker assistant first asks you to provide company information, based on which you get the initial logo concepts.
Further – play with the design, icons and fonts until you fall in love with your logo!
Create Unique Video Animations
Whatever animation style you are looking for, Renderforest has it all. Customizable animated templates are for any purpose – promo videos, typography animations, industry-specific toolkits, independent movie trailers, holiday greetings, event invitations, etc.
Head to the animated video template library with 500+ 2D/3D animations to choose what kind of video you need. Preview video templates and hit the "Create Now!" button to start the editing process.
This Animaker alternative has a user-friendly video editing dashboard with minimum distractions and only the key editing tools included.
You have a timeline at the bottom of the page containing all the scenes of the template pack, which you can add, remove, rearrange, and customize.
You also have the left-side panel with all the elements of your project – audio, video, image, and text files. Whenever you make changes to the video, the real-time preview screen on the right allows you to see how the whole video looks to make the editing process quicker.
Animate Your Explainer Videos in Minutes!
For powerful animated commercials, explainers, and promo videos, Renderforest has a special 3D explainer video toolkit. Enriched with characters of different poses, backgrounds, objects, and accessories, you have over 1000 explainer scenes to choose the most suitable one for your video.
Characters, their geolocation, and movements are all editable, broadening your freedom to customize the design even further.
Additionally, you can include your own video and audio files or use Renderforest's built-in music library with royalty-free tracks for a convenient explainer video creation experience.
If you run out of ideas for which explainer video scene to use, Renderforest has an AI assistant that can automatically generate video suggestions based on your script. You need to insert as many details as possible, such as the style of the video, the purpose, the mood, and the characters.
After that, AI will suggest the most relevant video scenes from the library, which can be a great kickstart to your explainer video creation journey!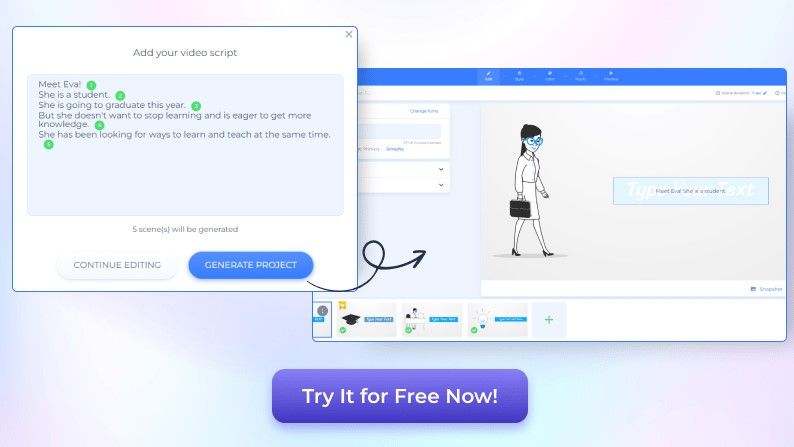 Suggested to Read
---
---
Use the Pre-Made Video Templates
Among alternatives to Animaker, Renderforest stands out with its huge library of pre-made video templates, constantly updated to cover even more industries.
Templates save at least 50% of the time you normally spend on video creation – from ideation to execution.
Here are some highest-rated template packs by Renderforest to start with.
YouTube Intros
The best openers for your viral YouTube videos, these intros range from Clean Line-Style Logo templates that effectively introduce your brand in an elegant way to Realistic and Smashing Glass ones with robust sounds that catch the attention from the first seconds.
Special Event Video
Preparing an award ceremony that should be remembered? Making a wedding announcement that won't leave anyone indifferent? Let Renderforest's special event video templates help you.
Music Visualizations
Make audio and visuals collide for your music videos, new track releases, or podcasts with Renderforest's music visualizer templates. Striped waves, lines and colorful gradients are just a few elements that you can add to your track to enrich it visually.
2. Powtoon
Features You Will Love
Large library of templates

Robust integrations with Canva, Adobe Photoshop, etc.

Custom characters, logos and fonts
Things to Consider
Most robust features are included in the expensive plans

Editor is confusing for new users at first
Pricing
Lite ($15/mo) – 5 premium MP4 exports without a watermark, length up to 10 min.

Professional ($40/mo) – unlimited premium exports, PRO templates, length up to 20 min.

Business ($125/mo) – custom characters, logos, and fonts, length up to 30 min.
General Overview
Videos, whiteboard doodling, animated videos, screen recording, presentations, and custom characters – in the Animaker vs Powtoon battle, the latter allows you to expand your animation abilities even further.
This Animaker alternative has a robust template library, including designs for cartoons, commercials, Facebook & LinkedIn videos, etc. Besides, it comes with built-in tools like screen recording and whiteboard doodling that allow you to create your unique video from scratch.
The Business plan also unlocks custom characters, which is quite a unique feature in the world of Animaker alternatives. And thanks to integrations with top-notch design tools like Canva, PowerPoint, Adobe Photoshop, and more, you will experience no limit in terms of customizability.
Regarding drawbacks, many novice users find the editing interface confusing and hard to use. And even though the Lite plan already offers quite a few features, other robust ones like custom characters or music libraries are included only in the expensive plans. If you want high-quality video output at the lowest budget, Powtoon may not be the best option.
3. Blender
Features You Will Love
Robust 3D modeling features

Newly refreshed simulation nodes, UV packing engine and performance improvements

Free, open-source platform
Things to Consider
Steep learning curve

Slow rendering
Pricing
Free tool

You can donate to the platform with badges costing from $6 to $120 monthly
General Overview
Blender has been a free Animaker alternative since 2002 when the tool's founder adopted the model of open-source software operating thanks to donations. So, though you can download the software for free for Windows, macOS, and Linux, you can also donate with customer badges costing from $6-$120/mo and unlock some advanced features.
The two powerful branches of Blender are 3D modeling and a built-in video editor. Its latest model is 3.6, which comes with simulation nodes, a new UV packing engine, performance improvements in Cycles, and many more!
Blender offers one of the most advanced feature packs, including lens calibration, scene stabilization, proxy render, frame offset, and more!
And it's no surprise that this richness in functionality comes at a cost – rendering takes longer than in many other Animaker alternatives. Also, you should not expect a simple drag-and-drop functionality here. Though the interface is continuously improving to be user-friendly and intuitive, these robust features require some investment in terms of learning.
4. Canva
Features You Will Love
Large library of free elements and design assets

The most renowned name in the design tools

Feature-rich free version

Video editor is simple-to-use
Things to Consider
Best for shorter videos for social media, but not for larger ones

Slow working speed for large projects
Pricing
Free – over 250,000 templates, AI-powered design tools, 5GB of cloud storage

Canva Pro ($119.99/mo) – unlimited access to premium templates, background removal, social media publisher, 24/7 support

Canva for Teams ($300/mo) – Brand Center recommendation, automatic Beat Sync, team reports and statistics
General Overview
Canva is one of the most universal Animaker alternatives. A must-have design tool for almost every professional and non-professional content creator, Canva is pretty multi-functional. You can create from logos, posters, and flyers to more robust slideshow presentations and video materials.
From its numerous use cases, Canva is most suitable for social media content creation. Its premium versions come with Instagram and Facebook presets, so you don't have to trim or resize your content to fit the social network.
However, consider it performs best for short video creations. For larger video editing, it neither has advanced CPU-intensive editing features nor the needed speed for faster workflow.
Tests show it takes around 1:50 minutes to render videos, slightly over two minutes, and around 3:20 minutes for 5-minute video clips. For basic video editing, you'll love Canva's clear and non-cluttered editing dashboard.
Also, though premium plans come with advanced features, the free version offers quite a few of them. From over 250,000 templates to AI-powered design tools and 5GB of cloud storage, you can create content without paying for it!
Finally, its free version is one of the least limited compared to other Animaker alternatives. You can use free Canva for quite a wide range of content creation with over 25,000 templates and AI content creation tools.
5. Animoto
Features You Will Love
Specialized in creating videos and slideshows

Converting images to videos

Saved brand guidelines

Custom font upload

Affordable plans
Things to Consider
No mockup templates or other static designs
Pricing
Free – unlimited videos with limited access to design resources

Basic ($8/mo) – unlimited high-quality HD1080p videos without watermark

Professional ($15/mo) – logo and font upload, 3,000 licensed music tracks, screen recording

Teams ($39/mo) – up to 10 saved brand guidelines, shared team workspace, user and roles management
General Overview
Among Animaker alternatives, Animoto is one of the most narrowly focused platforms. It specializes only in video and slideshow creation, but no static designs exist for social media covers, posts, mockups, etc., like in Renderforest.
The interface is intuitive and friendly for beginners. There are little complaints regarding usability, so you don't have to worry about the learning curve here. Also, the platform comes with several great features, such as converting any image to a video in minutes and custom font upload.
Save your colors, logo, and font once, and bring every video on-brand with just one click.
Turning images into videos with music is easy with Animoto's online video maker! Upload, then drag and drop your images into any of our video templates for a dynamic video slideshow, complete with animations and licensed music. Create a video from images in minutes!
6. Vyond
Features You Will Love
professional-grade animated videos

helps solve important communication challenges

Specialized in employee training, suitable for businesses
Things to Consider
Pricing
Essential ($25/mo) – Videos with the Vyond logo imprinted in the bottom left corner

Premium ($54/mo) – A single-user plan with quality exports 

Enterprise – custom plan
General Overview
Vyond excels in creating corporate training and educational videos, offering an extensive library of pre-made resources like characters, props, sound effects, and visuals. It also provides specialized templates tailored to various organizational departments, such as marketing, sales, IT, HR, etc.
Choose from thousands of stock videos in our free video collection or drag & drop graphics. The ability for users to post their content is advantageous for including particular materials. Some things could be improved, most notably in file handling. There is a possible difficulty with upload limits when working with a significant amount of content because all uploads are gathered into one folder.
7. Moovly
Features You Will Love
Easy-to-use audio recording function built into the software

Voice to text to voice feature with excellent quality

No time limit on videos

Built-in (Chat) GPT
Things to Consider
When a video is longer than five minutes, the editing procedure becomes more tedious

Fewer templates than other programs for creating videos
Pricing
Pro: $99/mo – For budding creators with AI (GBT) video generation

Max: $199/mo – For maximum creative freedom with automated subtitles and screen recording

Enterprise: Custom plan
General Overview
A flexible web tool for producing multimedia content, such as presentations, animations, and movies, is Moovly. It provides a simple user interface, a library of editable templates, pre-made media assets, and a variety of editing tools. Users can generate compelling visual content for various objectives, including business, education, and entertainment.
The cloud-based design of Moovly enables simple access and collaboration from any location with an internet connection. It is a useful tool for content makers aiming to create appealing visuals without substantial technical expertise because it appeals to both novices and experts.
8. Wideo
Features You Will Love
The ability to choose from thousands of stock videos in our free video collection or drag & drop graphics

Exportation of MP4 or share directly to Facebook and Youtube

It is very easy to make changes and see them reflected quickly
Things to Consider
Limited animations compared to other applications
Pricing
Free: includes branded videos, 1-minute videos, and 10 video templates

Basic (19$/mo) – includes 10 downloads/month, 1.5-minute videos, and 33 video templates

Pro (39$/MO) – you will receive unlimited downloads, 10-minute videos, and a full template gallery

Pro + (79$/mo) – Wideo's Pro+ package offers unlimited downloads, 30-minute videos and 1 additional account
General Overview
Wideo is an online platform for making animated presentations and videos. It offers users a simple user interface and a library of pictures, themes, and multimedia components to aid in creating visually appealing material. With Wideo, people and organizations may produce animated videos for storytelling, marketing, and education. Because the platform has customization possibilities, it may be used by users with different degrees of design expertise.
With the help of Wideo's tools, you may quickly and easily create videos that realize your ideas. It's a flexible option for those looking to use animation effectively in their digital work.
9. InVideo
Features You Will Love
Single click shortcuts

Access 8m+ stock media 

Premium photos and video from iStock and Shutterstock
Things to Consider
The section of templates lacks a search bar.
Pricing
Free ($0/mo) – maximum video length is 40 minutes

Business ($15/mo) – for watermark-free videos and 20 background removal possibilities.

Unlimited ($30/mo) – for 120 iStock images and 40 possibilities to remove background information
General Overview
InVideo is a versatile online video creation platform that empowers users to produce engaging videos effortlessly. It offers a wide range of customizable templates, making it accessible to both beginners and experienced video creators. With InVideo, you can create professional-quality videos for various purposes, including marketing, social media, education, and more.
The platform provides a rich media library filled with stock footage, images, music, and animations to enhance your video projects. Additionally, InVideo features a robust text-to-speech tool, allowing you to add voiceovers easily.
InVideo's cloud-based approach ensures flexibility, enabling you to work on your projects from any device with internet access. Whether you're a content creator, marketer, or educator, InVideo offers a convenient and efficient way to bring your video ideas to life.
10. Biteable
Features You Will Love
Produces professional-quality videos without any prior editing knowledge. 

Collaborate effortlessly with team members, regardless of their location, using shared editing features that facilitate cooperation.
Things to Consider
Watermarked videos in the free plan
Pricing
Pro ($99/mo) – includes 1 Publisher, unlimited HD exports, unlimited screen & video recordings

Premium (199$/mo) – access for 3 publishers, has the ability to add more as needed, saves up to 20 custom brand styles

Business: custom plan
General Overview
Biteable is an online video creation platform that simplifies making stunning videos. It caters to many users, including businesses, marketers, educators, and individuals seeking to create compelling video content.
You can quickly create visually stunning videos with Biteable's extensive templates, images, animations, and music. The platform offers an intuitive drag-and-drop editor, making it user-friendly for beginners while providing advanced customization options for experienced video creators.
Biteable's mission is to make video creation accessible to everyone, and it achieves this by offering a straightforward and efficient platform for producing eye-catching videos.
Final Considerations
In a world where creativity knows no bounds, creating unique video content is essential. Renderforest is one of the top alternatives of Animaker, animated and live-action videos, offering studio-quality video templates, a powerful video editor, voiceover options, and a rich library of stock footage and music. Renderforest goes beyond video; it supports logo, website, graphics, and mockup creation, catering to various content needs.
So, if you're seeking a creative journey free from technical hurdles, Renderforest is your destination. Join millions of satisfied users and start crafting compelling videos, logos, websites, and more today! Your creative canvas awaits!