If you are a professional video maker, you probably know that just starting distributing your message without a proper opening is like breaking into someone's home without calling. An intro is like a doorbell to let people know that you've come.
What is an intro?
An intro is an introducter and a good intro is a guarantee that your video is going to be watched. According to the research, back in 2000 the attention span of adults was around 12 seconds. Now it is 8 seconds! So you have only 7 seconds to make your audience watch your video and you shouldn't waste time. An engaging intro will give your content a professional touch and will instantly arise interest in your audience. This is a challenge worth to take.
Today you don't need to hire a specialist to create a video for you. Everything is at hand, and mainly free. In this tutorial we are going to show you how you can make an intro for a video with Renderforest. Whether used for commercial purposes, or simply for a funny kid birthday video, our Intro Maker will allow you to have an impressive start.
Still wondering if you need one? Read our article to make sure that you do.
Once ready to start the journey, visit Renderforest and sign up or sign in, if you already have an account.
When signed in, choose Video templates section and ta da da dam !!! You have this huge catalog of Intro templates where you can choose a preferred theme.

Let's pick up Smoke Trail Logo Reveal template, with which you can demonstrate your logo with the help of trails inspired by the rainbow colors. Two colorful smoky traces will impressively reveal your logo during 10 seconds. This template is perfect for intros and outro videos for your presentations, YouTube channel, lobby background and many more.
Simply hit the "Create" button and upload your logo on transparent background (PNG).
Then in the second slide write the brand name, slogan or the message you want to deliver. Click the button "Colors" to choose your favorite combination...


...or choose the colors from the color palette by yourself :)


Choose the music clicking the "Music" button next to the "Colors". You are also free to upload your own music track or voice over. It's all up to you! :)
We recommend you to preview your video before exporting it in high quality so that you can be sure to be happy with the result before purchasing :) Click the button "Free Preview".
We have different pricing for different quality if you want to download your videos without RF watermark. Your videos are available in "My videos" page. Simply click on your name and choose My videos from dropdown list. You can also re-edit them as much as you want - till you're satisfied with the result.
Renderforest is the perfect cloud based video producing tool for creating video intros for your YouTube channel, blog or video. There are different categories for intros like 3D Logo Reveals:


Exploding and Burning Reveals:
Renderforest offers 2 types of payment system: pay per export and subscription, which includes Free, Amateur, Pro, Business and Enterpise plans. If you like our platform enough to create and export many videos it would be more benefitial for you to subscribe to one of our subscription plans.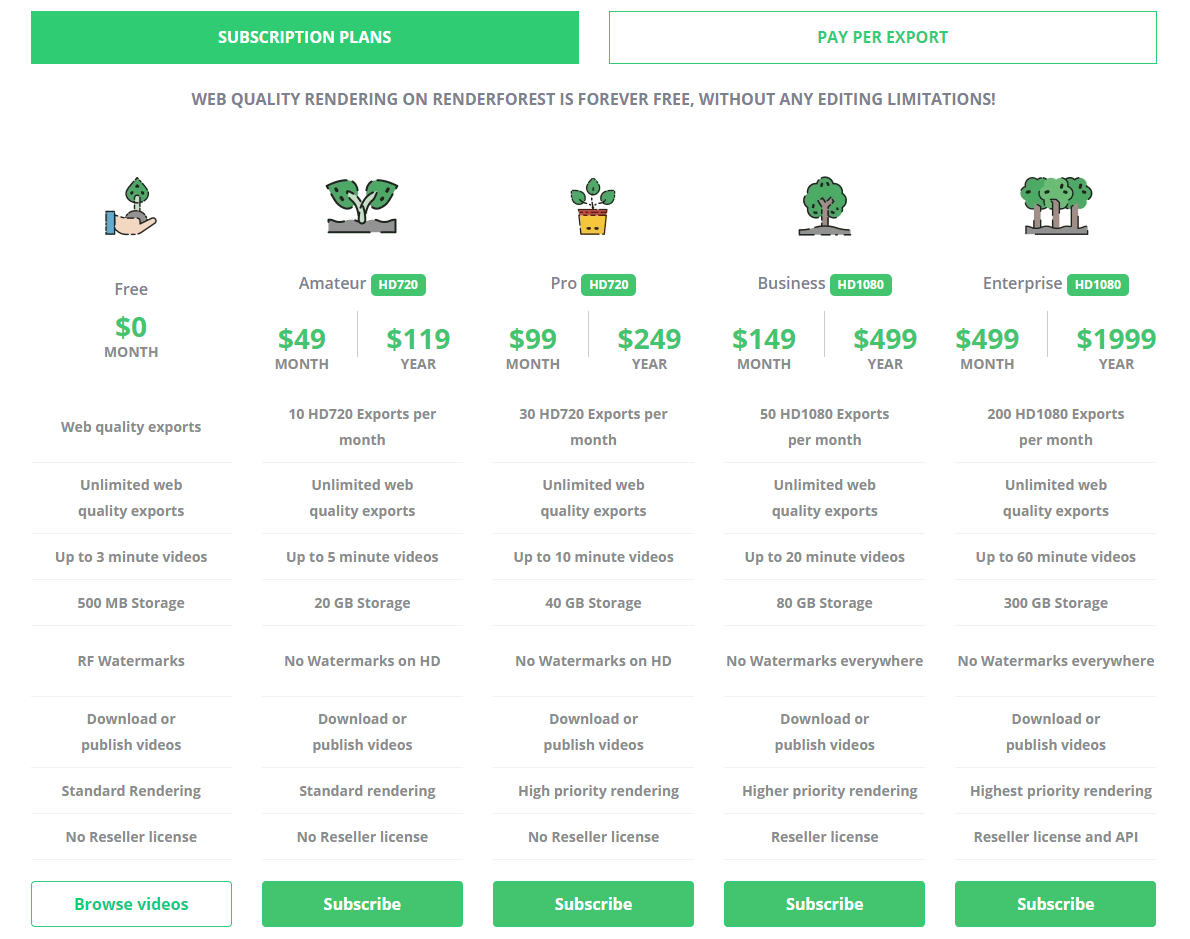 If you have fewer projects or you just need one or two videos then the pay per export plan would be ideal for your business. Here, you are charged per video produced. As the video quality increases, so do the prices. For the highest quality HD1080 quality videos you will be charged $29.99 per export, for HD 720 you will be charged $19.99 and for HD 360 - $9.99.
As for the free plan, you are allowed to download your videos in 360 p quality with watermark, and you can watch and share them on social media sites. If you would like to download your videos without watermark and in High Quality, then you must use one of the paid plans.
Hope this tutorial was helpful. Enjoy your video production process with Renderforest, where the only limit is your imagination. If you want to know more about what an intro/outro for a video is, you can check our What is intro/outro for a video? article.