When we think about movies, film studios, and production companies, one of the first things that come to mind is their intro.
Whenever we see a famous intro, we already know that it's going to be an epic movie. A woman holding a torch, a mountain surrounded by stars, a roaring lion, a fishing boy sitting on the moon – sounds familiar, right? 
Intros create a feeling of familiarity and stick in the viewers' minds just like a logo. Hence, you need to have a unique and impressive intro, to make your movie, a certain project, or a short video memorable.
Sometimes, movies have backstories that should be presented at the beginning to give context and prepare the viewers. So, the professionals create an extended intro. The "Star Wars" intro is an example of what we mean.
So, if your movie is ready and you're in search of a legendary intro, Renderforest will guide you to make one with our templates. But first, watch it, before we make it.  
Now, let's go through the whole process step by step. 
First of all, we've created a logo animation, using our "Solid Logo Reveal" template. Create one with your logo by selecting different intro templates, after signing up or signing in to your Renderforest account. To do so, go to the "Create video" section on the main menu and then, to the "Intros and logos" subsection, where you can choose a template you like. 
Some logo reveal templates allow you to choose the duration of your video. Once you do so, click "Create now" to start. 
Add a text to the template, before passing on to the next steps. Click on its field and type in your text. If needed, change the size of the text, by clicking on the default percentage. 
Your logo can be added to the template right from your device, from the web, or your previous uploads. Don't have a logo yet? Create one on spot by selecting the "Create logo" option, or going directly to the Renderforest logo maker.  
In the "Style" section, change the look of your logo reveal. 
Here you also have the option to change the look of your text, if needed. After choosing a font, click "Preview fonts on this scene", to apply the changes. 
The last step before rendering your logo reveal video is adding a music track. Upload a track from your device, or choose a suitable one from our library. We have several categories, including "Cinematic music", which you might need for this video.
Lastly, preview your video for free to see the final result, before downloading it. The videos rendered with high quality will automatically appear in your "Media library", from where you can later choose them for your next projects, instead of uploading them again.  
Now, that the logo intro is done, go back to the templates, choose the "Animation videos" section, and then the "Movie trailers" subsection. 
Select a template you like for your intro, and click "Create now", to edit the scenes. For this tutorial, we've chosen the "Sci-Fi Space Trailer" template. 
You have 2 options to create your video: add scenes manually or choose from the ready-made presets created by our team. 
We offer a wide variety of scenes to choose from: animated scenes with texts, image and video holders, and logo animations. Select the scenes you need and click "Insert", to confirm.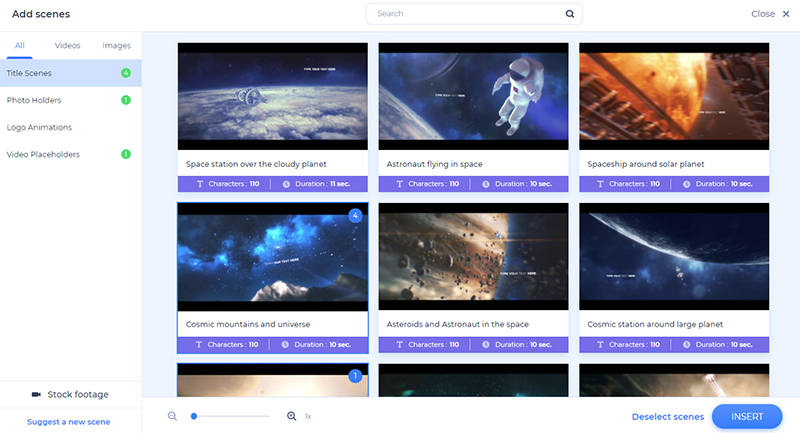 It's time to customize your scenes. Move, duplicate, delete, or replace them, as well as add some new ones in between, to arrange them according to your liking. 
Just like in the logo reveal tutorial, click on the default text fields and type in your text to edit your intro.
There are several options for you to add your media files: upload video and image files from your device, paste the file URL, or select already uploaded and exported files from your "Media library". 
To add the logo reveal video we've already exported, select the "Media library" option, and then go to the "Rendered videos" folder. Pick the one you need and click "Insert" to confirm. 
Once you add your logo reveal video, you will be able to trim or mute it on spot, to go well with your project. 
In case you don't have a suitable media file for a certain scene, our media stock will help you find what you are looking for, and make your video more professional and epic. 
After adding your media files to the scenes and making all the necessary changes, go to the "Style" section to choose a text style for your video. Select a font and click "Generate" to apply the changes to the scenes. 
In the "Music" section pick the background music of your project. We all know the importance of music in movies. So, choose it wisely to create the right mood. We'll go with the "Epic Movie Trailer" track for our intro.
Add a voiceover as well, if you have a voice similar to that trailer guy we all love, to make your intro more mysterious and telling.
When you are sure your video is good to go, preview it for free, before downloading it. 
There are two options for you to download your video. The first one is the free option, which offers SD360 quality videos with the Renderforest watermark. 
With the second, "HD export" option you can download your video in high-quality and without a watermark. Find all the details about our pricing here.
Besides downloading your video, there are several options for sharing it. Publish your video to YouTube directly from our platform, share it on social platforms including Facebook and Twitter, and send the preview link to others if your project is not private.
Now, your epic movie intro is ready to enchant the world and help you become a famous name in cinematography. Are you excited to create more? Choose another template and start the editing process right away. 
Make magnificent logo reveal videos, to create an explosion of interests… literally. Add a music track to the video as well, to complement it completely. Try it out right away! 
Add titles to your movie during the impressive opening of your project. Customize it with your own media files, texts, and an epic music track.
Make a magical and impressive logo reveal videos with explosive collisions and sparkles. Perfect for movie intros, openers, and more.