There is no one-size-fits-all when it comes to posters! The only thing to consider when choosing your poster size is its purpose. No matter if you design your posters, or have them done by freelancers, it's important to consider the final purpose of the poster.
There's no single standard poster size. Different industries use their poster sizes and paper formats. 
The popular sizing formats are Architectural, ANSI, and paper sheet sizes. They differ in their dimensions, so it's better to consider the height and length of the design rather than the paper format. If you are unsure what sizes suit your purpose, we got you covered. 
Buckle up as we discover together the hidden details about the world of poster printing and find just the right size for your poster!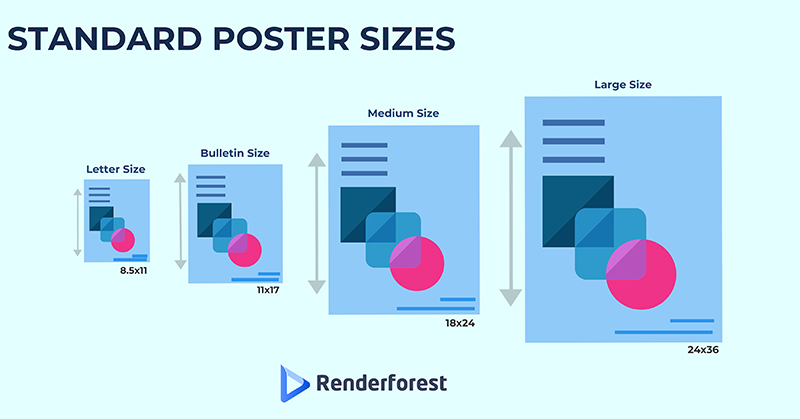 Letter Size 8.5 x 11in
The tiniest format used as a poster is letter size, the closest to A4 paper sheet size. It allows for the texts to be readable, and visuals pop while not taking up much space.
Letter size is the smallest standard poster size and is mainly used for decorative reasons and can sometimes be used for school announcements, and lamppost ads. The challenge of using this poster size is that you should pay attention to the size of your design elements and keep the right balance.
Bulletin Poster 11 x 17in
Do you remember those school corkboards filled with brochures, student club posters, and rehearsal announcements? Well, that board is also referred to as a bulletin board, and that's where this poster size takes the name from. 
This size is a bit larger and equals the standard A3. It's commonly used in the school setting, so your English teacher used to print classroom rules and midterm results on a bulletin poster size paper. Also perfect for indoor display, bathrooms, and waiting rooms. It's the most effective when on eye level and can be seen from 6 feet (180 cm) away.
Mini Poster 12 x 18in
Now we are entering the realm of production prints, even though it's a mere inch difference between a bulletin and mini posters. Being an Architectural size, Arch B, mini posters are prominently used in the printing of calendars, decorative prints, and bedroom-size movie posters.
Recommended Reading
---
---
Medium Poster 18 x 24in
Indoor or outdoor, this is an average poster size for shop windows, undergrounds, food trucks, coffee shops, larger bulletin boards, pharmacies, and many more places that we unconsciously visit and walk by every day. Medium posters are great at standing out even at very cramped locations and are noticeable even from 4 yards (365 cm) away. 
Even though these posters are mainly used for outdoor and promotional purposes. Interior designers have found ways to include these posters in home decor, to replace the heavy art pieces.
Concert Poster 24 x 36in
Also called large and Architectural size D, this size is the most suited for venue concerts, outside a bar, theater, mall, and other busy locations. It's considered one of the most popular poster sizes and is widely used for outdoor advertising and large format posters.  
It's impossible not to notice a concert poster, even from 10 yards (9.15 m) away. This is a perfect size for an outside poster and, in some cases, is used for local AMC movie posters. 
Movie Poster 27 x 40in
We can't talk about poster sizes without the Hollywood poster standard, movie poster size, also known as One-Sheet. Sharing a very similar aspect ratio, 2:3, another standard for movie posters is 40×60 (101x152cm).
These are the standard movie poster sizes, any other posters printed by the film company, not in these two sizes, are not elements of promotion but rather merchandise. Movie posters are used for advertising, festivals, events, and other purposes. The design of a one-sheet movie poster usually includes large text and high-quality colorful graphics. 
Bus Stop Billboard 47 x 71in
Only for outdoor purposes, bus stop poster size, or Six-Sheet, is not just limited to what the name suggests. Railway stations, underground, and outdoor advertising often use this sizing. Higher than an average person, it's impossible to pass by one of those and not notice it.
The large poster dimensions make public billboards like bus stop posters practical advertising tools, factoring in how many people pass by or spend time waiting for a bus or a train daily. Choosing large posters gives you an opportunity to get creative with the design.
Roadside Billboard 480 x 120in
One of the most significant print sizes is the roadside billboard. Those are usually located in high-traffic areas, like the city center, highways, streets leading to business centers or malls, and more. Depending on the location, dimensions can sometimes change, as the average size for railway stations is 240×120 (610x305cm).  
Imperial VS Metric Systems
Everyone knows that there is a difference between how the United States measures things compared to the rest of the world. The United States uses the Imperial system, which comes from the old British Imperial System. The rest of the world uses the Metric system, developed in the late 18th century to unify all confusing measurements systems.
To Sum Up
Posters come in different sizes and dimensions. From letter-sized posters to film posters and large format posters, they all have their unique characteristics and design best practices in terms of printing. For printing posters, you can take the standard poster size or use custom sizes.
No matter which poster sizes you choose, pay attention to the design and your message to make your posters impressive and memorable. Small posters require a more minimalistic approach while designing a large poster gives you more freedom.
The above-mentioned sizes will help you find the right size for your next poster project. Want to design your cool poster? Check out Renderforest Graphic Maker for a variety of designs and layouts.