Choosing the best logo for your brand is crucial, but choosing the best logo format is no less important when dealing with branding.
The wide variety of logo file formats makes it hard to pick the right one when you need to use it for your brand and its marketing. It's easy to get lost and sidetracked in the process if you don't have enough knowledge, which in return might lead to exhausting and wrong decisions. 
Luckily, a vector logo can save the day in almost any situation. But wait, what is a vector logo and why do you need it? 
Here's all you need to know about vector graphics, to choose the right logo format for any occasion and platform. 
What is a Vector Logo? Vector vs Raster
The Most Common Vector Logo Formats
How to Choose the Right Logo File Format?
What is a Vector Logo?
Once designers finish a logo design in any logo maker tool, they save it in raster and/or vector formats. 
What is a Vector Logo?
Vector logos are flexible files that consist of points, lines, curves, and various shapes. They don't lose their quality in the process, so you can later easily edit vector logo files without messing them up.
Professionals always save a design in a vector format, since they are mathematical equations that make a logo more scalable and easier to resize.  
These file formats are mostly used to create logos, and other branding and printing materials. They are most commonly created and edited with Adobe Illustrator, which is a vector-based program, famous for its endless, easy-to-use tools and practicability. 
When creating or ordering a logo, always keep it in a vector file format because you're going to need different formats and sizes for various platforms and purposes, so you'll have to edit them. 
Vector vs Raster
Unlike vector file formats, raster graphics consist of a certain number of colored squares – pixels. Because of that exact number of pixels, raster logos look blurry and pixelated when you stretch them. 
This is why they are exported precisely for various purposes and in certain sizes to match the standards of a platform, be it a logo for your website header, a thumbnail, Facebook profile picture, part of QR code design, etc. The two most common raster file formats are JPG and PNG.
You can read more about the raster file formats in our article about common image file types. 
So, both vector and raster logos seem fine, right? But why do many designers choose vector logos over raster logos? 
They are editable: They give infinite freedom to a designer and the chance to edit the logo whenever they need it. Remove elements, change the text, edit the size of shapes… everything is possible with vectors, while with raster logos your options are limited. 
They are scalable: Scalability is one of their most important features. You can change their scale as much as you want, zoom in by thousands, and still, their quality wouldn't even waver. Unlike raster logos, they are not made of pixels, so you don't need to worry about getting a smeared logo. 
Vector format logos can be easily exported to raster logos: absolutely! JPG, PNG, TIFF, GIF, name the logo format and you can have it by exporting vector format logos. Note that after you save your raster format logo, the quality of your logo won't change, while raster format logos might collapse when exported to vectors.  
The Most Common Vector Logo Formats
There are many vector graphics out there, which you can choose from. However, not all of them are the best. What makes a logo format great is its compatibility, quality, and editability.
Based on these functions and characteristics, we've selected the best logo file formats that you can choose from for your brand:
What are the most common vector logo formats?
AI (Adobe Illustrator Artwork)
EPS (Encapsulated PostScript)
SVG (Scalable Vector Graphic)
PDF (Portable Document Format)
AI (Adobe Illustrator Artwork)
AI is the native format of Adobe Illustrator, which designers use to make logos, as well as other branding elements, such as printing materials, illustrations, etc. The vector-based file format is always editable with Adobe Illustrator software and doesn't reduce the quality of your file.  
AI files are famous for the high quality they provide for logo files and other designs, and the editing options they offer.
EPS (Encapsulated PostScript)
EPS logo files are highly compatible vector files that can be used in many design editors. Besides, you can edit and resize them without any changes in quality. 
These files are considered master files and are mostly used in graphic design and large-scale professional printing. Raster files, too, can be saved as EPS files and behave as vectors. 
These logos are like the gold standard that you need. They have a transparent background and are as easy to edit as the AI logo files. 
SVG (Scalable Vector Graphic)
These logo formats are mostly used for the web. SVG logos can be scaled to any size without a loss in quality, similar to other vector files. It's the W3C Vector graphic standard, so they can support any screen resolution. 
Moreover, these files are XML-based (Extensible Markup Language); thus, it's possible to view them in browsers, with different devices and software, such as Adobe Illustrator. These files have transparent backgrounds and are ideal for logos. SVG logos are mostly used for print materials, website images, and icons. 
Additionally, SVG logos can also be animated and stapled with CSS (Cascading Style Sheets).
PDF (Portable Document Format)
Another common vector logo format is PDF, which can be viewed in Adobe Acrobat Reader, web browser, or a finder window. It's a great way to view a logo, or even a book, and other print materials in pdf, before using them. Logos in PDF format can also be effortlessly converted to other image files when needed, so it's another plus for this logo file format.  
A designer can export your logo as a PDF file from Adobe Illustrator, however, it's not the only software that can create it. A PDF logo can be generated from Photoshop, PowerPoint, or some other raster software, which means it will then stop being a vector file format. Besides, the limited editing option PDF offers, make it extremely inconvenient for editing your PDF logo. 
In short, PDF is a great format to view the piece, but not a great option if you want to edit it.  
Explore
---
---
How to Choose the Right Logo File Format?
There are surely many ways to use your logos, including your website, social profiles, business cards, video intros, and so on. Some platforms support vector logo files, some raster, and some – both. 
This is why it's important to know which file format you need in specific cases. Otherwise, you can have pixelated and blurry banners or website images that take too long to load.
So, how do you choose the right logo file format? 
Use this HTML code to share the infographic on your website:
We suggest keeping your logo in AI file format, to be able to edit it anytime and render it in any format that you need. Since AI can be rendered not only to vector files but raster as well, it will be extremely convenient to have it within a reach.  
However, if you're looking for another format, here are some key points to consider before deciding which format to go with. 
What Size of Logo do You Need?
Where are you going to use your logo? Depending on how you're going to use your logo, there are certain standard sizes. Depending on the usage, choose the format which has all the necessary features. 
For your website, you can have your logo in the following sizes:
Do You Need a Transparent Logo?
Another important feature to consider while choosing the logo format is transparency. As you've noticed, some logo file formats support transparency. This allows you to place your logo on any background without sacrificing its look and quality.
For vector files, transparency is defined differently, but technically most of them support it. A great vector logo format that supports transparency is EPS.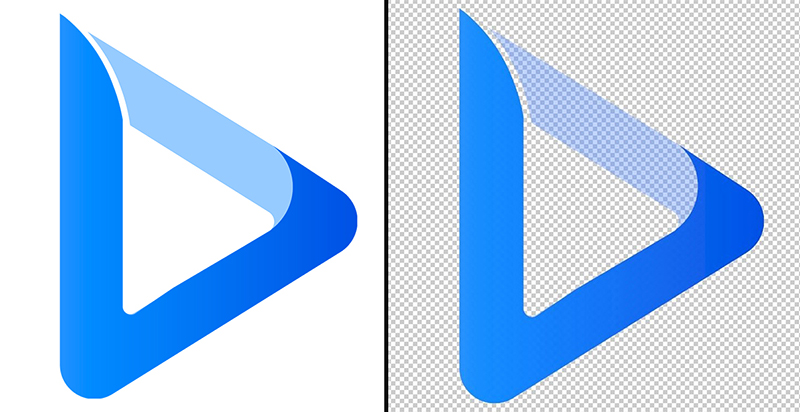 Will You Need Editing?
Is your logo final-final-final, or do you feel like you might need some editing at one point? If so, choose a vector logo format that offers a large variety of editing tools. A PDF logo is great for viewing, AI, SVG formats are brilliant for editing. Choose your fighter! 
What Color System do You Need?
If you are unacquainted with color systems, there are two of them in design: CMYK and RGB. RGB stands for red, green, blue, and is used mostly for digital designs. CMYK (Cyan, Magenta, Yellow, and Key(Black)), on the other hand, is primarily used in print. 
This is essential to know, as not all file formats support both color systems, meaning not all logo file formats will be suited for printing. EPS, PDF, and AI are the file formats supporting both RGB and CMYK.
Summing Up
Hopefully, this article helped you have some idea about what vector logo format is and why you need it.
Take into consideration the differences between the raster and vector files and their features to successfully choose the right format depending on your needs – for web or printing. It doesn't matter whether you make your logo yourself, with the help of designers, or using an online logo maker, you must always have the right files at hand.