When the air is filled with the cold breath of winter, and the voices of joy and happiness are heard from every corner, we know Christmas is somewhere near. It is a wonderful period when we find the little child inside of us waiting and believing in something magical to happen. 
Be it a child, a teenager, or an adult, all of us enjoy the jingling of bells and adorable decorations. Christmas is a time of festivities and celebrations when every soul wants a warm and lovely atmosphere with the people they'd like to spend the whole year through. 
Christmas is also a perfect chance to unite with the people who are far from us, exchange Christmas wishes, greeting cards, and gifts to get everyone in the festive spirit of the holiday. 
It's important for businesses to recognize that Christmas is a great opportunity for brand awareness and promotion. People like to spend their free time in stores or online, searching for the best holiday products and deals.
To be unique, use customizable Christmas mockups and create joyful and creative greeting cards and promotional holiday designs.
Below, we've rounded up some Christmas mockup designs to inspire your holiday message.
Send your Christmas wishes and messages to your family and friends through this festive mockup. Greeting cards are a perfect choice to make your loved ones feel appreciated and dive into the holiday spirit.
Christmas is not only a time for your family and friends but also an excellent opportunity to connect with your colleagues and customers. Congratulate them through an attractively designed holiday card and keep enduring relationships with them!
Drinks are an inseparable part of Christmas celebrations and parties. If you own a beverage business, this is an excellent chance to promote your beverage collection with attention-grabbing visuals.
Celebrate Christmas and New Year's Eve with the most festive visuals. Showcase your beverage brand through such an eye-catching mockup and welcome the new year with more customers.
Make everyone delighted this Christmas and ever beyond with your products. Use the joyful scenes of this mockup pack and promote your holiday must-have items in a festive mood.
Look through the scenes, pick your preferred designs, and start adjusting them. Upload your media files and get holiday visuals for your brand in realistic environments. 
Besides promoting your products, you can use these mockups to congratulate your customers and wish them holidays full of joy and happiness.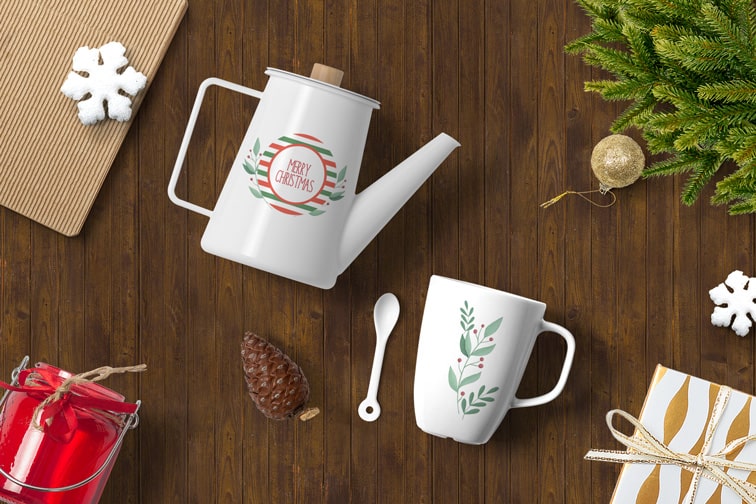 Christmas is not only a time of expectations but also a time of sharing memories. Let your wonderful moments come to life and last forever while using these holiday photo frames.
Hanging near a Christmas tree, or just laying on holiday backgrounds, will fill your heart with old and new precious moments of your life. 
Upload your favorite photos to any frame you like and share them with your family and friends to get them in a nostalgic mood filled with longing for the past.
Christmas is on its way, and all people are getting ready for the holiday celebration and gift-giving. Showcase your products through these mockups and promote your online stores and print-on-demand businesses effectively.
Ranging from T-shirts and devices to gift packaging and paper bag design, this pack will also inspire your Christmas product decorating ideas.
Besides promoting your products, you can send warm wishes and messages to your customers and clients through these mockups. Use one of the scenes and tell them how much you appreciate them and how thankful you are for them.
It's not possible to imagine Christmas without gifts and giving. Put on Santa's glasses and present your gift designs and decorations with these super realistic mockups.
You can choose a mockup scene with a single Christmas gift or multiple ones to meet your ideas and needs. Simply click on your preferred scene and start adjusting it with your media files and color palettes.
Wrapped with holiday paper and beautiful ribbon bows, this Christmas gift collection will engage your audience and keep them interested in your packaging skills forever.
Make your restaurant or cafe visitors feel happy and excited this Christmas by presenting your holiday dining table ideas with a delicious menu. What can be better than celebrating Christmas and New Year's Eve in such a cozy and festive atmosphere!
Christmas is not a Christmas without two things – gifts and sweets. Bring smiles to your customer's faces by presenting your Christmas sweet boxes and packages. Congratulate them on this most magical holiday of the year with the sweetest mockups!
Smartphones or tablets have become an inseparable part of our daily lives. Use them to showcase your holiday designs and wish your customers Happy Holidays.
Attract attention to your devices and app designs this հoliday season. Choose from a variety of layouts to adjust with your media files and preferred colors.

Hmm, are you still waiting? Don't wait even for a second and start carrying out your Christmas decorating ideas and holiday inspiration. Let people believe in Christmas magic and celebrate it with full enthusiasm and excitement. Use Christmas mockups and congratulate people wishing them all the best for the holiday season. At the same time, it's an ideal chance to connect with your customers and build strong brand awareness. 
Merry Christmas and Happy New Year!