As a marketing agency, your main goal is to effectively promote the products and services of your clients. But what about promoting your own services and attracting new customers to your business? The best place to do so is online. When it comes to digital marketing, having a well-optimized marketing website is key.
Whether it's a simple one-pager or a multi-page website, there are many things to consider when creating a site: SEO, interface design, user experience, navigation menu, structure, content, and so on.
Web development or design might not be your area of expertise. Luckily, there are special website templates that can greatly simplify this process. All you have to do is find a suitable marketing website design for your company and customize it in your browser.
Below, you will find a list of marketing and advertising website templates, which you can use to build your site. Once you've picked a template, check out our tutorial on how to create a website with Renderforest Website Builder. It's super easy, time-saving, and fun. 
Now let's get started with our list of best marketing website designs for 2022 to help you make a choice!
Promote your advertising services with a new and vibrant one-pager that features all the right sections to display your best projects and campaigns. Communicate the bold and creative spirit of your agency with stunning visuals, so neatly integrated into the website's layout.
Use the text fields to introduce your company and services briefly, and don't shy away from showcasing your biggest achievements using the sections below. The strategically placed calls to action will help the visitors navigate your site with ease and take action just when ready.
The Advertising Agency template is the best tool to build advertising websites that generate leads and effectively convert them to customers.
Step out of the ordinary with innovative solutions, creative visuals, and a web design that stands out. Customize the template with your own content and media files, set the font and color palette to ones determined by your brand guidelines, and even change the preset blocks to align your site more closely with your vision.
The flexible template allows you to get creative and make a unique marketing website design that will set you apart from all the boring websites. Fill in your details, attach your business logo, and your customized web design is ready to win your business new clients. The Creative Marketing Agency template is fully at your service!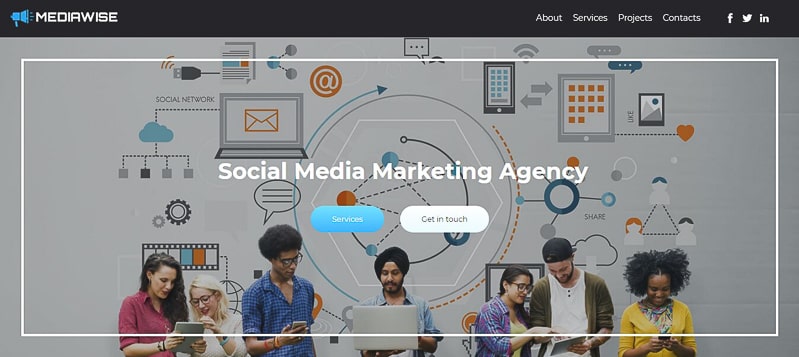 Combine functionality with a modern web design and get a site that transcends your expectations. Inform potential clients about the full spectrum of your social media marketing services with this contemporary marketing website design.
It only takes a few seconds to add your contacts and social media details if you choose to. You can change the color and shape of the CTA buttons as well as all the other icons on the web page.
Share the projects you've successfully completed, include customer testimonials, and make a favorable impression on visitors right away. Facilitate the growth of your SMM business with this Social Media Marketing website template.
Looking for a clean and well-structured web design to advance your consulting agency? Our Business Solutions template is just what you need. It's SEO-oriented, responsive, and very simple to customize.
List the services you provide and introduce first-time visitors to your corporate culture and mission. Attract all the right clients and grow your business while helping them grow theirs. Ensure a smooth user experience and let customers find you with a neatly designed marketing website.
The template comes with a built-in video holder to allow you to introduce your business more effectively. You can use promotional video templates to make your corporate video online and add it to your site. Otherwise, feel free to remove the video block from the web page if you find it unnecessary.
For digital marketing agencies, having optimized websites is the best way to keep up with the demands of customers and sustain the growth of their companies. How else would clients trust you to manage and advance their websites if yours is not in perfect shape? 
Our Digital Marketing Agency template is the best solution for growth-oriented digital businesses like you, constantly looking for new ways to refine their brand image and marketing practices. Start customizing this template now and arrive at a beautiful website design that will win you some of your most profitable projects. 
You can opt to introduce your team members on your site to help visitors put a human face to your business, thus better connecting to it. Or you can give the stage to your most loyal clients and prefer to showcase customer testimonials.
An important step to acquiring customers as a marketing agency is effectively communicating your unique value proposition. Make sure your website shows the user what makes your services stand out and nudges them to get in touch with you at all the key interaction points.
This Integrated Marketing Services template will help you achieve these and many other objectives with a modern marketing website design. Alter as much or as little of the design as you wish and preview your advertising website to see how everything comes together. Publish your site in a single click once ready!
Finding the right talent for companies and the right companies for talented individuals is an important undertaking. To carry it out, however, you first need to have your own agency discovered by those looking for jobs and those offering them. 
Here is where business websites come into play and help staffing agencies be found by potential clients, and perhaps, even connect them with each other. Our Staffing Agency website is a great example of a web design built specifically to meet the requirements of recruitment companies. 
Give visitors a glimpse of your company culture through a quick introduction to your agency's story, mission, and vision. Add a video section to display your recruitment video if you have one. The intuitive tools will be sure to make your editing experience smooth and enjoyable.
Try this template today, and take your staffing business to the next level!
Conclusion
The templates listed here are only a few of the 100+ website templates available at Renderforest. If you'd like to, feel free to explore the rest as well. You might find the perfect design in another website category and turn it into a marketing website with a bit of customization or simply use it for design inspiration.
Click the button below to find the best template for your marketing website. Happy designing!