A timeline presentation is the right way to do whatever you want to tell in your presentation – global events, the progress of your last project, or simply the history of your company.
Firstly

, timelines are

easy to grasp

thanks to their intuitive structure.

Secondly

, they are visually appealing and can be used

to make complex topics easier to understand

.
One thing that may be holding you back from actively using timelines in your presentations is that they seem difficult to construct.
What hierarchy should I use?…
Which type of timeline is the best for my purpose?…
Put your thoughts on hold and look at Renderforest's robust library of timeline presentation templates. Here you'll find the appropriate design for any story, with text and visuals that can be customized to fit your specific needs.
The timeline templates are designed for different purposes, such as company milestones, project timelines, product launches, and more.
Let's find out more about that beautiful and informative tool below!
Understanding Timeline Presentations
So, what should an ideal timeline presentation slide look like?
Timelines visually represent information flowing from left to right or from top to bottom. Any chronological order can be chosen to list crucial events, their dates of occurrence, and their sequence. 
As long as you choose a timeline design that wraps your story without making the page overcrowded, you can include as much information as you need.
There are many timeline presentation ideas to choose from. Use a Gantt chart to show progress in your project, design a roadmap timeline to demonstrate the steps of a process, or use a timeline infographic template to show the major phases of your company's development.
5 Advantages of Using Timeline Presentation Templates
Why should you choose a timeline presentation slide when creating your next project? Here are the top reasons.
1. Visual Representation of Chronological Events
Of all the information that our brain processes, 90% is visual. It's crucial to use visuals, especially when delivering such a complex topic as a sequence of events. Otherwise, it's easy to miss your point.
2. Simplification of Complex Information
Continuing the above point, timelines make even the longest chain of events easier to follow. Your audience can skip going back and forth through a long text and strive to keep the clue of the story. A well-crafted visual structure is enough to understand the order of events and the connection between them.
3. Enhanced Audience Engagement
Illustrations increase your audience's attention and engagement and help them memorize the information you share. When looking at slides with visual elements, your audience gets a more relaxed first impression about how much information they will receive. Consequently, they are more willing to pay attention.
4. Highlighting Key Milestones and Events
The best way of emphasizing an important achievement or event in a timeline presentation is to make it larger than the others, give it a more eye-catching design or change its color. It's far easier to do on a visual timeline than in a textual one.
5. Facilitation of Comparative Analysis
Lastly, a timeline presentation allows you to draw parallels between various entities to compare the events comprehensively. Comparison analysis helps to convey any message more effectively by showing contrasts or similarities between different entities.
10 Types of Timelines to Enhance Visual Storytelling
You can't wait to see some timeline presentation examples to get inspired for your next project.
Here are the top 10 timeline presentation ideas proven effective for various types of storytelling.
1. Linear Timeline
Arranged vertically or horizontally, a linear timeline presentation is a sequence of events that appear in the order they have occurred. It's called linear because the timeline is often shown as a straight line. Because of its simple design, the linear template can be described as the most basic timeline type.
2. Chronological Timeline
As the name hints, a chronological timeline is an ordered list of events that are arranged in the chronological order of their occurrence. It should not necessarily be linear, but most often, it must include detailed data such as the date of the event, title, and description.
This type of timeline presentation is usually used to showcase events of larger periods – historical or global events.
3. Gantt Charts
More of a project management tool, Gantt charts are used to show the completion of tasks against the pre-agreed timeline. Here, the timeline is usually presented as a horizontal bar chart where one axis reflects the project timeline while the other displays tasks with their individual start and end dates.
4. Historical Timeline
A historical timeline presentation's logic does not differ from a chronological timeline's. The only difference is the type of events chosen. Here, you need to focus on the historical events, important figures of the past, and other interesting details that have contributed to the development of our society.
The design is also more complex, as it usually includes illustrations and other visuals emphasizing the presented events' importance.
 5. Biographical Timeline
One of the timeline presentation examples is biographical – a way to drill down to the important events of a person's life, their feelings at those moments, and lessons learned.
With such type of timeline presentation, you can create your or someone else's life story and better understand the motives behind their decisions and actions.
There is no specific design for a biographical timeline. Events still need to be arranged chronologically, though the format can vary from linear to non-linear.
6. Event Timeline
You've probably met this type of timeline presentation more often than others – whether you're in or out of business. Event timelines are used for planning, tracking, or marketing a certain event. You can design a visual scheme of the event for the organizing team's internal use, where everyone sees how the whole event is structured and who is responsible for what.
You can also go creative and create an event agenda for the participants to better navigate through the series of activities and venues.
7. Milestone Timeline
Also known as a milestone chart, this timeline presentation slide clearly shows the different activities – milestones that make up the whole project. Here, the focus is on milestones (big achievements) and what has been done to get there.
8. Project Timeline
There is a very thin line between project timelines and similar timeline presentation examples like event timelines or milestone charts, but it's still there.
A project timeline is more about the processes and tasks required to complete a project from start to finish rather than summarizing the event or highlighting the milestones.
Consequently, the design is more formal and orderly.
9. Process Timeline
Usually, process timelines have a form of a Gantt chart. Its purpose is to strictly organize the project responsibilities between the people and map out their relationships.
It should include detailed information such as the start date, estimated finish date, task lists, alerts and triggers, approval process and approving person, status for ongoing tracking, reporting schemes, and anything else that can simplify the project planning process.
Process timeline is passed from one project member to another to request the completion of individual tasks.
10. Roadmap Timeline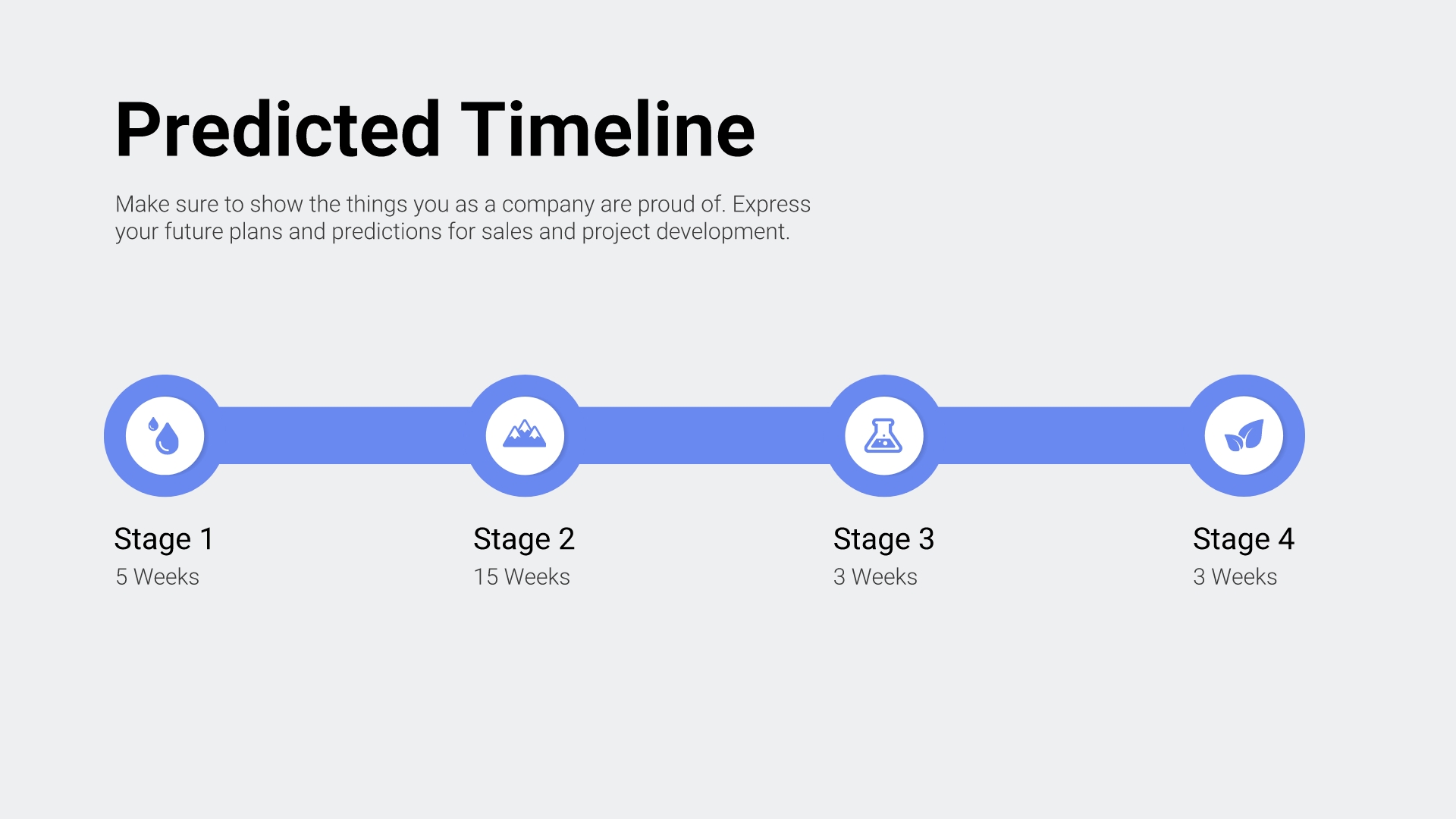 Moving to the final timeline presentation slide example, the roadmap timeline looks similar to Gantt charts, with its horizontal bars showing expected initiatives by priority, duration, and anticipated delivery date.
Let's Find the Perfect Presentation Timeline Template for Your Next Project
If you're not sure how to make a timeline presentation, don't worry cause you can easily compromise that lack of manual skills with a professional timeline presentation maker – Renderforest.
It comes with a huge library of predesigned timeline presentation ideas with every element in place, such as the colors, layout, design, and even the example texts to hint at which content will better suit your story.
What's your role here? 
You use Renderforest's timeline presentation tool to customize the visuals and text inside the template and make it look like your own. You can also play with colors and design elements to match your brand style.
So, the ready-to-use timeline infographics presentation template starts looking like a custom-made after your personal touch, though you may have spent 5-10 minutes on it.
After customizing the presentation timeline template to your liking, you'll get its high-quality version for use in any commercial or personal project.
Renderforests lets you download the files in JPG or PDF formats or get a shareable link to spread it out through any communication channel.
Why Choose Renderforest's Timeline Presentation Software?
The timeline presentation ideas are unique,

made by a big team of professional designers who constantly follow the trends

and update the library with fresh approaches. 

Ready-to-use timeline presentation examples

save you time, money, and energy

that would otherwise be spent on brainstorming, designing, and editing. Even if you're not a professional designer (

like many other existing users

), making a high-end timeline presentation slide is a breeze. 

No quality issues can arise when you export your presentation timeline template from Renderforest.

The files are rigorously optimized for commercial projects

,

presentations, and websites with no loss in quality

. Use it anywhere with no headache of waiting for the files to upload or pixelate.
Other than image templates, let's look at some of the video timeline presentation ideas to understand better what to expect from our software and library. 
Corporate Timeline Slideshow
Planning an upcoming team-building event or a corporate anniversary? 
It could be your annual public report approaching.
No matter the occasion, Renderforest's Corporate Timeline Slideshow is here to help you showcase company achievements and show the long road your company has traveled in a very memorable way.
Each scene features a specific period (years in our default version, but you can change that to months or even days). By adding corresponding visuals to each scene, you can highlight your company's notable achievements during the period.
You can also engage your audience with statistics, facts, and quotes to make the presentation more informative. Any custom-made design can be uploaded inside the video editor to create your desired impression.
The default audio is neutral music that progresses with the presentation scenes. The goal is to strengthen the emotional impact as you show progress over time. Scenes with recent achievements are shown under the notes of higher-accented music.
Any audio can be replaced with your own, but this version can work well, even without any modifications.
One-Year Business Timeline
Here's a narrower round-up of the company's progress – the One Year Business Timeline.
The initial goal of this presentation timeline template is to provide a quick overview for investors, partners, and other interested parties on a single page. It can be a good consolidated report of the past year showing the progress, what was planned, and how much was achieved.
The original template contains more scenes than the previous timeline presentation. We initially dedicated longer seconds to each scene here, assuming reporting of the last year will require more information to be delivered.
Other than the previous year's summary, you can also use this template to plan the upcoming year. Imagine motivating your team by showing them your expected goals for the upcoming year or any other long-term plan.
Other good ideas are to use this timeline presentation to show the process of a product's development or customer journey, where each scene corresponds to a certain stage of the journey or product.
Infographics Animation Pack
The last timeline infographics presentation template is a huge opportunity to convey your story of any complexity at once. It's a fun and creative way to present your information that won't leave anyone unaffected.
This pack has three transitions and styles and 160+ infographics, including bar charts, map scenes, and a wide range of icons. If the previous timeline presentation ideas had a smooth flow of video where you just needed to fill in the blank, this one is of a slightly different logic.
You should choose the best graphs or charts that suit you, customize them with your own data, and add the in-between storytelling scenes to avoid having a too data-heavy presentation.
The animated infographics are a powerful addition to your presenting arsenal. They add a solid touch of professionalism even if your presented data is simple.
Ready to make your own timeline presentation? 
Let's quickly learn how to do that in Renderforest's timeline presentation maker. 
How to Make a Timeline Presentation with Renderforest?
Browse the Timeline Templates Library
As discussed above, Renderforest has timeline presentation templates that look like static images and video timeline presentations.
Both serve the same purpose – to present facts, figures, dates, or other data in a visually ordered way. What you choose depends on your requirements and preferences. A static image timeline may be more suitable for a printed version, while videos are usually proven to work better for online content delivery.
What we often recommend is to combine both libraries. For example, you can create any timeline in the image library and then upload it to your preferred video slideshow.
Click on Any Template to Land on the Dashboard
Each template in the library has a small icon showing how many scenes are inside the pack. Though you can always manually add the scenes, it's better to opt for those with many built-in design elements to save time on manual input.
Click "Create now" on your preferred video slideshow and start editing.
The timetable inside each editor is equipped with drag-and-drop features, so no editing skills are needed. Press + button at the end of the timeline or click the space between video holders to add new scenes.
See a tools panel on the upper left side of your screen. Here you have everything to add texts, adjust fonts, add images or videos, and more!
Renderforest's timeline presentation software will also give you some AI suggestions of which scenes to use based on the text you type.
Preview Any Change in Real-Time
The preview screen is located on the right of your tools panel, which is instantly updated with any change you apply. It's easier to make changes while watching them instead of applying and checking if it was the right move in a separate preview screen.
Final Touch in the Main Panel
The upper part of your screen is for your main panel, where you can choose styles and transitions for your video timeline presentation, change colors, and add music or voice-over if needed.
We recommend doing this as the last step because first, you need to see the final skeleton of your presentation, and only then can you figure out which customization options will work better for you.
That's it. 
Your professional-looking timeline presentation is ready; you can share it with the world!
Conclusion
Here's a reveal.
All those juicy timeline presentations you see at conferences, business meetings, and other events are just a few clicks away from you.
No coding or design skills and no prior experience are needed. 
Renderforest is your go-to timeline presentation tool that makes things easier than ever before.
Choose from various designs, customize them with your data and information, and amaze everyone for their next presentation.
Good luck, and have fun!