Founded in 2014, Biteable is an online video editor used and loved by millions worldwide. It covers the A-Z of video making – from basic editing tools like Resizer and Merger to Biteable templates designed for almost any purpose and occasion.
Meanwhile, customers pinpoint some improvement areas, including buffering and slow loading times that sometimes bother users by making the editing process lengthier.
If you're one of those people wishing to escape buffering woes or just looking at Biteable competitors to pick the best alternative, here's a list where you'll find the one that fits your needs.
Scroll down to see more than 10 Biteable Alternatives that can refresh your video editing toolbox.
Note! The tool reviews are based on the experience of users and their shared opinions on publicly available sources, and as such, may change over time due to user feedback. The article aims to accumulate user feedback about video-making tools in one place to help readers make informed decisions.
10+ Biteable Alternatives to Take a Big Bite
Below tools match Biteable's capabilities, offering their twists and improvements on the video-make process. We could choose the ones that don't have many complaints about buffering issues and offer enough features to satisfy the pickiest video makers.
Another criterion is the price, which is relatively high for Biteable's Pro Plan (starting from $99 monthly). We also tried including tools with more affordable plans and free trials.
So let's get down to it.
1. Renderforest
Starting from $9.99/mo, the Free plan included
With its big army of 20M+ users worldwide, Renderforest has a huge library of video templates, with new ones being added regularly to cover every topic, mood, and occasion. Among this variety, Renderforest has many templates for small and medium businesses, marketing, design and related fields, becoming a complete video creation suite for any visual communication and corporate training needs.
It's quick to use, with little to no buffering, and takes seconds to export a high-quality video.
Renderforest is flexible for different budget sizes. The Free plan allows users to create HD720 videos, a definition that's friendly for many HD television channels broadcast. Higher plans enable users to create unlimited videos in 4K  without watermark, with the highest Business plan costing just $29․99/mo.
Renderforest's video editing interface is one of the most beginner-friendly ones – no complicated menus, no hidden options. Everything is easily findable and customizable in a way that doesn't require deep dive into the settings.
Try Renderforest's Video Editor for Free!
What's also great is that Renderforest expands beyond video editing and offers full-cycle content creation solutions. From generating business names and logos to mockup designs and website building, you can have one tool that covers many costly aspects that otherwise may require multiple subscriptions.
Here're some video templates from Renderforest for you to start exploring.
Explainer Animations
This line is for those who want to promote the benefits of a product or service to large audiences. Choose between a 3D, flat, whiteboard, or other animations of explainer video templates.
Intro Videos
There's a collection of the best intro animations and logo reveals for those who want to hook their viewers from the very beginning.
Presentation Videos
These video templates are perfect for sharing research data through infographics or presenting any educational material.
Key Takeaways
Pros: Cost-effective | Fast | Regularly updating templates library | An all-in-one tool for content creation
Cons: No customization options for characters (skin color, hair color, etc.) | No speech to text
Try Renderforest's Video Editor for Free!
2. Animaker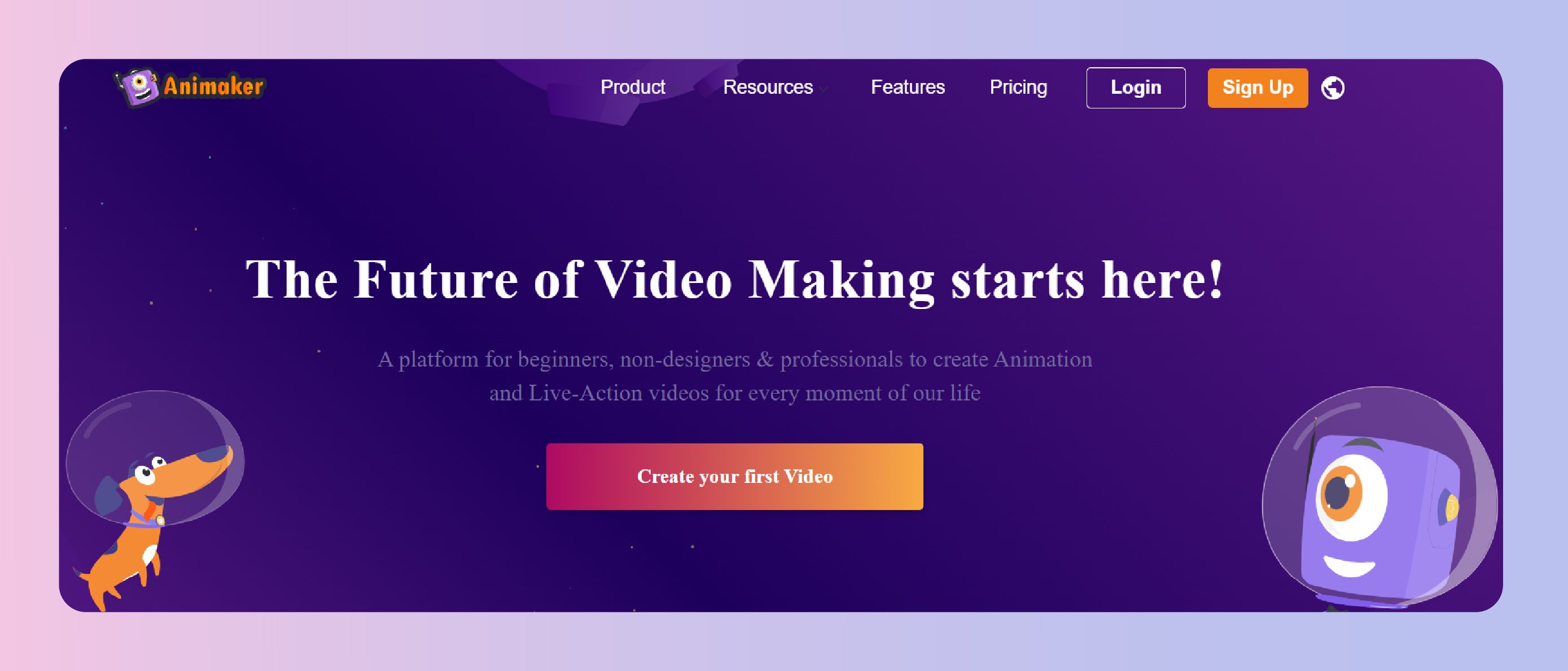 Starting from $14.99/mo, no Free plan
Moving to other Biteable alternatives, Animaker is a robust platform for creating animation and live-action videos for any purpose. It's used and trusted by 18M+ people worldwide and leading brands such as Bosch, VISA, Target, and more. 
There are video templates for different occasions – from Facebook and Instagram video content to text animation and video resumes. Some users claim the Basic plan ($14.99/mo) is expensive, considering it limits video makers to five monthly premium downloads.
Key Takeaways
Pros: Simple Interface | Limited Basic plan
Cons: Unsuitable for non-corporate purposes | Expensive for the given range of features
3. Powtoon
Starting from $15/mo, no Free plan
Powtoon is the Biteable alternative that has the great feature of customizing characters. You can make default characters in Powtoon match your target audience by changing color combinations, facial features, skin tones, hair and more.
Powtoon's video templates are many. From marketing and sales to medical and pet videos, Powtoon can cover many needs.
One of the key downsides is Powtoon's complicated interface, because of which many users need help to create videos by themselves quickly. Some report that editing the template in Powtoon takes much time because of needing help finding some settings menus.
Key Takeaways
Pros: Large library of templates | Character customization options
Cons: Complicated interface slowing many users down | No Free plan
4. Moovly
Starting from $99/mo, no Free plan
Moovly targets a large segment of users. Its key solutions include teams and organizations, education people, business partners, and individual use. It also has a specialized e-commerce video maker – suitable for online sellers.
Recently, Moovly has also integrated ChatGPT and other AI solutions into its video-making tool to enable users to make videos with AI-driven dialogue, which is quite cool for non-experts. Now, users can choose the video type they want to create and briefly explain the topic to AI. Further, AI will generate videos based on that which users can edit or add their own narration.
Looking at pricing, the minimum price for the individual monthly subscription can be quite high for many – starting at $99/mo. Users claim they sometimes have to pay for using images/videos, which is not included in the subscription price. This makes the subscription even more expensive.
Key Takeaways
Pros: Multi-purpose solution for individuals and businesses | Suitable for e-commerce people | Newly integrated AI tools for video making
Cons: Costly subscription | Some stock images/videos require extra charge
5. Adobe After Effects 
Starting from $19.99, most frequently purchased with all other Creative Cloud Apps at $54.99
Designed for more professional use, Adobe After Effects is a motion design software app used by motion graphics and visual effects artists. It offers one of the largest collection presets in the industry to add any effect to your videos – spin graphics, twirl titles and more.
Why do we include the tool in the list of Biteable alternatives? Because it allows you to use video templates from Adobe Stock and create advanced videos with little to no knowledge of animation.
As a professional tool, Adobe After Effects has a steep learning curve – the heavy interface with many functions and tools can be intimidating for beginners. Some users who use the platform for large-sized projects report that the software is slower than expected and can sometimes cause abrupt crashes.
Key Takeaways
Pros: Highly-professional tool | Largest collection of video effects
Cons: Steep learning curve | Uses a lot of memory
6. Visme
Starting from $29.99/mo, the Free plan included
One more Bible alternative – Visme, has an excessive library of templates and solutions. It's a great tool for creating more than just videos, such as presentations, infographics, printables and more. Most users rate Visme as an easy-to-learn and use platform. So, beginners or amateur users should be fine with starting to create videos with it.
The video templates library of Visme is quite large, and the minimum subscription starts from $29.99/mo – not the cheapest option, yet still much lower than Adobe After Effects and Moovly.
However, the Starter plan users complain about many restrictions like limited formats of file downloads and storage space, which is not enough for monthly average-sized projects.
Key Takeaways
Pros: Easy to learn and use | Wide selection of templates | Cheaper than many other solutions | Includes Free plan
Cons: The Starter plan has many restrictions
7. Animoto
Starting from $16/mo, the Free plan included
Getting into Bitable vs. Animoto comparison, it's worth mentioning that Biteable templates are more diverse. While Animoto covers many themes, some user reviews show that more templates should be added to the library to satisfy the target audience's needs.
It's a user-friendly template tool offering a large collection of licensed music tracks, stock photos, and videos. So, for anyone looking for a simple and user-friendly video creation platform, Animoto is the way to go.
The issue that arises for many is the editing of the added video. For example, if you would like to upload your video into the template, you'd better edit the video beforehand, as the editing options Animoto offers are limited.
Key Takeaways
Pros: User-friendly | Offers licensed music tracks, photos and videos
Cons: Limited editing options for added media | A need for a more diverse templates library
8. Vyond
Starting from $49/mo, no Free plan
Moving to Vyond – another Biteable alternative, we can see a rich library of templates designed for any purpose. And there is a great feature that many users love – character customization, which makes the videos more personalized.
However, here the opinions are divided. Those who need minor customizations are satisfied with Vyond. But many users report limited editing options when trying to have real control over the animation process, such as adding movements to the characters or changing their looks in different frames.
The prices for the service are relatively higher, starting from $49/mo and not including a Free version of the tool. So, Vyond is not the cheapest option out there.
Key Takeaways 
Pros: Rich template library | Basic character customization
Cons: Limited options for advanced character customization | High price | No Free plan
9. Blender
Free and open source
An accurate statement here is that Blender can be considered a Biteable alternative only in one direction – 3D animation.
Blender is a free and open-source software covering the entire 3D pipeline – modeling, rigging, animation, and more. It develops based on community donations, so you should not expect a fully-fledged animation platform with various templates or music.
This tool's logic is different. It's for video makers who specialize in 3D animation and are ready to join the community and patiently contribute to adding new features. In short, if the Biteable 3D animation option doesn't satisfy your needs, Blender can be the solution.
Key Takeaways
Pros: Advanced 3D video functionality | Open source | Free to use | Tight contact with contributors' community
Cons: Not many features | Still in the development stage with many bugs | No templates
10. InVideo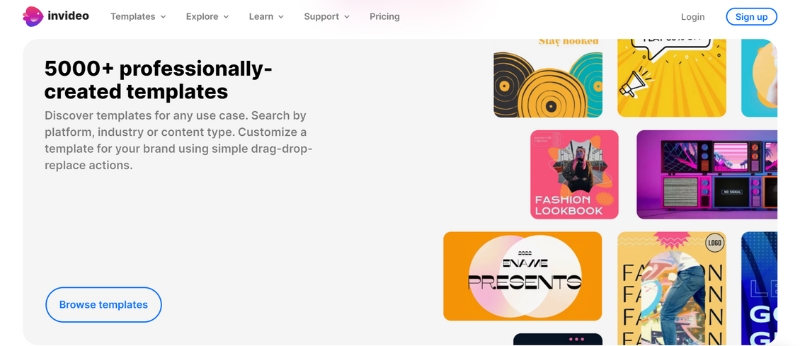 Starting from $30/mo, the Free plan included
User reviews are generally positive about this Biteable alternative. InVideo has 6,000+ video templates, which should be enough to cover even the needs of the pickiest user. It also has a convenient pricing option. There is a Free plan with access to many templates, and the annual subscription is half the price of monthly plans. So, if you commit to using the tool for a year, you can save some money.
Looking at the downsides, the templates section does not have a search function. Though the templates are grouped by category, finding the right one among so many options requires the ability to search for specific keywords. Some users also record limited editing options for templates. So, though many pre-made templates are available, you may need extra work if you need more custom videos.
Key Takeaways
Pros: Budget-friendly + free plan | 6,000+ video templates | User-friendly
Cons: No search function for template library| Limited editing options for templates
11. Flixpress
Starting from $0.83/mo, the Free plan included
Yes, Flixpress is one of the most affordable Biteable alternatives that caught your attention already with the monthly subscription pricing. However, such an affordable price comes with a trade-off – there are fewer templates (limited to 54 and 103 for Personal and Expert plans, respectively).
The platform also has a limited storage space – with one-day storage duration for the Free plan and 30 for the Personal. However, if you don't need the video to be stored for longer than 30 days or most of your content is created and published for the short term, this should not be an issue.
Though limited in quantity, there are still templates for different purposes. So, it largely depends on the niche and style you need for your videos. Flixpress's video templates are less colorful and modern compared to Biteable's library, but again, it depends on the purpose.
Key Takeaways
Pros: Very affordable pricing | Templates for different purposes
Cons: Limited template library | Short storage duration | Less colorful and modern templates
12. Lumen5
Starting from $29/mo, the Free plan included
Closing the list of Biteable alternatives, Lumen5 is a great AI-powered tool to edit and create videos from the text or enrich your talking head videos with callouts, cutaways, and other elements. It has a smaller library of templates than most Biteable competitors in this list. Less than 30 video templates are available. So, you may feel a shortage of choice.
You can add images or videos – either your created ones or from the stock library and build your complete video from separate scenes. Many scene designs are available to help you convey your messages with related graphics. So, you can get inspiration when you need a clear vision of how to present your content.
There is a Free plan available that allows you to create videos with Lumen5 watermarks and HD720 resolution. It also limits you from certain editing options, such as using icons in the videos.
Key Takeaways
Pros: AI-powered text-to-video functionality| Quick video editing for talking head videos | Specialized in editing recorded videos | Many scene designs available 
Cons: Small library of templates | Free plan has limited editing capabilities
The Final Thoughts
There are many Biteable alternatives – whether you want to create animated videos with templates or need a quick editing tool. Most of the above tools can cover all the Biteable features for you, while some are specialized for specific tasks.
Anyways, if you're an active video creator and looking for a reliable tool for long-term use, you can be sure to find one in the market. Modern video creation tools come in different shapes and forms, with an array of features to cover your specific needs. All that's left for you is to take your time to understand which tool will fit the best.
Try Renderforest's Video Editor for Free!
---
---