As we speak, people's attention spans are getting shorter and shorter, and visuals need to attract the viewer more and more, making the power of video content as important as ever. 
Do you want to explore more options with alternative editing software but don't know where to start? There are just so many different innovative tools ready to revolutionize your content creation journey, that it would be a shame to leave them unexplored. 
No doubt, the contribution of InVideo in shaping the way we create striking visuals has been essential, but it's time to shake things up a bit! Join us as we cover over 10 InVideo alternatives that promise to update your whole video editing experience as you know it, as well as invite you to use the newly advanced power of AI. 
Are you ready to see what these InVideo alternatives have in store? Let's dive in!
Why Look for InVideo Alternatives?
InVideo is definitely a user-friendly video editing platform, but even the best tools have their limitations. As you strive for more flexibility and advanced features, you need to explore alternatives that offer something different. 
Free Version Does Not Support Video Export
"For anyone who wishes to try video editor," – says InVideo when introducing its free plan, and it seems they really mean just trying it. There is no video export allowance for the free plan. Meanwhile, other websites like InVideo usually support download options.
While it is seen as an opportunity to try the editor, the absence of video export options prevents you from experimenting with and sharing your work. 
So, it's no surprise that you may find yourself seeking alternatives that offer a more generous approach to free plans, allowing for basic video exports without watermarks.
There Are Common Lags When Uploading Media
There are also common lags when you try to upload media files, which is an obstacle when dealing with large-sized files. 
Sure, this is an issue that appears in various video editors – not just InVideo, but the frequency of reports regarding this concern can make video editors want to seek an InVideo free alternative that guarantees a smoother and more efficient uploading experience. Because who wants to spend more time uploading their video than actually editing it? 
You'd Better Use InVideo with Google Chrome
The browser compatibility of InVideo is another factor that should make you consider exploring alternatives. 
If you use Google Chrome, it may be a smooth experience, but for those using other browsers, such as Firefox or Safari, you may encounter longer loading times and potential inconveniences. So, you want to find an alternative to InVideo that is universally compatible and works equally on whichever browsing platform you are most comfortable using. 
On the other hand, Google Chrome dominates around 65% of the desktop market share, and for many of us, it's the only browser installed on our computers. So, you're likely already using Chrome, so this issue may not be a deal breaker.
InVideo Alternatives You Cannot Afford Neglecting
If you've been looking for an InVideo free alternative that bypasses its downsides, we have curated a list of more than 10 alternative software that will upgrade your content creation experience and smoothen your editing process. 
From advanced features to enhanced flexibility, each InVideo alternative promises to be a game-changer, so get ready to explore editing software options you may not have even heard of before!
Note! InVideo alternatives presented below are mostly selected based on the experience of users and their shared opinions on publicly available sources and, as such, may change over time. The article aims to accumulate user feedback about different software like InVideo in one place to help readers make informed decisions.
1. Renderforest
Say hello to Renderforest's video editor – a comprehensive, all-inclusive InVideo alternative. It's your ultimate hub to produce videos of any type and complexity, such as intros, explainers, animations, promotional videos, music visualizations, and more!
This is an excellent InVideo alternative which contains a number of features for both newbie editors and seasoned content creators, making it a one-stop-shop for various video creation needs. 
Its user-friendly interface allows users to explore the tool's capabilities, while its drag-and-drop functionality makes complex edits become a breeze. 
More importantly, the platform's compatibility across various browsers and mobile devices allows your to unleash you creativity anytime, anywhere.
So, whether it's transitions, scene replacements, trimming, or merging clips, Renderforest simplifies your entire video editing process, making it your go-to video editing software. 
Online Video Maker
Renderforest's large template library truly sets it apart, catering to diverse industries and topics to create online videos. Whether you're crafting a birthday congratulation, a corporate presentation, or a new product launch doesn't matter. You'll find the perfect template for it. 
Ask Renderforest's AI to help. Not sure which style matches you the most? Renderforest's AI-powered assistant will help you by looking at your video script. Type the general idea of the video you want to create and see which pre-made templates AI suggests.
Watch the video below to learn exactly how to use Renderforest's online video maker to create share-worthy videos. 
Creating projects in Renderforest is not only efficient but also creatively fulfilling, thanks to its psychologically influential color presets and a rich library of pre-licensed audio tracks.
YouTube Intro Maker
If you're a YouTuber, Renderforest's YouTube Intro Maker is a template you want to consider working with. The platform aligns with YouTube standards, offering a collection of intros and outros designed for optimal length, resolution, and audio quality. 
Curious as to how you can create YouTube intros quickly and easily using Renderforest? Watch the video below to explore your options. 
You don't have to worry about the time it takes to render the whole process as it is relatively quick, allowing you to publish high-resolution YouTube videos smoothly. 
Video Animation Software
Unlike other video editors, Renderforest doesn't just stop at traditional video editing; you can experiment with other forms of animation using its Video Animation Software. 
Creating trendy 2D, 3D, and interactive animation videos becomes a hassle-free experience when you use a selection of creative and ready-to-use templates that are updated regularly. 
All in all, Renderforest can be the InVideo alternative you've been looking for due to its large selection of templates, eye-catching design, and top-notch animations. And you'll have far fewer restrictions on the devices of browsers you use with it, as the platform works just fine in every browser + its mobile app, available for iOS and Android, allows for video creation on the go.

2. CapCut
Packed with features, this alternative to InVideo excels in providing a smooth editing experience for users, whether beginners or more experienced editors who are looking to enhance their videos using AI tools.
One notable strength of CapCut is its focus on commercial-oriented editing, making it an ideal choice for those who want to create content for marketing or promotions.
CapCut's desktop app stands out for its stability, ensuring a smoother performance compared to its web version. It addresses common issues like lag and slow editing processes, offering a reliable environment for users to unleash their creativity. 
The editing tools in CapCut are very impressive, allowing you to upload your footage and remove the original background, replace it with any backdrop of your choice, and upscale images for enhanced quality.
The AI color correction feature enhances color grading, and the ability to generate portraits based on your videos adds a unique touch to your content. 
CapCut even recognizes and supports up to 10 languages for accurate voice captions, making it particularly useful for tutorial videos, lectures, and reviews. The collaborative aspect of creating a CapCut team space adds a layer of convenience that you and your fellow teammates will surely appreciate. 
3. Canva
You've probably already heard of this design industry giant, but have you considered its power in video editing? 
Canva offers a variety of features for creating visually appealing and engaging video content. With a user-friendly interface, it provides many templates tailored for various video types, from product demos to social media posts. 
The built-in timeline simplifies video trimming, and an array of video animations, designed with modern aesthetics, adds a touch of creativity.
As recent as October 2023, Canva released the brand new Magic Media™ platform, which allows you to visualize your video and manifest it by simply describing what you're after and watching the tool generate short videos that suit the design you're seeking, all powered by Runway. 
You can even take an AI-generated image and turn it into a video!
Say what?
Canva's versatility is further demonstrated by its support for different video formats, making it a suitable platform for various purposes. Whether you're creating content for Instagram, Facebook, TikTok, or Twitch, Canva streamlines the process with pre-set dimensions and design elements
4. Veed
One of this video editing software's strengths is the implementation of automatic subtitles, offering a convenient solution for content creators who prioritize accessibility and engagement.
In addition, advanced text reviewers in Veed allow for precise customization of subtitles, ensuring an accurate representation of spoken content. The platform supports 109+ languages in its automated subtitling tool, promoting inclusivity and reaching a diverse audience. 
The refined text reviewer further assists in maintaining text accuracy, highlighting potential errors for easy correction.
Veed excels in customization, allowing users to create unique content by customizing video templates from scratch or recording screens, slides, and webcams for interactive and dynamic videos. 
The text-to-speech function and Veed's imagery provide a realistic touch to videos, striking a balance between animated templates and direct-to-camera content.
The AI-powered platform also offers various video export formats, enabling users to download videos in multiple formats, including SRT and VTT. Sharing finalized video material is simplified through options like email, LinkedIn, or a shareable link for embedding on websites. 
Veed's focus on performance analytics, trackable CTAs, and engagement metrics adds a data-driven dimension to video creation, allowing you to assess the impact and reach of your content.
5. Synthesia
If you'd like to try out an alternative to InVideo that combines simplicity and precision, consider using Synthesia. With it, you can concentrate on editing videos without relying too much on the more complex, technical side of editing. 
Its interface is very user-friendly and doesn't require you to sit through hours of how-to guides when making it work. 
Its features range from customizable characters that bring your script to life to backgrounds that set the mood, so you can say that it's a playground for creativity. After a slick corporate vibe or a quirky animation? Doesn't matter which one – Synthesia's got your back. 
Just pick a template, throw in your script, and voila! You've got a video that attracts lots of eyes. One notable aspect of Synthesia is that it's not just about making your videos look good but also about making them sound good. Its text-to-speech process runs very efficiently, almost like having Morgan Freeman narrate your content – smooth and attention-grabbing.
The tool also allows you to quickly export and easily share your videos, without encouraging you to Google every step. What's not to love about this strong yet effortless software?
6. Fliki
This AI-powered software's interface is very user-friendly, simple, and sleek to use. Simply import your footage, and Fliki becomes your creative canvas. 
Trimming, cutting, and adding effects – all of these come together to allow you to decide what happens next. 
Fliki understands your hunger for uniqueness, so it has a big library of effects and transitions to make your video pop. 
Want to add a touch of vintage or go futuristic? Fliki has many filters representing the theme you'd like to implement in your video. 
Exporting your masterpiece on Fliki is as easy as hitting a button, after which you can share your video anywhere on social media, such as YouTube or Instagram. 
So, if you're tired of juggling complicated editing tools such as InVideo and want a breath of fresh air, consider trying Fliki out.
7. Animoto
As a user-friendly video editing platform, Animoto sets itself apart with a rich repository of Getty images, videos, licensed music tracks, motion graphics, and more.
What distinguishes Animoto is its commitment to brand consistency, allowing users to upload elements such as fonts, colors, logos, and styling elements.
This unique feature ensures all created video content adheres to established brand templates, maintaining a cohesive and professional look without manual adjustments.
The platform facilitates collaborative work by inviting multiple collaborators to join the same project, fostering teamwork and efficient editing processes. Time-stamped comments and real-time feedback responses enhance communication among collaborators, streamlining the editing workflow.
Animoto's integrated social sharing, embedding, and email tools simplify the distribution of finalized video content across various digital channels. This ease of sharing is complemented by a strong customer support system, ensuring users receive assistance whenever needed.
8. Filmora
Are you looking to turn your raw footage into cinematic pieces without the headache of having to go through multiple how-to guides? 
Well, one standout feature of Filmora is its easy drag-and-drop interface, making it a breeze for beginners to cut, trim, and arrange their clips effortlessly. 
Filmora also packs a number of advanced features, such as the built-in music library and sound effects, which make sure that your video has the perfect soundtrack, as well as a group of transitions and filters that help you add a professional touch to your videos. 
What makes Filmora unique is its focus on storytelling, and it does this by having the text and titles feature to allow you to add captions and interactive text to convey your message effectively. With its latest join with ChatGPT, the AI Copywriter helps you generate texts for videos without needing to write them by hand or joggle between different platforms for content generation.
9. HeyGen
This is a video editing platform you don't want to miss. It's a must-have if you want an editor that allows you to do more with your videos, making it a great software like InVideo, but with more interesting perks that make use of AI. 
For example, if you need to change the background of your video or improve the quality of your images, HeyGen has the exact tools for that. 
It's also good for adding effects to make your videos more interesting. If you've ever wanted to make it look like your camera is moving around when it's not, HeyGen can do that too.
One neat thing about HeyGen is that it understands your voice. You can talk, and it'll write down what you're saying, which is really handy if you're making videos where you need to explain something to your viewers. Plus, it supports different languages, so you can use it no matter what language you speak!
Another cool feature is that you can work on videos with other people. You can create a space for your team and all work on the same video project together, so it's useful for big projects that need lots of hands.
---
Recommended Reading
---
10. Runway
This video editing software is designed for creative minds who want to bring their ideas to life. One standout feature is its ability to handle a variety of tasks, making it a versatile choice for video enthusiasts. 
If you're into making videos with unique shapes and styles, Runway has got you covered with its draw mask feature, letting you highlight and edit specific objects in your video separately. This is a game-changer for adding dynamic elements and enhancing the visual appeal of your online content.
Moreover, Runway's AI-driven capabilities allow you to separate objects from the background effortlessly, creating an engaging viewing experience. The smart cutout feature lets you overlay one scene onto another, opening up possibilities for creative storytelling. 
If you've ever wished to extend your music track to match your video length, Runway offers an AI audio stretcher, adding harmony and smoothness to your soundtrack.
So, it doesn't matter if you're a content creator, filmmaker, or social media enthusiast. Runway's blend of advanced features and user-friendly interface makes it a standout choice when it comes to video editing. 
11. Lumen5
Looking for sites like InVideo that support content repurposing? A blog-to-video automatic transformation is one of the hottest features of Lumen5, allowing you to save time significantly on video script writing.
This video editing software stands out for its AI-driven features, making video production accessible to users without needing to have PhD-level editing skills. 
It has the ability to transform your text content into an engaging video. How? 
The AI analyzes your written content and suggests relevant visuals, animations, and transitions, which not only speeds up the video creation process but also produces a visually appealing result.
The software offers a range of templates tailored for various purposes, including social media posts, marketing videos, and presentations. You can choose a template that fits your needs and customize it by adding your branding elements, colors, and styles. 
What's more, the tool's storyboard editor allows users to fine-tune their videos. You can adjust the pacing, reorder scenes, and add or remove content to ensure the final product aligns perfectly with your vision.
12. Pictory 
Your blog will gain a fresh look with Pictory. Use it to turn your written posts into engaging videos. This will make your blog more lively and help improve your website's ranking on search engines, attracting more readers.
Secondly, use it for your social media videos to add captions automatically. This is crucial because a large portion of social media users watch videos without sound. By having subtitles, you make sure your message gets across effectively.
Additionally, Pictory can turn your scripts into effective Video Sales Letters quickly. These sales videos come complete with stock footage, music, and voiceovers, helping you make a strong impact on your audience. 
The AI can also extract the best parts from your long videos, creating short, shareable snippets for social media. Lastly, you can use Pictory to easily create highlight videos from your longer content, perfect for sharing on your social media channels.
More recently, Pictory's partnership with ElevenLabs' hyper-realistic AI voices means you can now create videos with human-sounding voiceovers, which greatly increase your videos' engagement and relatability. 
Pictory is especially useful to small business owners, aspiring entrepreneurs, or anyone looking to create videos without the hassle of extensive editing or investing in expensive software. While it may not match the capabilities of professional videographers, Pictory is continually improving. It's an ideal solution for those with simple video needs, like mine.
13. Wave.video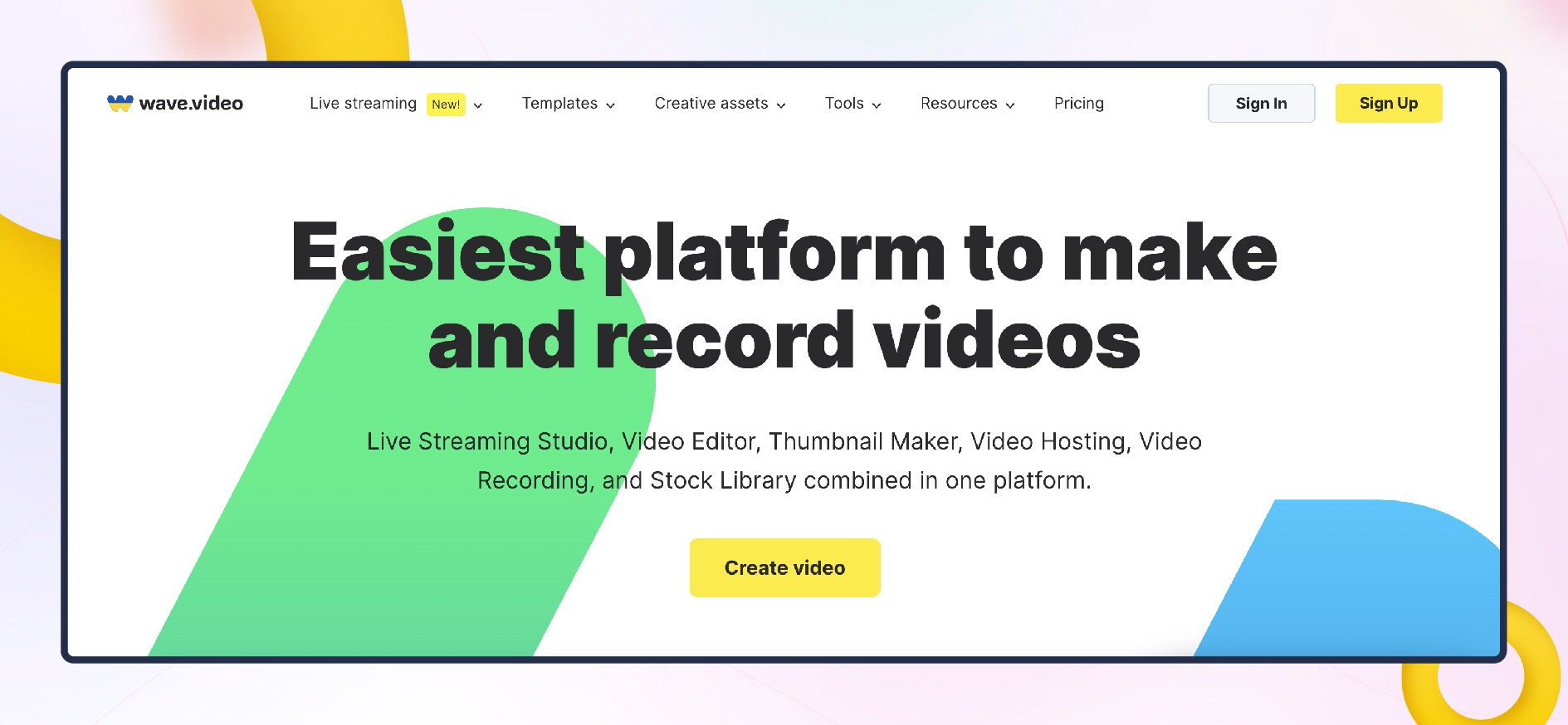 Coming to another robust InVideo alternative, Wave.video is quite universal regarding video editing and related capabilities it provides. From basic video recording and editing to more robust video hosting and password-protected sharing, it has everything you need to create a unique business-oriented video experience.
Let's explore the basics first. Wave.video can be a good place to organize live streams – alone or with invited guests. Whether you want to record podcasts, interviews, or any other video-based conversation, Wave. a video is a well-oiled machine that does the job fast.
Once your live stream is ready, play with an animated text generator, subtitler, video collage maker, and other video editing features of the platform to bring it to the next level. You can turn any rough video draft into a professional-looking clip with zest and animation in no time.
What else? When your videos are ready, you can keep them in Wave. video's reliable hosting with a password-protected system. This allows you to fully control the viewer access and securely share the videos with whoever you want. You can create the password and the message that will pop up whenever someone tries to play your video.
A pleasant bonus is the platform allows you to create engaging video thumbnails. You can cut a scene from the video or upload any image to Wave.video. Further, with the editing tools like background remover, layouts, text, and other elements, you can turn it into an eye-catching thumbnail in no time.
The good part is that your thumbnail will be stylistically consistent with the video, giving your clips a unified visual feel.
14. Descript
Yet another tool that makes use of AI, this tool contains a useful set of features and user-friendly functionalities. It provides rapid and accurate transcription services in 23 languages, allowing users to edit media clips effortlessly by manipulating the text transcript directly. 
The platform supports various advanced features such as Studio Sound and Filler Word Removal, enhancing the overall editing experience. Collaboration is streamlined through features like recording in the editor, templates, captions, transitions, and music support. 
The user interface is designed to be friendly – almost the same as using a standard word processing document, which makes the editing process accessible to a broad audience. 
Descript's powerful AI Actions section performs tasks like transcription and video enhancement within seconds, contributing to an efficient and seamless editing workflow.
In terms of integrations, Descript easily connects with popular tools such as Slack, Castos, Podbean, Restream, and Final Cut Pro, enhancing the platform's versatility and allowing users to leverage the software alongside their preferred applications for a more efficient workflow. A win-win situation!
15. WeVideo
When it comes to transitions, WeVideo provides a variety of options to move between scenes smoothly. 
Whether you're seeking a classic cut, a stylish dissolve, or a strong slide, you can enhance the flow of your video. Its special effects add an extra layer of creativity, allowing you to apply filters, overlays, and animations to make your video visually stunning.
WeVideo's music and sound options also contribute to the overall vibe of your video. The platform offers a diverse library of tunes and sound effects, enabling you to pick the perfect soundtrack to complement your visuals, ease the process of finding suitable music, and increase the production value of your video.
Great news for educators: WeVideo integrates with many popular learning management systems. If you're used to working with Canvas, Schoology, ClassLink, and similar platforms, you can use WeVideo just as easily with them. It's a great opportunity to make your content more engaging and interactive.
Final Thoughts
Whether you've just started editing videos as a side hustle or maybe you are an experienced video editor who would like to try something new for a change, you need to be aware of available software like InVideo, which gives you lots of ways to be creative. 
With so many features presented, it's hard to conclude the best InVideo alternative for you. The choice hardly depends on the type of video you want to create and the overall goals you have for it.
But if you want software that does a bit of everything, check out Renderforest – the best InVideo alternative. It's like a big door that allows you to enter a world of experimenting with all kinds of creative videos. Go for it and shake things up, starting with Renderforest!