Hello there, design revolutionaries! Looking for a fresh set of tools to shake up your workflow?
Well, this article combines 10+ Placeit alternative tools to make your design game jump to the next level. You'll find one that suits your needs, whether you're looking for tools to animate, mockup, or create a full-fledged website.
But let's first look at which Placeit gaps may need filling so you can pick the right tool for you.
A more advanced editing toolbox is needed

. What we got from

Placeit reviews

is that it may need more sophisticated editing features. For example, if you're looking to design a website, you'll probably need more features than what Placeit offers. Additionally, some users wished Placeit had "

advanced cropping, realistic blur, color background choice, and gif support

."

One-time purchases are expensive

. Well, Placeit sometimes offers free downloads for several designs. However, one-time purchases you'll most probably need are not exactly wallet-friendly. You can get unlimited downloads with a monthly subscription that starts from $7.47, but if you know you'll only need one or two designs in the long run and don't want to commit, you'll have to pay way more for them. 
10+ Placeit Alternative Software You Need to Try
You may seek Placeit alternative platforms for the above-mentioned or other reasons. Either way, we did thorough research to bring you this compilation of the top alternative tools. 
When choosing the tools, we first focused on more advanced editing features, looked at how easy they are to use, and finally, the pricing. Below Placeit alternative platforms are still useful for beginner designers, they don't have a steep learning curve, and you don't have to be a design guru to use them. However, they don't limit you to doing some professional stuff either.
Note! The tool reviews are mostly based on the experience of users and their shared opinions on publicly available sources, and as such, may change over time due to user feedback. The article aims to accumulate user feedback about different design tools in one place to help readers make informed decisions.
1. Renderforest
Let's dive right into one of the most comprehensive design solutions in the market – Renderforest. What is it specifically for, and why can it be a good alternative to Placeit?
The answer is Renderforest is your one subscription for all design needs. It does not just have a wide spectrum of animation and mockup tools but also website-building platforms with an extensive library of templates.
Video Templates
Animation videos, Intros & Logo Reveals, Business Presentations, Music Visualisations or anything else your creative mind comes up with – Renderforest helps you create all these videos easily and quickly.
Renderforest's video maker features video templates for any occasion, from holidays and events to corporate videos, sales promos, or even birthday content.
Each pack comes with a unique design and style, which you can further customize to add characters, choose a location of the video (like near the Eiffel Tower), add voice-over, and more!
Each video template has free and paid scenes + you can upload your own content to merge it with the existing scenes.
And if you have a script but are unsure which video style is the best for it, just type in your video script in Renderforest, and its advanced AI system will suggest the most appropriate video template.
Logo Maker
In the process of establishing a brand identity? Let Renderforest help you with one of the most important elements – a logo.
Renderforest's logo maker is simple and intuitive, eliminating the need for professional design skills or experience. It's fully automated, just give your business description to the tool in every detail and receive a bunch of variants that can be used as a starting point.
You can customize the logo further with different fonts, colors, and more. You can also instantly check how the suggested logo looks on different backgrounds, from your website to T-shirts and business cards. This helps you better understand which logo idea is more suitable for your purpose.
Mockup Libraries
Moving further, Renderforest provides a large library of photorealistic mockup templates for any product, device or apparel. The variety of templates allows you to test any design idea before you actually invest time and money into its production. Be it a new app design, T-shirt, book cover, or logo – all can be previewed on different mockups.
When it comes to customization, you are given full control of the process. Pick any template you need, add your artwork, and customize the background, textures, shadows, and other details. Compared to Placeit, Renderforest is more advanced in customization possibilities, that's why both professionals and businesses actively use it.
The key distinguishing feature of Renderforest mockups is the quality and uniqueness of the scenes – you won't find the same templates anywhere else. Every mockup pack features several unique templates for you to choose from, so you can choose the most suitable one for your project.
Ready to explore the world of mockup designs?
Graphic Maker
Well, need anything else? Renderforest also has a huge library of graphics templates and tools to help you create stunning visuals for your blog posts, website banners, social media updates and more.
If you need to slay with a unique and eye-catchy design for your message on any platform, Renderforest has a whole range of visuals for you to choose from.
You can find templates for Instagram or Facebook covers, YouTube video thumbnails, social media posts, and much more. Each design template can be changed to fit the sizes and requirements of the specific social media platform.
And as we know your branding needs don't limit to digital assets, you can also find ready-to-use templates for business cards, posters, flyers, book covers, gift cards, menus … the list is almost endless.
What about customization? 
Here are some advanced customization options that may be missing from Placeit but are necessary for you to create a truly unique design. 
Customize Text

. You can play with text font, size, color, alignment, and even with letter height and spacing. But what's really amazing here is that

you can add your custom font to graphics and make curved texts

. These advanced options are relatively new to Renderforest, and they are ready to make your design stand out.

Add Elements

. Any assets, icons, and shapes are ready to be added to your graphics. To do that, you must choose the preferred element from the left-side menu and drag it to the canvas. And here's the surprise –

Renderforest now supports GIF files powered by GIPHY

, so you can add GIFs and animated stickers with one click.

Edit to Perfection

. Want to play the God of design? Renderforest's graphics maker enables you to add shadows to any design layer – icons, elements, images, or any other object. This allows you to add depth and a unique touch to your design.
Pricing
Free ($0.00/mo): Access to thousands of templates with a limited amount of stock footage and images
Lite ($9.99/mo): Unlimited videos and design templates with one premium website on the user's chosen domain
Pro ($19.99/mo): Unlimited HD1080 videos, branding guidelines for logos and advanced website control and editing tools
Business ($29.99/mo): Advanced level solution for businesses with a dedicated account manager, custom watermark, and reseller license
2. Canva
The worldly popular online graphic design tool, Canva, enables users to create stunning visuals for various use cases. From creating social media graphics to making flyers and presentations – Canva is a great choice for creating unique visuals in minutes.
Canva is considered a professional-grade tool with tons of features to choose from. It provides users with various templates, fonts, and assets. This makes it an ideal choice for experienced designers who need to create outstanding designs with ease.
In terms of design options, Canva is the most flexible tool out there. But, if you're not a professional designer, this may be overwhelming. Starting from the interface and moving to the editing options – Canva can appear less intuitive for beginners.
But if you're willing to invest some time in mastering the tool, Canva can be rewarding.
Pricing
Canva Free ($0.00/mo): Access to 250K+ templates and 1M+ stock images with limited editing options
Canva Pro ($12.99/mo): Unlimited access to templates, increased cloud storage, and the opportunity to create up to 100 branding styles
Canva for Teams ($14.99/mo per first five users): Centralized source for all your branding assets, real-time collaboration, company reports and stats, and other features suitable for teams and businesses
3. Smartmockups
Though less universal than Placeit or Renderforest, Smartmockups is a great tool for creating promotional mockups. It does not come with a logo maker or website generator. Instead, Smartmockup specializes in creating mockups for marketing and promotion – from business cards to T-shirts and product packaging.
There are over 100,000 exported mockups monthly, which can speak volumes about the success of this tool. It's easy to use with multiple options to upload your design to the mockup templates – from your computer, third-party integrations like Canva and Figma, and the screenshot of the URL to create mockups for your website.
You can add your custom branding to the tool in the Pro version so that the branding elements are automatically added whenever you customize a chosen template.
Smartmockups' template library is updated regularly, so you can always find something fresh and unique to your designs. And when you're done with creating your mockup, you can share it directly to social media or export it in any of the four resolution options – whatever suits you best.
Pricing 
Free ($0.00/mo): Allows only one user, with free access to 2.7K+ mockups with export opportunities in a middle resolution. The free version allows third-party integrations and basic editing tools.
Pro ($14.99/mo): All features unlocked, including 12,000+ mockups, more advanced editing tools, and branding capabilities with unlimited export options. Here you can also use video templates and export all your final designs with a transparent background in PNG format, which makes it perfect for using it further on the web.
4. Looka
From the narrow-focused Smartmockups to the more versatile Looka, this online graphic design platform provides users with everything they need to create professional visuals. It's universal and multi-purpose, covering the A-Z of the design process from logos to full branding packages and from business cards to package designs.
The journey starts with a short survey about your company and your preferred design elements like colors, icons, etc. Then, the system generates some logo options for you to choose from.
Once you choose the one you like, you can customize it to your heart's content. You can work with the palette, background, symbols, and logo container.
When your final design is ready, you get 15+ logo files you can use across all mediums – from high-res PNGs and vector logo files to social media kits and ready-to-print designs.
We're not stopping here. Looka also offers a wide selection of design assets beyond logos – from business cards to letterheads and T-shirts, as well as website and store builders.
Basically, when you finalize your logo design, you can move to Looka's brand kit right from your logo editor to see other visual design suggestions that Looka automatically aligns with your logo.
Pretty nifty, right?
Pricing 
In case you buy a logo and brand kit
Brand Kit Subscription ($96/yr): Every design asset for a full branding package except the website
Brand Kit Web Subscription ($192/yr): Every design asset + website
In case you buy a logo only
Basic Logo Package ($20): A one-time purchase for one PNG logo file
Premium Logo Package ($65): A one-time purchase for multiple high-res files with unlimited color variations and post-purchase changes. This package also gives you lifetime technical support and full ownership of the final logo.
5. Fotor
Moving to a mix of an image editor, AI-image generator, and template-based design creation tool, Fotor can support you in all your projects that need some kind of visual branding and graphic design.
First, you can customize the already existing templates with an intuitive drag & drop editor or choose from the various design elements like backgrounds, frames, illustrations and photo effects.
Fotor's templates are for different marketing purposes like logos, flyers, posters, invitations, etc. There is also a large template library dedicated specifically to social media. Here, you can find templates for Instagram stories and posts, YouTube thumbnails and covers, and other visuals for Facebook, Twitter, Pinterest, Twitch, etc.
The editor is quite rich with all the necessary tools for text, background, and image editing, so with a bit of creativity, you can have unique designs out of the templates.
Second, Fotor's AI-powered design creation technology helps you to automatically generate unique visuals. All you need to do is upload text for the AI engine to create unique visuals in seconds. This may be a good starting point if you can't find a suitable template.
Pricing 
Fotor Basic ($0.00/mo): Only allows access to basic editing and design features and basic collage layouts
Fotor Pro ($3.33/mo): Unlocks advanced editing features and AI-powered tools like photo enhancer, background remover, AI content generation, etc.
Fotor Pro+ ($7.49/mo): All the Fotor Pro features + ability to upload custom fonts, increased cloud storage, and more credits per month (300 compared to Pro's 100)
6. Adobe Express
Some may think Adobe products require professional skills and are quite expensive. But there's Adobe Express, with its extensive library of templates, fonts, and shapes that non-designers can use with ease.
Adobe Express is an online editor that allows you to create custom visuals with drag-and-drop functionality, resizing, and positioning tools. It has many advanced functionalities that are more suitable for professional-level design. However, when presenting it as a Placeit alternative, we mostly focus on the templates and easy-to-use interface, making it a good choice for anyone who wants to create something quickly.
There are two key ways to use templates.
First, you can find pre-made designs for different purposes in the library and customize them to your needs. It's easy to add photos, edit text and change colors with just a few clicks. In addition to editing tools, Adobe Express also gives access to Adobe Stock royalty-free photo collection and Adobe Fonts.
Besides, you can create your own template with Adobe Express and save it in your preferred library to reuse later. For example, if you have a preferred logo or a specific color scheme, you can create a template with them without having to start from scratch every time.
Pricing
Free ($0.00/mo): Templates, fonts, and royalty-free photos are available with some limitations to free users. There is only 2GB of cloud storage, and only basic editing tools are available.
Premium ($9.99/mo): All templates, design assets, fonts and royalty-free stock photos are unlocked. Here you can also add custom branding elements like logos, colors, fonts, etc., and have an increased cloud storage of 100GB.
7. Visme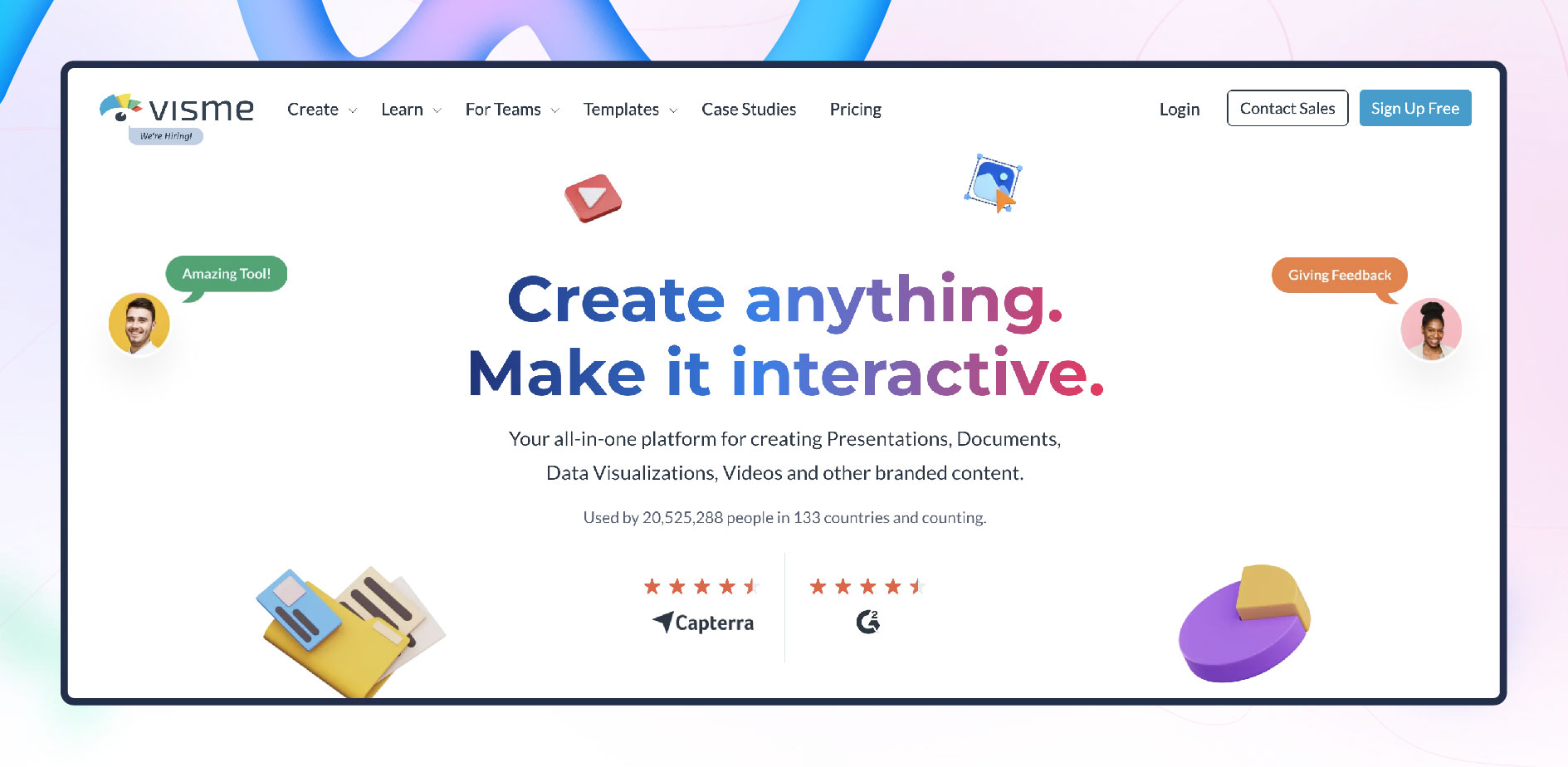 Another Placeit alternative you can consider is Visme, which is a renowned online graphic design platform. Visme goes beyond presentation templates, social media posts, and other visuals. It also enables users to create websites, ebooks, invoices, and many other documents you can think of.
When working with Visme templates, users can upload their own content in the form of media or charts & tables (if you're creating infographics or similar visuals). This significantly simplifies the process of creating visuals with the already available assets.
One of the recently announced Visme tools is the Branded Templates, which is a solution for businesses that need to maintain a consistent brand identity across all their visuals. With this feature, companies can create custom templates with all their branding elements (logo, colors, fonts) and use them later in other documents.
If a company website already has branding elements, Visme can automatically extract any assets needed. To do that, you can paste the website URL into the brand wizard, and Visme will take care of the rest.
Further, the platform will provide a library of prefabricated templates you can customize any way you want. The more visuals you create, the better Visme will learn about your brand and the more personalized templates it will suggest.
Pricing
Basic ($0.00/mo): Limited templates and storage with regular support available
Starter ($29/mo): Full access to templates and assets, export options in .JPG, PNG, PDF formats + 24/7 email and chat support for users
Pro ($59/mo): Full downloading options including PPTX, HTML5, Video and GIF, brand kit and analytics features for more comprehensive usage statistics + privacy controls
Visme for Teams: Available at custom pricing with features like team collaboration, personalized training and onboarding, custom sub-domain, and more!
8. Mockup Photos
Don't want to spend money on a Placeit alternative? With certain limitations like no built-in editor and no user-friendly customization options, you can try
Mockup Photos
, which is considered to be one of the largest collections of free mockups available on the net.
This free Placeit alternative offers a massive library of free visuals sorted by categories, so you can find the right elements for your project quickly and easily. Users can also search for specific visuals they need in the library.
However, it's worth mentioning that Mockup Photos doesn't provide any editing tools or customization options inside the platform. This means that if you need to make changes or add a logo, you will need a professional editing tool like Photoshop or the help of any of the above-mentioned Placeit alternatives.
With Mockup Photos, you can choose the template that suits you, download it in the high-res image format, and then edit it with any other alternative. If you're looking for a long-term solution for creating visuals, you may have better choices.
However, you can treat it as a source of inspiration for your future visuals or use it to create designs on a limited budget.
Pricing
Mockup Photos is available for free. It provides more than 1,500 templates for different occasions for free download, with the only requirement to be registered on the platform.
9. Video Bolt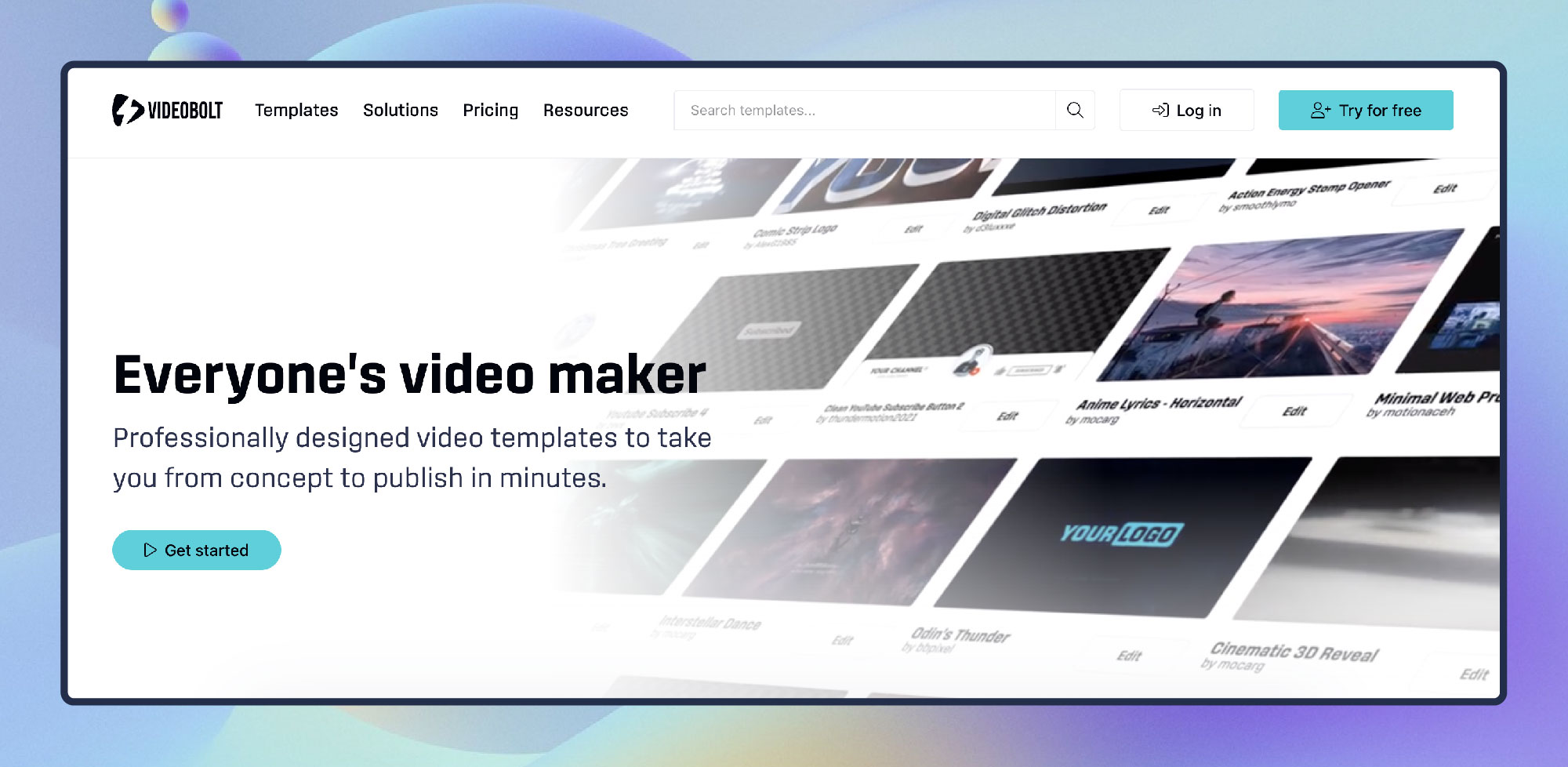 Continuing the list of Placeit alternatives, Video Bolt is a platform that simplifies video content creation. It enables users to create videos from scratch with powerful editing tools or with the help of ready-made templates.
Well, it's not a complete alternative to Placeit, as it only concentrates on videos. So, if you're looking for a tool that will help you create static visuals with ease, you better skip to the next alternative. But if you were using Placeit for its video-related features, this Placeit video alternative may be the right choice.
The platform offers a library of templates sorted by category and mood and covers almost any occasion, from a product demonstration to an event announcement. As soon as you select a template, Video Bolt launches its in-house editor and allows you to customize and adjust the video any way you want.
The templates are up-to-date with the creative and technical guidelines that are prescribed by the most popular social media platforms nowadays. This means no matter which platform you post your video, it will look great on any device.
You can enrich your videos with millions of royalty-free visual elements from Pexels, Unsplash, and Pixabay. Additionally, you can get royalty-free music for your videos from Epidemic Sound or directly import it from SoundCloud.
Once done with the editing, your video can be directly published from Video Bolt to YouTube, Twitter, Facebook, and LinkedIn.
Pricing
Lite ($14.99/mo): Video resolutions are limited to 720p, with one video duration being 10 minutes at most
Pro ($34.99/mo): Up to 4K video results and up to 60 fps framerate; videos now can have a commercial license and last up to 1 hour
Business ($59.99/mo): Longer (up to 2 hours), high-resolution videos with a resale license
10. Vexels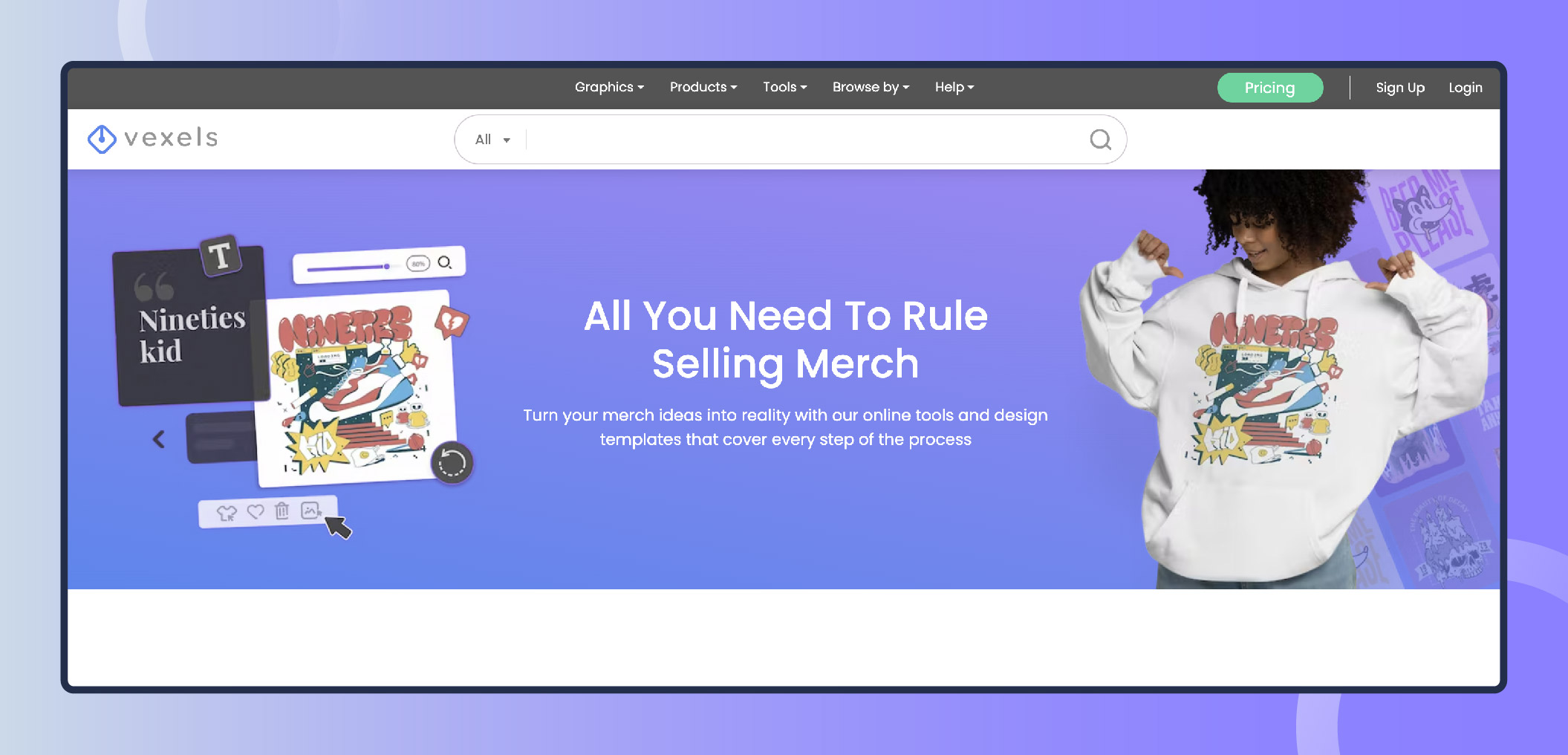 Is there anyone who is interested in selling branded T-shirts or other mech elements? If yes, Vexels can be the Placeit alternative you need.
Vexels is an online platform that provides thousands of vector images and design resources for personal or commercial use. It's a great tool for those who want to quickly get a logo, fonts, and illustrations for printing or for anyone who wants to start their own merch store.
The site offers a wide variety of premium and free vector images that are categorized according to their themes. The files are editable; you can download them in any format you need and further edit them with any graphics software you own.
Besides templates, you can also request designs from Vexels' community of graphic designers. You can send your query to the team, after which they will evaluate your request (if it fits Vexels style) and provide you with the best-suited option.
This platform does not come with a built-in editor; instead, it offers a great collection of designs you can use as templates for your project. It's also narrow-focused mostly on product designs, so if you were using Placeit for other purposes, you should probably consider some of the previous alternatives.
Pricing
Merch ($29/mo): 100 stock merch files downloads, two custom design requests and full access to design generator tools
Merch Plus ($49/mo): 200 stock merch files downloads, four custom design requests and full access to design generator tools
Merch Ultimate ($99/mo): 2000 stock merch files downloads, eight custom design requests and full access to design generator tools
11. Mockuper

Closing our list of Placeit alternatives on a friendly note. Mockuper is a library of 985+ free mockup templates created by a guy who once needed mockups for his design projects but could not find them for free. After that he decided to create his free collection and share it with others.
So, yes, you've found a free alternative to Placeit where you can find a wide range of mockups for your designs. There are some premium add-ons and ads on the platform to cover the cost of hosting, but most of the mockups are free to use.
Mockuper has a built-in editor – less robust than the one from Placeit, but still, it allows you to customize basic properties such as background color, reflection, opacity, and more. The editor also allows you to add layers, such as text or images, to make the mockup more realistic.
There are mockup templates for any device you need – desktop, tablet, smartphone or anything else. Once done with the customization, you can download the mockup or save its copy to your library. This option can be helpful if you need branded mockups for multiple projects or clients.
The downside is Mockuper can't help you with videos, websites, or logos, but it's a great choice when it comes to physical product mockups. Again, it depends on what you need to do in your project.
Pricing
The platform is completely free.
The Bottom Line
Well, it seems like many Placeit alternatives offer a great set of tools and features for creating stunning visuals. Some of them – different in editing capabilities and the type of content they offer, are covered in the list based on what we found to be the most popular and feature-rich solutions.
The further choice is up to you – depending on which features you need for your project and what the budget allows.
In any case, it's always a good idea to try different solutions before deciding which one you should use, and we hope this list helped you with that.
Good luck, and have fun creating!
---