Let's be honest. We respond to visual content better than to text. Which is why using images, videos, and infographics will help you catch the attention of your audience.
Today, slideshows are one of the most popular and trendy visuals used on the web. You probably see sliders several times a day on different websites while surfing the web.
Let us define what exactly slideshows are. Slideshows are dynamic content which display collections of images spiced up with texts, design elements, and also music. One of the things that makes them so trendy is the dynamics which keeps your site visitors engaged and active.
Besides, sliders allow you to place a collection of images in a single section of your web page, which saves space for other content. In short, slideshow galleries deliver visual information in a dynamic and engaging way.
Renderforest slideshow maker offers a wide range of Slideshow templates from Parallax Circles to Baby Birth Timeline, from Cinematic Photo Slideshow to Digital Hi-Tech Presentation. Our catalog is big enough to meet all your expectations when making your slideshows. They are designed to provide unique visual effects to your images, increasing your website's attractiveness and engaging your audience.
In this tutorial, we are going to show you how to create a great slideshow video with Renderforest.
To start creating your awesome slideshow, you need to sign up or sign in, if you already have an account.
Choose "Slideshow" category from "Video Templates" section. This category consists of thematic subcategories, which can be picked from the drop-down list.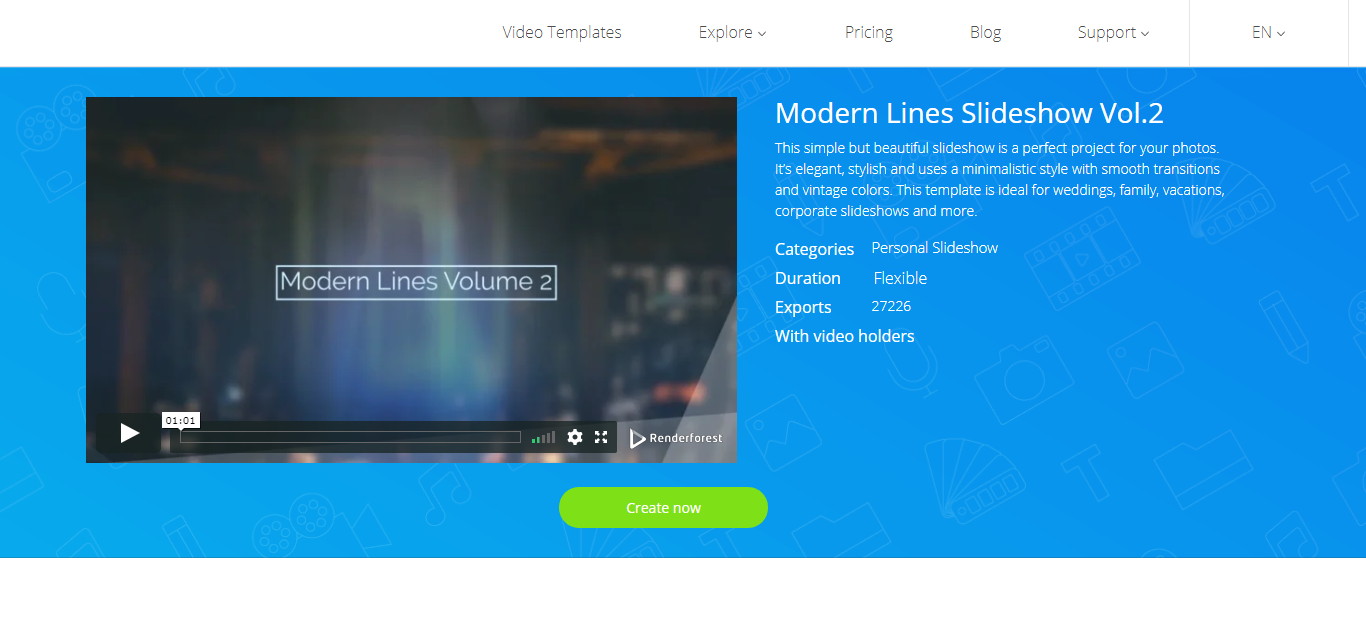 There are the following subcategories in the Slideshow category – Corporate, Personal, Happy Birthday video, Wedding, Greeting Card, Love, Holiday, Baby and Real Estate templates. It's all about creative freedom. Whatever you want to make, these templates will allow you to get results beyond your expectation. The only limit here is your imagination.
Pick one of our amazing Slideshow templates, Dreamers Minimalistic Slideshow, for example. This template can be used as a personal slideshow, birthday surprise, for wedding videos, graduation videos, and a lot more. It gives you a great opportunity to gather all your happy and unforgettable moments in one slideshow and share it with your loved ones. In this tutorial, we will make a Christmas video. Though you can use it for the purposes mentioned above.

Click on "Create Now" button to start editing the template. You will be redirected to the editor:
Now, when you are in your video editing page, there are lots of options to make it engaging, beautifully designed with selected photos and music, of course. Upload your photos and write the text you want to be displayed.
What about adding some music? Choose one of the tracks from our large catalog or simply upload your own music – it's up to your taste and mood. You can also add your voice over. We uploaded a nice track full of Christmas spirit.
When you have finished all the steps in the Slideshow video creation process, simply click on "Preview" to see how it looks.
Your video is saved in your Renderforest account. You can reach it any time by going to "My Videos" page. Click on your name and choose "My Videos" from the drop-down list for editing or extracting it.
There are several options for exporting your creation. The first one is the free option. We recommend you to export the free version first, before processing to the paid rendering. Free videos have SD360 quality and you're able to edit, download and publish this videos any time you wish. These videos will have a Renderforest watermark.
Another option is to buy high-quality videos by choosing one of our paid subscription plans. You can find all the details of our pricing here.
We hope our tutorial was helpful. Start your slideshow creation journey today with us.
Renderforest - Create. Export. Inspire.