What if you no longer have to spend hours on creating mockups and your designs are ready to be used as soon as you click the upload button? Well, with the help of specialized mockup sites that provide templates and pre-made designs for your projects, creating any design is now a breeze.
Instead of investing your time and effort into creating mockups from scratch, you can easily get all the resources you need to create a visually appealing design in no time.
Wanna check?
Then scroll down for the 11 best mockup websites you'll want to bookmark for 2023 projects.
Don't Settle for Less! Best Mockup Websites to Change the Game
The mockup websites listed below provide essentially visuals of a product or design that can be used for promotional and marketing purposes, as well as for user experience testing.
This means whatever design project or product you are working on, there are mockup sites that can provide you with the resources and tools to create stunning visuals.
1. Renderforest: Create Stunning Visuals in Seconds!
Renderforest is at the crossroads between all the design needs you can think of. It is not just a mockup website but a full-fledged design suite that allows you to create anything from logos and websites to video effects and animations.
While some competitors may charge you separately for different mockup designs, Renderforest provides you with many design mockup templates with just one subscription. So, if you're a universal designer, you won't have to break the bank while getting all the necessary visuals.
Here are a couple of examples of what you can create with Renderforest.
Stunning Logo Mockup Generator
From t-shirt logo mockups to printing and white desk branding packs, the logo mockup library has all the features you will need for your next logo design project.
Realistic Logo Mockup Pack
Choose a logo. Now it's time to demonstrate to your clients how your suggested design will look on a real product. Here Renderforest can cut your manual efforts in half with its more than 100 logos on various products and surfaces, such as cups, bags, t-shirts and much more.
Magazine Mockups
Create professional magazine covers and newsletter designs with Renderforest's stunning magazine mockup library. Embellish your visuals with a classic, modern or minimalistic design – anything you wish is already in the library.
Responsive Device Mockups
Display your artwork on any modern responsive device screen, such as iPhones, laptop screens and more. With Renderforest, you can change the size of your project to fit any device screen and make sure it looks amazing on all.
It's Easy to Use Renderforest
Step 1: Head to the mockup design library to choose any design template you need.
Step 2: Click on "Edit Mockup" on your preferred mockup design and instantly land on the editing dashboard.
Step 3: Upload any custom image to enrich your design and play with colors to make it unique.
Step 4: Export your design to use it anywhere! A free download is available at a lower resolution and with a watermark. At the same time, you can also make a one-time purchase or subscribe to Renderforest for unlimited export without a watermark.
Pricing
Free: $0.00/mo – Logos are in PNG
Lite: $9.99/mo – 1M+ premium design and mockup templates. Logos are in SVG and PNG
Pro: $19.99/mo – Branding guidelines for logos
Business: $29.99/mo – Advanced-level solutions for the whole team
2.  Placeit
The platform allows you to design any mockup from scratch or use the sublimated mockups that are already in the library. All you need to do is just add your own artwork, adjust the colors and download the file! Pride templates, social media sets, print-on-demand and gaming mockups are the key categories available on this mockup site.
You can also filter the available mockup designs for apparel brands, digital channels, promotional campaigns and more! The large library of Placeit mockups is suitable for any kind of business.
Pricing
Unlimited Subscription: Starting from $7.47/mo – Allows you to get high-resolution downloads and access to hundreds of mockups
3. Mckups
This one is a more basic mockup design website compared to Renderforest and Placeit. Firstly, its library is significantly more limited – 678 mockup designs. However, it still offers mockup designs for the key business categories – apparel, blog, home decor, packaging, print and technology.
Secondly, it has no built-in editing dashboard to customize your preferred mockup design. Mckups provide you with a downloadable mockup design file, which you should further customize with any professional design software, such as Adobe Photoshop.
The good news is that this mockup site is completely free. So, it depends on how much time you have to customize the design and if you feel comfortable with professional design software.
Pricing
Free: $0.00 – No editing dashboard and built-in customization features
4. Mockup Maison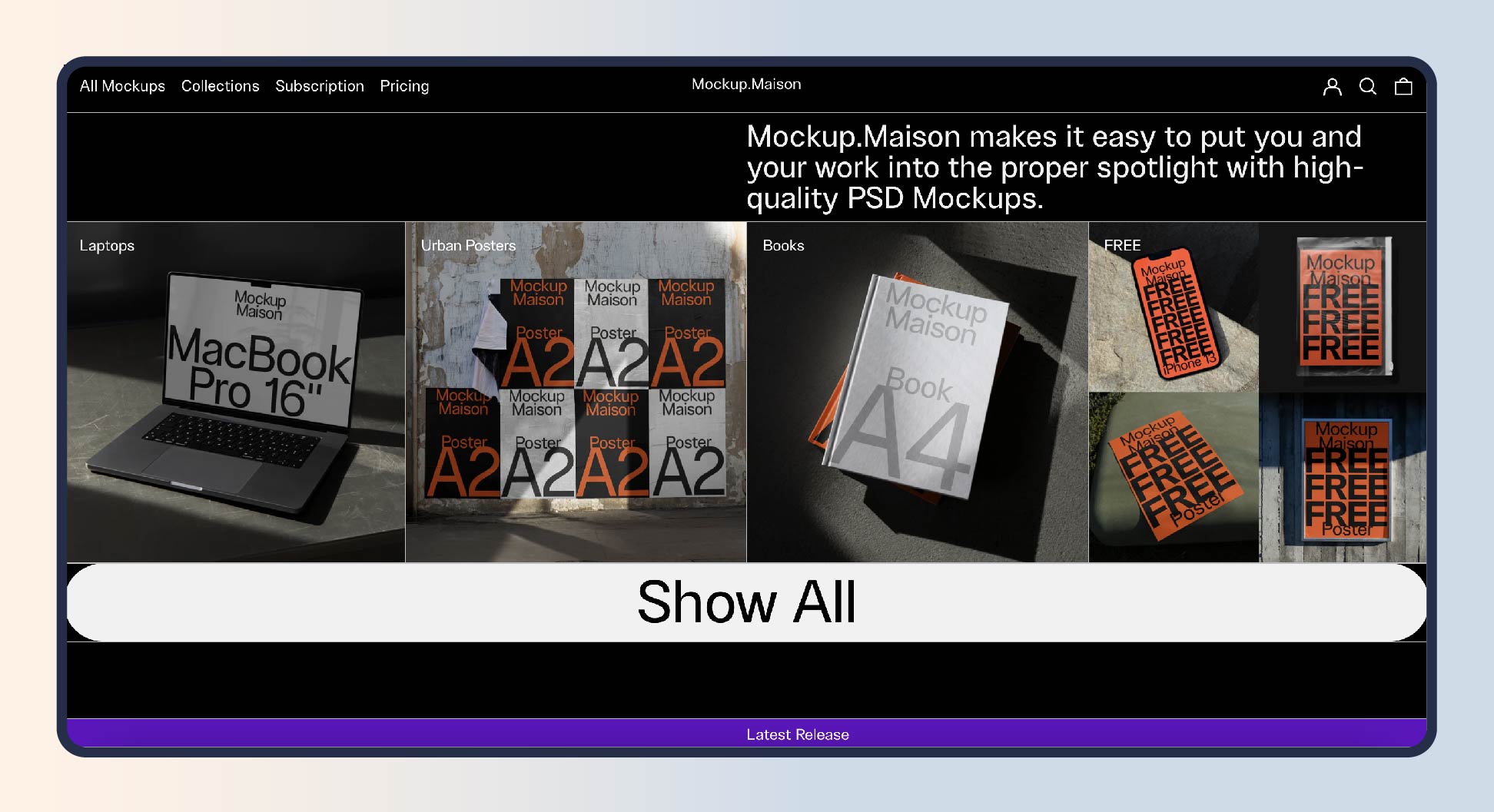 As a professional library for PSD mockup designs, Mockup Maison features images many of which are shot in different cities worldwide, such as Paris and London. So, the mockups have quite realistic backgrounds and unique settings you might find interesting.
The city mockups are carefully categorized in the website's mockup library, and if you run a location-based business, this mockup library is a perfect fit for you.
The pricing system, however, is not as convenient as some other mockup sites. You are charged for each individual design with some available discounted packages, like paying for 5 mockups when getting 7 designs or paying for 8 mockups when getting 12.
Pricing
Purchases per item
Subscription starts from $1500/mo
5. You Work For Them
The platform offers a library of high-quality PSD files where you can work with smart objects and smart layers to customize the mockup design.  You can drag your own artwork to the mockup designs or edit the existing artwork and colors.
YouWorkForThem works with per-mockup design purchases, with most of them where the price ranges per design can vary significantly. While discounted packages are available starting from around $12, there are also expensive items reaching $49 or more.
So, this mockup site can be a good option when you need something unique and if there is a design project with one-time payments. Otherwise, for more extensive design projects, this website might not be the most cost-effective option on the market.
Pricing
Per item purchases
Some items are available for Sale marked in the mockup library
6. Mockup Tree
Don't be surprised if, after clicking on your chosen mockup template, you land on the editing dashboard of another site, Envato Elements. Consider Mockup Tree as a  search engine for mockup designs rather than a separate website, where you can find mockup designs for Apple, branding, outdoor, product and other categories.
You can also get PSD files specifically for Instagram content, helping you to create stunning mockup designs for promotional campaigns on social media.
The good news here is that, unlike some previous mockup sites in this list, Mockup Tree's mockup designs are available for a single subscription. 
The only subscription package allows you to get access to unlimited downloads with high-quality mockup designs. A potential drawback is that subscription packages are not diversified; if you need just a few items, you will still pay for the whole package.
Pricing
Single subscription: $16.50/mo – unlimited access to all mockups with unlimited export.
No one-time purchases are available.
7. Creative Market
There is a huge library of mockup designs in Creative Market. You can use 89,000+ pixel-perfect designs to showcase any digital artwork. This mockup site provides templates for any style – branding, web, mobile, print and more.
Most mockup designs have realistic shadows, textures and lighting. So, it might be very suitable for people who work on outdoor projects but not the best option for animation projects.
As for the pricing, there are multiple options available. You either pay per design pack (ranging from around $10 to $300+), or use the option to download 4 featured assets per week. A monthly subscription option unlocks all assets and fonts with unlimited downloads.
We recommend you take a close look at what is included in the monthly subscription, as there are some restrictions for certain items, like video assets and 3D designs.
Pricing
Monthly $19.95 for unlocking all assets
Per-item purchases are available
8. Pixeden
Here is a great source for mockup designs, offering free and premium Photoshop files. This mockup site includes vector graphics, print design templates, web elements and t-shirt designs, to name a few.
Again, if you love professional tools and need a PSD file to later edit on Photoshop or  Illustrator, this site is perfect for you. For example, you can use the drag-and-drop feature to add your own artwork and logo to the template and customize it with just a few clicks.
However, Pixeden is not a fully-functioning editor, and you should have a basic understanding of Photoshop for more in-depth customization. So, it's not a beginner or amateur-friendly option. You get your preferred template's PSD version with a license to edit the template.
Pricing
Only subscription plan: $6 – Unlocks all premium items with high-quality and unlimited downloads.
9. FreePik
FreePik is one of the leading platforms for professional designers offering more than just mockups, but it's a great place to start. You can find mockup designs, print templates, illustrations and other graphic design assets here.
FreePik is a pure source for downloadable and editable mockup design files, where you can't use the built-in editor. It's a great pick for professionals comfortable working with Adobe products and wanting to customize their designs further.
The great thing about FreePik is the quality of the available designs. Being a designers' hub, the community is closely-knit and standards are high. However, many of the truly great visual mockup designs come at a cost, or you should dig around for the best-suited freebies.
Pricing
Individual 1: 9 EUR/mo for 12 months – Recommended as the best plan
Individual 2: 15 EUR/mo for 1 month
Teams Plan: 8.06 EUR/mo per seat
10. Mockups-Design
Noticed something strange on the home page? Do you wonder why this website's mockups should be free?
Mockups-Design is a personal initiative of a graphic designer, Andrew, who once struggled to find quality mockups to showcase his artwork. Currently, he almost stopped working as a graphic designer and concentrates on creating mockups for his colleagues worldwide.
As a result, you can find more than 1,000  mockup templates in this library which are all free to download. The nuance here is that you can probably meet more bugs and design file irregularities than with other featured platforms. Since the website is positioned as a more or less personal creative initiative, it operates with limited resources.
However, Andrew is ready to fix any bugs in your preferred mockup design if you contact him, which is a great plus.
Pricing
All free mockups are available for download & use.
11. Mr. Mockup
And here we are with the last mockup site on our list. Mr. Mockup is a clean and modern platform for web and mobile design creators, offering several mockup categories that range from devices, office items and documents to even 3D models.
Overall, the website is user-friendly and easy to navigate, with a great selection of devices and other elements.
There are mockup designs for any budget, depending on how complex your needed design. There are freebies that are more basic compared to professional ones but can still suit you depending on your needs.
Other mockup designs are available for per-item purchase or at a more attractive price in the Front Deals section of the website, where the company offers several discounted bundles. The Front Deals are convenient if you like a particular design package and know you will be using it for a few projects.
Pricing
Freebies or per-item purchases are available.
Font Deals offer discounted bundles.
4 Features to Look for in Mockup Sites
As you will be navigating through different mockup sites to find the most suitable mockup platform for your needs, look out for these features to make the best choice.
Customization Options
Platforms with built-in editors are the best in customization options, allowing you to adjust the mockup design elements, such as fonts and colors, with no editing or technical skills. It's also great to add your own media or digital artwork to the mockup template so you create a unique design even while using a publicly available template.
Realistic and High-Quality Mockups
Though most mockup sites offer a high-quality download, it's important to check the quality of a given platform before you purchase any design elements. Additionally, realistic mockups with people and natural settings are also important – especially if you work on designing for a web/mobile app. Such designs have a more human touch and therefore are more relatable to potential customers.
Cost-Effective Solutions
Unless you find a unique mockup design, you can't get elsewhere the most cost-effective solution is purchasing a bundle of mockup designs at a lower price. Mockup design websites with monthly or yearly subscriptions that give access to the library of designs are also a great way to save on cost, as long as you need the mockups regularly. On the contrary, working with per-item purchase websites can cost you more and not be rational for regular use.
Easy Export Options
Seems like clicking on the "Download" button is the same experience in every mockup site, but check what format the download will be in. Ideally, you would need SVG, JPG or PNG formats for the highest resolution and easy-to-edit files. The ability to export the mockup design in a vector format is especially important if you plan to use the same design for printing or large-scale projects. So, check the export options available before you commit to any mockup design.
Final Words
Per-item purchases or yearly subscriptions, mockup sites are a life-saver for designers who are always looking to create stunning and unique designs most cost-effectively.
Ready-to-use mockup templates help you when your creative juice runs out, but you don't have to compromise on the quality of your designs. They also significantly accelerate the design process, leaving you more time to work on other aspects of your project, such as strategy and content.
Among the available options on the market, we offer the ultimate design solution – Renderforest, for busy professionals and creative minds. It's a one-stop platform for mockup designs and other digital solutions, such as videos, logos, animations, and more.
With the daily updating library of elements, you will never go short of ideas and your design uniqueness will not be lost in the crowd.
Recommended Reading
---
---