Tutorial videos are the most efficient approach to show your audience how your product works or how your service operates inside. These well-thought-out and educational guides educate and inspire viewers while providing a strong corporate advertising tool and supporting the development of a vibrant and active community. 
The appeal of video tutorials has steadily risen, with 52% of people reporting that they consume video content to understand how a specific product or service operates. This clearly highlights tutorial videos' significant role in shaping customer perception and driving business growth.
So, whether you're contemplating creating YouTube tutorial videos or crafting engaging instructional content for any other platform, you're in the right place. We'll navigate you through the process of making compelling tutorial videos using Renderforest, peppering in helpful tips, and introducing you to our range of customizable templates along the way.
What Is a Video Tutorial?
A video tutorial is a step-by-step guide that offers clear, visual instructions on performing a specific task or using a particular product or service. These videos are invaluable in helping viewers understand complex processes, learn new skills, or familiarize themselves with new products. Both creators and viewers benefit from tutorial videos; creators can showcase their expertise and products while viewers gain new knowledge and insights. 
The following video offers a practical demonstration of creating a tutorial video using Renderforest. Watch it to get a firsthand experience of the process.
Why Is Creating Video Tutorials Beneficial?
Accessibility and Convenience
Video tutorials fit perfectly into this scenario, as they can be accessed anytime, anywhere, and on any device with an internet connection. This convenience empowers learners to follow through with their learning at their own pace and in their own space. Furthermore, the flexibility of video allows for easy updates or edits when necessary, ensuring the information stays current, accurate, and relevant. This is particularly beneficial in dynamic industries where advancements and changes are frequent. In addition, tutorials can be adapted to cater to different learning styles, with options for visual, auditory, and even read-write learners by including closed captions and on-screen text.
This versatility ensures that creating video tutorials resonates with a wide audience, ultimately making your product or service more accessible to all.
Enhances SEO Ranking
Including videos on your website can boost its search engine position significantly.  Video material is given priority by Google algorithms because they consider it to be rich content that offers a complete user experience. This raises exposure and raises the possibility of click-throughs because videos are very shareable and promote longer website visits. Tutorial videos are by definition, keyword-rich, which can help your SEO approach even more.
Additionally, by using the second-largest search engine, YouTube, to host training videos, you may increase your visibility and reach. Creating educational videos is an excellent way to improve user experience, increase traffic, and establish your brand online.
Boosts User Engagement
Video tutorials are a potent tool to boost engagement as they incorporate multiple sensory inputs – visual and auditory – making the learning experience immersive and interactive. 
Tutorials can help with learning and recall by breaking down difficult topics into smaller, more digestible pieces and providing examples of tasks or processes. Viewers are then encouraged to actively participate as a result.
Moreover, instructional videos may promote a feeling of community and conversation among viewers since websites like YouTube allow comments, likes, and shares. This interaction expands the exposure and reach of your business while promoting communal learning.
If you want to have a more appealing video, check out the Rendeforest tutorial on how to make tutorial videos for intros:
 As a result, video tutorials are an effective way to engage and instruct your audience while promoting the online presence of your company.
Recommended Reading
---
---
How to Make Tutorial Videos with Renderforest
It's easy to create tutorial videos using Renderforest; no prior knowledge of video editing is needed. First, choose a template that fits both your brand and the topic of the tutorial from Renderforest's large library. After that, edit the design by adding your own text, pictures, music, or narration. The smooth experience is guaranteed by Renderforest's user-friendly interface, which lets you adjust fonts, colors, and other design aspects to your liking. After you're satisfied with your tutorial video, you can download it in high quality, prepared for uploading to any platform – including your website or YouTube channel. Making powerful explainer videos is made easier.
There are 3 ways to create a tutorial video with this template.
Each of these options is helpful in its way.
Step 1. Choose a Template
With the "Load a preset" option, you choose one of the presets full of already selected scenes and start editing them with your media files and text. There are presets for explainer videos and tutorials, promotions, introductions, presentations, and more. Choose the preset you need and click "Use ready story" to edit the scenes.  
Step 2. Add Your Video Script
If you already have your video script ready for your tutorial video, you can select the "Type your script" option and add your video script in the field. Click the "Generate project" button to collect the appropriate scenes and your typed-in text automatically.
The last "Add scene" option will allow you to create your video from scratch. It will offer you a long list of scene categories from which you can choose all the ones you need to create a good tutorial video. 
Choose the scenes from our library to customize them. Male and female characters with different occupations, background and office animations, video holders, typography, checkmarks, x-marks, and many other scenes are available here. 
You have everything to make a memorable tutorial.
Once you select the scenes you need, click "Insert" to move to your dashboard. Here, you will find the scenes in your preferred order, but changing their order or deleting the scenes you don't need will still be doable. Duplicate and replace the scenes by clicking on the three-dot menu on every scene.
To edit the texts, click on the spaces with the default text and paste or type in yours.
Change the text position on some scenes if you need some parts to be different.   
To add your video and image files to the scenes with media holders, click on the suggested fields and choose "Upload" or "Media Library" if you want to choose one from your previous uploads. In case you have a media file you want to add from the web, select "Video URL" or "Image URL," respectively, and paste the links.
Step 3. Customize With Visuals
Another option included in the list is "Stock footage" or "Stock image," which will help you choose a photo or a video from our media library if you don't have a suitable one. Type the topic you are looking for, or select one of the most searched ones, choose the media file you like, and click "Insert."
The added videos can be trimmed and muted, depending on your preferences. 
Add an animated logo scene as well to highlight your brand. Don't have a logo yet, create one with Renderforest within minutes.
Step 4. Choose a Style
Next, move to the "Style" section, where you can choose the look of your animation, either 3D or flat.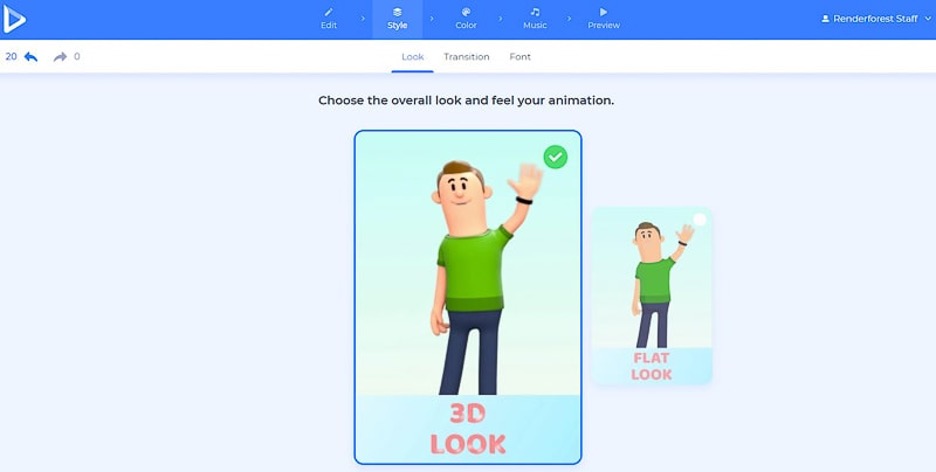 Select a transition style as well, to turn your tutorial into a more active and colorful masterpiece.
Don't forget to choose a text style as well. You can change the font of your video text, be it a primary or a secondary one. Click "Generate" to apply and see the changes, before moving on.
Step 5. Adjust The Colors
The next "Color" section will offer you various color combinations, to give your tutorial video the vibe you like. Again, the "Generate" button will apply the changes to your scenes.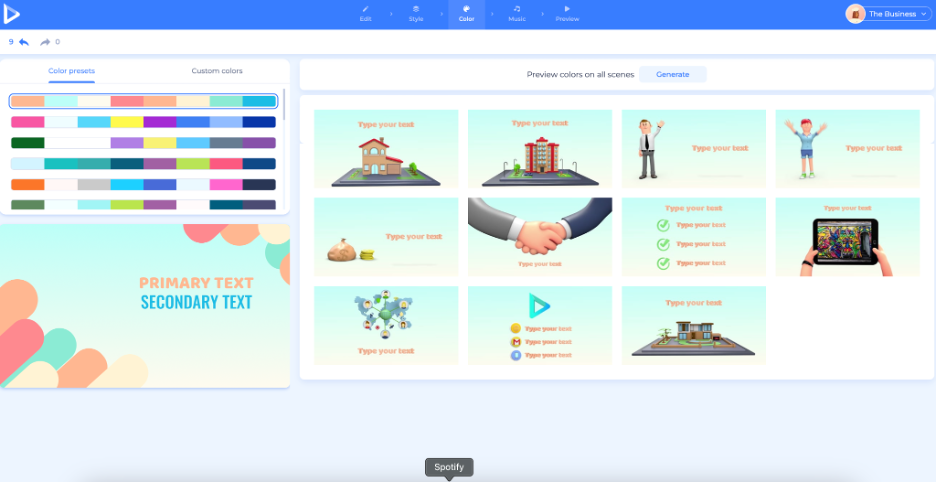 The last step before previewing your video is adding a music track or a voiceover to your creation. Choose a track from our music library, upload yours, or record a voiceover immediately. This way, your tutorial will have all the features people enjoy in a video.
Step 6. Preview and Upload
Done! It's time for you to "Preview" your tutorial and see your work before exporting it.
There are several options to export your creation. The first is the free option, with which you can download your video with SD360 quality and a watermark. 
With the other "High quality" option, you can choose one of our paid subscription plans. See all the details of our pricing here. Customizable Video Tutorial Templates
A wide range of industry-specific, topic-specific, and style-appropriate tutorial video templates are available on Renderforest. A few well-liked choices are knowing how to create instructional videos, product demos, software tutorials, and DIY instructions. Every template has scenes pre-installed that are readily customizable to meet your needs. The clear UI enables fast and simple customization, and the drag-and-drop capability makes it easy to add, remove, and rearrange scenes as needed. Before making any changes, templates may also be evaluated to make sure they satisfy your unique needs.
3D Explainer Video Toolkit
Don't know how to make tutorial videos? The 3D Explainer Video Toolkit Renderforest offers a versatile and comprehensive resource for creating engaging videos. It provides a library of over 900 pre-designed animated scenes that add a visual appeal and make your content more understandable and relatable to your audience. What sets this best tool for creating video tutorials apart is its exceptional customization opportunities. You can effortlessly tweak every element in a scene to align with your brand identity and the topic of your tutorial. This includes text, colors, images, music, narration, and even the sequencing of the scenes.
You can create highly personalized YouTube video tutorials by dragging and dropping elements per your needs. Moreover, each template in the toolkit can be previewed before customization, ensuring it aligns with your unique requirements. 
Trendy Explainer Toolkit
The Explainer Video Toolkit can let you wave goodbye to boring content! This toolkit, which combines distinctive characters, dynamic typography, and placeholders for images and videos, is intended to help creators create captivating explainer animations. It has over 500 interactive scenarios. Turn any idea into a captivating video work of art that is perfect for presentations, advertisements, and other messaging. Prepare to produce a fantastic advertising film. 
Whiteboard Animation Toolkit
Do you need a fresh narrative device? Explore the world of animated whiteboards. You won't resist the allure of over 450 interactive scenarios, animated characters, and an extensive library of excellent music selections. Develop your tale and convert it into a fantastic film in just a few minutes. Ideal for animated promos, instructional films, corporate introductions, ads, and more. Sounds amazing? Take advantage of the opportunity to make a captivating whiteboard animation instantly and for free.
Healthcare Explainer Toolkit
Use our Healthcare Explainer Toolkit to explain health-related issues and encourage a healthy lifestyle. Use presets or select from over 200 health-related scenarios. This incredibly versatile toolbox gives you plenty of options for color correction, a sizable music library, adjustable scene length, text and picture holders, and much more. Perfect for healthcare organizations, hospitals, medical services, and other connected enterprises. With the help of an educational healthcare video animation, spread knowledge of crucial subjects.
Educational Video Toolkit
What could be more successful than a hands-on instructional presentation? Yes, a presentation that uses the Educational Video Toolkit and is animated! More than 200 vibrant and distinctive landscapes, logos, and character animations to add more appeal to your film. Make animated films to differentiate yourself from the crowd! You may astound your peers, students, or coworkers with access to premium instructional videos, online courses, presentations, video messages, and much more. This is your opportunity to elevate instructional videos and narratives to a new level.
The Bottom Line
In this article, we have observed how to make tutorial videos with Renderforest. Its easy interface, vast template library, and extensive customization options ensure that your video meets the specific needs of your audience. Whether you're creating a 3D explainer video, an animated whiteboard presentation, or an educational video, Renderforest makes the process effortless and enjoyable. Moreover, it provides a platform to share knowledge, engage with your audience, and learn how to make YouTube tutorial videos.
In conclusion, Renderforest is the best option to use if you need to create interesting, high-quality tutorial films for YouTube. Why then wait? With Renderforest, you can start your adventure right now and turn your ideas into engaging training films.