Do you want to be your own CEO, and materialize your creative ideas while staying within personal profit margins? If so, then starting a print-on-demand company is the type of business that will convert your vision into reality.
Print-on-demand companies are based on eCommerce store concepts. The model of a print-on-demand company suggests building a three-party business cycle on an eCommerce platform. 
Firstly, the cycle includes the print-on-demand company that sells a range of products with unique printed designs. The second party of the cycle is the customer who makes an order to the print-on-demand companies.
And the third party is the fulfillment company that takes care of making the actual order, putting together the package, and delivering the final product to the customer under the seller's brand or name. 
The business model of a print-on-demand company is especially great for those entrepreneurs who don't want to take big business risks and go for huge investments right from the get-go.
So, if you want to create your own business, you should definitely consider investing your time and money into a print-on-demand service. It offers a number of advantages to those who have smaller capital margins. 
Why should I start a print-on-demand company?
The first and most important advantage of a print-on-demand service is hidden right in its name of it – print-on-demand. That's right! You print when there is a demand.
If you wanted to establish your own t-shirt company in the past, you had to create a design, locate a printer, order hundreds of shirts, and then hope they would sell. If your clients didn't like them, you were left with wasted inventory and lost revenue.
But today each order from a print-on-demand company is printed as it comes in. There's no need for stocking or producing in bulk. Admit that this will take quite a burden off your shoulders and make your life stress-free as a businessman. 
The end goal behind printing a cool design on different products is to make money, as in any other business. However, your profit margin will decrease if you source and fulfill all the products yourself. Here's when a print-on-demand company can jump off to help.
Partnering with a print-on-demand company suggests that you don't need to worry about sales, inventory management, and even delivery. The latter two phases are implemented through your print-on-demand partners – fulfillment and shipping companies. They are the back-end of your business. While you bring the customers in, they make sure your customer gets what they want. You include the shipping and fulfillment costs in the retail price of your custom products and all parties are happy!
Due to the advantages of not having to own an automated delivery system and a smart warehouse for your online store inventory, print-on-demand companies are becoming more and more popular nowadays.
How can I start a print-on-demand company?
The starting point of a print-on-demand company is the construction of the digital storefront. It can be by promoting your print-on-demand services on social media platforms. But it would be better if you had your own website. That's where you can demonstrate your products and connect with your customer community.
However, it doesn't mean that you should forget offline retail channels. Offline retail channels will always keep their position as an old but golden way to promote your pod products and get you some repeat business.
As the number of print-on-demand companies continuously increases, it's crucial to provide high-quality products and diverse printing methods for your customers. These are the two key elements that will set you apart from the competition in the print-on-demand marketplace. Keep in mind that there are major eCommerce platforms in the business that have been in the picture for quite some time already.
Speaking of them, let's take a look at the best print-on-demand companies that have taken over the print-on-demand marketplace in recent years.
Top 10 print-on-demand companies
1. Renderforest – The ultimate platform for quick and easy mockup creation
Renderforest is by far the most reliable friend that any print-on-demand company can have. It can be a great helping hand for your print-on-demand company.
By definition, Renderforest is an all-in-one branding platform that provides exclusive digital products to help different companies, print-on-demand companies included, create a virtual image for their brand.
Not only does Renderforest help you save time, but it provides exceptional mockup designs, as well. You will be able to find the type of mockup design that you're looking for whether it be clean and classy or modern and minimalistic. This online tool can be of great use for a print-on-demand company to visualize its own designs.
How do I do that? You may ask. The way to do this is to use ready-made mockups to demonstrate your print-on-demand products.
You can find hundreds of professionally designed mockups in the "Mockups" section of the Renderforest website. It gives you access to a large number of stunning visuals that can be edited right in your browser, without having to download anything.
Renderforest provides a modern and faster solution for generating quality mockups. The pace is really important because the less time you consume on creating the digital representation of one item of your online store, the more time you will be able to focus on the design variety.
With Renderforest, you have nothing to worry about in this aspect. The mockup creation process is so quick on Renderforest that you can create all your visuals in one sitting.
Renderforest offers a wide range of mockup kits. Here you will find quality mockups for wall art, tote bags, apparel, devices, branding, interior, packaging, and a range of other products. These are white-label products in their digital version. They can be easily edited by the user and exported within minutes right from the browser.
What you need to do is to upload your product label or logo onto the mockup, add text, play with the colors, if necessary, and download the final version. The next step is sharing it on your own website, social media channels, and other platforms.
2. Apliiq – High-quality clothing supplier 
Apliiq is another great pod service that you can use for garment printing purposes. Apliiq is a great example of an online store that has chosen a specific business schtick and provides top product quality for it.
What distinguishes Apliiq from similar platforms is the fact that it primarily focuses on providing quality apparel products. With Apliiq, you can customize white-label products and use them under the name of your own brand.
Every item in Apliiq's collection is available for private labeling and professional apparel branding through the company's platform. Specializing in streetwear clothing, Apliiq enables you to collaborate with their artists and come up with the best print ideas for your clothing line.
Apliiq provides a very high print quality even for those companies that have a low-profit margin. Meanwhile, Apliiq's pod services can get to you at affordable shipping rates.
Apliiq should be your go-to print-on-demand partner if your business goal is to create a clothing line or simply sell t-shirts with unique prints.
Apliiq's quality products attract a great number of customers who are looking for apparel items with custom prints. Besides, the printing options are versatile on Apliiq. 
When comes to pricing, Apliiq is free to use but you have to pay for shipping costs.
Apliiq also has a great discount policy. The more you buy, the more you save. So, when you buy in bulk, you can save over 55%.
In a word, if you are about to launch a clothing line, you may want to make friends with Apliiq and save both your time and money.
3. Printify – Easy mockup customization 
Printify is a print-on-demand company that provides easy-to-use design tools and a simple user interface. The unique thing about Printify's print-on-demand services is that it outsources independent printers. 
So, once the user creates the final mockup and submits it for the fulfillment, it goes to a third-party print provider that create the order.
You wouldn't typically expect to find interesting and unconventional products from a print-on-demand company, but Printify does an excellent job at providing such. T-shirts and sweatshirts are on the catalog of any print-on-demand service, but Printify has created an elevated list of printed inventory that consists of fanny packs, pet beds, flip flops, Christmas stockings, rugs, and so on.
The broad range of print-on-demand products is one of Printify's greatest assets. A retailer experimenting with print-on-demand companies would definitely be able to use Printify for at least some of its products because there are options that they will simply not manage to find elsewhere.
Another big advantage that Printify has is the free plan. This will be greatly appreciated by startup owners who are constantly worrying about their own profit margin.
4. Tpop – Worldwide shipping
Tpop is among the best print-on-demand companies which provide direct-to-garment printing options. The printing systems that Tpop offers are of high caliber.
It's vital to mention that Tpop products are super eco-friendly. Since the very beginning of the company's inception, the Tpop team has taken over a mission to contribute to the reduction of environmental risks. They don't produce any plastic products. So, they go the extra mile with packaging and wrap their products with fully recyclable paper and cardboard. 
When comes to shipping, of course, it would be nice to say that they provide free global shipping, but, unfortunately not. However, unlike many of their competitors, Tpop does offer worldwide shipping. There are literally no boundaries set for shipping destinations. 
Moreover, there are no minimum order requirements at Tpop. You can order any amount with no setup fees whatsoever. 
So, you can sell high-quality print-on-demand products all over the world without contaminating the environment with plastic. Sounds fantastic!
5. Printful – Flexibility and bulk discounts
Printful is among the most popular eCommerce platforms. It is an accessory, apparel, and home products drop shipper. It is a great online tool that fulfills your ideas on demand. 
Printful has a solid position in print-on-demand marketplaces. Actually, it is one of the best print-on-demand companies. Printful dominates specifically in the print-on-demand service of the clothing market. However, that does not preclude you from placing other orders. The product range includes leggings, dresses, swimwear, phone cases, mugs, and a lot more. 
Printful also provides a flexible pod service. Upon big orders, they even offer bulk discounts. Their website allows you to preview your printed product before putting it on your eCommerce store. You can also check the shipping and fulfillment costs right from the beginning, even before getting to the checkout page. 
Another awesome thing about Printful is that you can order your custom products in advance and keep them in storage at their warehouses. Then, whenever necessary, the products will be dispatched to your customers at cost-effective shipping rates.
Lastly, Printful offers custom packaging services once your order is produced. As they love to say, "Your products, packaged your way".
This is super appreciated by their customers as someone who seeks to custom make different products, they might as well love to see a custom wrapping. So, everything turns out your way with Printful. It's worth trying out!
6. Sellfy – Better speed, less complexity
Established in 2011, Sellfy has grown into an all-in-one eCommerce platform over the years. Here people can sell print-on-demand products, digital and physical products, and subscriptions all from a single online platform. 
Sellfy is the ideal platform for online enterprises and creators who are result-oriented and avoid complexity.
With Sellfy, you can sign up and create your own online store within a couple of minutes and free of charge. Even if you don't have any prior technical experience, Sellfy's intuitive platform will provide directions toward building an online store that best represents your own brand. In fact, they claim that users can create their own online store within 5 minutes.
Considering that people are likely to invest way more time than mentioned, it'd be fun to test it out. 5 minutes may or may not be an exaggeration but ease of use is guaranteed with Sellfy. You don't need to add a credit card in the beginning.
The 14-day free trial will help you figure out whether it is the platform you're looking for or not. And if it redeems itself, you can upgrade to a paid plan anytime to continue using the software.
Aside from adding the branding components of your business to your newly launched store, Sellfy offers you additional functionalities for customization. For example, using a shopping cart, optimizing your online store for mobile devices, creating a custom domain, and localizing the interface of your online store in multiple languages.
Still, doubting? Here's more! Sellfy even has marketing features that help businesses stand out. Among these features are using discount codes to engage with existing and potential customers, built-in email marketing tools, and tracking pixels, i.e. monitoring the performance of your online ads by adding Twitter and Facebook pixels.
With Sellfy, you have more time to concentrate on developing your talents and skills while they take care of the technical aspects of your print-on-demand business.
7. SPOD – Practical and easy-to-use interface
SPOD is one of the best print-on-demand companies that allows you to create diverse inventory for your online store in the least amount of time.
One of the greatest digital tools that SPOD offers on its platform is a handy shopping calculator. This means that it allows you to pre-determine the overall price of the final product. 
What you need to do is to customize products with your own designs and images. Then, proceed with the payment process and make an order. Because SPOD has factories across America and Europe, it offers faster and more reliable shipping standards for international users.
SPOD's in-house printing facilities are one of the best ones in the print-on-demand business. SPOD is equipped with advanced printing technologies and has the following printing options – digital direct, thermal sublimation, laser transfer, and special flex. Depending on the style of the print design and the product it is to be printed on, one of these printing methods is used.
With the many print-on-demand sites out there, sometimes it's hard to land on one quickly. For those who struggle with deciding which tool to choose, SPOD offers 20% off for sample orders.
Basically, you try out their pod service once, and if they manage to deliver on what they promise, then a deal is made!
8. Gooten – Variety and quality in one place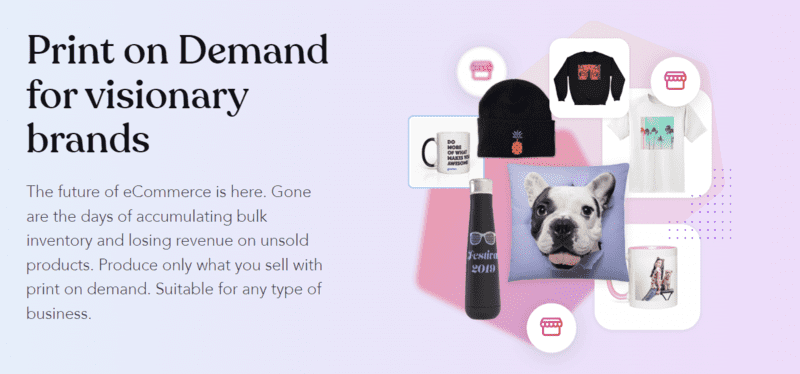 If you are looking for a print-on-demand partner to offer your customers something they haven't seen before, Gooten is a wonderful option. Their catalog is full of unique print-on-demand products and the product quality is quite decent, as well. 
Gooten gives you access to specialized resources and solutions that can help you scale and become a high-demand store.
Choosing a product to start with can sometimes be a challenge, especially when there are a plethora of product options available.
However, it's not a problem with Gooten, as it is one of the few print-on-demand companies that provides a "Trending" tab for items that are currently in demand in the print-on-demand marketplace. This is very useful information for somebody who has a hard time making a decision.
The good thing about Gooten is that it doesn't have any setup or monthly fees. You're charged only when Gooten fulfills and dispatches the order placed by your customers. 
9. Lulu Xpress – An author's best friend
Are you looking for an online platform that provides unique designs for the cover of your latest book? If so, then Lulu Xpress is the ultimate print-on-demand provider that will help you with that. 
Lulu is a great online tool for not only authors but also artists, educators, non-profits, and other content creators. It's a self-publishing print-on-demand company that has managed to build a repeat business due to its specialty in the print-on-demand industry.
Lulu Xpress is home to a large number of preformatted book design templates that can be edited easily. You can either choose from the existing templates or upload your own design and preview it on a book mockup. 
Lulu Xpress allows you to choose every tiny little detail concerning your book. You start by choosing the type of your product whether it be a comic book, a magazine, or a calendar. Then, you pick the size of the book and the type of binding you want to see on the book.
Print quality and paper type are also set according to your preferences. There are 4 color options: standard black and white, standard color, premium black and white, and premium color.
When it comes to publishing, similar to Amazon's KDP, publishing a book through the Lulu Press platform is free of charge. However, there are also other expenses to take into account, such as those for book production, printing, marketing, and distribution.
With Lulu's template packs, you can choose your project's dimensions, download a package, and begin organizing your design! The essential inside and cover templates are included in each bundle. The package also includes instructions to make sure your files are print-ready.
Lulu Xpress also has a large shipping system that delivers orders to over 150 countries in the world. 
So, Lulu provides all tools and features to bring your book to life and spread it to remote corners of the world. Try it out yourself!
10. Custom Cat – All about apparel
Custom Cat offers exclusive printing options including direct-to-garment printing and embroidery. Their turnaround time is really fast. It usually takes 2-3 days to receive your order. This is much faster compared to other platforms. 
When you upload your designs, they get into the design library section of Custom Cat. After that, you can browse through the product catalog and choose the product that you like most. So, you have the product and the print on the platform. You can now combine them and see how that print design looks on the product you picked. 
Custom Cat has a high level of expertise and reputation among print-on-demand companies for they specialize in it since 2006. Today there are over 12.000 active eCommerce brands that use Custom Cat for on-demand production fulfillment.
Custom Cat is located in Detroit and the production facilities are owned by the company. This enables an intensive implementation of quality control.
Custom Cat claims to be providing the 2 major advantages that a trustworthy print-on-demand partner should possess:
Quick and reliable fulfillment of production

Large product selection and superb quality of inventory
Underneath all the marketing bluster, your retail business will be more likely to struggle if your print-on-demand partner can't deliver in the previously mentioned two ways.
Custom Cat aims at helping companies scale their stores to make a win for everybody.
Although there are way more competitors that you will need to outrun at some point in your business journey, the ones mentioned in this article have already managed to create a name for themselves.
It is advisable to do your own research and, maybe, try out some of the services of your competitor companies. It will help you understand who you're dealing with, what their strong and weak points are, and what strategies you can take up to be a step ahead of them in the print-on-demand market.
Recommended Reading
---
---
6 main steps for starting your print-on-demand services
If you want to start your own business but are not ready to spend thousands of dollars on your initial round of investment, then a print-on-demand business is for you.
The development of digital technologies has triggered the start of many business opportunities. And the print-on-demand business is among those newly evolved business prospects.
If you're a creative soul who wants to make a living while using your creative potential, then you can start your own print-on-demand company right now.
As a print-on-demand business, you will sell white-label products such as t-shirts, mugs, yoga gear, tote bags, phone cases, and anything else your customers want to put a print on. 
To help you understand where to start, we've created a list of instructions that will guide you through the development stages of your print-on-demand company.
1. Define your niche
Define the market segment you want to target. There are plenty of products you can produce as a print-on-demand company. You need to find a product that will distinguish yourself from the ocean of competitors.
Depending on the size and goals of your online store, the niche you choose can be quite big or rather narrow. But it's important to acknowledge that no matter which one you choose, it's about being unique.
When you pick a specific niche, you establish yourself as an expert in the eyes of potential customers. It will build a solid basis for consumer confidence and brand awareness. 
2. Choose a name for your brand
The name of your brand is one of the most important decisions you have to make as a print-on-demand company. The brand name is the first thing about your business that communicates to your customers. It is a focal point and a major marketing investment.
The name of your brand should be clear, concise and distinguish you from other businesses in the print-on-demand marketplace. In order to be so, you can give it an emotional, intriguing, or storytelling touch.
Examples of such brand names are Amazon, Firefox, Doctors Without Borders, Renderforest, 7-Eleven, Hulu, and the like.
The name of your brand is the extension of your business goals. Depending on the level of clarity that your brand name communicates, it can either get you closer to your business goals or the opposite – the distance you from them.
In this case, the name of your print-on-demand company should contain links to printing in general. This way the first-time user will be able to correctly assume what your company is about and what kind of services you provide.
Think of it this way: when you meet a person for the first time, their name and appearance are what leave a first impression on you. Accordingly, you consciously or unconsciously form an opinion about them. The same concept works for businesses.
Your print-on-demand company should have a presentable image and a memorable name to catch the attention of new customers.
3. Create catchy designs with Renderforest
Most print-on-demand companies give absolute freedom to their users to design what they want. However, sometimes people don't even know what they want.
Let's say one has heard about your print-on-demand services by word of mouth or online ads and decides to take a visit to your own site. What they will see there is a bunch of products on which they can have things printed. But what to print exactly?
In order to convert those visitors from online window shoppers to real buyers you need to provide them with ready print ideas. Your goal is not to be just bookmarked for a later time but to be used right then and there.
So, it would be awesome if you had some ready-made print design ideas that would catch the attention of first-time users. This will be a great call-to-action strategy that will trigger them to make an immediate order.
Let's say you put up a black and white t-shirt design that says, "Don't Worry, Be Yonce!" with Beyonce's diva outline underneath. Many people would fall for that in a split second.
To make sure your designs become popular, you should do research on the interests of your main buyer personas. It will help you brew fresh design ideas.
The reality is that t-shirts are everywhere. It's the print that matters. Make your print matter with catchy designs created with Renderforest!
4. Find a print provider
The top 3 most important criteria for choosing a print provider are quality, location, and availability.
The quality of the printing service is determined by the combination of material and print quality, digital printing options, and delivery pace. Your customers rate your print-on-demand service according to the quality of their custom products and how fast they received the order.
These are basically the metrics that decide whether your print-on-demand business will be a success or a failure.
The location of your partner printing company is of high importance, as well. You want their warehouses to be within close proximity to your customer's location. So, it's important to filter out one of the successful packaging companies with a large warehousing network. This is something the shipping costs depend on.
Availability is another important criterion to take into consideration when choosing a printing company to collaborate with.
While running a print-on-demand company, discrepancies may happen sometimes. Such mishaps can occur in any phase of the business – while making an order, implementing the exact design the customer has asked for, or while shipping the product to the customer.
To avoid similar circumstances or to be able to fix the situation quickly, you need to be in constant communication with your partner printing company. So, mutual availability towards ensuring effective exchanges is really crucial.
5. Build your online store with Renderforest Website Builder
Constructing an online platform where you can demonstrate your pod products and take orders is an essential part of your print-on-demand company. Renderforest has made website creation quite simple by allowing you to build a website in your browser. You can basically create functional landing pages with no programming skills.
Renderforest provides exclusive website templates of different styles and business spheres. The high-quality website templates are very easy to customize with your own branding materials.
There are super cool site templates specially themed for marketing and real estate agencies, educational institutions, law firms, travel companies, wellness centers, and whatnot. You can even create a CV-website or a portfolio for your personal use. Guaranteed, it'll make a solid impression on your future employer.
If you want to launch your print-on-demand business as quickly as possible Renderforest's digital products will be of great use to you. Renderforest website builder makes site making process a breeze.
6. Promote your products on various channels
As they say, you can't sell 'em if you don't tell 'em. That's right!
Once you have your print-on-demand website set up and your product list defined, the next thing is promoting your online store. In our times the best channels of promotion are centered on social media platforms.
Out of all social platforms, Instagram is the best option for newly launched print-on-demand companies. The reason is that both a print-on-demand company and Instagram are based on visuals. Your print-on-demand products are going to be presented to potential buyers through inviting visuals. And Instagram is all about creating a visual identity for your business.
Frequently asked questions
1. Are the print-on-demand marketplaces still profitable?
The short answer is yes. Although the community of print-on-demand companies has been growing over the years, it continues to be one of the most high-demand businesses out there.
If anything, a unique inventory will certainly find its customers, whether it be business selling t-shirts with custom prints or whatever. The key elements are the product, the pricing, and the variety you provide. 
2. How do you price print-on-demand products?
In order to set reasonable prices for your print-on-demand products, you need to estimate your expenses. The main expenses of any print-on-demand company are design and production costs, shipping costs, and taxes. 
Besides, there are additional costs like Internet bills, eCommerce platform subscriptions, monthly fees for online ads, and other expenses that all add up to your monthly expenses. 
3. How much can you realistically make with a print-on-demand service?
The amount of money you make as a print-on-demand company depends on a number of factors. However, on average, for each sale, you may receive $2 to $10 depending on how big the margin is set on that specific product. 
4. What can you design with POD?
A print-on-demand company allows you to design and customize a variety of products – mugs, short and long-sleeve t-shirts, pillows, hats, phone cases, Jigsaw puzzles, fine art prints, tote bags, wall art, shower curtains, and whatnot. Nowadays printing companies are equipped with such advanced technologies that you can basically print anything on unlimited products of different materials, the limit is your imagination.
To sum up
If you want to create a business of your own, the world of print-on-demand business carries a big potential for you. It offers a number of advantages – full control over your profit margins, quality of products, and brand representation, to name just a few.
The concept of print-on-demand diminishes the risk of doing an eCommerce all on your own. Instead, it brings in two or more parties to partner up with and productively deliver on the business promises.
As for the success of your print-on-demand company, it is going to be determined by what you sell. T-shirts, mugs, doormats, hoodies, etc. – all drenched with colors, prints, and styles. This is what's going to bring your business to big heights and set you apart from other print-on-demand companies.
Partner up with a reliable printing company that guarantees high print quality for your customers' products. Provide flawless customer service, listen to your customers, and harvest the benefits of your business within a month or two.
If you've read this far, it means that you now are familiar with ins and outs of the print-on-demand industry and the major players in it.
So, what is stopping you from becoming a business owner?
The clock is ticking. Take the first step now!