What would you use to reach a highly-targeted market that has a higher potential of converting?
If you said the internet, then you're spot on.
After all, it's used by nearly 4 billion people around the world.
But let's be more specific. We'd all have to agree that email is one of the most effective tools for lead generation and nurturing, with an expectation to reach 3 billion users by 2020.
Brands that know this are already taking advantage of email marketing. Roughly 60% of B2B marketers say email is the most effective channel for generating revenue.
And it also works in the B2C sector. We find that consumers are willing to spend 138% more when they receive email offers.
What makes email effective is that your audience is giving you permission to market to them and they're willing to buy.
But what if there was a way to enhance your email marketing results using video?
That's what we're going to explore next.
The Benefits of Using Videos in Email Campaigns
First, we have to give props to video for being one of the most consumed pieces of content on the web. On average, 78% of people watch online video weekly and 55% view them daily. About 60% of people would rather watch an online video than television. 
Source: Think with Google

YouTubers alone consume over 1 billion hours of video daily (that's about an hour per day per user!).
But what's impressive is that 50% of consumers want to see videos from brands. And this brings us to the potential a video and email combo can bring to your marketing campaign.
Source: HubSpot

By including the preferred form of content (video) inside of the emails your audience requested from you (by signing up for your newsletter), you can potentially boost your conversions.
We already see 90% of consumers stating that videos direct their purchasing decisions. And 64% of consumers admit they're more likely to buy a product they viewed in a video.
It's clear to see that video and email are critical ingredients for lead nurturing and growing your revenue. So we're going to review what else you need to build a recipe for success.
But before we get into the strategy, let's take a look at some of the benefits of using video in your email marketing.
Videos Add a Human Touch to Your Brand
Today's consumers want to do business with brands they feel connected with. Whether this is through sharing the same values or vibing with the brand's personality.
Source: Delivra

This is more difficult for corporate brands with many faces behind the curtain. But this is no excuse not to try.
By running an email campaign, you're opening up a two-way dialogue with your customers. One way to make it more personal is to include video content. For example, behind-the-scenes footage of what goes on in your company. And, by using A/B testing and changing your videos you can improve the performance of your email campaign.
Videos Bring More Social Media Shares
Having an omnipresence is vital in today's hyper-connected world. It's good to have a website, brand pages on multiple social media platforms, and a blog.
When you add in email marketing, you don't want to silo the campaign. In fact, it works more effectively when you combine all of your platforms together.
For instance, you can send your blog posts with social share buttons in your emails so your audience can visit your blog and share the content with others. And, if you send highly-engaging videos, you won't leave them indifferent.
Including valuable videos in your emails increases the chances of attracting the attention of the email recipients and encourages social shares. 
Differentiate Your Brand with Unique Content
It's difficult to stand out from the crowd and be heard above all the virtual noise. So it's critical to stay on top of the latest trends and gain a competitive edge.
Video is one of the most under-used tools for email marketing – yet, it holds so much potential.
Just think, when's the last time you opened an email and saw a video? For some people, it's never – depending on the brands they're subscribed to.
It's a grand opportunity to make your emails more compelling and engaging.
Give Your Audience What They Want
Consumers love options, especially when it comes to consuming content. Text is excellent, but video is often preferred.
So, including a video will give your subscribers the chance to consume your content in a way that's convenient for them.
Keep this in mind when deciding on the topics to cover in your videos. For example, converting popular blog posts into videos and sharing them along with the link to the blog post with a good call-to-action. Here's an example of a blog article converted into a video. 
How to Use Video in Email?
So, how to get started? Don't worry, adding videos to your email campaigns isn't difficult at all. If you know your audience, then you'll find this a piece of cake.
Let's dive in.
Which Email Platforms Play Video?
One concern you may run into when designing your video email campaign is whether or not your subscribers are on email platforms that display embedded video content.
Certain platforms support HTML5, which is what most video formats use today. Those that do will either play the video or only show a fallback image, which is a still image that looks like a video that links to the actual content.
Here's a look at the email clients and their video playing capabilities:
Source: Email On Acid

Now, what if you don't see HTML5 support for the email client many of your subscribers use?
Don't forego the use of video just yet. There are other options you can use.
Here are several alternative options:
Create an image that resembles a video (with a play symbol).
Use animated GIFs (to make your email more engaging without video).
Implement cinemagraphs (still pictures with one area moving).

Consider segmenting your campaigns based on the email clients of your subscribers.
What Type of Videos Should You Use?
Selecting the best types of videos to create for your audience is the next hurdle. You can come up with a content calendar just like you would for a blog or newsletter.
Here's a look at the different kinds of video you can alternate throughout your campaign.
Tell Visual Stories
Stories are great for introductions. So at the beginning of your email series, consider using them to connect with your new subscribers.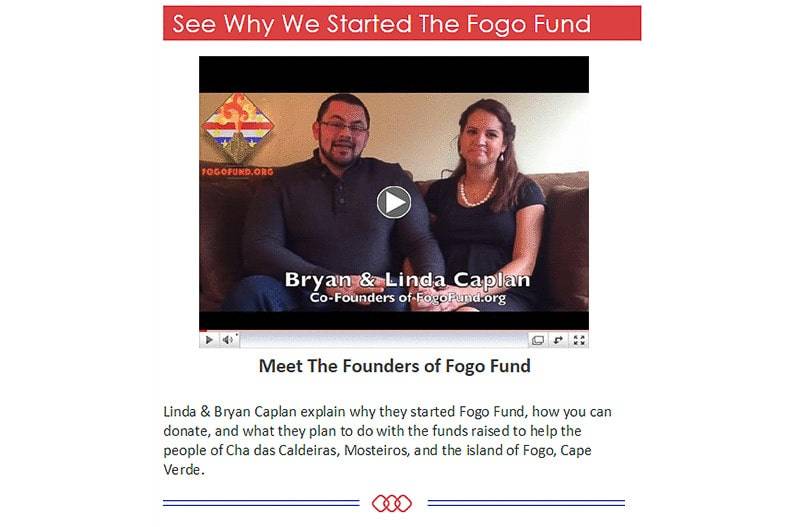 Source: Constant Contact
You can tell the story of your company, how it got started, its mission, and where it aspires to go. More importantly, you should incorporate how your story intertwines with that of your audience so they can see how your business relationship is mutually beneficial.
For example, you started out as a small business owner, quickly scaled, and now want to help other SMBs do the same (without making the same mistakes).
Behind-the-Scenes Access
Customers like to see who's responsible for providing the products you offer. You can use video to show the people that work within your organization and what they do daily.
Source: Constant Contact
Then you can even go as far as to show how your products are created and distributed.  
Show Product Demonstrations
This can work at any stage of the email funnel. You can use product demo videos to show your new subscribers how your items work.
And you can also use these videos as tutorials for customers who may need help setting up and using your product.
You should also cover the features, as well as the benefits of using your product. This will help prospects near the end of the funnel to make a final purchasing decision.
Record Customer Testimonials
A product demo is great for clarifying how your goods look and work. But there's nothing that seals the deal like customer testimonials.
You can shoot videos of your customers explaining their experience with your products. The idea is to show how your items helped them reach whatever goals they set out to achieve.
Whether it was to look amazing at a wedding or fix an issue they were having in their home. Be sure the testimonials are in their own voice and words, so it's authentic.
Educational Video Guides
One of the best ways to earn the trust and loyalty of your customers is to educate them. If you're giving out free advice, insights, and instructional guides, then you show your brand cares.
Source: Constant Contact
You can do this by crafting video tutorials on how to overcome the problems they have. This can be something your product can help them with or something outside of the scope of what your product can do.
For example, if you sell an online invoicing tool, you can give a tutorial on how to find more clients using LinkedIn. While this doesn't directly connect with your product, it does help your audience find more clients so they can use your invoicing tool for billing them.
6 Practical Tips for Using Videos in Email Campaigns
Hopefully, you're getting the idea of how to use video in your email marketing. But before you get started incorporating them into your campaign, here are some best practices to keep in mind.
Plan Your Campaign
You have to treat your video email campaign just like you would any other. So you're going to need to come up with an outline that specifies the strategies you'll use.
For example, which types of videos are you going to use for the top, middle, and bottom of the funnel? What is the goal of the campaign?
Without goals, you won't have KPIs. And without KPIs, you can't track whether your campaign is working or not.
Next, you need to research your competition. Simply adding videos to your emails isn't going to guarantee prospects will pick you over them.
Find out what they're doing (and more importantly, what they aren't), so you can develop a campaign that stands out.
Afterward, figure out exactly who your target audience is. It's alright if you have more than one, this just means you'll have to segment your campaign.
Source: MailerLite
Last, you'll have to create a marketing budget (those emails aren't going to write themselves, and the videos aren't going to shoot themselves). Once it's set – stick to it.
All you have to do now is schedule your campaign and watch its performance.
Shoot Quality Videos
There's nothing worse than watching a video that's low-quality. If your videos aren't high-definition, then subscribers aren't going to watch them.
And the same goes for the audio.
You need to create videos with clear visuals and sounds. Not only will this make your brand look professional but it's more appealing to the end-user.
Don't Make Videos Too Long
Think of your video content like an email – what are the chances you're going to sit down to read a long-winding message?
Not likely.
So what makes you think your audience will want to sit and watch a long video? You're including this in an email, which most people check throughout their busy day.
The shorter the video, the more likely they'll watch it to the end. Ideally, your videos should be somewhere between one and two minutes long.
Include "Video" in the Subject Line
Remember, consumers are looking for videos from the brands they like. Your subscribers subscribed to you, which is a big hint that they're at least curious about your company.
So to help get more clicks on your emails, you should let them know there's a video waiting inside. Include the word "video" somewhere in your subject line to entice subscribers to open your emails.
There's evidence that doing so can boost your email open rates by 19%.
Source: HubSpot
Avoid Autoplay Like the Plague
Placing autoplay on your videos may seem like the right thing to do. Maybe it can help subscribers find the video and catch their attention, so they view it.
Unfortunately, this isn't the case. Most people are out and about or at work when checking their emails. And if their volume is up high, this can lead to an embarrassing moment for them.
So avoid the autoplay feature and focus on driving attention to your videos using your subject line and visible play button.
Don't Forget Your Call to Action
Your videos are excellent for driving attention, but how do you get them to take action afterward?
There are several options:
Include the CTA near the end of your video (make it clickable)

Place social share buttons at the bottom of the video

Insert a contact form below the video
Now, these are just a few ideas. The CTA you use depends on your goal, your audience, and the overall campaign.
Wrapping It Up
Your subscribers are waiting to hear from your brand. They want to know about your products—or better yet, they want to see it in action.
With video, you can feed on their desire to consume visual content.
What brand couldn't use a 200% to 300% increase in email click-through rates and a 26% reduction in unsubscribes?
There's no denying that video is the future. So what are you going to do today to future-proof your email campaign?
---
Emil Kristensen is the CMO and co-founder of Sleeknote: a company that helps e-commerce brands engage their site visitors—without hurting the user experience.