Attention, YouTubers! Have you ever felt like your videos are hidden gems in the huge ocean of YouTube, struggling to get more views? Stay optimistic, for we have the ultimate solution to turn your YouTube channel into a click-worthy, unique platform!
In the world of YouTube, just like in the real world, first impressions are everything. A visually appealing and attention-grabbing YouTube thumbnail design idea can make all the difference in the success of your videos. It's the gateway to your content, the window to your story, and the key to unlocking higher views and engagement. 
We present over 13 uniquely made YouTube Thumbnail Templates to empower you to tell your story like never before.
But wait, it gets even better! These templates are not just your ordinary, run-of-the-mill designs. Renderforest, the industry leader in design solutions, offers fully customizable YouTube Thumbnail Templates. Say goodbye to the generic and mundane, and say hello to your unique identity reflected in every thumbnail you create!
Understanding the Role of YouTube Thumbnails
YouTube thumbnails hold great importance in the success of video content, acting as virtual billboards to attract potential viewers to click and explore. The significance of creating visually captivating thumbnails cannot be emphasized enough, as they highly impact click-through rates (CTR) and overall video views.
According to TechSmith, a leading software company specializing in video content, "thumbnails are the first things viewers see when browsing through YouTube or conducting a search." Research shows that a compelling thumbnail can boost CTR by 154%. This means that an eye-catching thumbnail has the power to more than double the number of clicks a video receives, making it an invaluable tool for driving traffic to a YouTube channel.
Moreover, over 90% of the most popular videos on YouTube have a custom-made thumbnail. So, why stay behind your competitors with yet another unprofessional stock image?
Regarding SEO, the appeal of YouTube thumbnails directly impacts organic traffic. As a leading social media marketing expert, Neal Schaffer highlights, "Thumbnails are a visual representation of your video content and can impact how your video appears in search results." By elevating your YouTube thumbnail template gaming, you will stand out among competitors in search listings, increasing the likelihood of attracting clicks from users actively searching for relevant content.
Optimizing thumbnails as part of an effective SEO strategy can help you expand your audience and boost the channel's growth. With Renderforest, you can create thumbnails that perfectly match your unique vision, making your videos shine and achieve greater success on YouTube.
---
Recommended Reading
---
Here Are 13+ YouTube Thumbnail Templates to Start Winning Clicks!
Discover the magic of Renderforest – your ultimate time and money-saving solution for a thriving YouTube career! Creating engaging templates for YouTube thumbnails has never been easier.
Embrace the charm of professional, eye-catching thumbnails that will leave viewers curious and eager to click. Elevate your YouTube journey with Renderforest and focus on creating incredible content that your audience will adore! Say hello to success and goodbye to design worries!
And guess what? It's not just about looks! This set is a real-time and money-saver too. No more stressing over making thumbnails from scratch or hiring expensive designers. With easy customization, you can tweak the templates to match your unique style and content in no time perfectly!
With our vast template collection, including the sought-after YouTube thumbnail-size template, you'll effortlessly stand out and attract a broader audience. Don't worry about the YouTube thumbnail size template, as we offer 1920 by 1080 pixels YouTube shorts thumbnail templates as well.
1. Music Channel Thumbnail Set
Introducing the Music Channel Thumbnail Set from Renderforest – a game-changer for music creators on YouTube! The music Channel Thumbnail Set from Renderforest will supercharge your music channel and bring you many amazing benefits. The templates are created carefully, ensuring jaw-dropping visuals that make your videos pop in the crowded YouTube world.
And guess what? It's not just about looks! This set is a real-time and money-saver too. No more stressing over making thumbnails from scratch or hiring expensive designers. With easy customization, you can tweak the templates to match your unique style and content in no time perfectly!
So, go ahead and elevate your YouTube game with this incredible set. Get ready to attract a larger, more engaged audience with eye-catching thumbnails and endless creative possibilities. Take your music channel to new heights with the Music Channel Thumbnail Set from Renderforest! You've got this!
2. YouTube Hack Design Set
Are you ready to take your YouTube videos to the next level? With an amazing pack of YouTube design offerings by Renderforest, you can enhance your brand-new videos and captivate your audience like never before.
Share the valuable knowledge you've gained with inviting designs that are easy to navigate. Customize every aspect, from titles to backgrounds and colors, to perfectly match your unique style and brand. With Renderforest, you have the power to create professional-looking thumbnails that will attract the attention and clicks you rightfully deserve.
Moreover, we provide 18 distinct thumbnail scenes, ensuring your content stands out and leaves a lasting impression on your viewers.
Remember, the best experiences are those shared. So, start exploring Renderforest's offerings now and release your creativity to craft captivating designs that elevate your YouTube presence. Don't wait any longer; seize this opportunity to make your videos shine and share your passion with the world!
3. City Tour Thumbnail Set
Discover the world and share your extraordinary experiences with Renderforest's remarkable features. Whether you're an aspiring travel vlogger or an established content creator, our user-friendly interface allows you to navigate through 28 distinct scenes to add that extra flair to your visuals.
Choose from an extensive range of designs tailored to suit your unique style and content, and unlock the power of your artistic mind with customizable options. You can change various design elements in your thumbnail design, such as adding arrows of different colors and shapes:
Renderforest isn't limited to city tour vlogs; our versatile tools can elevate your video guides, vlogs, and much more! And the best part? You can try our offerings for free right now! So why wait? Step into the world of endless possibilities with Renderforest and make your content shine like never before! Try it for free now!
4. Cooking Channel Social Media Kit
Craft visually appealing thumbnails for your cooking videos, leaving your audience craving more. With this kit, the possibilities are endless. Choose the scene that perfectly suits your cooking style and edit it seamlessly with your media files. Spice up your thumbnails by incorporating stock images, adding mouthwatering text, and customizing colors to match your brand.
Not limited to YouTube, this kit is perfect for various platforms, including online promos, Vimeo projects, and more! Whether you're an aspiring chef, a culinary enthusiast, or a food influencer, this kit is your recipe for social media success.
Start your culinary journey today and create irresistible thumbnails that will leave your audience craving more. Don't wait – let your cooking channel shine and captivate viewers with Renderforest's Cooking Channel Social Media Kit YouTube thumbnail. Get cooking and watch your content sizzle across social media!
5. Before/After SMM Pack
Dynamic Before/After SMM Pack is your go-to solution for creating aesthetic designs that showcase all kinds of transformation content! With a diverse collection of templates, this pack is perfect for presenting compelling before and after visuals and creating captivating minimalistic collages.
Whether you're sharing room renovations, lifestyle changes, makeup tutorials, or any other transformational journey, these scenes are designed to make your content shine.
The possibilities are endless! Effortlessly add your images and text, and let your creativity soar as you experiment with colors, shapes and images. Here you can add stock images related to SMM:
Dive into the world of visual storytelling and start creating now with the Before/After SMM Pack. Capture your audience's attention and make a lasting impact with stunning designs that highlight the power of transformation!
6. Gaming Video Thumbnail Variety
Presenting our Gaming Video Thumbnail Variety – the ultimate solution to create attention-grabbing thumbnails for your YouTube channel! As a gaming content creator, you know the importance of visually unique thumbnails to attract more engagement. With a wide range of designs, finding the perfect match for your gaming content is a breeze!
Reveal your creativity and use these templates for anything you want to make – exciting walkthroughs, thrilling live streams, epic challenges, or much more! Elevate your gaming videos with professionally designed thumbnails to captivate your audience from the start.
Take advantage of the opportunity to level up your YouTube game. Give it a try and witness how our YouTube thumbnail template gaming collection enhances your channel's appeal and attracts more viewers to your gaming adventures!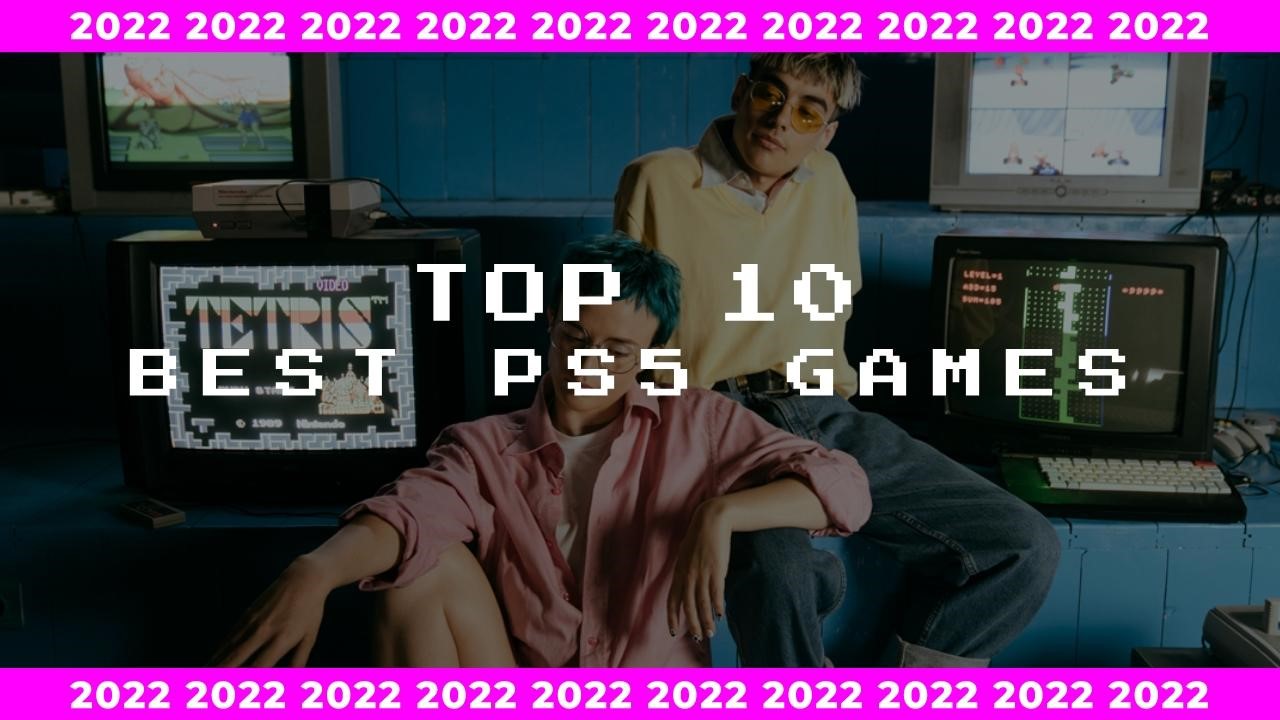 7. Gaming and Tech Video Thumbnails
Step into this collection, where entertainment meets technology, and your YouTube channel's success is just a click away! 
Whether you're a seasoned gamer, tech enthusiast, or interested in technology and entertainment content and are looking to expand your audience, these thumbnails are the perfect tool to captivate viewers and gain more subscribers.
If you create walk-throughs, tutorials, reviews, unboxings, or any engaging gaming and tech-related videos, this collection is the ideal fit for you. In the Gaming and Tech Video Thumbnails collection, you can add gaming icons and change their colors, opacity, and placements.
Dive into the world of entertainment and technology, and start creating visually stunning thumbnails that will set your channel apart from the rest. Your journey to YouTube success begins today with Renderforest's Gaming and Tech Video Thumbnails!
8. Ultimate Music Promo Pack
Designed exclusively for YouTubers in the music world! Elevate your promotional game with beautiful visuals to captivate the crowd and draw them closer to your musical journey.
With just a few quick clicks, effortlessly modify versatile layouts to suit your unique promotional needs perfectly. For instance, adding such music details as colorful objects:
Whether you're a pop singer or an electro-dance enthusiast, these templates work across various music genres.
Get ready to make your audience groove to the sounds of your tunes as you showcase your artistry with bright visuals. It's time to express your imaginative side and elevate your music promotion!
9. Lifestyle Vlog Marketing Set
Enter the world of lifestyle vlogs with our Lifestyle Vlog Marketing Set! This comprehensive toolkit empowers lifestyle vloggers to create stylish and trendy promotional materials that will elevate their content and leave a lasting impression on their audience.
For those in the lifestyle vlogging field, time is of the essence, and that's where this marketing set truly shines. With just a few clicks, vloggers can customize their materials with screenshots, images, and personalized graphic elements, saving precious time that can be devoted to curating engaging content.
Renderforest's versatile templates are deliberately crafted to meet the unique requirements of modern vloggers, spanning from lifestyle vlogs to get-ready videos, makeup tutorials, and more captivating lifestyle content. Share your distinctive perspective, and entertain your audience with the game-changing Lifestyle Vlog Marketing Set. 
With Renderforest's transformative templates, you can effortlessly create stunning visuals that will leave a lasting impact on your viewers and set you apart from the competition.
10. DIY Video Design Set
Attention all DIY enthusiasts and creators of handmade crafts! With customization at the forefront, our DIY Video Design Set empowers you to express your creativity and experiment with shapes, colors, and text. The result? Visually stunning thumbnails that have unique and funky fonts that you can use.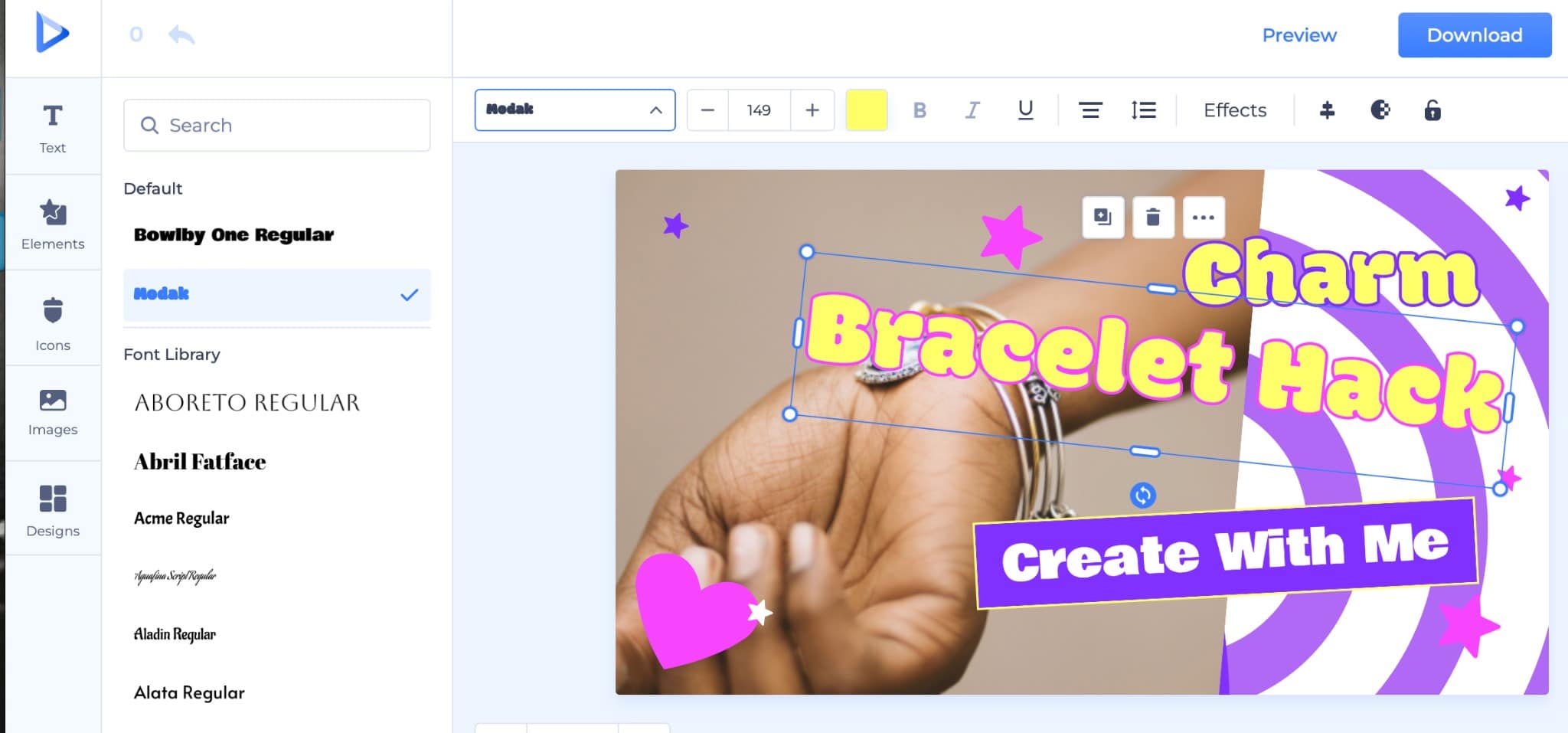 No matter the DIY project – be it crafting, home decor, handmade gifts, or any other visionary endeavor – our DIY Video Design Set has got you covered. Showcase your talent, share valuable tips and tricks, and inspire fellow DIYers with eye-catching visuals that speak to your unique style.
Engage your audience with the YouTube thumbnail design ideas that Renderforest offers, leave them inspired, and become a source of creativity for all DIY enthusiasts. It's time to showcase your passion and make a lasting impact with these visually captivating designs!
12. TikTok Hacks Marketing Pack
Calling all TikTokers! Don't let your creative ideas stay hidden – it's time to unleash your potential and create captivating content now. With our TikTok Hacks Marketing Pack, you have the power to fascinate your audience, inspire others, and build a vibrant and engaged community around your digital content, complete with playful graphics and dynamic typography.
While TikTok is your domain of creativity, remember the power of YouTube! Our template will make your videos stand out in the sea of content, attracting more views and engagement. Let your imagination run wild – perhaps you want to create a YouTube thumbnail meme template and take your social media presence to new heights with this groundbreaking marketing pack of YouTube thumbnail templates, created for TikTokers like you!
Embrace the fun and creativity as Renderforest's TikTok Hacks Marketing Pack Thumbnail Template enhances your videos and allows you to shine brightly among fellow creators.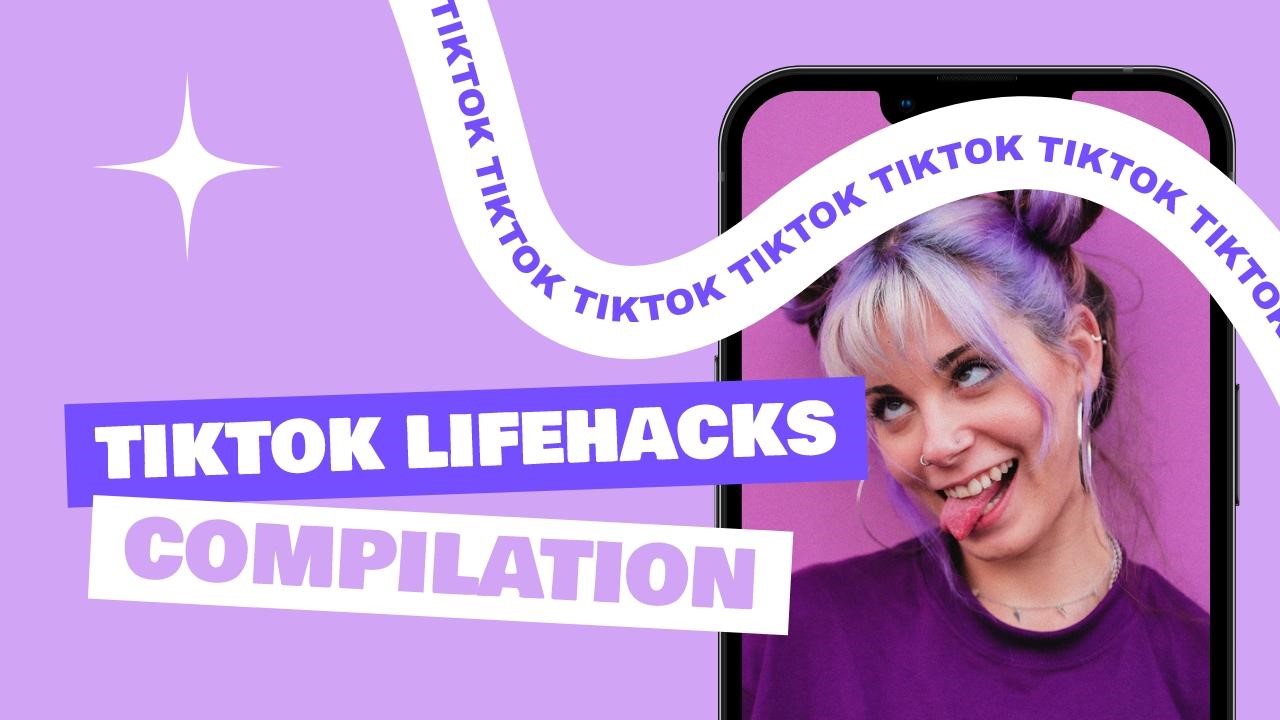 13. Education YouTube Thumbnail Variety Pack
Revamp your educational videos with our Education YouTube Thumbnail Variety Pack! Increase your followers with engaging and entertaining thumbnails covering diverse topics like history, animals, food, psychology, and more. These YouTube original thumbnail templates are made for any subject, ensuring your videos get the recognition they deserve.
Change the title according to your preferences (bold or italic) and claim your thumbnail today to start creating captivating content that hooks your audience from the start.
Don't settle for dull thumbnails – take advantage of our versatile illustrations to boost your views and elevate your educational channel. Join the ranks of successful creators who have harnessed the power of compelling thumbnails to build a loyal audience and make a lasting impact.
14. Gadget Review Design Kit
Are you a tech enthusiast, gadget reviewer, or content creator? The Gadget Review Design Kit is here to cater to your needs with captivating social media designs. The Gadget Review Design Kit is your ultimate solution for exquisite YouTube video thumbnail template designs. 
Thanks to Renderforest, you can access a fantastic offer of free templates to take your content to new heights. Choose a template, add screenshots, graphics, and compelling text. Here you can experiment: change the style of the text, add highlights, stroke, or curve the words to make them stand out. 
Our templates are intentionally designed to suit your content, be it sharing product updates, formulating gadget reviews, or announcing exciting new releases.
Stay ahead of the competition with professional visuals that instantly grab your audience's attention. No design skills are required – you'll achieve top-notch results quickly.
The Bottom Line
In summary, YouTube thumbnails hold immense importance as they act as virtual advertisements, drawing in viewers and improving video performance.
Renderforest's impressive collection of 13+ Click-Worthy YouTube Thumbnail Templates provides a game-changing solution for YouTubers eager to distinguish themselves in the crowded platform. These trending customizable designs empower creators to modify visually appealing thumbnail templates that captivate audience attention and set their content apart. Take advantage of this unique opportunity to elevate your YouTube presence and drive more clicks and engagement to your videos.
Head over to Renderforest now and express your creative vision to make your videos more clickable with spectacular thumbnails!