Introduced in 2017, LinkedIn video has managed to become the users' and algorithm's favorite content format. Videos have long surpassed text posts in engagement numbers, urging more and more businesses to invest in LinkedIn video marketing.
The B2B platform took its commitment to video a step further with the launch of LinkedIn Live in February 2019. Still in the beta stage, LinkedIn Live has caused a surge in live video content on the platform in 2020.
Each piece of content shared on LinkedIn shapes a brand's identity and reputation. While it's true that you need high-quality videos to create a reputable presence on LinkedIn, the common belief that you can't do so without fancy equipment and a large production team is a myth.
Today, we'll dive into the massive potential of LinkedIn videos, their main types, and some powerful tips to help you hone your video storytelling skills and make the best of your video marketing efforts. Let's go!
What are the Main Types of LinkedIn Video?
What are the Benefits of LinkedIn Video?
Tips for Effective LinkedIn Videos
What are the Main Types of LinkedIn Video?
If you're wondering what types of video the platform supports and which one is the best choice for you, have a look below.
Embedded videos are those posted initially on other networks and shared on LinkedIn. The advantage of embedded videos is that you're reusing the same piece across multiple channels, thus expanding your viewership.
A video uploaded straight to LinkedIn is known as a LinkedIn native video. Native videos run from three seconds up to 10 minutes. The platform auto-plays them in users' feeds, which can help draw attention to your content and increase engagement.
Native videos are speculated to have an advantage over embedded ones. They typically get more likes and shares, which might be linked to the algorithm favoring them. LinkedIn gives you limited video analytics insights such as the top companies, titles, and locations of your viewers, along with how many views, likes, and comments your videos get.
You can either upload a pre-recorded video or record one within the app if you're using a mobile device. You'll have the option to add text, stickers, or filters to your video before posting.
Source: LinkedIn Blog
As mentioned, you can now create live videos on the platform, but there's a catch. You need approval from LinkedIn to broadcast live content. You can get it by submitting an application on their website. Also, note that you can stream only through third-party broadcast tools.
LinkedIn video ads allow you to target a specific audience and can thus be a helpful tool for brand promotion. They can stretch as long as 30 minutes, though it's best to create video ads that are around 15 seconds long. LinkedIn provides more detailed video ad metrics compared to other forms of video.
Now that you're familiar with the types of videos you can share on LinkedIn, let's address the video dimension requirements you'll need to adhere to. Here are the LinkedIn video specs:
For a LinkedIn native video, the recommended aspect ratio is 1:2.4 or 2.4:1. The file size has to be in the range of 75KB and 5GB. Your video can be horizontal or vertical, but vertical ones will be cropped to fit a square. As to LinkedIn video ads, they can take up anywhere from 75KB to 200MB. Only horizontal videos are accepted.
What are the Benefits of LinkedIn Video?
LinkedIn video marketing will start to make a lot more sense when you fully grasp the benefits it can offer to brands. In this section, we're going to explore just that!
Increased Engagement
Content in the form of video is more likely to stir curiosity in people and start a conversation. By posting LinkedIn videos, you can expect to generate more comments, likes, and shares. Statistics show that LinkedIn users are 20x more likely to re-share a video post. Moreover, live streams get 7x more reactions and 24x more comments on LinkedIn than regular videos.
So if you want to boost the engagement on your posts, be sure they incorporate some type of video in your content strategy.
Info source: Hootsuite, LinkedIn
Expanded Network 
As you increase engagement and start to attract more attention to your posts, you'll gain a golden ticket to new connections. You can mark your videos with relevant hashtags, thus enabling a larger audience to discover your profile.
Algorithm's Approval
It's no secret the LinkedIn algorithm gives priority to videos when sorting content in user's feeds. This might be due to the fact that videos simply get more endorsement through likes and comments. Regardless of the reason, videos are more likely to appear at the top of your followers' feeds, which gives you a much greater chance of getting noticed.
Diversified Content
It's smart to stay consistent across your LinkedIn profile, but not to the point where consistency becomes monotony. Videos and live streams are an excellent way to break the pattern of text-only posts and interject some novelty into your feed. 
Companies can utilize recruitment videos not only to attract new talents but also spread brand awareness in a fun and compelling way.
Tips for Effective LinkedIn Videos
It takes a lot more than hitting the record and publish buttons to create successful video content. Whether it's your first video-creation endeavor or 100th, here are some tips to consider before you share your video on LinkedIn.
Prepare a Script
No matter how comfortable you are with the topic, your video will flow more smoothly when you have a video script. Depending on your expertise level and presentation skills, you might opt for a detailed script or a brief outline of the main points you plan to discuss. Whichever option you choose to go with, it'll help you avoid rambling, stay on track, and sound more confident.
LinkedIn recommends you choose a single idea or solution to communicate with your video. It's a surefire way to keep your video concise, put-together, and simple to follow. Your aim is to leave the viewer with a single clear message rather than a bunch of scattered information.
Attention spans are not getting any longer, so try to convey your key message first. Saving best for last doesn't apply to social media videos; you have around 10 seconds to capture your audience, as viewer attention drops at that point.
Source: TANK New Media
Set the Stage
The quality of your videos will speak volumes of your professionalism and commitment. Proper setting and sound are critical to your video since they can make or break it. This doesn't mean you're required to invest in costly equipment, though. Smart preparation and basic gadgets are all you need.
Be sure to have a quality camera and microphone at the ready. Your smartphone camera can get the job done just fine, but do secure it with a tripod or a stack of books to avoid shaky shots. You might also need LED lights if your shooting environment is poorly lit.
Pay attention to the right camera angles and the backdrop as well. Backgrounds that are messy or distracting will not work in your favor.
Make It Engaging to Watch
A lot of people watch social media videos with the sound off for a multitude of reasons. Before you publish your video, consider if it will still be effective when played without sound. If you find that it won't, you've still got some more work to do on your project.
To begin with, incorporate closed captions that will guide the user through your video in case they have hearing disabilities or choose to leave the video silent. It's also a good idea to add catchy visual aids to your footage — be it graphics, typography, b-rolls, or anything else that might direct the attention of the viewers to your message.
These additions are equally valuable even if your video is played with sound, as they enhance your project's visual appeal. Needless to say, avoid the trap of overindulging in visuals; over-decorating could be more dangerous than under-decorating.
 Keep It Relevant
As obvious as this may sound, remember that LinkedIn is not YouTube or Facebook, where a wide range of lifestyle videos are welcomed. On this business-oriented platform, people expect professional, career-related content, so don't disappoint them.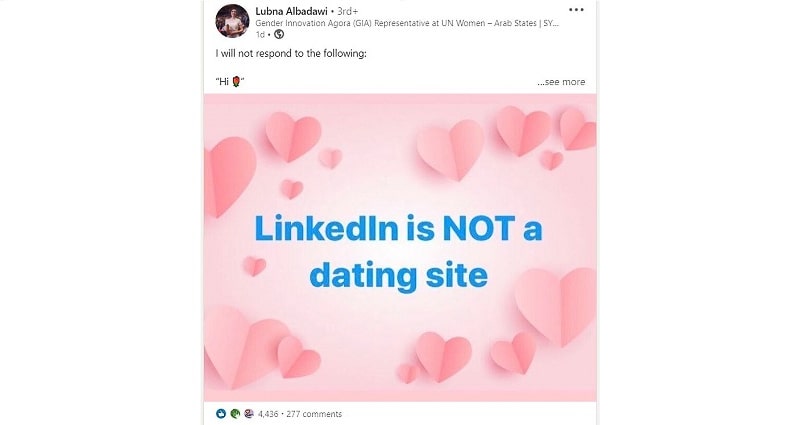 Whether you're producing video content for your company or personal brand, make sure it's relevant to your field. For example, if your business offers a video-making tool, your content can target topics like video marketing, branding, social media promotion, video production, etc.
Keeping your area of focus narrowed down on your field is a powerful way to position your brand as an authority in the eyes of your audience.
Have a Punchy CTA
So you successfully kept your viewer engaged throughout the whole video; what next? What step would you like them to take after watching? Be sure to let them know about it before the video is over because once it is, you no longer have a hold of their attention.
The right CTA (call to action) at the right time can be very persuasive in prompting the viewer to engage with your brand instead of scrolling down their feed.
Optimize Your Video
Once your video masterpiece is ready, you should take care of some technicalities to optimize your video for search engine algorithms, hence, raising its chances of reaching a larger audience. Keywords, hashtags, tags, closed captions, and video descriptions are great tools for SEO.
Start by choosing a descriptive and catchy headline that includes your main keyword. The next key text component you should focus on is the video description. Ideally, it must briefly introduce your video and have relevant keywords and hashtags to rank higher. 
It's also a good practice to tag any people or brands that made an appearance in your video and add relevant links if there are any. According to LinkedIn, posts that feature links tend to have higher engagement.
To Wrap Up
Videos continue to take over social networks, and LinkedIn is no exception. The platform has evolved to host various types of video content. Today, you can share your creation as a LinkedIn native video, video ad, embedded video, or record a live stream once you get permission from the platform.
Video marketing is an excellent way to grow your brand online, expand your network, and diversify the content you share.
Ready to start creating your video? Find hundreds of templates that will help to add polish to your video projects and ensure a professional-looking outcome. Click the button to browse the template library!