Would you like to increase your online visibility? What about using a video? On social media, users share video content 12 times more often than text and images. Not only that, but they can also boost sales of online stores by as much as 134%. 
If your business doesn't have online videos, you might be missing out on one of the fastest-growing segments of digital advertising.
Animated videos for business are a great way to share your story, show the human side of your business, and communicate highly complex ideas in an easy-to-digest manner. Animated video is a vibrant, engaging medium that is cost-effective, easy to manage, and will help your key points pop.
You may still be thinking: "Do I need an animated video for my business?" The answer is simple – Yes!
When it comes to video marketing, the statistics speak for themselves:
On average, 56% of businesses

use up to 5 videos

per month.

90% of users say that

videos are helpful in the decision-making process

.

75% of users are more likely to follow a brand on a social platform if they post videos.
So, you've made a decision to produce an animated video for your business. Does it still seem complicated? Don't worry. Creating a video animation is easier than you think.
Renderforest | Software to Make Animation Videos with No Expertise or Skills
What does it typically take to create an engaging, high-quality animated video? If you're not a professional video maker, it might seem like a daunting task. You may think that's a time-consuming process that requires professional skills to draw, design, and animate every element.
Well, what about a different angle? 
What if you can create animated videos for businesses with zero expertise, no prior experience, and without breaking the bank?
Renderforest – an intuitive and user-friendly software to make professional-looking animation videos that will take the weight off your shoulders. It comes with ready-to-use templates (videos that are customizable according to your needs) that will save you time but not quality.
With Renderforest, you can:
Choose from

a variety of templates

for every industry and purpose

Customize

the color scheme, fonts, and music

to fit your brand

Insert text, images, or logos

to personalize the video

even more

Preview and export in multiple formats

(including social media-friendly versions) 

Make

unlimited changes

to your created videos
Which Type of Animated Videos for Business Can You Create with Renderforest?
There's a long list of ready-made video templates, and the library is constantly enriching. Here are some of the most popular options. 
Explainer Animations
Designed to explain the benefits of your products or services effectively to your target audience, the explainer animations library offers 3D, thin-line, flat, whiteboard, and other animation styles. All explainer animation templates have a very clear structure and flow – perfect for delivering a message, telling a story or entertainingly presenting your idea.
Product or Service Promotion
This pack is more targeted, industry-specific, and suitable for promoting a particular product or service. You can find here templates adapted to very narrow-focused organizations or use cases. For example, there are gaming channel intros, a modern phone mockup toolkit, a medical center presentation, a digital media agency pack, and more!
Mobile App Promotion
Launched a new mobile app? Use these video templates to promote your corporate website, software, mobile app or even a new service launch. The key benefit of this pack is very realistic-looking mobile phone and laptop screen mockups, which you can easily replace with original visuals of your own. You can find templates for promoting iOS apps, Android apps, or games!
Greeting Cards for Internal Corporate Communication
Lastly, not only your target audience but also your internal team and stakeholders deserve great content. To congratulate the team with Christmas, send thank-you cards to the employees of the month, share quarterly results – and use charming greeting cards for different occasions. Make sure your team receives a motivating and inspirational message through the engaging video.
How Does Renderforest's Animation Video Maker Work? 5 Easy Steps 
5, 10, 30 minutes, or a bit longer – and your animated video for business can be ready in Renderforest. It will look like a video polished by professional designers and graphic artists. Still, it's the result of intuitively navigatable features of Renderforest that allow you to move scenes, customize texts, or insert your own footage easily.
Here's how you can nail your next video!
Step 1: Navigate to the Library of Animated Video Templates
There is a huge library of animated video templates that you can choose from, depending on your requirements.
A template is a ready-to-use video with preset scenes (or slides) that already contain text, music, and animations suitable for a specific purpose. For example, a business presentation pack features graphs, charts, and infographics colored in blue and white colors – very characteristic of business. The explainer animation templates have a more cartoonish look and are perfect indicators of presenting your product or service.
Your only task is to choose a template that fits your needs and move to a customization dashboard.
So, head to the templates library. Here, you can see how many scenes each template contains (the ones with more scenes are more feature-packed and may offer more customization options) and preview them. 
Once you choose a template, click "Create Now" to start customizing your video.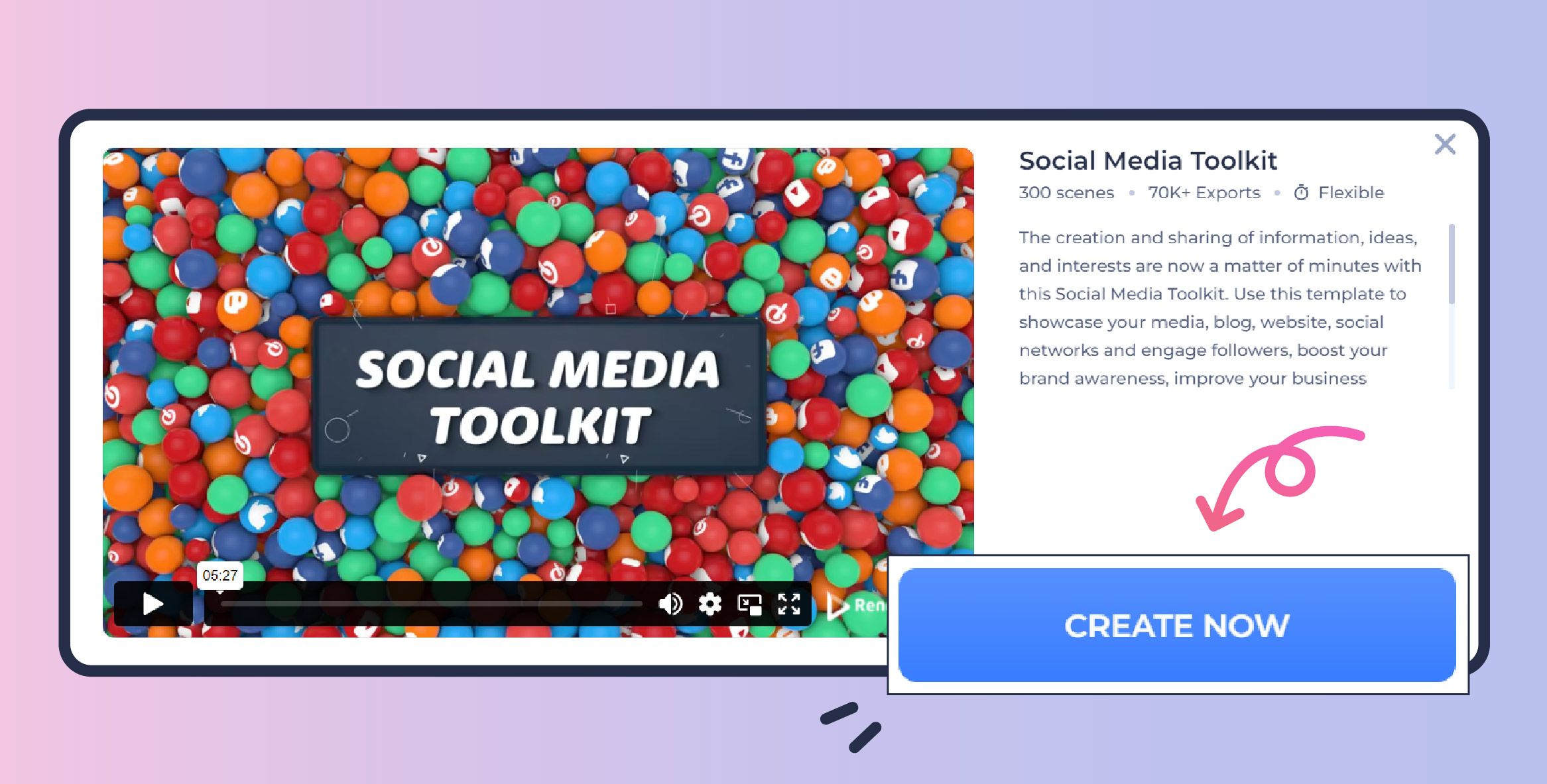 Step 2: Use the Editor Timeline to Arrange Scenes
Once you land on the editor's dashboard, there are two key areas you should check – the timeline located at the bottom of the dashboard and the scene preview area on the top right.
The timeline already displays the scenes from the selected template, and you can use it to change their order. You can add more scenes by clicking on the "Add Scene" button in the left menu or delete unnecessary ones by hovering your cursor over them and clicking "Delete."
You can also duplicate scenes to make repetitive animations or change the timing for each scene by dragging its endpoints on the timeline.
That's the basis of your future video – you decide which key flow to apply to communicate your idea. For example, you can choose all the scenes with the character standing near the whiteboard or flip through charts before moving to the scene where your team is celebrating victory. 
Step 3: Use the Left-Side Menu to Customize Your Video
Now, let's move to the left-side menu. Here, you have more freedom to trim video, upload your content from your device or insert a URL, use stock footage, change music, or apply text.
When you click on a scene, you can check what customization options it offers in the left-side menu. For example, if "Text" is selected, you can change the text content, font style and color, as well as its placement and animation styles. You can also add a logo or an image by selecting "Image" from the same menu.
Once you upload your own content to the template, the animated video template will transform into a custom video. Additionally, applying your branding elements, such as logos or colors, to the video will make it even more personalized. 
Step 4: Head to the Catalog of Characters, Geographical Locations, Social Icons, and More!
OK, what's still missing? Special effects that can transform your video into something out-of-this-world – with zero professional design skills! When you hit "+" in your video editor's timeline, you will see plenty of options to insert additional elements to your video – such as animated characters, social media icons or geographical locations, backgrounds, shapes, and more. 
For example, below is the menu for all available characters. You can choose between male or female characters, find characters with specific occupations, family members, or anything else that suits your video's purpose. Thanks to the wide collection of characters, you can reach any audience, even if your business has a niche market. 
Another example – geographical places. What if you could move your audience to a specific location, say, the Eiffel Tower? By choosing the "Geographical Places" category, you can browse through various backgrounds and make video storytelling more relatable and engaging. 
Step 5: Preview and Export Your Animated Videos for Business Easily
There are no complicated and long rendering processes in Renderforest. After each scene or element addition, you can see what it looks like by clicking "Preview," and if everything is perfect – click "Export."
Videos can be downloaded in various formats, so you can choose the one that best suits the platform you want to use the videos on. There are no quality loss issues, either. You get what you see, and the final result is always perfect to display on a big screen or share on social media.

A Special Option: Use Renderforest's AI-Based Automated Video Creation to Save Time
Do you have a creator's block or little time to explore and finetune template options? No worries – that's where the power of AI kicks in. Instead of manually editing a video, you can use an AI-based automated video creation feature on Renderforest – which creates an animated video for you based on your provided video script. 
Insert your script in detail, using simple and straightforward sentences and as many nuances as possible. 

Wait until the AI picks and gathers all the corresponding video clips and stock footage for you in a single timeline. 

Customize the almost-ready video template with your own branding or additional stock footage – and you're done! 
Best Examples of Animated Videos for Business Used by Renowned Companies
It's time to get some inspiration from how established businesses use animated videos to communicate their ideas and showcase their products or services. We've picked five examples of animated videos for businesses that caught our eye and can be great sources of inspiration for you, too! 
Slack
One of the largest business communication platforms, Slack, effectively used animated videos to promote their service and explain how it can benefit teams in the workplace. The use of simple yet engaging animation, along with catchy jingles and relatable scenarios, makes this video memorable and informative.
We also love humor and colors – one of the best cartoon-style animated videos we've ever seen!
Makers Making Change
Want to see how an animated video can help you clearly explain what your company does and how society can benefit from your product or service? Check out this video by Makers Making Change, a non-profit organization that helps create assistive devices for people with disabilities. The use of animation and straightforward narration makes it easy to understand their mission and how viewers can get involved.
MSVU
It is a beautiful tale that makes you stare at the screen from the first seconds, forgetting for a moment that it's a commercial. Mount Saint Vincent University shows one of the best storytelling examples we've ever seen. The whole video is full of emotions and conveys a message that most people will agree to, smoothly linking it to a university at the end. 
LÄRABAR
What about singing your video script? Yes, replace the standard voiceover with a song – and you'll get something unique and memorable like LÄRABAR did in this video. That's a beautiful approach to building emotional bonds with a brand by sharing the founder's authentic story. And the best twist is that the video mixes animated video with live-action footage.
SpeedX
You may think some health-sensitive spheres, like clinical diagnostics, are too complex to be explained in a short and straightforward animated video. Or maybe you think a cartoon-like video won't represent you as a serious business? Well, check out this example by SpeedX and think again. A very light video, with a friendly voiceover, talks serious statistics and touches on sensitive topics like cancer. Animated videos helped the company break barriers between itself and its audience.
Dubai Association Center
Why not use animated videos for government-level communication? In this video, the Dubai Association Center uses animation to explain how associations can benefit from establishing a presence in Dubai, one of the leading global business hubs. The use of animated icons and infographics in this video helps break down complex information into easily digestible chunks, making it an effective tool for promoting their services.
Create Similar Videos Easily
Below, find templates you can customize to make videos similar to those showcased in this blog post! Don't hesitate and choose a template that fits your needs the best – or start from scratch using any type of video scene you like.
3D Explainer Video Toolkit
Meet our big family of 3D animated characters, scenes, and icons crafted in two styles and four transitions to bring your unique story to life visually. There are 1000+ scenes for different fields that you can try out and create an animation that will maximize your business exposure.
It's perfect for animated video commercials, explainer videos for your services, or short product promo videos, which will help boost sales and create super functional animation projects.
Trendy Explainer Toolkit
This trendy animation template features 600+ customizable scenes with animated characters, group animations, backgrounds, icons, image and video holders, dynamic text animation, and animated transitions. Create animated videos for your business by choosing the scenes manually, or choose from the ready-made stories created with this template.
Boost your marketing efforts with a perfect tool. Come up with a compelling story and attract the viewer's attention within a few minutes.
Business Presentation Pack
With 300+ business-related scenes, animated characters, background scenes, logo animations, icons, and other scenes, you can make animation videos without any technical and design skills. Create business animation videos, video presentations for your meetings, professional videos with a voice-over, and more.
Explainer Video Toolkit
Explainer videos are the perfect tool to go with if you try to attract visitors to your site and tell them about your product's key benefits and features. They can demonstrate your product or service in seconds and make even the hardest concepts easy to understand.
The explanation is a strategic focus on communication designed to help the audience relate to an idea, product, or service in a more straightforward way and grasp the presented information faster.
Explainer Video Toolkit has more than 500 interactive scenes, including characters, various items, kinetic typography, video and photo holders, and more. It's the largest directory of astonishing animations from various fields, and a breathtaking music library to successfully create an effective video animation for your business.
Explore
---
---
Infographics Animation Pack
Using a new approach to put your data to work and present your company success story is here from now on. Visually expressed animated scenes of Infographics Animation Pack will grab attention and offer a high-quality video project without much fuss. With three transitions and styles, 500 Infographics, bar charts, maps scenes, and various animated icons, this template is designed to make explainers, company or corporate projects, data overviews, business promos, infographic videos, and many other videos that aim to share valuable information with your audience.
Whiteboard Animation Toolkit
If you want to create something comprehensive, broad, deep, and detailed, Whiteboard Animation Pack may be the template for you. The template includes around 1000 scenes with character animations, various icons, backgrounds, environments, and many other scenes that will let you share your company mission and stand out from the crowd. Upload your own visuals to present relevant information you don't want to leave out. The template has pre-made presets you can use to create videos for services, businesses, startups, as well as company presentations.
Digital Media Agency Pack
This template is perfect for those who have a website and aim to increase traffic. With this template, you can easily take your marketing efforts to the next level. More than 50 interactive scenes of graphic design, mobile and web development, online payments, email marketing, video, image holders, and other scenes are included to simplify the creation of your promotional video. Promote your app, service, product, website, or share your company mission through a compelling animation by uploading your image, altering text, and choosing music.
Explainer World Toolkit
Create an animated business video with our Explainer World Toolkit to tell your business story in an engaging way, increase conversions, maximize your business exposure, and boost sales. There are more than 700 scenes with icons, characters, and animated scenes from different fields combined in one template. The template is available in three different styles with more than five dynamic transitions; this super-functional template is a real innovation in the aspect of design.
Recommended Reading
---
---
Mascot Stories Toolkit
In case you want to go with more fun and light video animation, we have the Mascot Stories Toolkit. Give flesh and blood to your characters and let them run the action. Get an engaging and personalized video using more than 200 scenes with unique cartoon characters, icons, and animated scenes that will make your business presentation, promo video, or slideshow a lot more catchy and memorable.
Business Character Promotion
This business-oriented template lets you create engaging and professional-looking explainer videos aimed at promoting your projects in a simple way. Create corporate promotion videos, presentations, educational videos, and much more that will boost your marketing efforts and drive leads to your business. With 200 available scenes, this is as easy as ever. You can also upload your own images and videos to the scenes, making them more personalized.
Ultimate Icon Animation Pack
With 1400 scenes, the Ultimate Icon Animation Pack is the template you've been looking for to deliver your message fully. With thousands of business-, marketing-, finance-, as well as sales-themed icons, you can create unique and comprehensive videos about your business and company. Browse through the library of icons carefully organized by category, select the ones that fit your needs, and craft a compelling video that will share your story.
Final Words
Now, it is your turn to go forth and create some killer animated videos for business. The only limit is your imagination, as Renderforest eliminates the technical barriers and provides you with the tools to turn your ideas into reality.
With Rendeforest's versatile video templates, you can create videos for any purpose, whether it's sharing information, promoting a product or service, or simply telling your business story in an engaging way.